UNDERSTANDING PERSONAL VOLUME (PV).
A Beginner Series for New Members
Personal Volume or PV often confuses people. What is it and why must you know how it works? Well, PV is the main currency used in Young Living. It is important to understand how it works and what you can do with it. Find out more about what PV is here.
---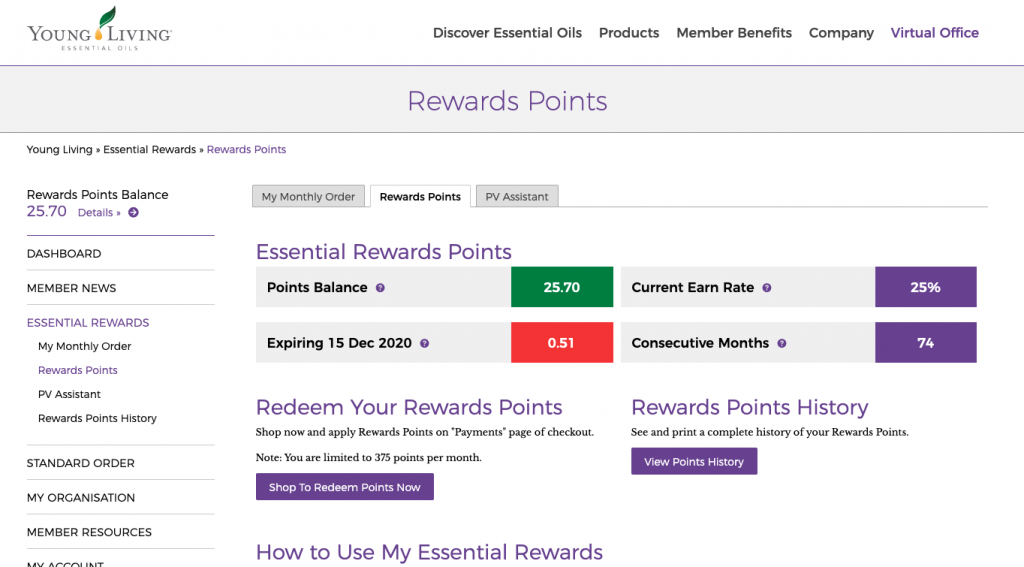 + WHAT IS PERSONAL VOLUME
In a nutshell, PV (which stands for Personal Volume) is the "YL international currency". Every item has a PV value attached to it. Whether you buy an oil from Singapore, Malaysia, Taiwan or USA, the PV is always the same. As a general rule, 1 PV equates to 1 US Dollar. For Singapore, it is approximately 1 PV to SGD$1.6. This does not follow the exchange rate due to other import duties and taxes. Most products have PV values that are exactly the same as its US price. For example, Lavender's wholesale price is USD23.50 and the PV is 23.50. There are some items like the diffusers that tend to be of a lower PV from its price.
---
+ WHERE CAN I FIND PV INFORMATION IN MY VIRTUAL OFFICE?
When you log into your Virtual Office, you will see REWARDS POINT BALANCE on the left hand side menu. That figure shows you how many PV points you have on hand currently. Continue to click on the arrow beside that says DETAILS and you will be led you to the page above which will give you a detailed break down of your PV points.
• Your PV points available
• Your PV points that are expiring and when they will expire
• The current rebate level which you are at
• The number of months you have been on Essential Rewards
• History of your PV point transactions
---
+ PV POINTS AND MY ACCOUNT REQUIREMENTS
Every Young Living account needs to be maintained with a min. of 50PV spent in a year. If a member does not spend at least 50PV points a year, their account will be suspended and the next reactivation order will need to be a min. of 100PV.
Essential Reward accounts require a minimum purchase of 100PV per month.
---
+ DO PV POINTS EXPIRE?
YES! PV points expire yearly so do remember to redeem them from time to time. You can see how many points and when they expire from your Virtual Office. Read the section: WHERE CAN I FIND PV INFORMATION IN MY VIRTUAL OFFICE to find out how to view this information. Also the moment you decide to leave your Essential Rewards program, your PV points will be forfeited. So do remember to redeem all your PV points before you stop your ER template.
---
+ WHAT IS THE PV REBATE PERCENTAGE?
When you are on Essential Rewards, YL rewards you by crediting a certain percentage of your spent PV back to your account as rebates. To check how much PV has been credited into your account, login to your account and see the REWARDS POINTS BALANCE on the left hand side of your virtual office. It's like YL money!
The rebate structure works like this:
• Month 1 – 3: 10% Rebate
• Month 4 – 24: 20% Rebate
• Month 25 onwards: 25% Rebate
For example, if you have been on the ER program for 12 months with a purchase of 100PV every month, you would have accumulated:
• Month 1 – 3: 10% = 30PV in total
• Month 4 – 12: 20% = 180PV in total
TOTAL PV ACCUMULATED = 210PV
You may use this accumulated to redeem FREE products from Young Living.
---
+ YOUNG LIVING PV PROMOTIONS
Every month, Young Living will run promotions based on the PV value of your order. The promotions are generally at the tiers of 180PV, 290PV and 400PV. When you purchase a min. of these PV values, YL will add free items to your order. You can view the monthly promotions here.