PLACING YOUR ESSENTIAL REWARDS ORDER.
A Beginner Series for New Members
Young Living has offices across Asia, and of course many others in the International market. Calling up your local office to speak with a Customer Representative or emailing them serves as one option to place your orders. But did you know Young Living has its own online web tool called Virtual Office that allows you to easily handle all these? So placing your orders over the weekend or late at night is absolutely possible too. Let's learn how to now.
---
+ HOW TO PLACE AN ESSENTIAL REWARDS ORDER ONLINE
Essential Rewards is a monthly autoship program.
This section will teach you how you can edit and place your monthly ER order.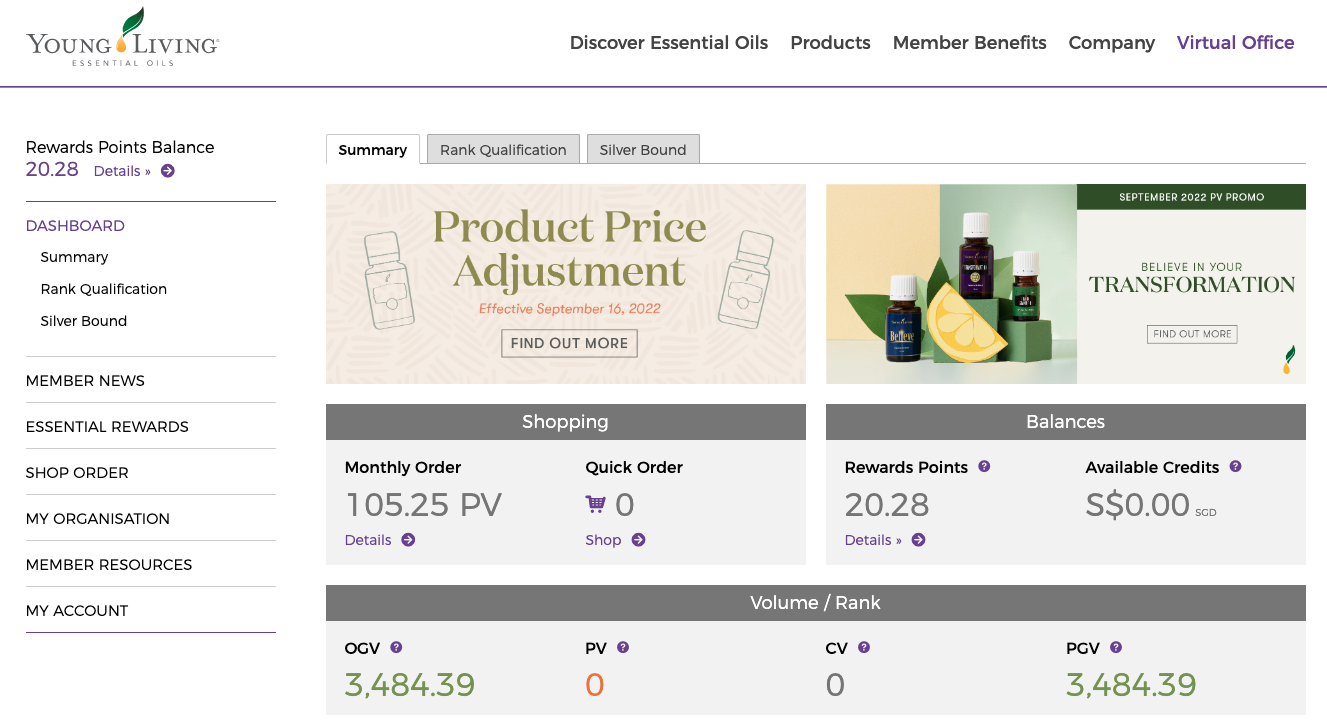 LOG IN

The first step os to log in to your Virtual Office (VO) with your Member ID and Password. You can access your VO here.
VIRTUAL OFFICE


Once you log in successfully, you will see your Virtual Office dashboard. To place your Essential Rewards order, click on Essential Rewards on the left hand side menu.
ESSENTIAL REWARDS DASHBOARD


You are now brought to your Essential Rewards Dashboard. This is where you can edit most aspects of your ER order. Let's quickly go through the various purple buttons to see what each can do.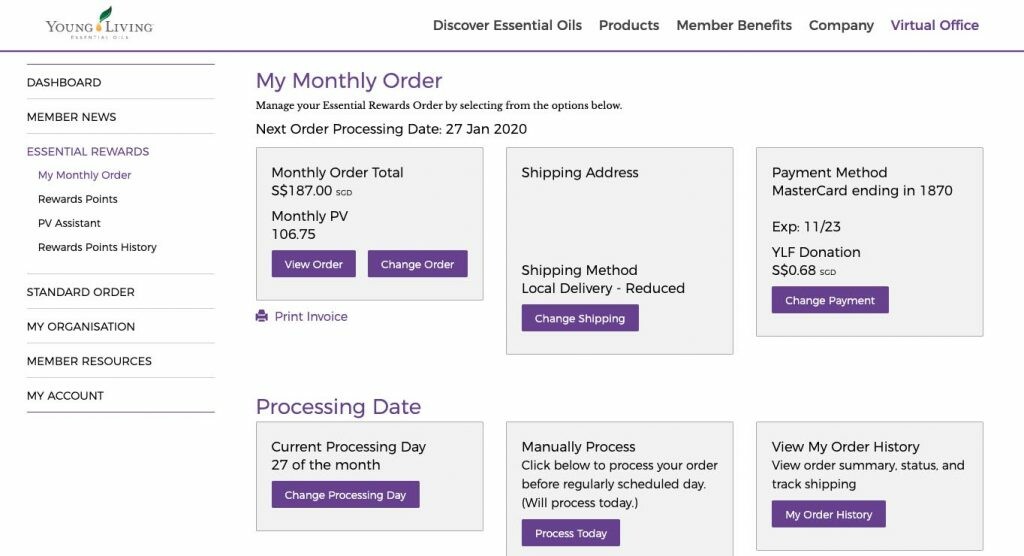 View Order:

This shows you the current order you have in the system. The items here will be sent to you on your processing date.

Change Order:

This will allow you to select and change the items in your ER Order.

Shipping Address:

You can edit your shipping address here.

Payment Method:

This is where you can update your Credit Card details for payment.

Change Processing Day:

This is for your to select another processing date for your ER Order.

Process Today:

Clicking on this will process your ER order right away.

My Order History:

This shows you an overview of all your previous orders.
VIEW ORDER


This shows you what you will be shipped when your processing date comes around. You can only do minor changes to your monthly order here. If you wish to make major changes such as adding in new products, do click on CHANGE ORDER instead.
CHANGE ORDER


Once you choose to change your order, you will be brought to the product catalogue page where you can choose to add in the various products to your order.
SAVE YOUR ORDER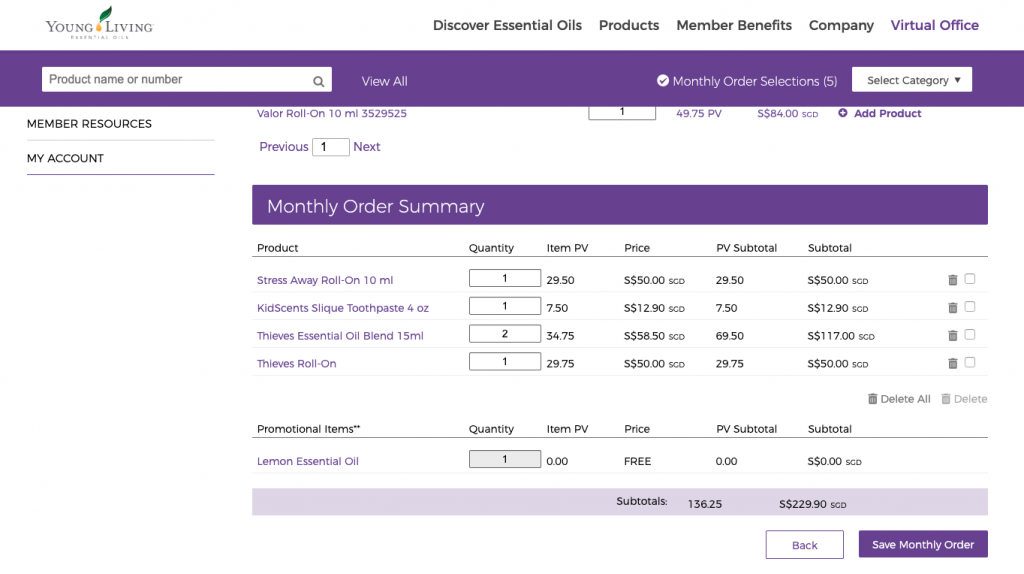 Once you have selected your products, scroll down to the bottom of the screen. You will see your Monthly Order Summary. These are the items which will be sent to you as your ER order. You will also see the total PV points of your order as well as whatever freebies you have qualified for with your order. Once you have finished, do remember to click on SAVE MONTHLY ORDER.
ORDER SUMMARY


Once you have made all changes and saved it. You will be shown the order summary page. This DOES NOT MEAN that your order has been placed and processed. It only means that the system has saved the changes you have made to your cart. If you do not do anything else from this point, your order will be automatically shipped out to you on the processing date. However, if you wish to get your orders right away, you may go back to the Essential Rewards Summary Dashboard and click on PROCESS TODAY for your order to be processed and shipped out to you right away.
CHANGE YOUR PROCESSING DAY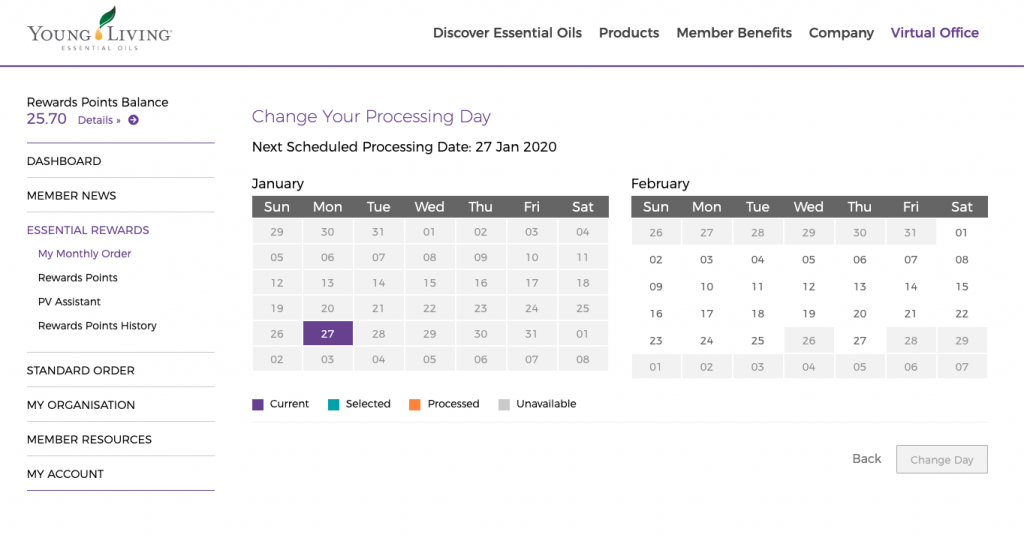 This is where you can change your processing day. Do note that this is a permanent change, meaning if you have changed it from the 26th to the 15th, the following month, your order will be processed on the 15th of the month.
PROCESS TODAY


If you would like your order today, simply click on CONFIRM PROCESS TODAY and the system will process whatever you have indicated in your ER order. This will not affect your normal processing date. Once you have click on this, your ER order for the month would be put through and that will be all you need to do.