03/25/2020 08:00 AM Central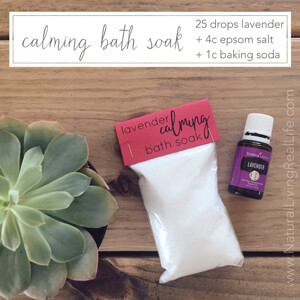 I'm so excited to talk to you about some easy DIY's today. If you search online you will find a plethora of recipes and concoctions to get you going. I'm going to share just a few today to help you get inspired to try creating your own goodies for around the house. Let's get started! The first is my Calming Bath Soak. So easy!
Some other great pampering DIY's are:
Lotion Bar | Hair Mask | Body Butter | Lavender Oatmeal Bath Soak
How about DIY's for travel? I've got you covered there too. I make this bed spray for when I travel. It is a blend of relaxing oils to help you sleep as well as oils that are beneficial when you're in a bed that's not your own. I will say, this bottle isn't quite large enough so now I make it in a larger spray bottle for travel. I also like to take this sleepy roller with me!
I could go on and on, but let me just list a few of my other favorites before we go.
I also share some of my other favorite DIY's here on my website or Young Living has a plethora of DIY's for you as well. Have fun DIY-ing – let me know what your favorite oily DIY is!
02/26/2020 07:00 AM Central
Diluting oils and adding a roller to the bottle is easy! Let's learn how to do this in the quick video I shared here:
As you saw, making a roller is really easy. Dilution ratios are on all of the colored labeled oils, because those are labeled for topical or aromatic use. How do you know where to apply the oils? Normally, it will be self explanatory. If you're using an oil for head tension, rub it on your forehead. If you're needing digestive support, rub around your belly button. If the area isn't as clear, a great place to apply the oils is to the bottoms of the feet. The pores are larger there plus there are
Vita flex points
on the bottoms of the feet to nearly every part of the body – so when in doubt, apply to the bottoms of the feet. Normally recipes will list where to apply or you can check your oils
reference guide
as well. I hope that helps!