Jun 3, 2021 08:58 PM Central
Dorota Matys
2021, fathers day, graduation gifts, ideas, june, promos june, summer essentials, wellness, young living, young living essential oils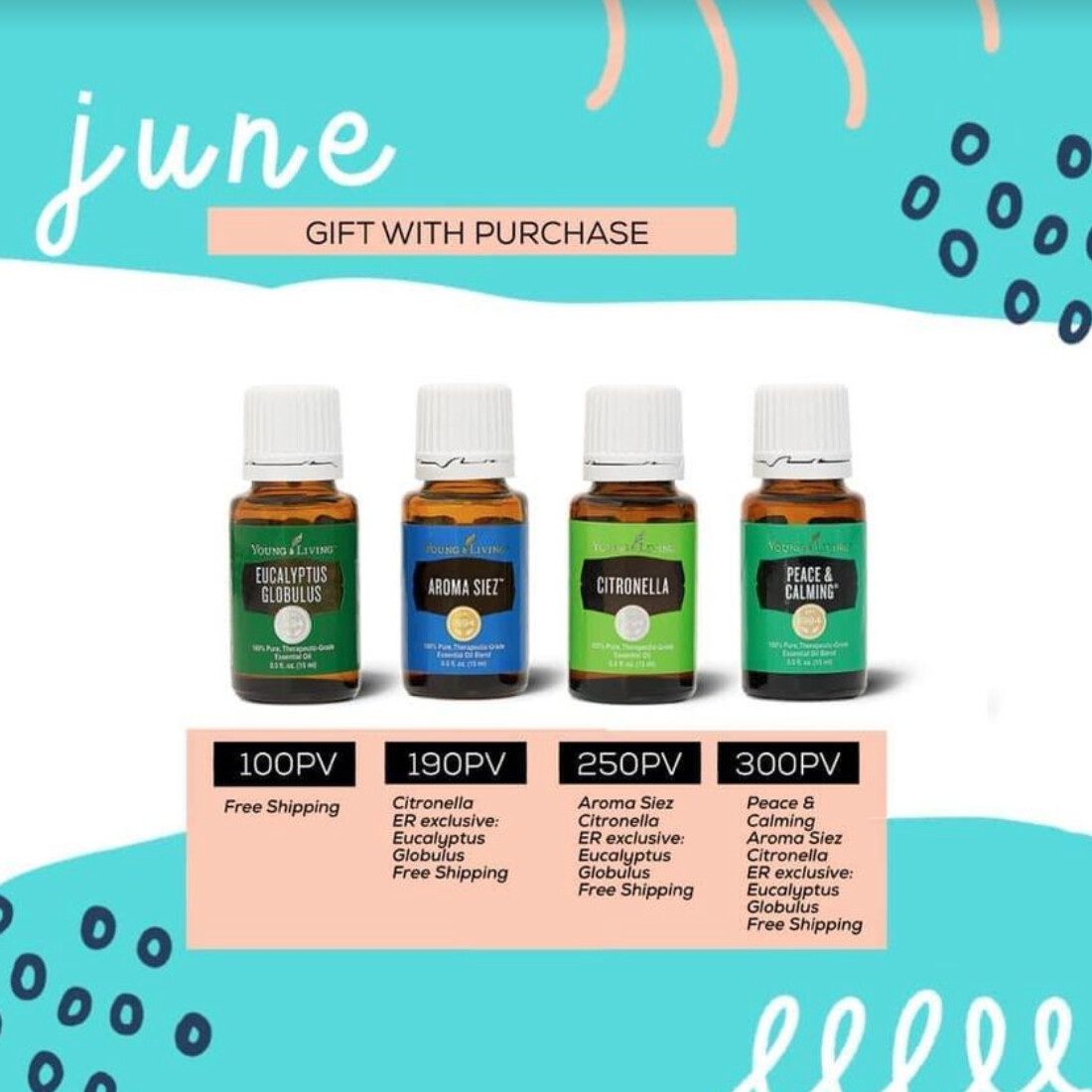 Hello June - the official month where summer begins☀️ It's also the month of celebrating dads💙 and grads 🎓 All the celebrations, and all the warm days/nights bring more grilled food, bonfires, and fav summer pastime fun!!
💙To the dads - honorary father figures & biological ones alike - we're celebrating you! So grab your oils, kick the diffuser on, and start your month
off with some of these fresh & manly scents!
From early morning to late nights - the champion protectors in our lives are always looking out for us! So why not say "thank you" with the amazing Dewdrop Essentials Collection? The *best part* of this collection is that the Dewdrop Diffuser is FREE!! Who can say no to free stuff? With this set, they'll also receive woodsy Idaho Blue Spruce & Northern Lights Black Spruce, refreshing Peppermint, and lively Lemon.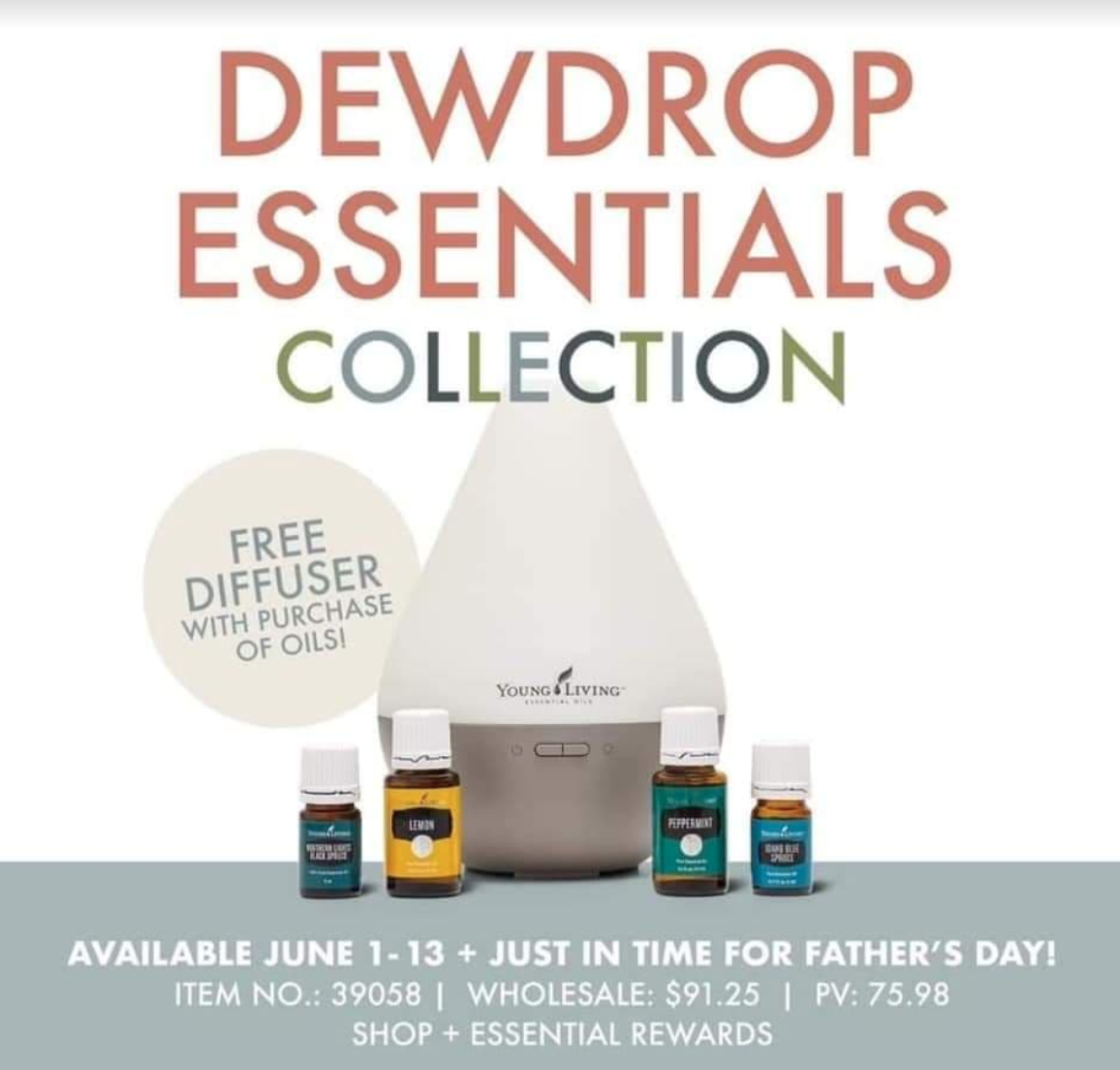 👉🏼This is a limited-time Father's Day collection & is available June 1 at 12 midnight, MT, through June 13 at 11:59 p.m., MT, and is ideal for macho men, refined gentlemen, or anyone, male or female, who adores diffusing
essential oils. **ALSO this Father's Day bundle can be added to your monthly ER order *OR* can be purchased via one-time on a Shop order.
🎓FYI: This bundle is also a fantastic gift for a Grad student!!
Have you seen June's Gifts with Purchase? It's perfect for all things summertime!! Check out what YL is giving us this month: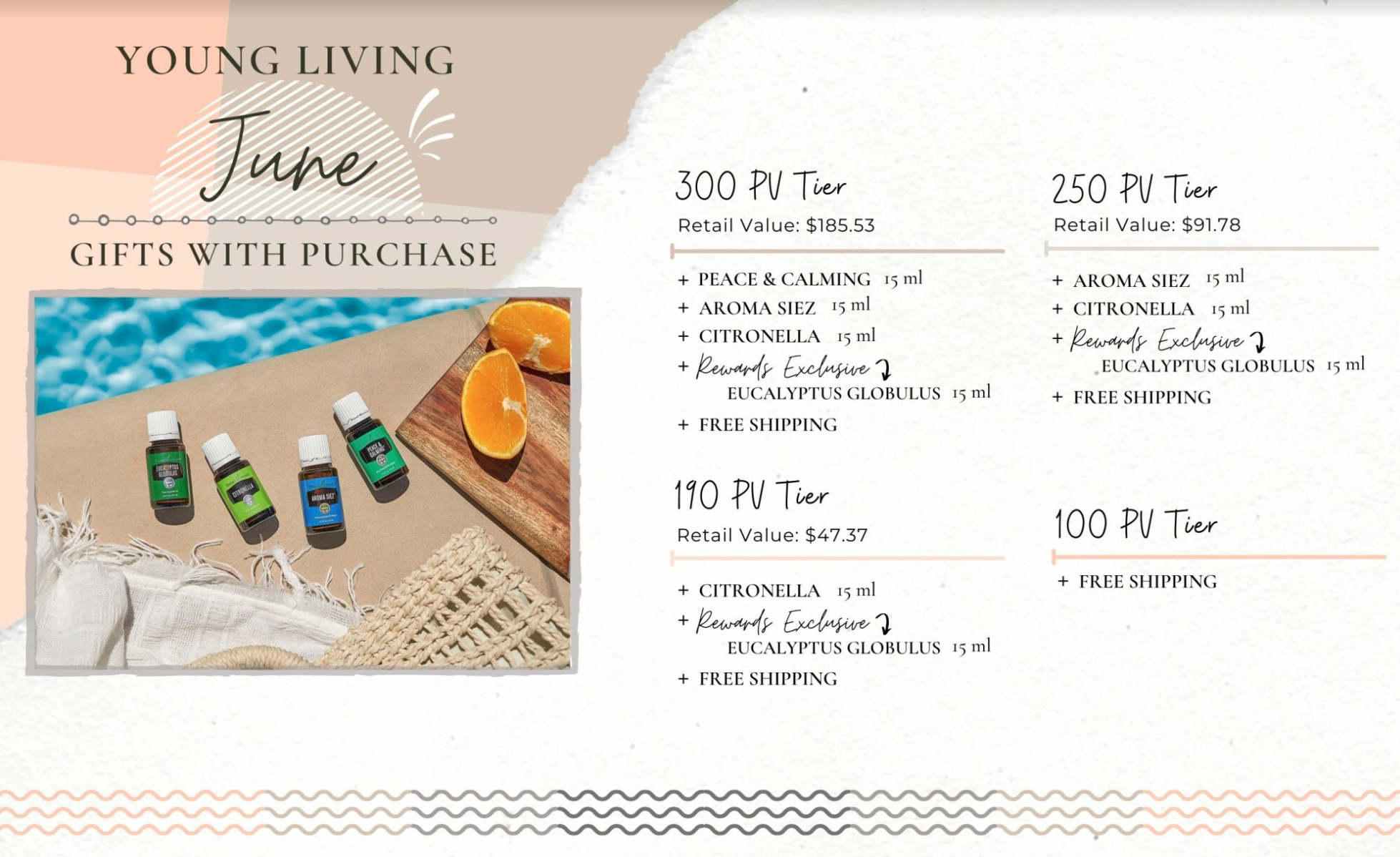 +100pv Tier: FREE Shipping
+190pv Tier: Citronella 15ml, Rewards Exclusive Eucalyptus Globulus 15ml, & FREE Shipping
+250pv Tier: Aroma Siez 15ml, Citronella 15ml, Rewards Exclusive Eucalyptus Globulus 15ml, & FREE Shipping
+300pv Tier: Peace & Calming 15ml, Aroma Siez 15ml, Citronella 15ml, Rewards Exclusive Eucalyptus Globulus 15ml, & FREE Shipping
💪🏼Aroma Siez helps calm minor muscle & head tension, along with being one of the *key* ingredients in the Raindrop Massage Technique.
🌱Citronella is refreshing & uplifting. It's also well known for its use in outdoor candles, sprays, lotions, & camping essentials.
😌Eucalyptus Globulus creates a refreshing breathing experience when inhaled. It's a also key ingredient in YL's Breathe Again Roll-On.
🧘🏻‍♀️Peace & Calming is a sweet blend of Blue Tansy, Orange, Tangerine, Patchouli, & Ylang Ylang. It may help the appearance of skin when applied topically. It also offers a peaceful environment for meditation, yoga, & bedtime.
📦FREE Shipping is offered for every standard or monthly order of 100pv or higher!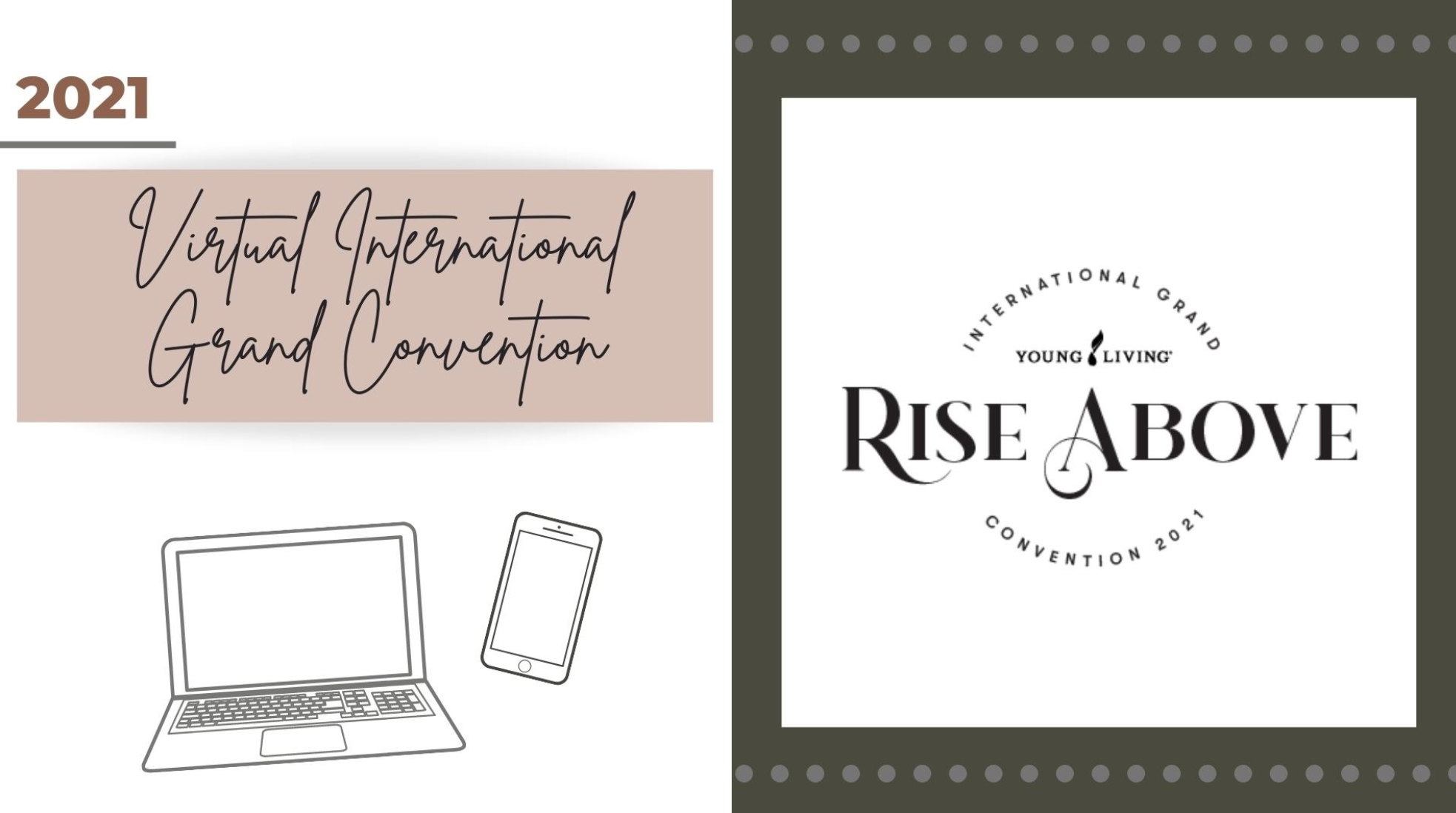 Convention Update: We want as many people as possible to join us, so YL decided to extend convention registration through June 6, 2021, at 11:59 p.m. MT. This provides you and your team with another opportunity to reserve your seat at this year's event. As a reminder, all registered attendees that place a PV order during the convention, June 17-19, 2021, will receive the exclusive Young Living gua-sha stone.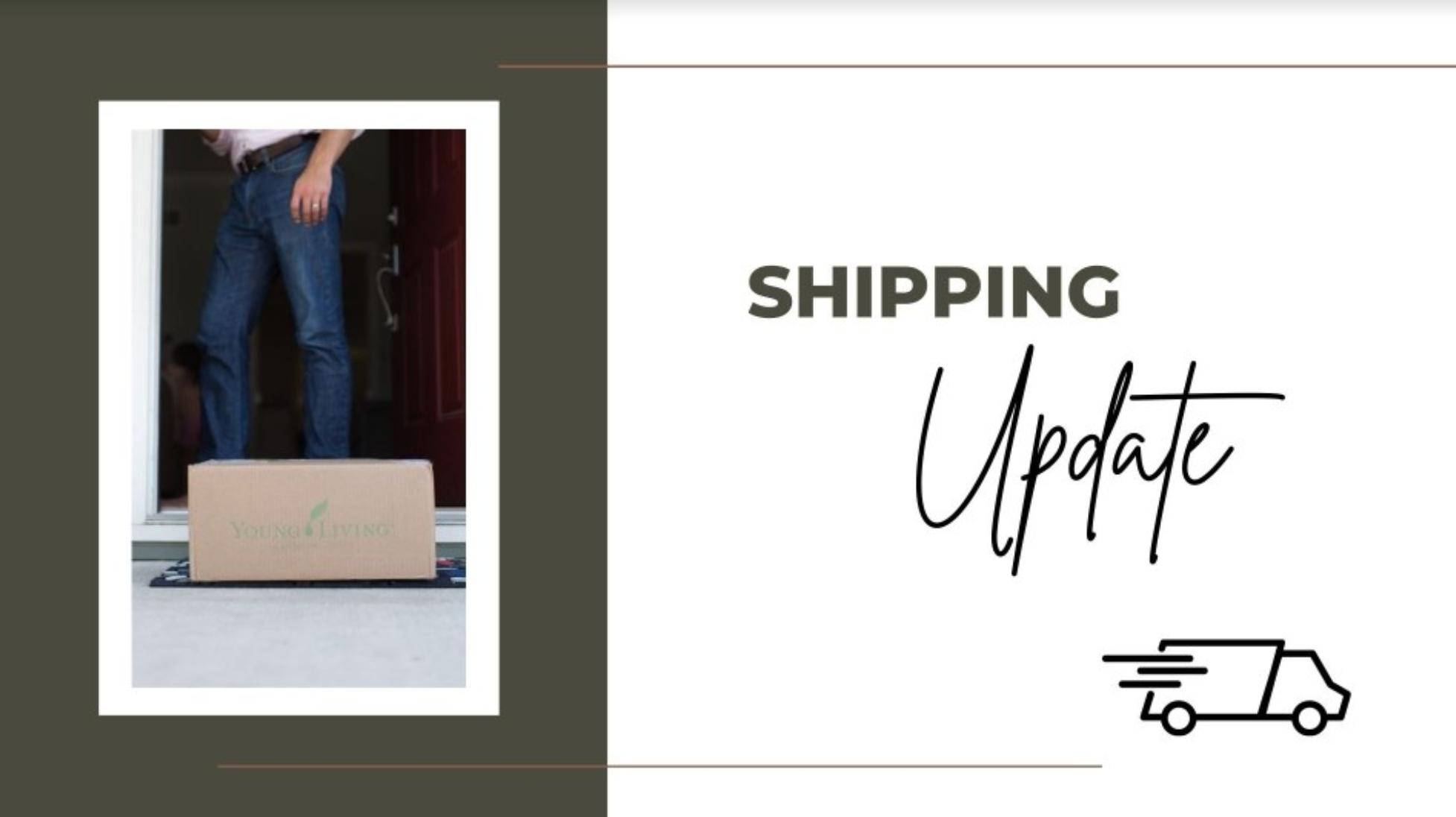 I'd like to leave you with one more update... if you didn't know already, YL is making some great changes to positively improve delivery times for us! These include switching to UPS SurePost, with better communication and
accountability, and developing more email alerts. Be sure to check your email for more information about the measures they're taking. Also, be on the lookout for updates about some awesome new tools Young Living has implemented to increase the speed and efficiency of fulfilling your orders.
With that being said, Happy June, and I hope to "see" you at Convention later on this month!!