Oct 6, 2020 02:22 PM Central
Dorota Matys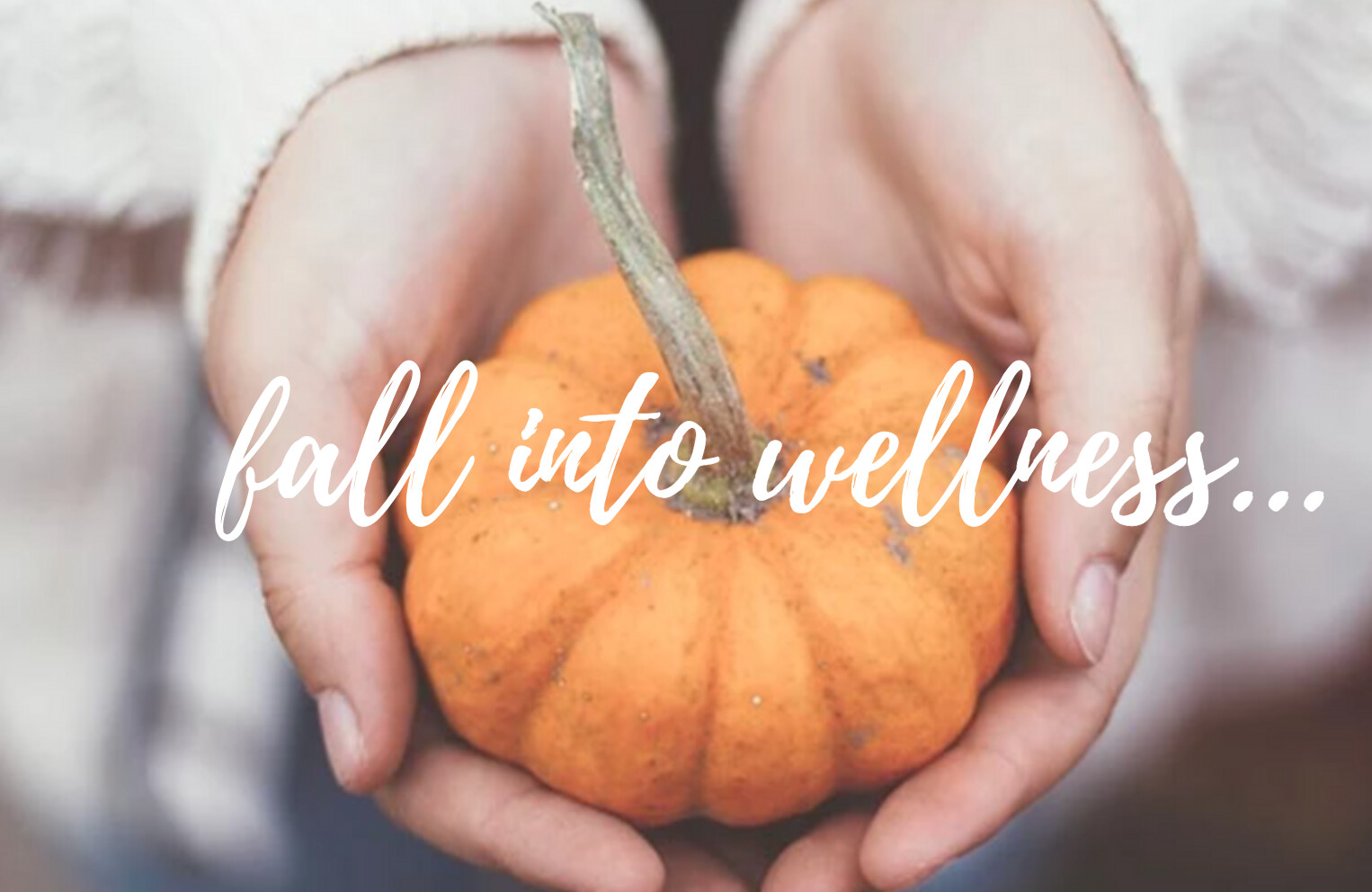 I have a very good reason for sending this newsletter almost a week late, well maybe not since excuses are pretty lame. The truth is I got a bit distracted by one of the coolest human beings who decided to visit my home this past weekend.
Sherry Cummings
, a woman I met about four years ago when I decided to dig deeper into all things essential oils related and travel over 6 hours to meet her somewhere in PA.
Sherry soon became my mentor, friend, and teacher, I know she knows her stuff very well, and I love seeing her passion for wellness and holistic approach on full display. I have witnessed how her work, her words, her touch, and her skill can change a person's life, and giving my full attention to her became. simply non-negotiable.
This past weekend she shared her gifts of Raindrop Technique, Vibrational Raindrop, Emotional Release, and Thermography with a few people in my neighborhood, and if you missed out please know that Sherry will be back in CT beginning of March, so if you're curious, lmk and I'll connect you with this incredibly talented lady when she returns.
Now onto our very important
October Newsletter!
🍂
With the cool, crisp days inviting you to get outside and play, now's the time to refresh your routines and harvest healthy habits. Autumn shows us how beautiful it can be to let things go, and to invite better things in!
Fall into wellness with this month's PV promo picks!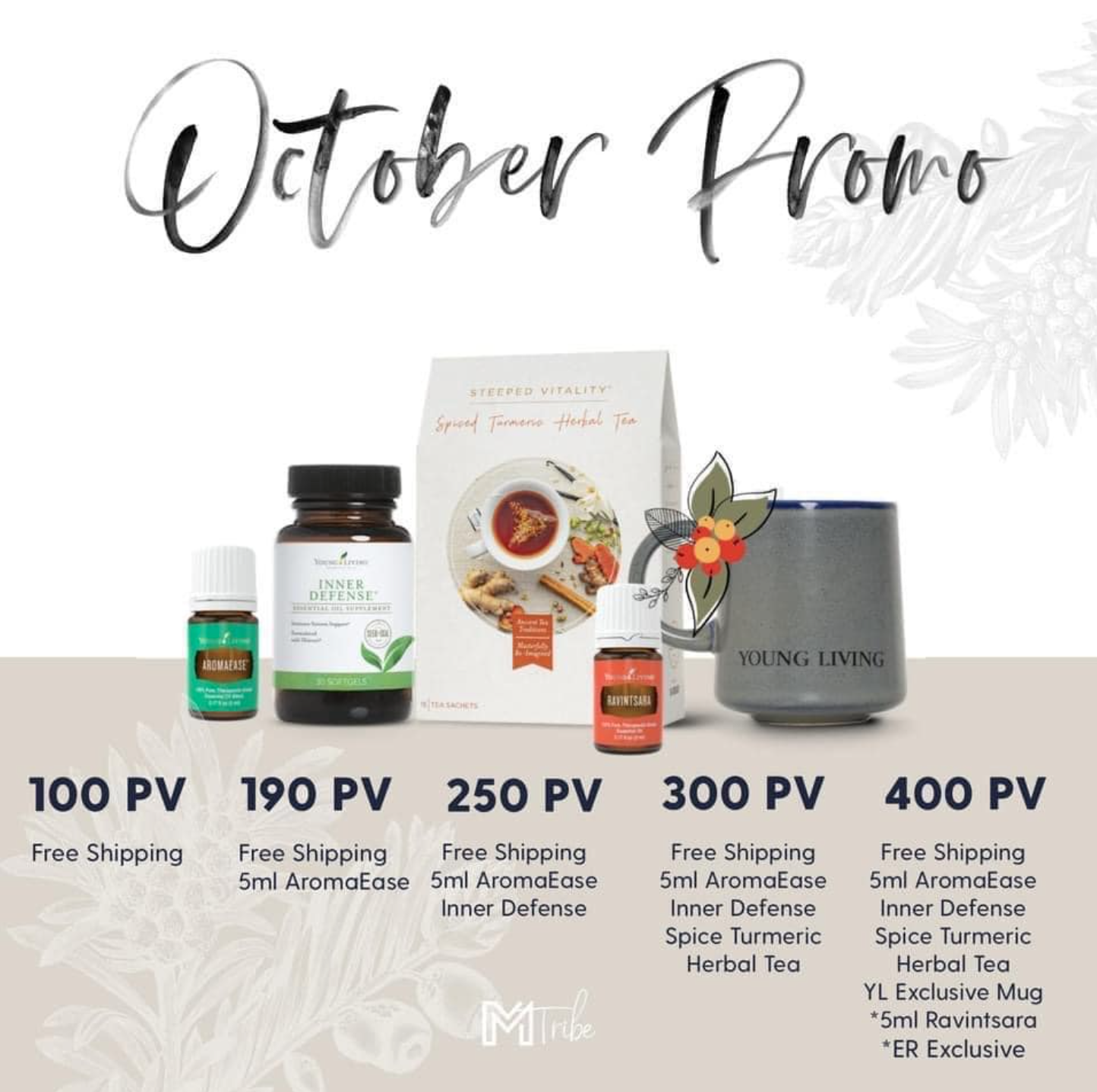 Start by elevating your wellness routines or meditation sessions with the refreshing smell of
Ravintsara
; then boost well-being with a daily Inner Defense™

softgel, (increase to three softgels when your body needs extra support, and be sure to add a capsule of YL's Life9 probiotic). After an afternoon of apple picking and mastering corn mazes, cozy up to a cup of
Spiced Turmeric Herbal Tea
— and enjoy this rejuvenating blend in our exclusive Young Living mug, handmade by women artisans in Vietnam who have faced economic hardships.

Young Living loves supporting artists and mothers, and this mug accomplishes both! Created from natural, locally mind clay in Vietnam, each mug helps break the cycle of poverty for the all-female artisans and their children. You'll love why you own this mug as much as it's lovely beauty blue and gray hue.
When life isn't pumpkin spice and everything nice, diffuse
AromaEase™
and make relaxation a priority.
Qualify today and get these free gifts with no extra shipping charge!
October's PV promo picks! 🎉🎉🎉
🍂 100pv: Free Shipping
🍂 190pv: AromaEase 5ml
+
Ravintsara 5ml *** ER Exclusive
AromaEase is an oil that Young Living always seems to give during travel season because people who deal with travel sickness LOVE having this in their back pocket. AromaEase is like Digize without the strong smell. It's perfect to keep it in the car for those times passengers might feel queasy.
Ravintsara is perfect for this time of year in the diffuser for respiratory support, in homemade chest creams, and on the kids' feet before heading out to the park!
🍂 250pv: Inner Defense
Repeat after me: "INNER DEFENSE IS A STAPLE PRODUCT!"
Why? It's a premade capsule of Thieves, Oregano, and Lemongrass. Can you imagine why you'd want that on your shelf this time of year?
Always have an extra bottle for those times in need. Especially during winter!
🍂 300pv: Spiced Tumeric Herbal Tea (15 ct)
A perfect Autumn Tea! Try adding a little splash of my favorite creamer to your cup!
🍂 400pv: YL Mug
Perfect for drinking your tea 🥰
And if you are dreaming of delicious treats here is a recipe you will not regret testing out this fall! The sweet and spicy aromas will surely make your day brighter!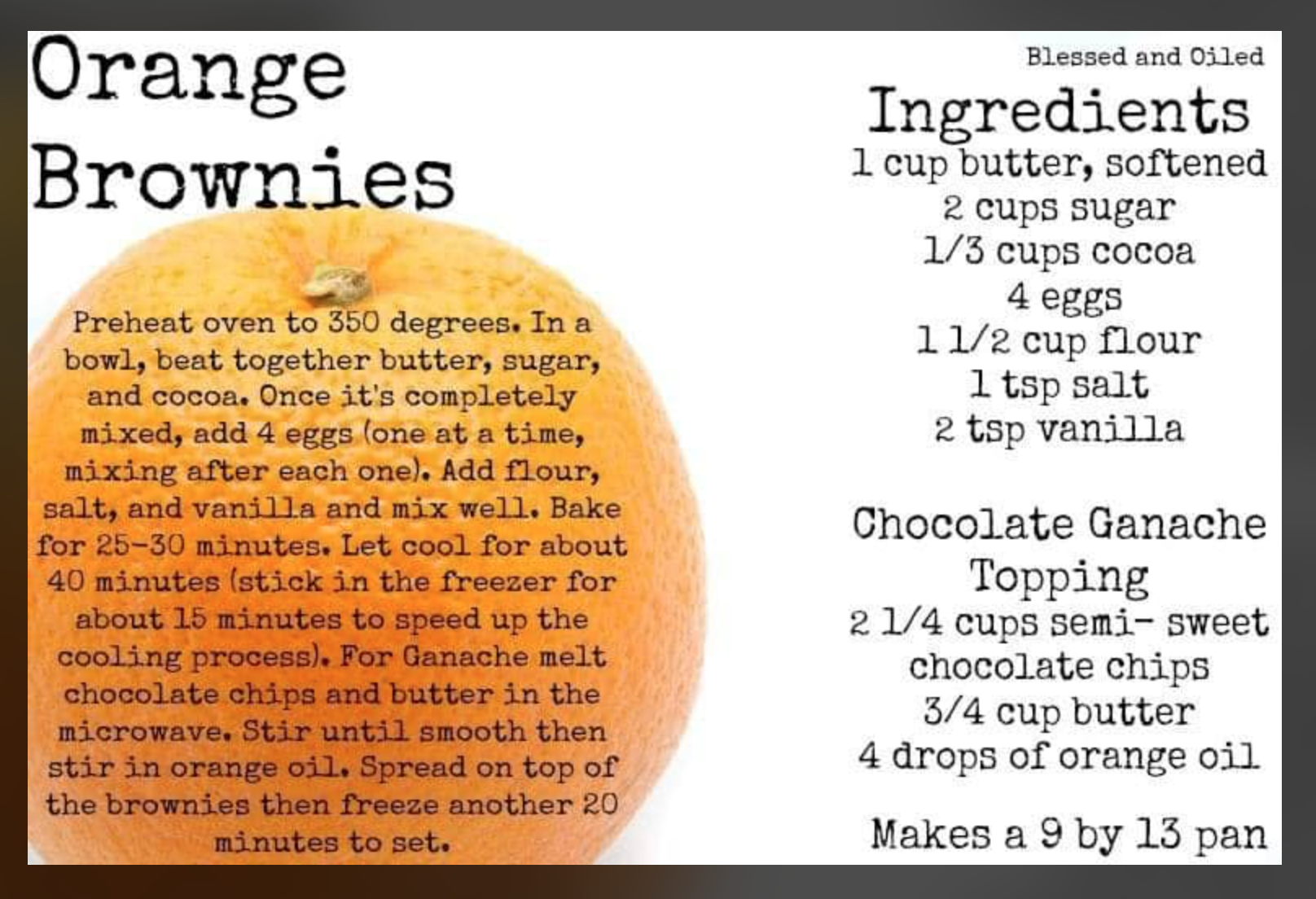 Please know to reach out to me with any questions. or concerns you. may have. I am here to help and assist you in any way I. can!
And if you have not placed an order in the past three or more months, please reach out and connect with me so I can share with you a little special something, something I have just for you! 🍂
Happy Fall!
🍂
Your Wellness Advocate
Oct 3, 2018 02:41 PM Central
Dorota Matys
Hello There Dear Friend,
Oh, my goodness, October is already here, and it has kicked off with a bang!
Promos, events, warm and spicy autumn blends for you to try out and more!
Let's get right to it!
This month's promos are focused on family gatherings and seasonal wellness.
This is a GREAT month to start your holiday shopping and get even more amazing products for free!

October 2018 Promos
➕Oregano Vitality (5 ml): supports the immune system, respiratory system, digestive system and even does wonders for the liver! (Exclusive to Essential Rewards.)
➕AromaEase (5ml): ( you might like to add Orange or Lemon EO to this in the diffuser) Apply topically over the tummy for any tummy discomforts. Have it on hand in the car or on the boat

➕Cinnamon Bark (5ml): Apparently the Cinnamon Bark aroma attracts wealth. Supports circulatory system, cardiovascular and digestive system
➕Thyme (15 ml): slows down aging (!), supports the cardiovascular system, brain health (!) and liver, helps with exhaustion (!)
➕Palo Santo (5ml): comes from the same botanical family as Frankincense so you know all the reasons why you love frank? You will love Palo Santo for that as well. It is grounding. Palo Santo means "sacred wood" so it is a beautiful oil to use for creating a more spiritual and sacred environment.
➕MultiGreens: I LOVE that one big time! Think of alkalizing your body. MultiGreens is a chlorophyll formula supplement that was created to boost vitality by working with glandular, nervous, and circulatory systems. MultiGreens is made with spirulina, alfalfa sprouts, barley grass, bee pollen, eleuthero, Pacific Kelp, and our essential oils.
➕Seed to Seal Story Collection: (extra Tier at 400 PV) When you reach 400pv this month you will get this collection of 10 ml oils that includes Lavender, peppermint, and Tea Tree. Three of our most used essential oils.
What I love about this collection is that it comes in a small box and could be the easily gifted to someone!! It's also a perfect "spa experience" in a box! This box plus some Epsom salts and a foot loofa and you've got yourself a little self-care essential oil infused experience for yourself or to gift.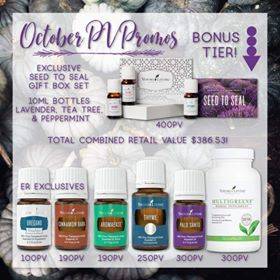 Questions> Please feel free to reach out and ask if you are confused about how to get these oils for FREE or if you need any help navigating your options!
***I noticed a few members have placed orders last month that were just shy of 100 PV and missed out on a free Clove Vitality! Don't miss out on at least getting a free bottle of Oregano Vitality this month! Google the benefits of Oregano oil to learn why you want to have this oil in your stash!***
Monday, October 15th, 7 PM to 9:30PMAlternate day for our monthly Apothecary Club with focus on Back to School Back to Work Immune and Focus support at the Upper Room Art Studio 23 Keeler Ave. Norwalk, CT.
Want to host a class or fun, oil party? Let's get it scheduled, it can happen at your home or at the Upper Room! You'll get a $25 credit on your YL account to enjoy! Contact me via phone or email to set a date!
Here is a great set of fall diffuser recipes, all of which include Cinnamon Bark - one of your free October promos with your 190 PV ER order!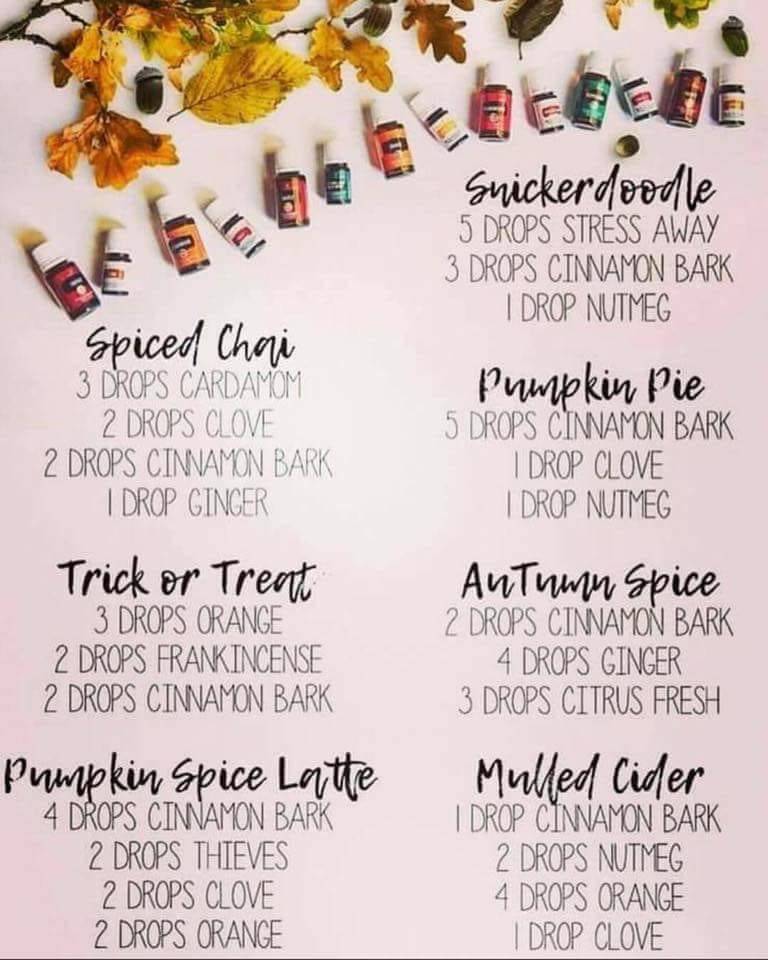 & the lovely Apple Tart Diffuser Blend!
And to help with keeping our homes smelling beautifully this Autumn also remember to reach for your bottle of Citrus Fresh blend. This beauty will help with pet odors or just with refreshing your home, closets or kitchen area. You may even want to create a spray blend infused with Citrus Fresh or other refreshing oils such as: Purification, Lavender, Lime and Lemon, to do that just add 20 drops of Citrus Fresh and/or other oil to a 4 oz glass spray bottle filled with distilled water (you may want to add a pinch of salt to help the oils disperse better in water)
Single oils contained in the Citrus Fresh blend:- Orange brings peace and happiness to the mind and body.- Tangerine is calming to the nervous system.- Mandarin promotes happiness. It's also refreshing, uplifting, and revitalizing.- Grapefruit is balancing and uplifting to the mind.- Lemon promotes health and physical energy.- Spearmint is uplifting to one's spirit.
Not a YL preferred member yet? Isn't it about time? Start today!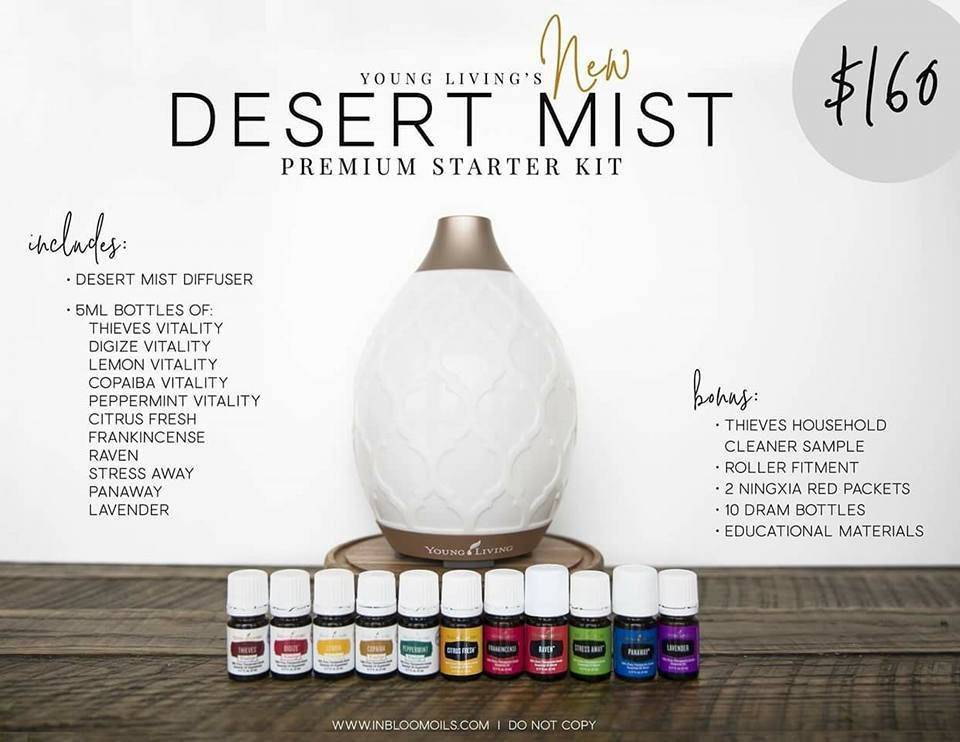 Here are just a few ways you can put your oils to use right away!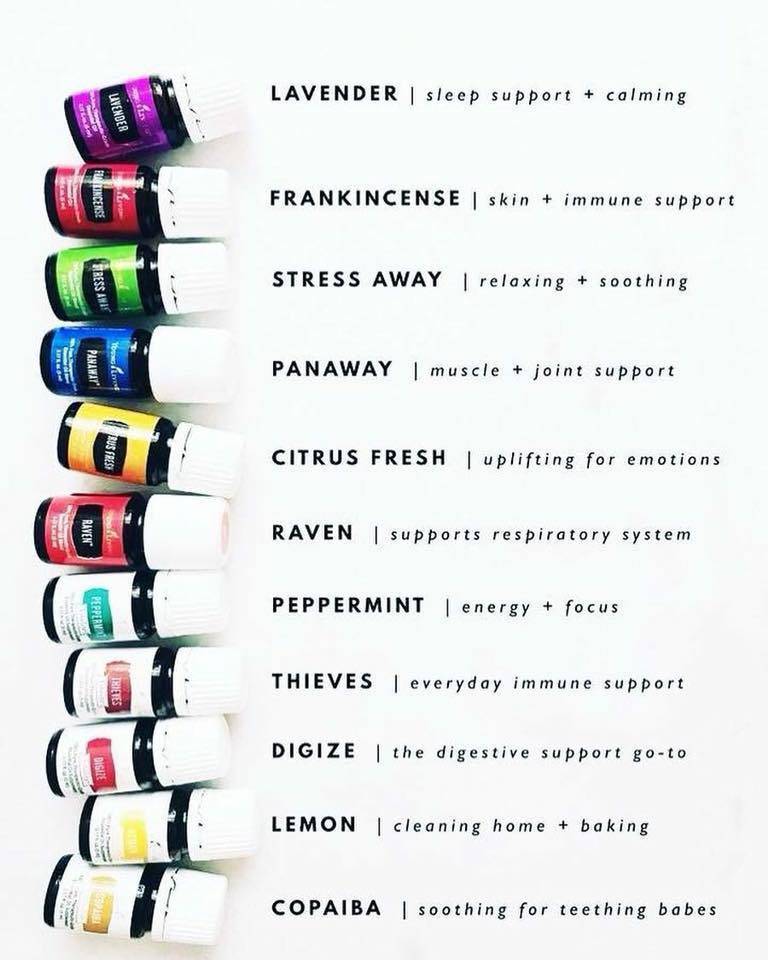 Why not really get a great start to your wellness journey and get a Thieves and Ningxia Red Premium Starter Kit at the same time?! Your family will be all set!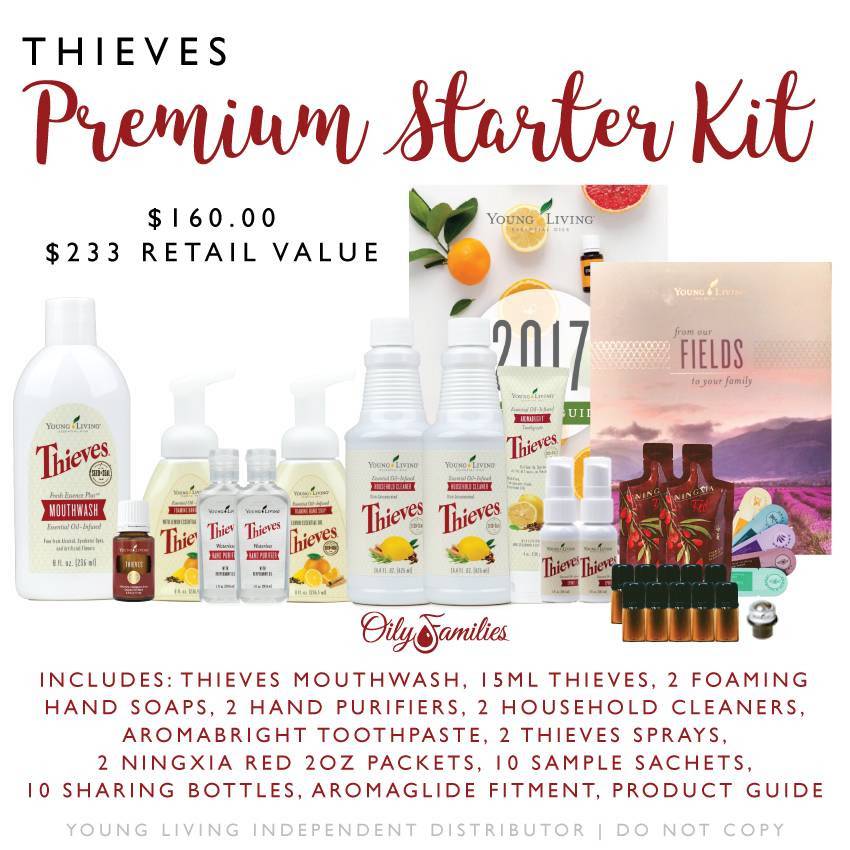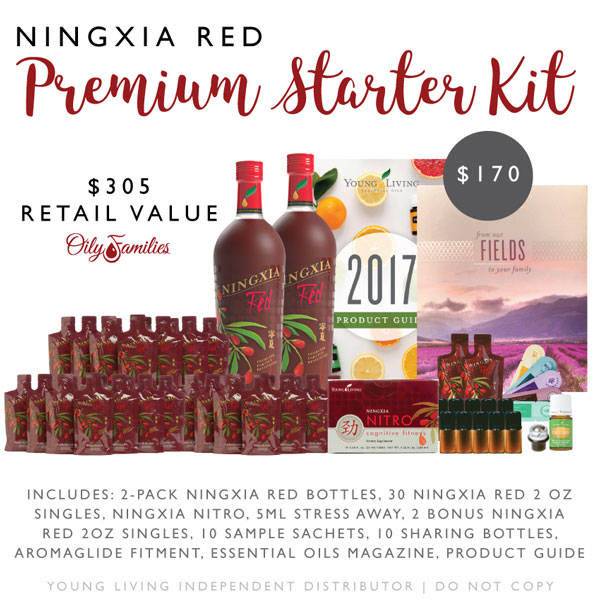 All three of these are available options for you to choose when you become a YL preferred member. Got questions or need help? Let us know!
Happy Oiling!
Dorota Matys
Your Young Living Wellness Advocate
member #1504829