Dec 1, 2021 08:41 AM Central
Dorota Matys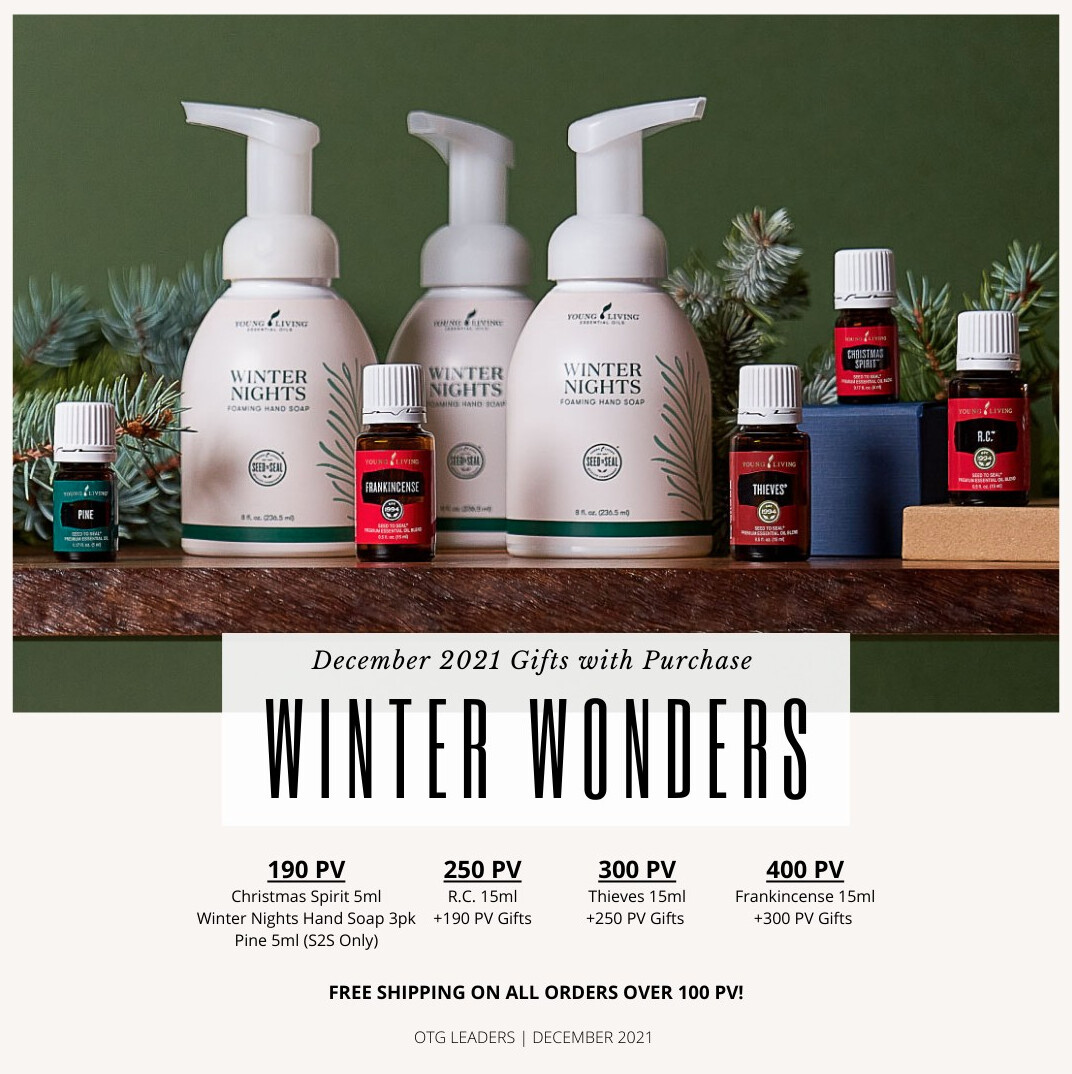 US December 2021 Gifts With Purchase in-depth!
Frankincense 15-ml (Bonus Subscribe to Save 400 PV tier)
Yes, a 15-ml bottle of Frankincense. This is liquid gold! Skincare. Calming. A deeper, richer spiritual or meditative experience. This is a famous gift connected to the holidays and getting it as a gift for ourselves is perfect. You can literally never have too much Frankincense.
• Add to your moisturizer to promote the appearance of healthy-looking skin and even skin tones.
• Create a safe and comforting environment by diffusing while engaged in prayer or meditation.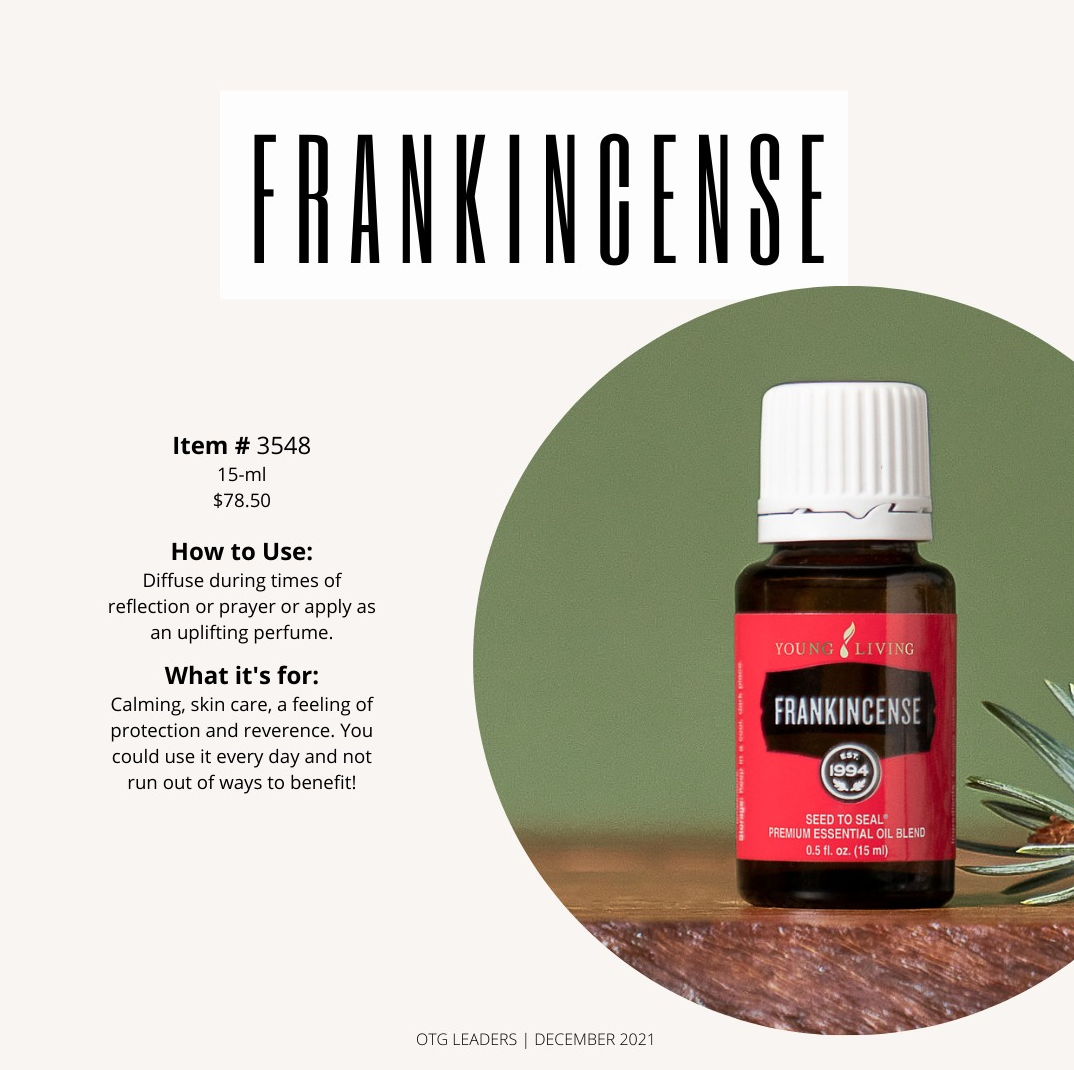 Thieves 15-ml (300 PV tier)
For the cold, winter months, and the holidays where everyone is out shopping and putting their grubby little fingers on everything, Thieves is a lifesaver. Along with having a wonderful, comforting aroma for winter, the Vitality version (which is the same oil like this one, by the way) helps support our immune systems, and the warming sensation on our feet and chest when applied with a carrier oil can be a nice relief during winter.
• Add a few drops to your dishwater or dishwasher to eliminate odors and boost cleaning.
• Dilute and apply to the bottom of your feet during cold winter months.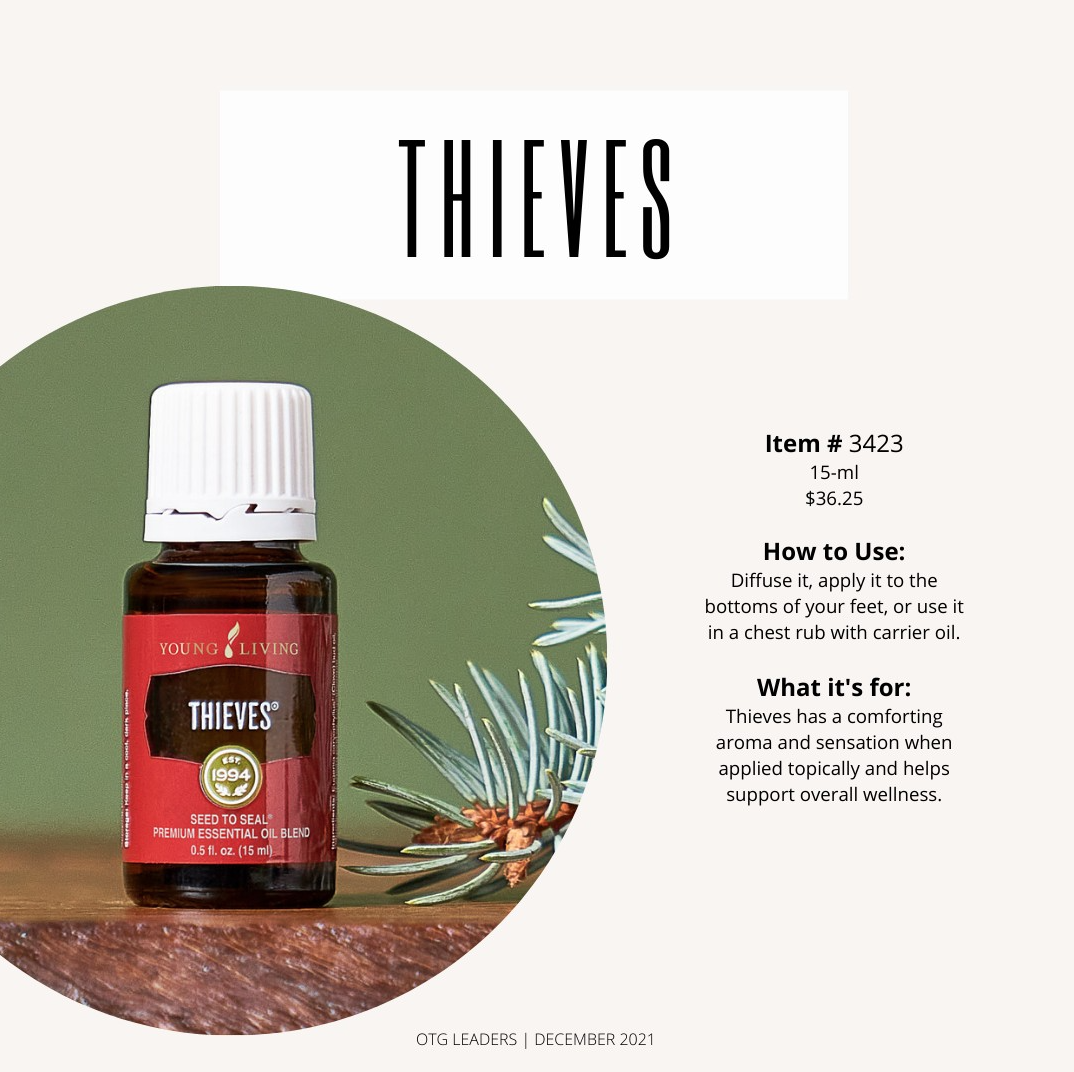 R.C. 15-ml (250 PV tier)
Speaking of chest rubs, for those days you want a cooling relief and sensation on your chest, take 3-4 drops of R.C. with some carrier oil and make an invigorating chest rub! The Eucalyptus and other fresh oils in it will have you breathing easily and feeling motivated to take on the day.
• Use R.C. with V-6 for a foot or back massage after your gym routine, outdoor adventure, or yoga practice to enjoy a refreshing scent.
• Diffuse 8–20 drops to experience the relaxing aroma in any stuffy environment.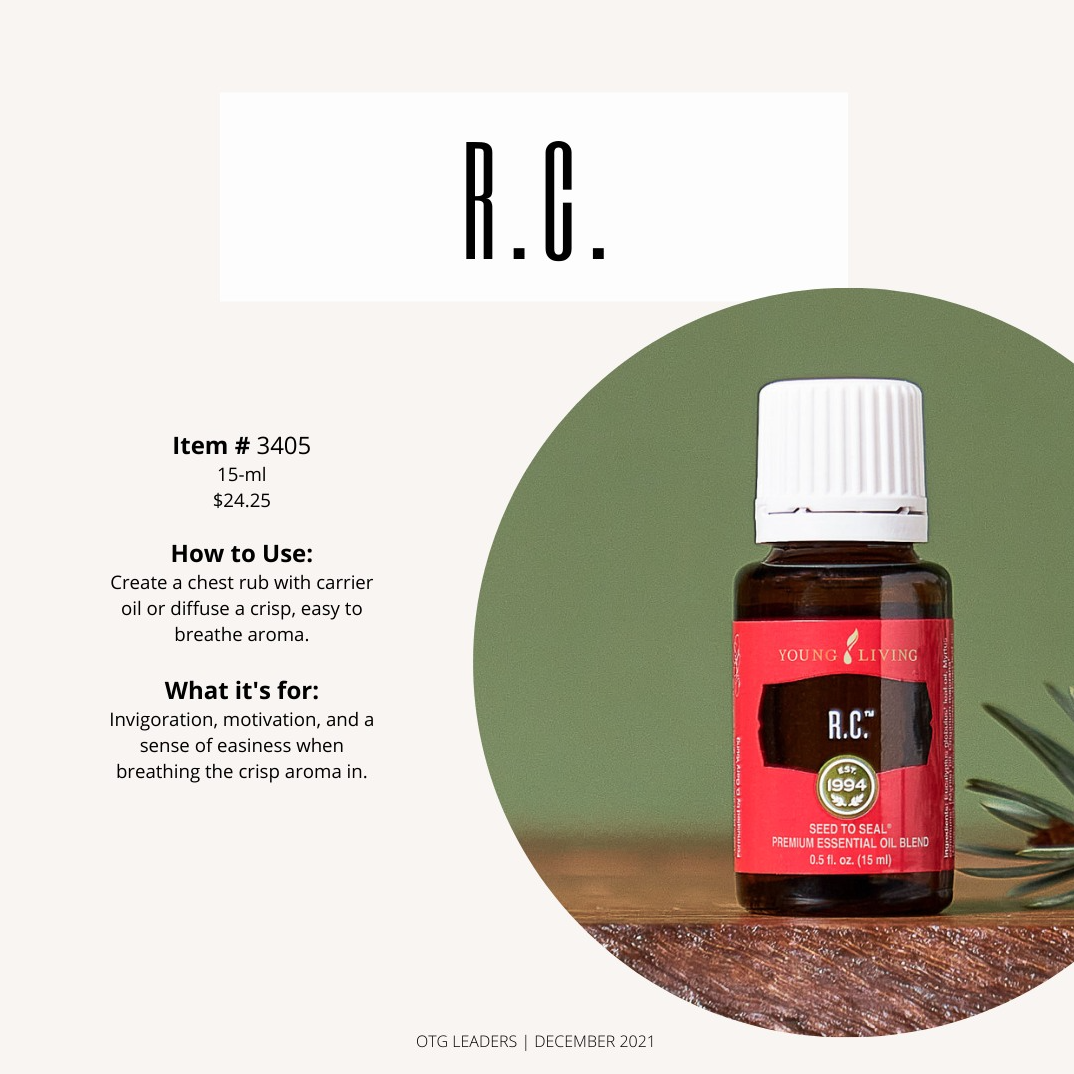 Christmas Spirit 5-ml (190 PV tier)
All the holiday gatherings will be greatly enhanced with the festive, delicious aroma of Christmas Spirit in the air. Want a little extra calming of tension or hyper-ness during a holiday gathering? Add a few drops of Frankincense. You're welcome.
• Add it to Thieves Household Cleaner for a festive twist to your cleaning experience.
• Use Christmas Spirit to create your own holiday potpourri.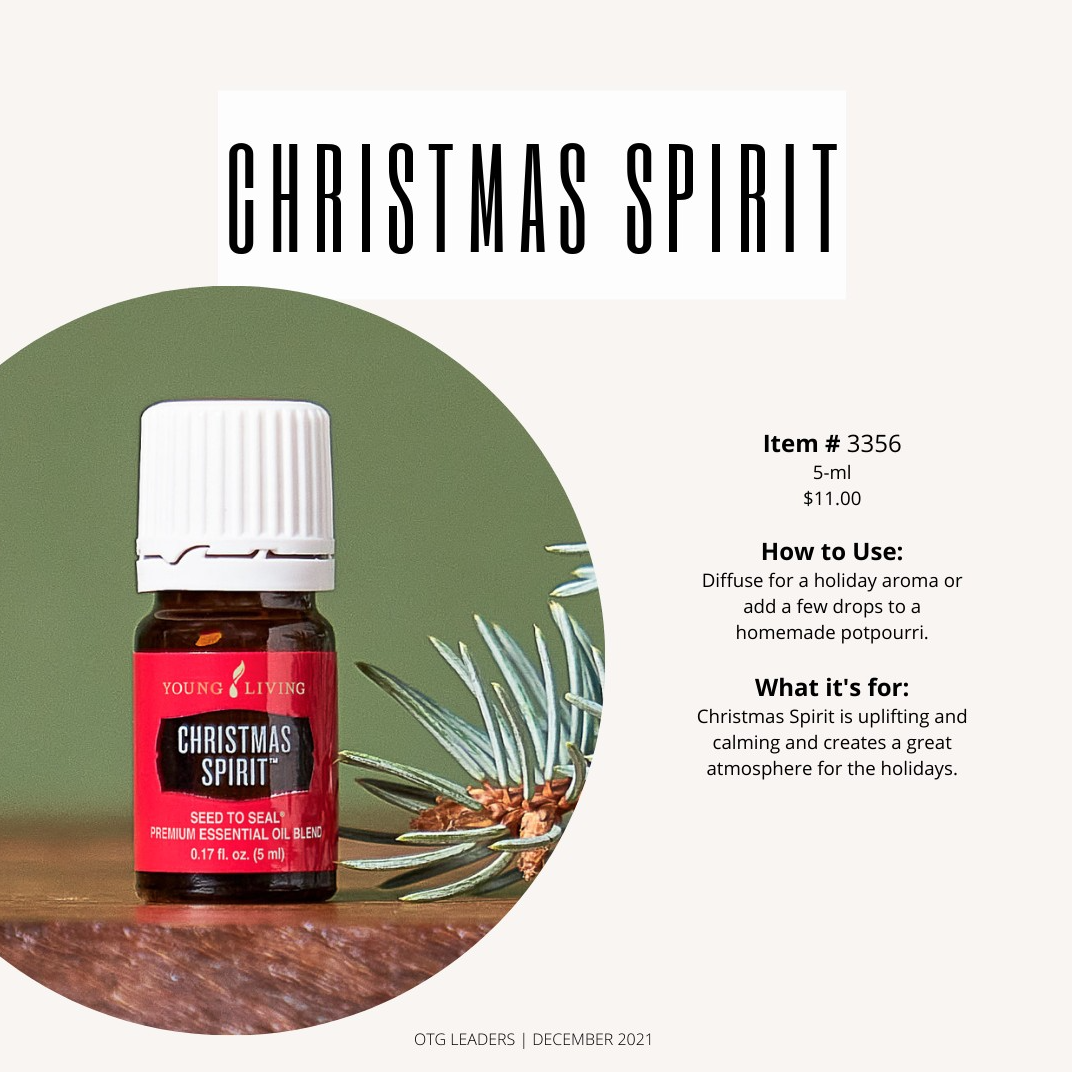 Winter Nights Foaming Hand Soap 3-pk (190 PV tier)
Keep your hands clean all winter long without drying them out. Plus, the added bonus of Winter Nights lingering on clean hands might have guests going back and washing their hands more than once.
• Leaves skin soft and clean with a sweet, woodsy scent.
• Combines Northern Lights Black Spruce, Peppermint, Cedarwood, and Orange essential oils with other naturally derived ingredients to clean hands.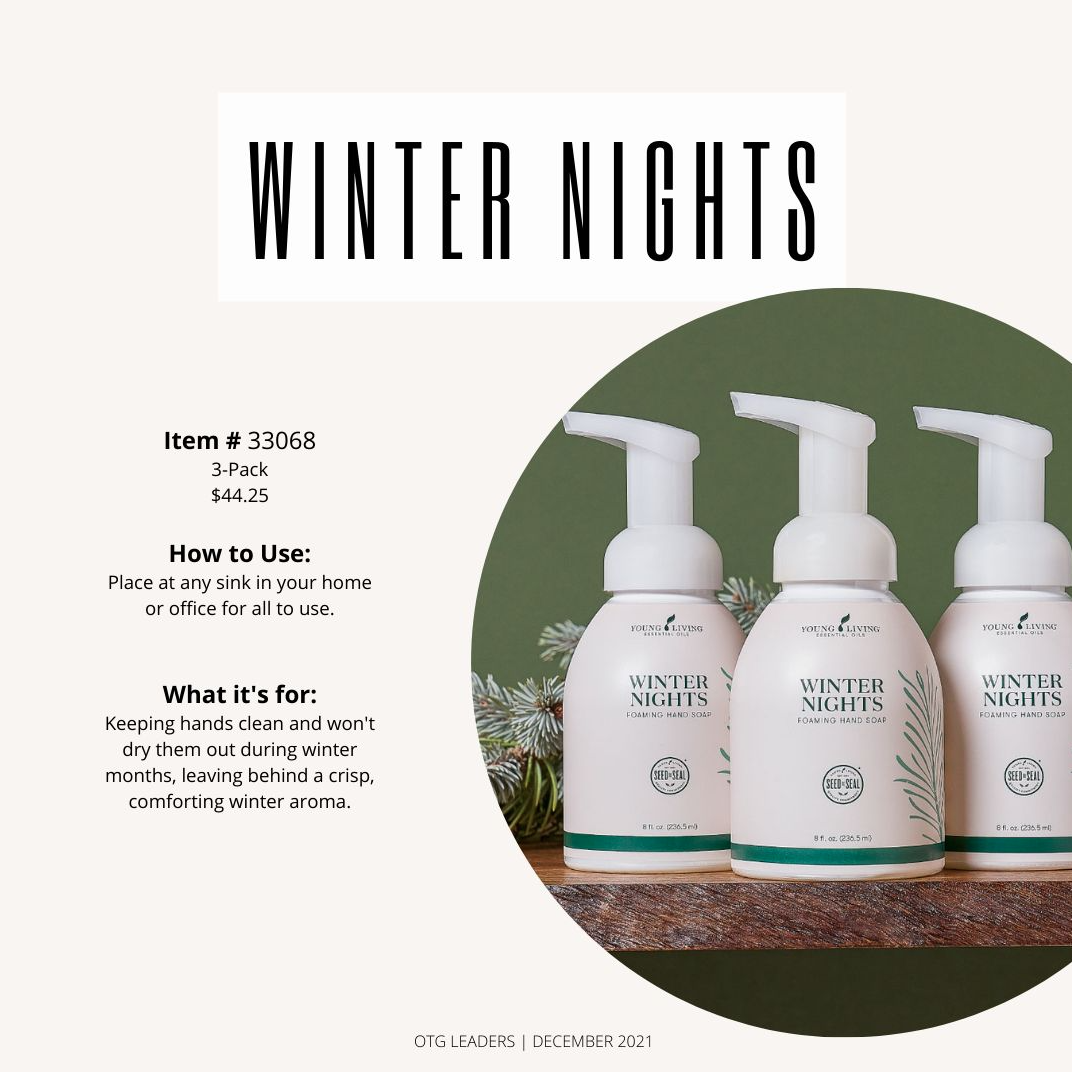 Pine 5-ml (Bonus Subscribe to Save 190 PV tier)
There's a lot of really good and interesting information out there about Pine. I definitely suggest that you dig a little and see what's been said about it recently. I will say, there is comfort and courage to be had in applying Pine topically to your chest with some carrier oil. And woodsy oils in the diffuser are always calming and easy to breathe. This is a great gift!
• It shares many of the same properties as Eucalyptus Globulus; the action of both oils is enhanced when blended together.
• Pairs well with other essential oils such as Peppermint, Lavender, and Eucalyptus.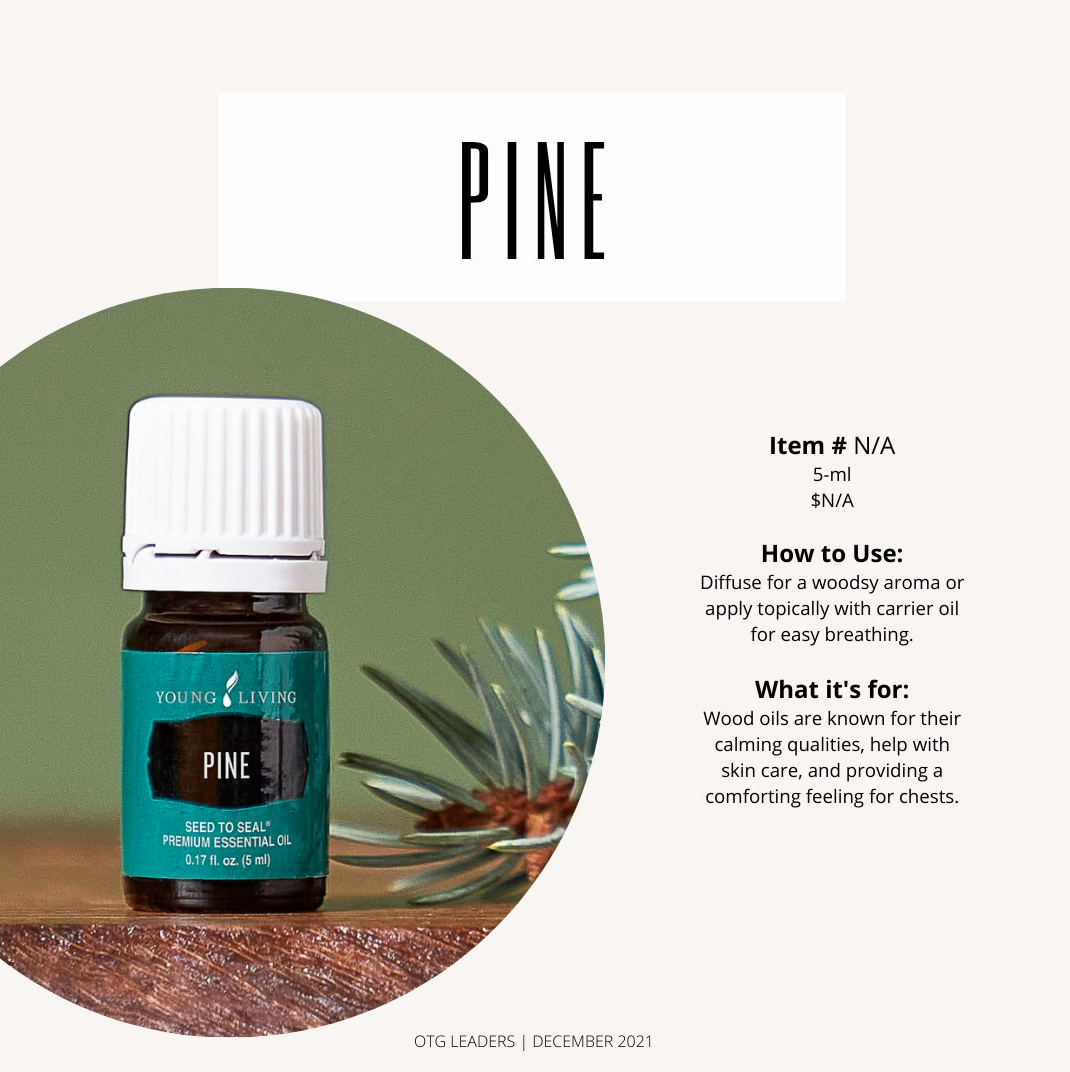 Free Shipping (100 PV tier)
Still free. Free as free can be.
• Treat yourself. Stock up on cold-weather favorites and let us cover the cost of your deliveries.
• Feel the love. We're grateful for you, so reach our 100 PV tier and we'll ship your order for free!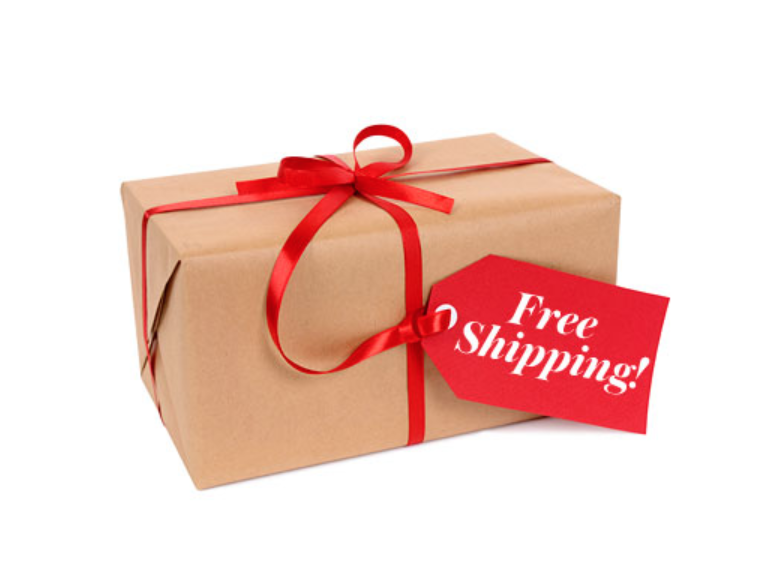 See what I mean? They go all out and these are perfect for this time of year. I love it and I imagine you do too. Let your people know. Share some ideas for oils and products they can add to their Subscribe to Save orders. These Gifts With Purchase are 100% worth getting.
Please reach out if you have any questions or need assistance!


Enjoy this Holiday Season!
Your Young Living Brand Partner
Nov 1, 2021 07:37 PM Central
Dorota Matys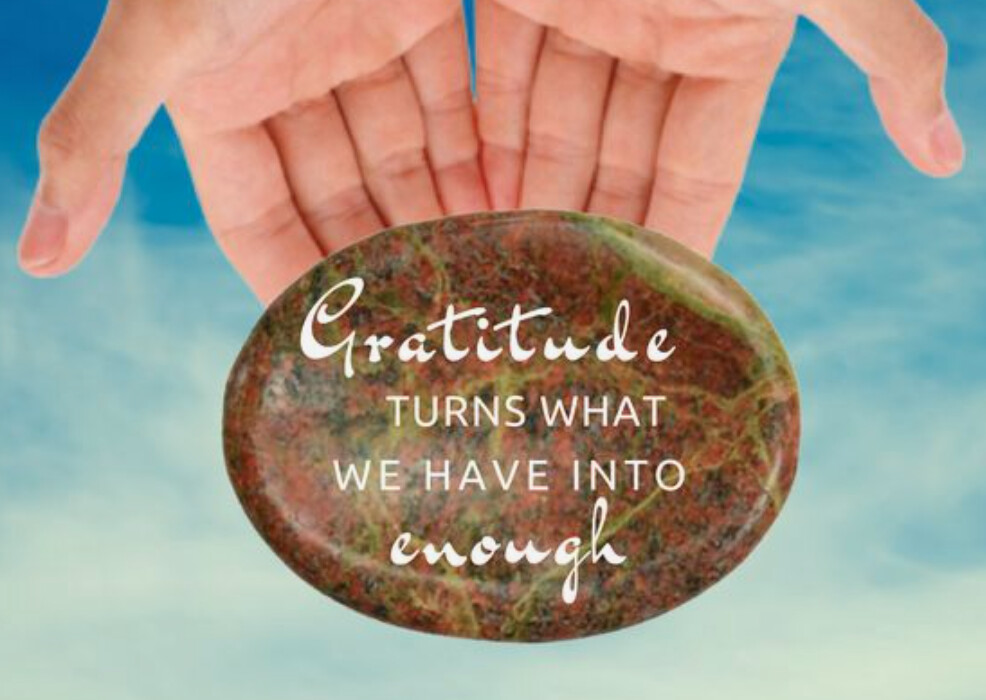 The air in our lungs, the sun rising every morning, our friends, our family members, our homes, our jobs, even our oils - we have SO much to be thankful for!
I've got something fun for you to try this month. Each morning, I want to challenge you to take a few minutes and think about 3 things you are grateful for. Write them down and focus your attention on them as you go about your day. Take note of how your attitude and demeanor may change as you continue to do this throughout the month. Want to take it up a notch? Grab a bottle of the Gratitude essential oil blend and inhale it deeply as you think about all you are thankful for. Make sure you keep reading… I will be telling you all about this oil later on!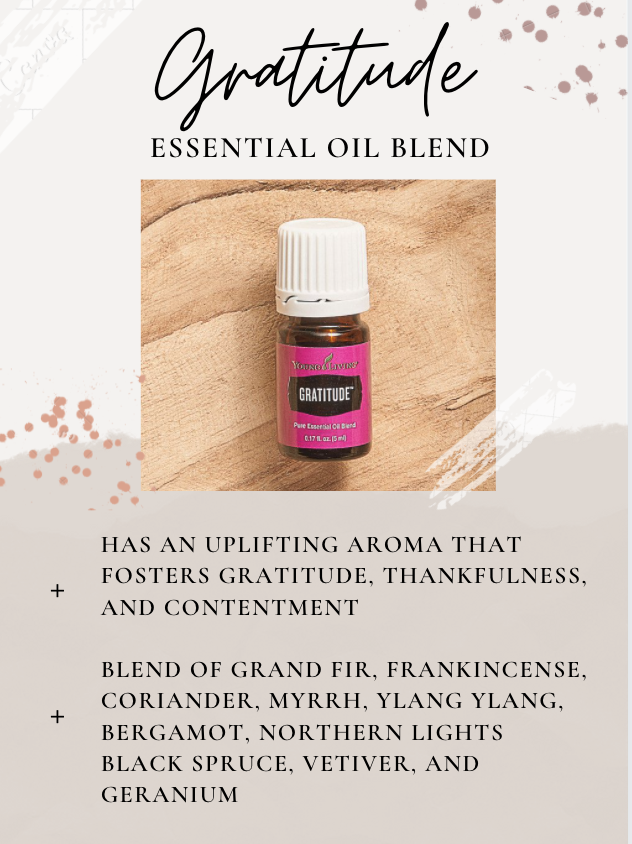 The 2021 Holiday Catalog products are live so get them added to your carts ASAP, especially if you are wanting them to give as gifts this holiday season. And make sure you add at least 100 PV so you get FREE shipping!



Click
HERE
to explore these goodies!:
I would love to hear what items you are snagging from the catalog! Everything looks so nice! When your order hits one of these PV levels you will receive the corresponding products for FREE! Look at everything you get for free when you hit 300 PV!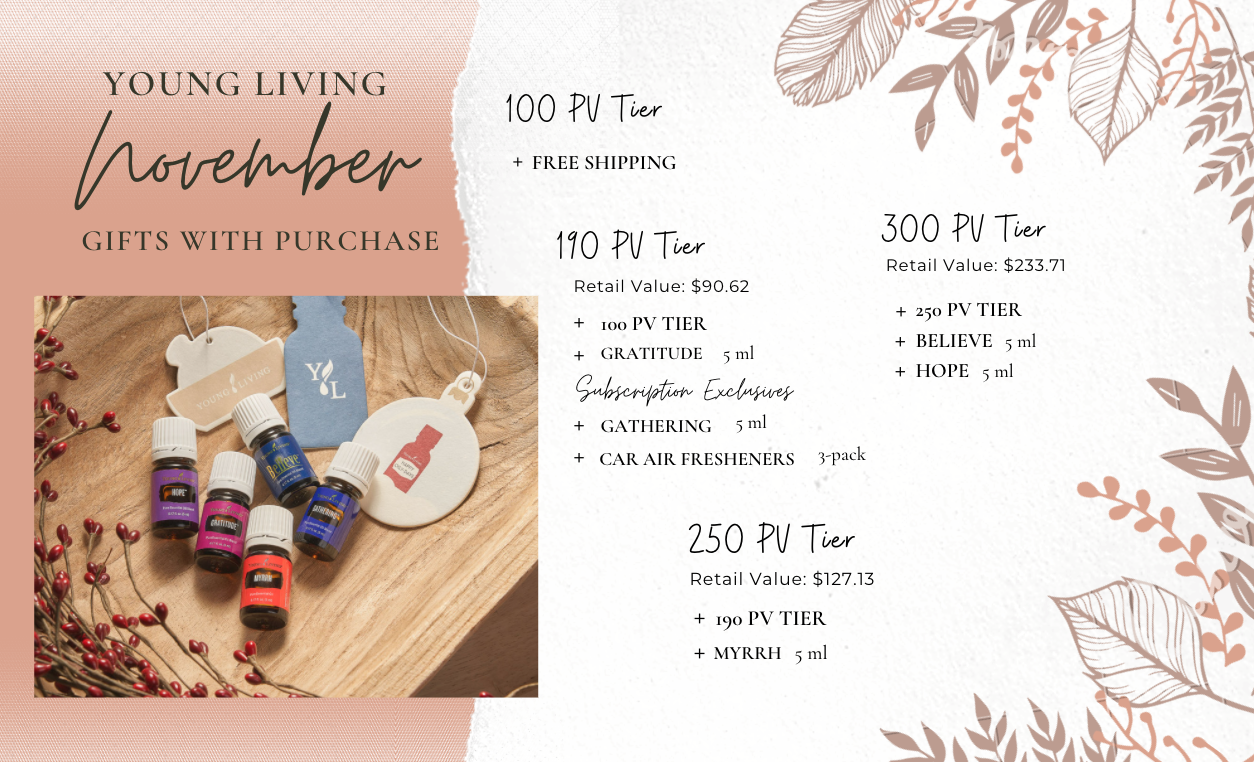 *Receive the Subscription Exclusives when your order is placed through the monthly subscription program, which is the best way to save money and support your health.
If you need more details on this, let me know!
Featured Recipe
Did you know that Young Living carries food? Yep! One group of products I think you will enjoy is the Einkorn line. Einkorn is an ancient grain with more nutrients and less gluten than modern wheat, making it the perfect option for healthy, nutrient-dense meals and snacks. So I have a recipe you can try this month using the Einkorn flour. Check it out…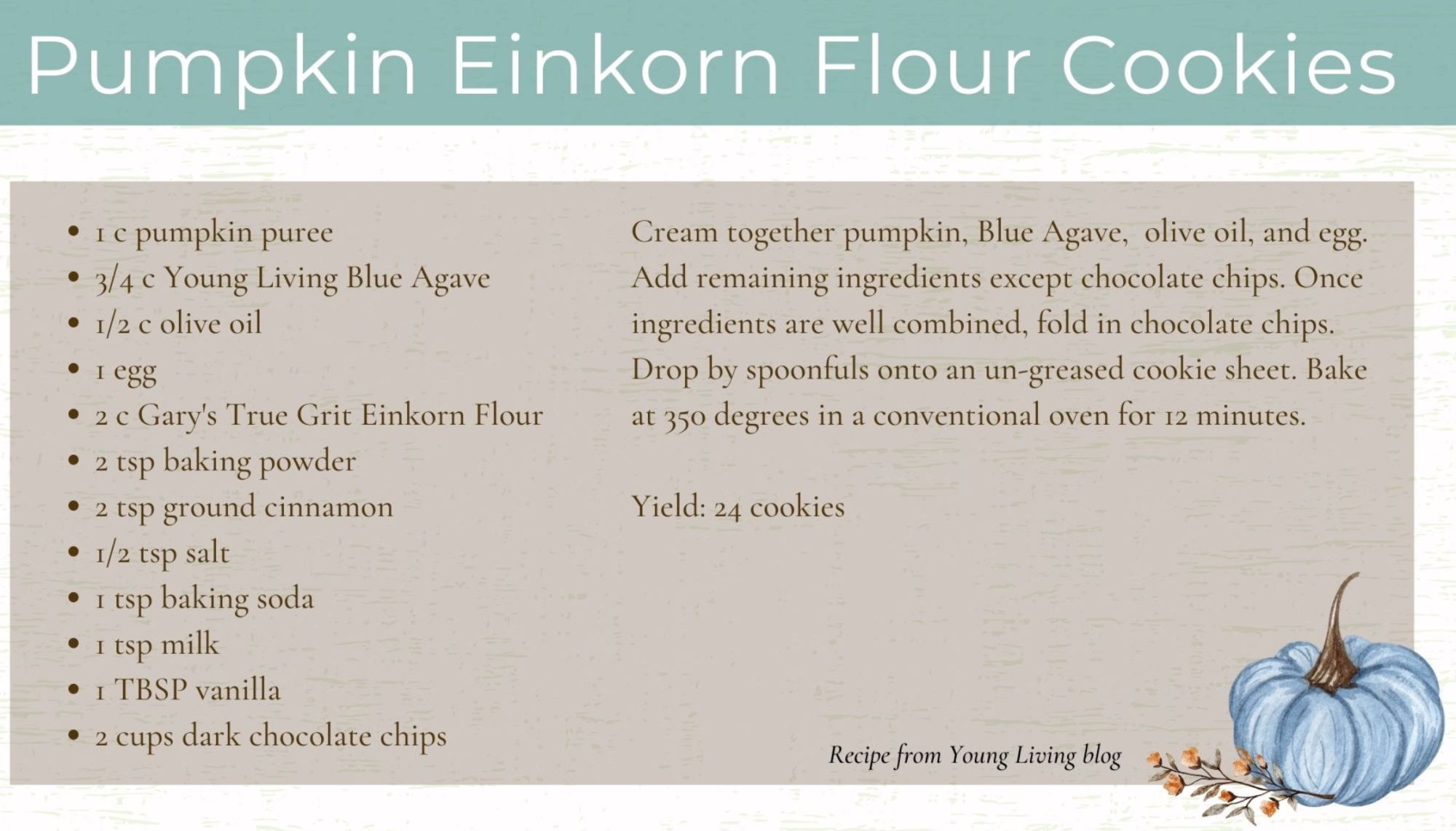 Thank You for being a part of our wellness community, I am grateful for your support!
You can explore more in this sharable
SWAY
link!
Xoxo
Your Young Living Brand Partner