Sep 28, 2020 11:19 PM Central
JOYfull Three-Fold Benefit
Have you heard of the
JOYfull three-fold benefit
?
The JOYfull three-fold benefit focuses on wellness, charity, and life - saving, giving, and living.
When my husband and I set out to support our health over five years ago, I had no idea what that would look like. We had a lot of questions. I spent a lot of time researching and learning. Young Living has blessed our family's health in so many ways it would take a book to share just a fraction of the blessings we have experienced over the past five years. But one thing we started early on was Essential Rewards (ER). Essential Rewards helped us prioritize our health every month by filling our home with toxin-free natural wellness including essential oils, supplements, personal care products, and more. We enjoyed looking through the Product Guide every month (comes with your starter kit) and choosing products that fit our family's health needs. We took baby steps, shifted our spending in others places and invested into our health. As a result we made our health and home less toxic. (Ready for change, see my latest post on
emotional wellness.
)
---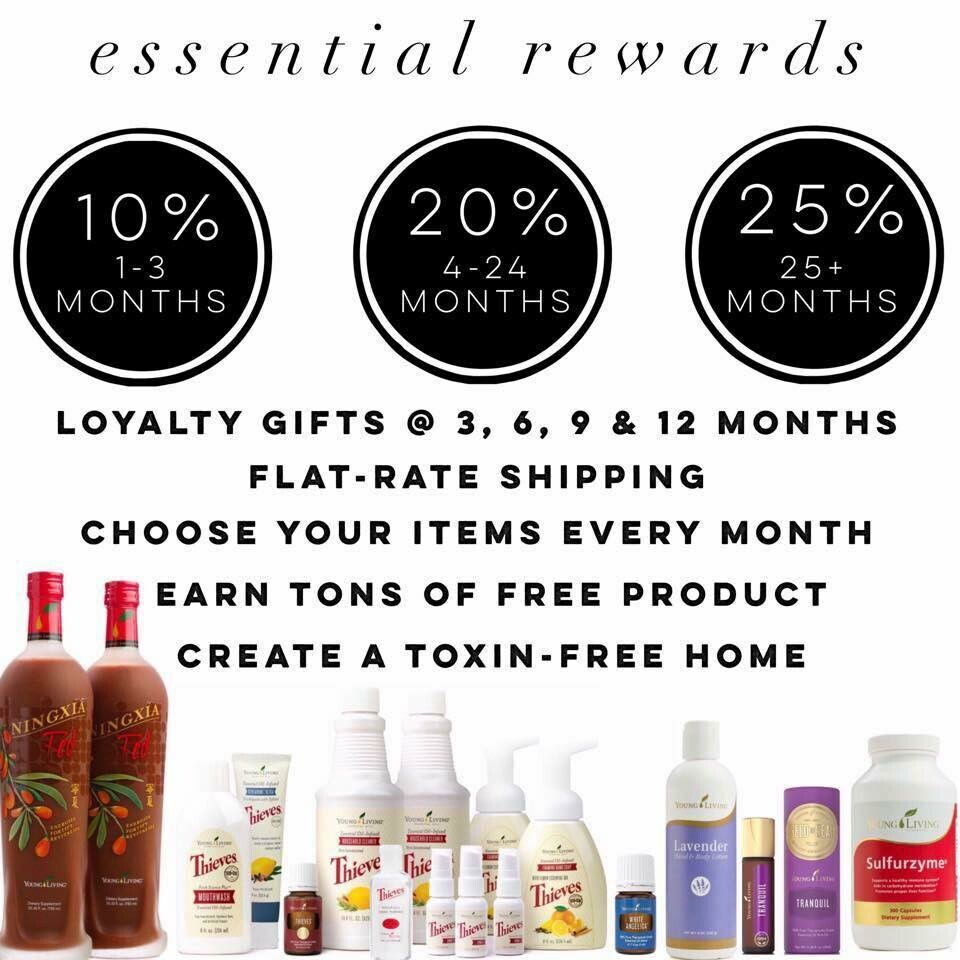 What is Essential Rewards?
Essential rewards is a FREE rewards program that provides Young Living members with the opportunity to save money by rewarding 10, 20, and 25% back as credits for FREE products on top of the 24% wholesale discount.
Learn more here
.
ER provides our JOYfull members with the opportunity to give back. With every purchase you make, we give a portion to charity.
ER provides our members with the opportunity to LIVE out your joyful purpose. You not only enjoy the natural support of Young Living essential oils, but as part of my JOYfull Family, I provide members-only support for mental, emotional, and physical wellness incorporating Biblical principles, servitude, essential oils, and self-care.
This is one of our first baby steps. This saved us money AND we ditched the toxin laden soaps (we had no idea we were so many toxins in bar soap and body wash!) Video not available?
Click HERE.
Just about four years ago, I made an uncut video that explains our mission (excuse the cheezyness). Video not available,
Click here.
This is still our focus today. Wellness. Charity. Life. When you brought in natural, non-toxic Young Living products into your home, you invested into a bigger mission. Saving, giving, and living. Your health is a precious gift and if you don't invest into it, you can't pour out into others. I wanted to pour into my health so I can pour into YOU and the missions around the world. Are you ready to take another step into your wellness?
Already an Essential Rewards Member, THANK YOU for your prioritizing your health and for your continued support. I encourage you to try something different on your next order. If you need targeted support, contact me and we'll put a target wellness plan together.
Not a ER member yet?
Ready to join many JOYfull Family Members on Essential Rewards (ER)? I would love to help you put your first ER order together. Contact me at
joyfullinspirations@gmail.com,
text, Voxer, or Marco Polo.
I would LOVE to pour into FIVE new ER members this month.
We still have a couple more days!
Thank you for spending time with me. Please let me know how I can better support you! May your home be healthy and your heart full of joy.

Blessings and joy,

Dr. Letticia Callies (a.k.a. Dr. Joy)
Essential Oil Tip: Add 1-2 drops of Frankincense into one application of conditioner for shiny hair! Add one drop to one application of facial cream and apply to your face to help smooth out your skin for a healthy glow.