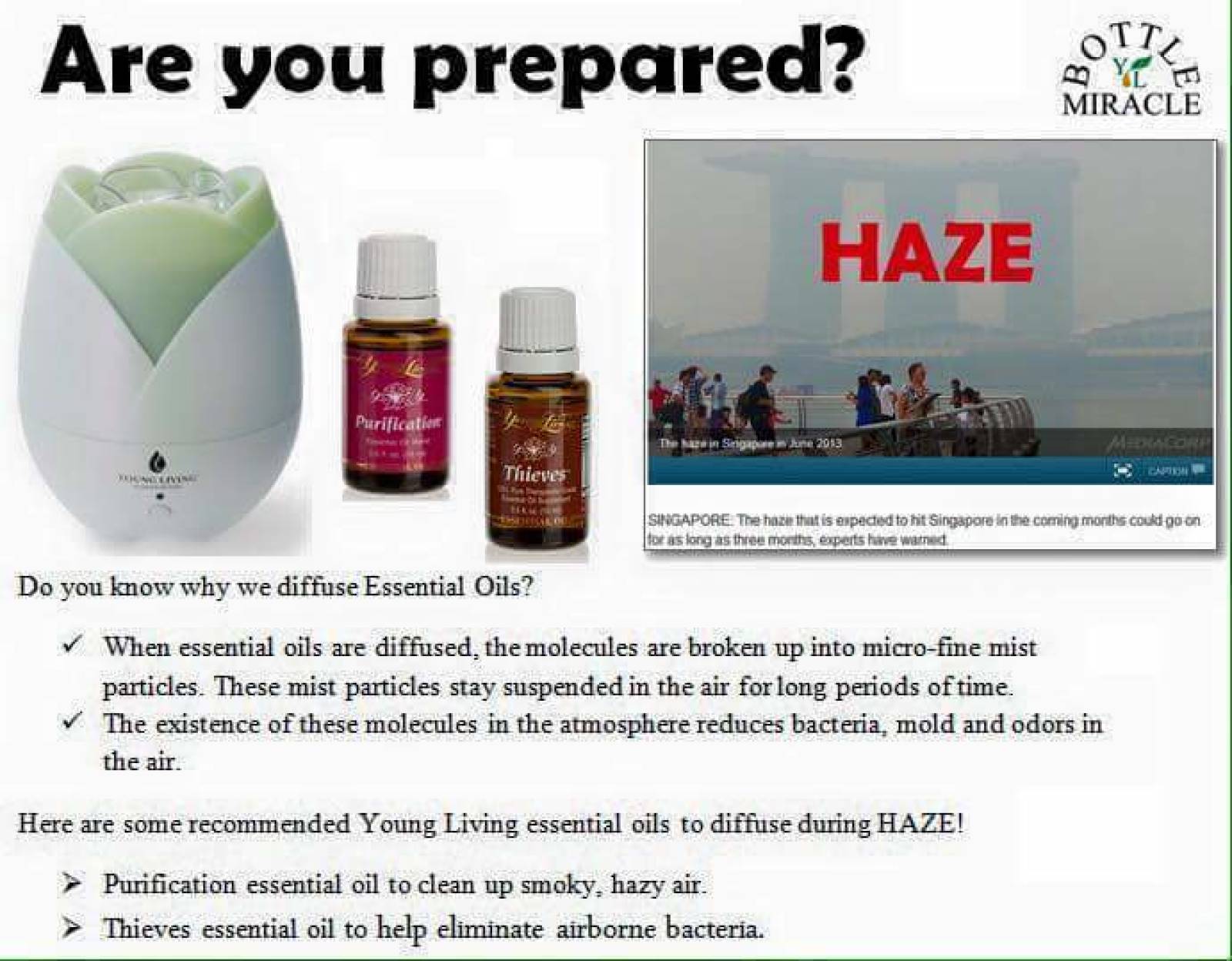 08/27/2016 11:04 PM Central
Haze is back again! 😣😣
Time to whip out your air purifier and diffuser! Diffuse oils like thieves & purification or alternatives like tea tree & lemon eo to cleanse the air and support healthy respiratory support. Citrus fresh, grape fruit oils are also some of the oils thats good to cleanse the air and give the air a refreshing scent! :)
Try to keep your windows closed at all time.. try to stay indoor where possible.. one thing i like about diffusing. Other than the health benefits from the oils, air smells great and fresh! :)
Do not on purifier and diffuser at the same time as the purifier will regards the eo properties as foreign properties and neutralize it. Meaning u diffuse = not diffusing.
Pm me if you wish to get a diffuser or keen to find out more on how the oils may helps with the general wellness for your love ones. ;)
#hazeisback #diffusediffusediffuse #eototherescue
08/11/2016 06:00 PM Central
Good things are to be shared... ;)
Thieves household cleaner is one of my fav product from Young Living! It cleans and disinfects well my house and surrounding without any harmful chemicals inside.. can mop floor in it, cleans window glasses, sink, can even use it to wipe tables chairs.. and the list goes on.
I love it how it leaves my floor not as sticky feel vs those chemically scent floor detergent.. how it leaves a refreshing clean smell in the house after mopping, cleaning,scrubbing and wiping using this Thieves Household Cleaner.
As a mummy, we want the best for our child.. and keep our environment as chemicalfree for them as possible.. ;) why i know it? Cos i am a mummy too.
Pm me to find out more on how this Thieves household cleaner can keep your home free from the harmful chemicals or if you are keen to explore how the essential oils may helps with the general wellness for your loved ones.. the natural way ;)
https://www.youngliving.com/blog/8-bathroom-cleaning-hacks-with-thieves-household-cleaner/
#younglivingrockz #chemicalfreehome #simplyloveit #thieveshouseholdcleaner #naturalremedies