08/11/2017 02:22 PM Central
What is the Great Day Protocol?
Developed by Gary Young over 20 years ago, the Great Day Protocol uses the oils Valor®, Harmony™, Joy™, and White Angelica™. In the absence of the original Valor, I would recommend using Valor II, Sacred Mountain, or Northern Lights Black Spruce. By using these oils in a series of locations and steps, you can balance your body and mind and start your day off on the right foot. If you look at the locations of these oils (where we apply them), they relate very strongly to the Chakras.
The Protocol (Short Version)
Have your Valor, Harmony, Joy, and White Angelica essential oil blends readily available.
I have them all lined up on my dresser and anoint myself before getting dressed.
Valor - Place a drop on the inside of your left wrist and hold your right wrist to it for a few minutes to balance your body.
Harmony - Place a drop in your left palm, rub your palms together to activate the oil (smelling it as you do), and place it on your solar plexus, just below your sternum and above your belly button.
Joy - Place a drop in your left palm, rub your palms together, and place your hands to your heart.
White Angelica - Place a drop in your left palm, rub your palms together, and brush your hands from the crown of your head all the way down your body like you are applying a shield.
An Explanation
These are the official directions
with an even deeper understanding of the oils and how to apply intentions to this practice:
Step 1: Valor
Start with Valor Essential Oil, also known for balancing the body's electrical energy. Apply a few drops in the palm of your left hand, gently rub your palms together, and bring your oiled palms to your nose and inhale. Set your intention for the day, utilizing the grounding properties of this blend. Next, put some Valor on the back of your neck and then place another drop on the inside of your wrists and hold your wrist together for a moment. As you hold the pulse points of your wrists together, again breathe in the oil blend and take a moment to be still while affirming your intentions for the day. What state of being would you like to cultivate? What do you want to accomplish today?
Step 2: Harmony
Place a drop of Harmony on your left palm, rub your palms together, inhaling the oil blend and place some Harmony on your solar plexus, just below your sternum, and above your belly button. This is your third chakra, or your "will" energy center. As you inhale the aroma, use the affirmation, "Let my will harmonize and align to the greater good for all I connect with today." You may have a specific intention for harmonizing with your customers, your co-workers, family, friends, etc.
Step 3: Joy
This blend is one of Young Living's signature essential oils. Place a drop of Joy into your left palm, rub your hands together, and slowly inhale the scent. Then place your hands on your heart. If you are looking to become more open hearted, use these moments to let this blend infuse into your heart's desire.
Step 4: White Angelica
This blend is known for its properties for energetic protection, like a bouncer for negative energy or disturbing thoughts. Place a drop of White Angelica in your left palm, rub your palms together and deeply inhale. Then gently brush your palms over the crown of your head, down your neck, shoulders, chest, torso, and all the way down your legs to your feet. Imagine this blend encasing your entire body, like a guardian shield. Again, revisit your intention for your day.
Recommendation
Start using the Great Day Protocol daily for just one week. It may be helpful to keep a log of your feelings and accomplishments each day so that you can look back and see how you have changed throughout each of the days.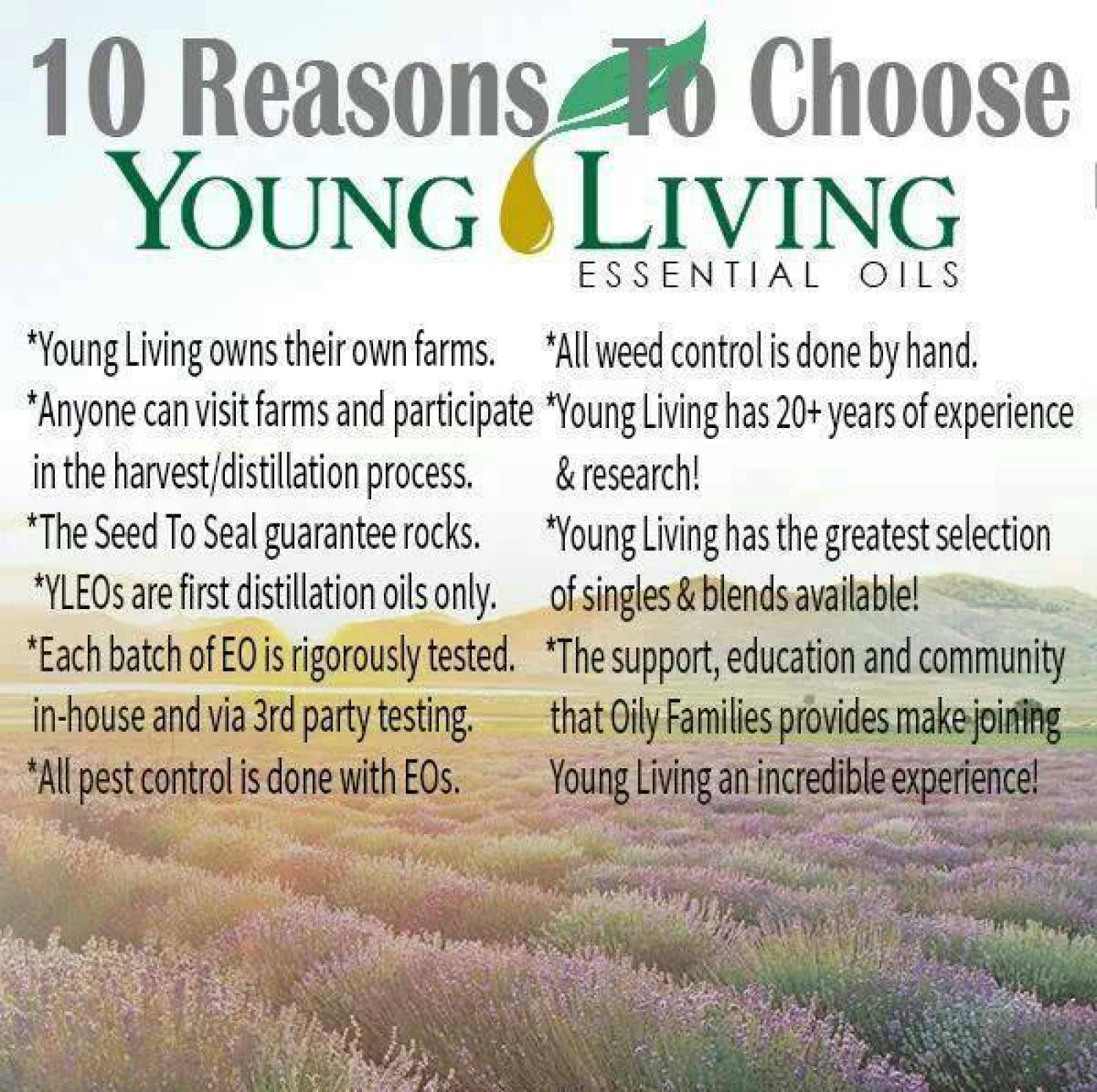 04/17/2016 09:32 AM Central
The trend among most people today is to read labels and to buy the least toxic cleaning and personal care products available. Unfortunately, those labels often hide the toxic ingredients within by using names that sound appealing or don't list them at all.
Some people know the danger of using personal care and cleaning products such as J&J baby products, Lysol, Tide and Dawn to name a few and have turned to Young Living products for transparency and safety.
While products from Method, Meyers, 7th Generation and Bronners may be less toxic than Lysol etc, only Young Living delivers products that go beyond being safe to apply and breathe. Young Living products enhance our health.
Young Living is the only company that adds THERAPEUTIC GRADE essential oils to all of their products. Other products list essential oils as an ingredient, but these oils are perfume grade for scent only. They do not improve health. In fact perfume grade essential oils may compromise health.
(Do you ever sneeze when being around some perfumes or scented products? Even so called "unscented" products use toxic chemicals to create an "unscented" effect.)
Young Living grows all the plants that go into their essential oils on their 7 farms around the world. They also have partner farms and insure all the plant material is free from pesticides and other environmental hazards.
Young Living grows, distills, harvests and bottles all of their own essential oils with a proprietary Seed To Seal process (http://seedtoseal.com/), insuring each oil is THERAPEUTIC GRADE, meaning the oil's purpose is to enhance our health, not scent a product.
Every Young Living essential oil is tested and batch recorded by Young Living and a 3rd party. This insures each essential oil produced by Young Living contains the necessary components to be THERAPEUTIC GRADE in quality and safety. Oils that don't measure up are discarded.
What affects an oil's quality?
Just like with wine, each growing season is affected by weather, which affects the quality of the plant. If plants and the resulting essential oil do not contain the important constituents needed to label it a Young Living Essental Oil, then there may be a shortage of that oil for a while. Young Living will not distribute substandard products. To this end, Young Living is expanding it's number of farms around the world to meet demand and keep quality where a Young Living label guarantees it is.
Because Young Living essential oils are Therapeutic grade, many of Young Living essential oils are labeled as supplements, which means they can be ingested and used in food. All Young Living essential oils are safe to use around food, on your skin, and inhale. None of them are marked or labled with phrases like "external use only", or "do not ingest" because each Young Living essential oil is pure plant material with no additives, enhancers or stretchers.
Fact: Products from Young Living surpass all other brands in their ability to deliver the desired results.
Fact: Young Living essential oils do not have an expiration date.
Fact: Breathing Young Living's Thieves Household Cleaner enhances your health, unlike store bought cleaners which are dangerous and need to be used in a well ventilated room.
Personally, I have found that by using Thieves bar soap and Thieves household cleaner, my bathroom shower, tile and glass doors stay free of soap build up and the tile grout stays white.
A great resource book is the *Vibrational Cleaning Guidebook by Dr Sabina DeVita*. http://www.vibrationalcleaning.com/
Another great resource for travelers is the book, Travel Balance by John Ayo. http://krepublishing.com/travel-balance-a-young-living-essential-oils-guide-for-travelers.html (Don't start your vacation feeling ill from a bug you picked up on a plane!)
I welcome you to the wonderful world of toxic free living. Because there is only so much toxicity we can control in the world, it is nice to know Young Living impowers us to control what we can.
Start using Young Livng products today and experience the enormous benefits to your family and the environment you live in.
To order, go to the top of this page and click on PLACE AN ORDER or scroll down and explore.
Have fun!
Sincerely,
Kristen
for more facts about toxins and product safety log onto
for facts about earning money by recommending Young Living products to others log onto: