Jan 19, 2019 12:29 PM Central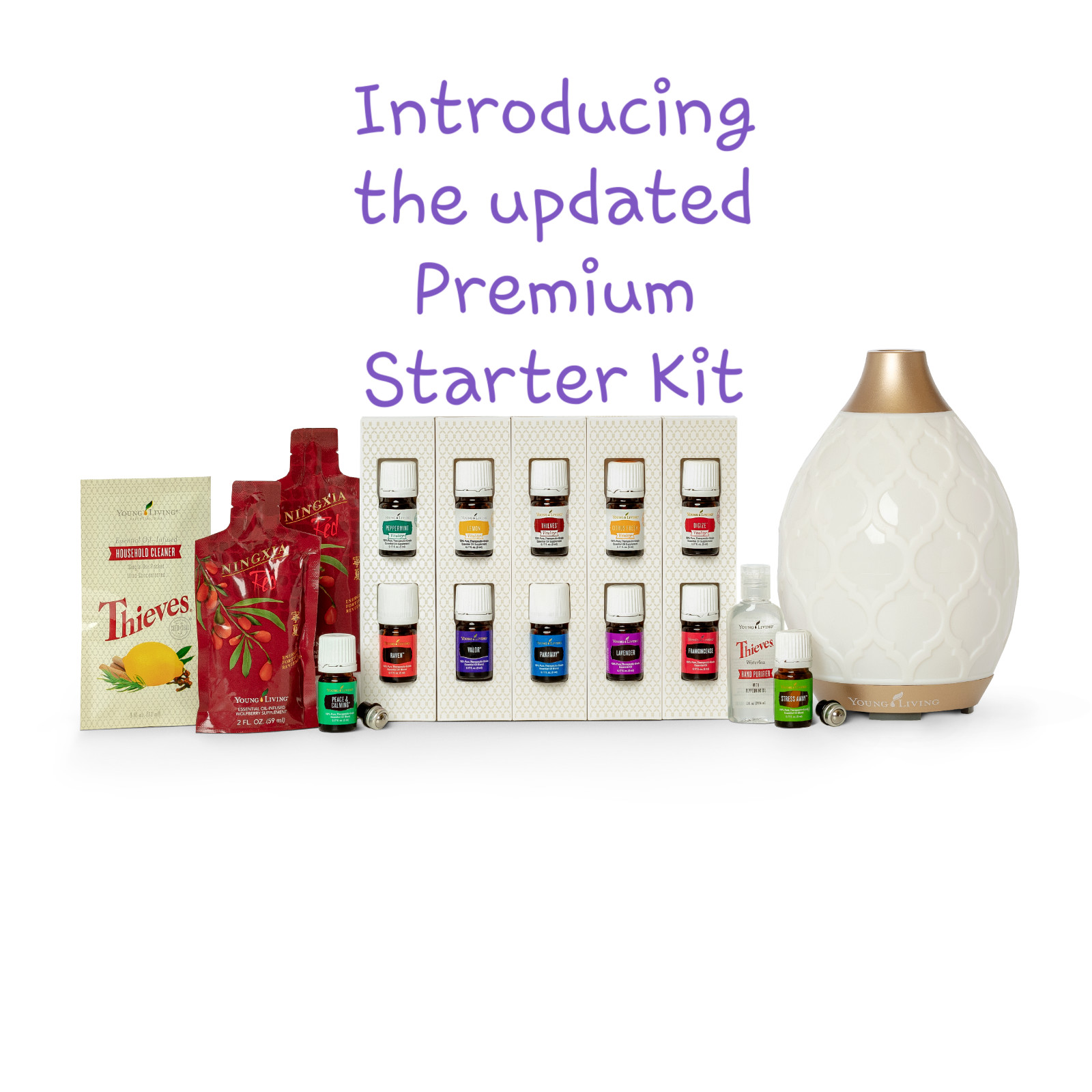 Want the most kissable lips ever?
Save 20% and look great.
Available Now through February 14th or while supplies last.
Don't forget about these two kits to help you start 2019 right.
These special kits are only available through January 31st or while supplies last.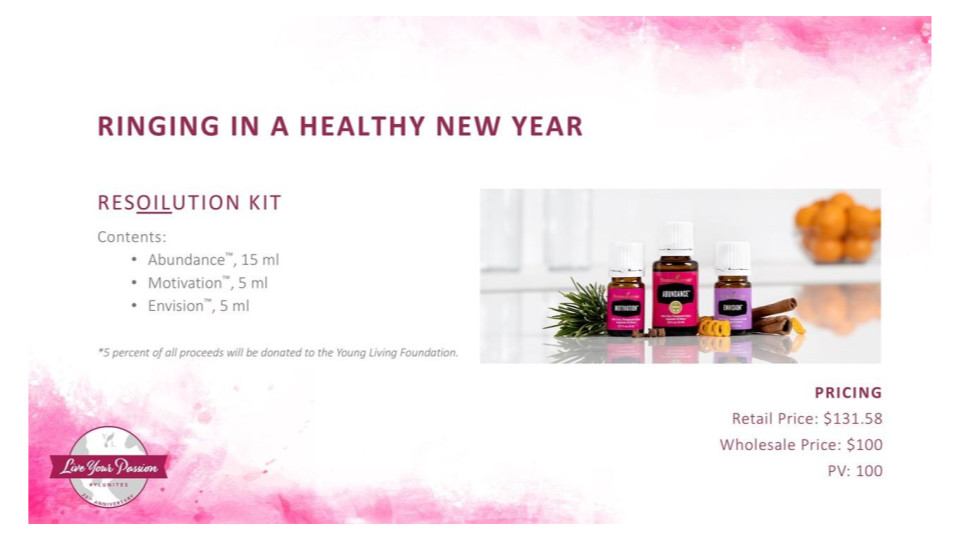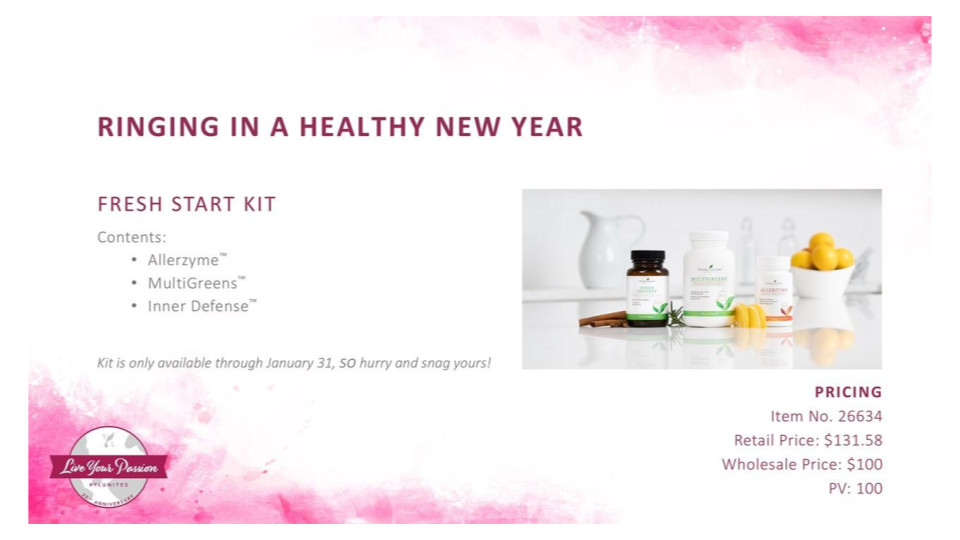 Wow! This next announcement just has me in awe.
Young Living has updated and upgraded our Premium Starter Kit!
We still get all 11 oils that we're in love with along with the diffuser we choose.
Ready?
The new PSK also includes Peace and Calming, Thieves hand sanitizer and an extra roller fitment.
So, you may asking how much more it's going cost?
Well this should bring a smile to your face. It's only $5 more.
Seriously!
This puts the value of the kit at over $400 for only $165!
Be sure to tune into my Facebook page "Healthy Living with Young Living" to see more from today's news and specials from Young Living.
Dec 26, 2018 08:42 AM Central
SIT YOURSELF DOWN BECAUSE WE HAVE *SIX* COVETED OILS BEING BROUGHT BACK FOR A LIMITED TIME!!!!!!!!!!!!!!!
🌲Evergreen Essence essential oil blend, 15 ml
One of our seasonal favorite blends, Evergreen Essence, has been missing from our product offering until it could meet all the requirements for global sustainability.
AND IT HASSSSS! But, there is a limited amount and it is while supplies last. SNATCH THIS UP QUICK AND BUY A FEW BOTTLES. It's only been available twice in the 4 years I've been a member. 😱😱😱😱 It's a blend of a Spruce, pine, fir, and cedar. And it's the most delicious smelling oil for the winter and holidays!!

• Item No. 3353
• Wholesale $26.50
• PV 26.50

—————-

❤️R.C. 15ml
Have you ever had such an emotional reaction to something, your chest felt tight. Like something hurt your soul so badly, you couldn't breathe? Yes, me too. Our physical reactions stem from our emotions.
RC has such an uplifting smell. And oh my GOSH do I LOVE TO BREATH. Don't you? I love breathing. A drop of RC on the chest before a workout in the spring when everything is covered with a faith yellow dust is really nice. Add it to your Lemon/Lavender/Peppermint springtime roller too! It's a must have.

❤️Purification 15 ml
Purification....OMG. Guys, this stuff is freakin amazing. Here's how I've been using it👇👇
Rub on bumps from pests to stop the itch
Add a few drops to the washing machine with smelly laundry. Stank be gone✌️
Add a few drops of Purification + Thieves oil to baking soda and you've got your own chemical free carpet sprinkles
Rub some around your ear if you've got a need for ear support. (DO NOT put the oil in your ear)
Put a few drops on a cotton ball. Put it under your trash bag to keep the smells at bay. Or, put the cotton balls with oils into stinky shoes and it seriously gets the funk out. Orrrr smelly diaper pails!

Limit 2 per account!!!!
These two must-have essential oil blends are available in 15 ml size!!!!!!!!!

Purification essential oil blend, 15 ml
• Item No. 3399
• Wholesale $27.00
• PV 27

R.C. essential oil blend, 15 ml
• Item No. 3405
• Wholesale $23.25
• PV 23.25

——————

🌲Red Shot 5 ml

Red Shot was formulated by Young Living Founder D. Gary Young, Red Shot essential oil blend was Gary's way to bring the spirit of Club Red to members around the world. When we think of Red Shot, we remember Gary behind the bar at Club Red serving NingXia Red with the excitement and warmth he put into everything he did. What's a Red Shot, you ask? It's tangerine, mandarin, lime, grapefruit, cassia, and spearmint and it's a party in my mouth 🤣 Makes your Ningxia even more delish AND pumps your body full of immune supporting-goodness and d-limonene. (You want it. Google it 👊🏻👊🏻) Oh, and you can't buy it individually. Like, ever. The only time you can get it is when it's part of a holiday special OR if you go to Convention and know to ask for it at the Red Shot Bar 😉😉 So it's elusive and delicious and we freakin' LOVE IT.
SNAG IT.

• Item No. 5434
• Wholesale $13.50
• PV 13.5
*Red Shot essential oil blend cannot be shipped to APO/DPO/FPO mailing addresses.

——————

💫Freedom, 5 ml
-SLEEP MAGIC.
- Calms the mind during nightly routine
- Promotes feelings of emotional freedom
- Inspires feelings of freedom from everyday troubles
- Grounding and relaxing
- Helps with occasional sleeplessness or restlessness

• Item No. 24303
• Wholesale $28.00
• PV 28

—————-

💤RutaVaLa Roll-On, 10 ml
Like being dead without the commitment. 🤣🤣 So incredible relaxing!!! Ruta, VALERIAN, and Lavender in a super convenient roll-on! Keep it in your bag when you need to chill. I swipe a little on Grey right down his spine and feet when he is getting crazy and needs to relax. Before bedtime, clearly, because these oils make you sleeeepy. Basically THE sleep oil of alllll the sleepy oils.

• Item No. 4471
• Wholesale $36.75
• PV 36.75

———————

When: Available December 26 at 9 a.m., CST, through December 31 at 11:59 p.m., MT, while supplies last
• Markets: U.S. and NFR
• Limits: No limits, while supplies last
• Quick Order only