Sep 1, 2021 03:51 PM Central
Kerry Todd
As the gatekeepers of our homes we have such a great opportunity to bring in healthy products and create healthy habits for ourselves and families! Join us this month as we switch out sugary, stimulant-laden drinks for the natural energy of NingXia Nitro!
With ingredients specifically crafted to kick it up a notch, NingXia Nitro is the absolute perfect solution when you've started your day at the crack of dawn & need to rev your energy storage, or when you're seriously suffering from that afternoon slump, or you simply need to tackle a to-do list a mile long…NingXia Nitro has your back!
NingXia Nitro is a delicious wolfberry drink infused with essential oils, botanical extracts, D-ribose, Korean ginseng, and green tea extract to increase cognitive alertness, enhance mental fitness, and support overall performance. When you need a pick-me-up, turn to NingXia Nitro to improve your physical performance, increase your overall energy reserves, sharpen your mind, and become more focused!
KEY INGREDIENTS:
NingXia Nitro Juice: cherry, kiwi, blueberry, black currant, raspberry, strawberry, cranberry juices which are packed full of antioxidants to help support our bodies, especially when they are running low!
Nitro Energy Blend:D-ribose, Vitamin B3, Vitamin B6, Folate, Vitamin B12, Choline, Potassium, Green tea extract, mulberry leaf extract, Korean Ginseng extract and wolfberry seed oil. All of these are plant-derived vitamins and herbs that help support energy levels naturally.

D-ribose: Essential to help build ATP in the body. ATP is the body's energy currency. You need it to, you know, take a breath, have a heartbeat and for a neuron to fire!
Korean Ginseng: Well studied for its ability to support normal cognition.
Green Tea Extract: Anormal, NATURALLY OCCURRING source of caffeine. There's approximately 30 mg of caffeine per tube.
B Vitamins: Critical for normal neuron function. They also help support normal cognitive/brain function.
Choline: helps to support cell membrane structure and is an essential building block for neurotransmitters, in particular: acetylcholine. Acetylcholine helps to tone down the body and tells the body that it's okay to relax. It also supports the body's ability to make good memories and to retain memories.

Nitro Alert Blend: vanilla, chocolate, yerba mate, spearmint, peppermint, nutmeg and black pepper. These oils are great for digestion, supporting the adrenal system (the 'fight or flight' system that is often turned on too much, especially in the face of constant stress, exposure to computer screens, demanding jobs, etc.), and improving energy levels.
WHY WE LOVE IT
Supports alertness
Promotes cognitive fitness
Supports physical fitness
Great source of Iodine
Sadly, conventional energy drinks are filled with ingredients that are actually harmful to our health. Energy drinks are widely promoted as products that increase energy and enhance mental alertness and physical performance. Next to multivitamins, energy drinks are the most popular dietary supplement consumed by American teens and young adults!
Large amounts of caffeine may cause serious heart and blood vessel problems such as heart rhythm disturbances and increases in heart rate and blood pressure. Caffeine also may harm children's still-developing cardiovascular and nervous system and can be associated with anxiety, sleep problems, digestive problems, and dehydration.
Energy drinks often also contain high amounts of sugar. A single 16-oz. container of an energy drink may contain 54 to 62 grams of added sugar; this exceeds the maximum amount of added sugars recommended for an entire day!
Overall energy drinks are associated with sugar crashes, energy slumps and caffeine withdrawal. Thankfully we have a natural, health-supporting option that works even better!
TO USE:
Consume directly from the tube or mix with 1 oz. of NingXia Red® or 4 oz. of water.
Best served chilled.
Consume to enhance physical performance.
Enjoy anytime you need a pick-me-up.
Drink when you need to clear your mind.
Mommy's Midday Mix aka The Mommy Mojito
2 oz. Ningxia
1 nitro
Coconut water
Mineral water
1 drop lime EO
Join us this month as we switch out sugary, stimulant-laden drinks for the natural energy of NingXia Nitro!
Sep 1, 2021 01:28 PM Central
Kerry Todd
Each month we focus on using an oil every day to help us in accomplishing our goals. Join us in choosing a method of application and simply getting this oil on and around you every day in September! My goal is to use up an entire bottle for my personal use!
Tangerine essential oil has a sweet citrus scent that can create a happy, contented mindset when diffused. This versatile oil is wonderful for the emotions, helps purify the air of odors, promotes healthy hair and skin, and smells wonderful in so many diffuser blends! Taken internally, it offers a fresh, sweet, citrus flavor and can provide digestive, lymphatic, and immune support. This is an oil we definitely want in our homes and in our bodies!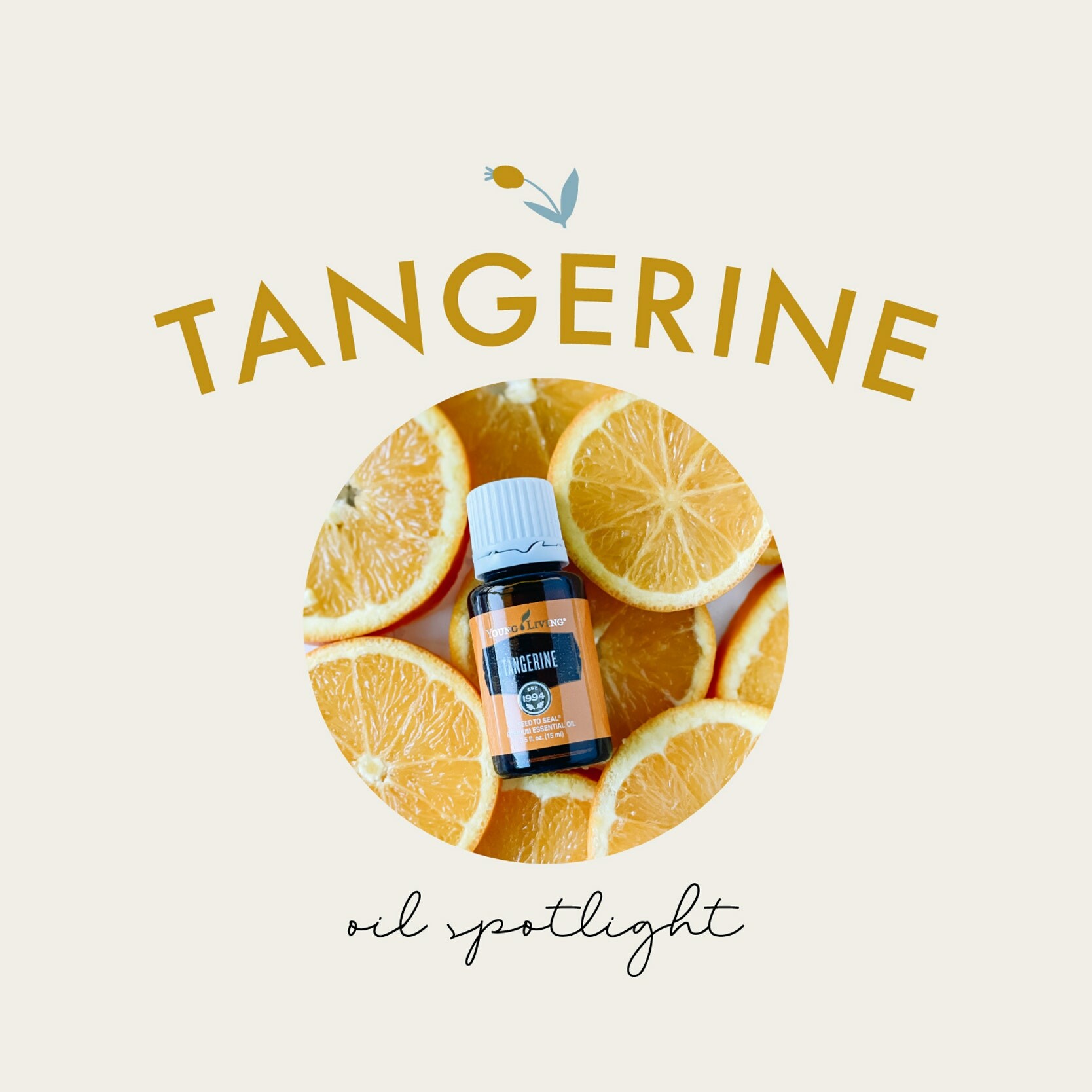 TANGERINE AT A GLANCE
Contains the constituents limonene, gamma-terpinene, and myrcene
Found in Dream Catcher™, Joy™, and Inner Child™ essential oil blends as well as Relaxation™ Massage Oil
Cold pressed from the rind of the fruit, making the oil alkaline (not acidic)
Pairs well with most oils and blends
Combining Tangerine with White Angelica or Feelings Kit oils can improve your emotional outcome.
TANGERINE + OXIDATIVE STRESS Our bodies cells produce free radicals during normal metabolic processes. However, cells also produce antioxidants that neutralize these free radicals. In general, the body is able to maintain a balance between antioxidants and free radicals. Sometimes, and especially in our ever-modernizing world, the balance tips toward excess free radical production. Several things contribute to this but include inflammatory foods, emotional and mental stress, health conditions, infection, radiation and environmental toxins. A large body of scientific evidence suggests that long-term oxidative stress contributes to the development of a range of chronic conditions.
Enter Tangerine essential oil (and other citrus oil!). Tangerine essential oil contains Limonene, a potent free radical scavenger. This is huge! We have a wonderful tool in our hands for supporting our bodies and upping the antioxidant potential.
TANGERINE + EMOTIONS We just mentioned that Tangerine essential oil contains Limonene, a potent free radical scavenger. This is important for our emotional health because less oxidative stress (less free radicals = less 'negative' emotions. Limonene also helps boost the mood and calm the Central Nervous System, making Tangerine a wonderful oil for soothing the emotions!
Tangerine can help promote feelings of calm and happiness, supporting learning and memory and calming nervousness.
DAILY HABITS WITH TANGERINE:
Dilute with a carrier oil and apply to your soles for happy feet and circulation.
Add to your car vent diffuser or a cotton ball stashed under the seats for an uplifting scent while you commute.
Give a glass of lemonade a twist by adding 1-2 drops of Tangerine Vitality.
Add 1-2 drops of Tangerine Vitality to your daily NingXia Red!
Add a few drops each of Tangerine and Tea Tree to your daily shampoo and massage into your scalp for a sweet, tingly sensation.
Use its cleansing benefits in your morning skin care routine for an added boost.
Apply it to your temples before study time or meditation to promote feelings of calm and focus
Note: Avoid applying to skin that will be directly exposed to sunlight or UV light to prevent risk of photosensitivity.
DIFFUSE: Diffusing is a wonderful health habit! We have our diffuser going almost 24/7 and love to choose blends that are supportive of individual needs or systems. Try some of these great combinations and enjoy the wonderful scent of Tangerine with us this month!
Morning sunshine: Tangerine + Lemon + Grapefruit + Bergamot
Joyful Hearts: Joy + Tangerine + Bergamot
Fall Spice: Cinnamon Bark (or Thieves) + Tangerine + Vanilla
Campfire Calm: Frankincense + Vetiver + Tangerine
Sweet Sweet Sleep: Lavender + Tangerine + Cedarwood
Join us in using Tangerine essential oil blend daily to create great daily habits that support our overall health - physical, mental and emotional!