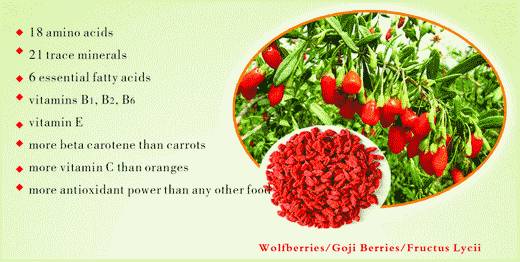 01/12/2017 11:12 AM Central
By now, some of you may have heard about Young Living's NingXia Red Antioxidant Juice and of the powerful ingredient it contains: The Chinese Wolfberry. But what IS Wolfberry? Where does it come from? How does it effect the body? After doing some research, I discovered the answers...
The Chinese Wolfberry is also known as the Lyceum berry or "goji berry" and originated in Mongolia. Many, MANY clinical studies and tests have been done on it by the Beijing Nutrition Institute, as well as other institutions and labs around the world. The results from these tests are pretty amazing!
After studying people who have consumed Wolfberry on a consistent basis throughout their lives, they found that these people live free of many common diseases and have life expectancies of over 100 years old! Unlike Ginseng, Wolfberry has no known risks or side effects from daily use and they can be consumed by people with high blood pressure (unlike ginseng).
In 1988, the Beijing Nutrition Research Insititute conducted multiple tests and discovered that Wolfberry contains 18 amino acids (6x's more then bee pollen), 21 trace minerals, more beta carotene than carrots, and 500x's more vitamin C than oranges (by weight). It also contains vitamin A, vitamin B1, vitamin B6, and vitamin E. Wolfberry is also very effective in increasing white blood cell count, protecting the liver, and relieving hypertension. The protein in Wolfberry also displayed an insulin-like action that was effective in promoting fat decomposition and reducing blood sugar levels.
Clinical experiments done by the NingXia Institute studied effects of Wolfberry on the blood of aged volunteers. The results indicated that the consumption of Wolfberry on a consistent basis caused the blood of the older people to noticeably revert to a younger state. Other tests showed that the Wolfberry may enable injured DNA to better repair itself and ward off tissue degeneration.
Young Living has many products containing the Chinese Wolfberry. NingXia Red Juice is the most popular (and will be on my next order) :) But there are also: Wolfberry Teas, Wolfberry Bars, Facial Products, Energy Drinks, and the list goes on. New products are being created by Young Living, using Wolfberry, every year.
So, now that you know more about it, what's stopping you from adding The Chinese Wolfberry to your diet? ;)
Want to be added to my Newsletter? Contact me at: KristinBEssentials@gmail.com
01/05/2017 12:29 PM Central
When you get into essential oils, you tend to want to bring them with you everywhere you go. :) One of the best ways to do this is by using a diffuser necklace. But some of them can be pricey! I wanted to find a way to offer them at my make and take classes without having to charge an arm and a leg for them. So, after a little digging, I discovered a really cool way of making them for next to nothing!
SUPPLY LIST
To assemble, just place the wool ball (or lava bead) into the bead cage by separating the middle parts of the spiral with your figures. You can then add 2-3 drops of your favorite Young Living essential oil to the wool ball (or lava bead) through the cage (optionally, you can add the oil to the wool ball/ lava bead before inserting it into the bead cage, if it's easier for you). Enjoy the oil aroma for a few days and then add more of the same oil or change it up with a new scent!
This is a wonderful (and FAST) way to create gifts for teachers, co-workers, family, friends, etc. It's also great for distributors to make for hostess gifts, vendor events or make and take classes. The possibilities are endless with these!
For more information or if you'd like to know how you can get your hands on Young Living essential oils, please contact me:
Via email: KristinBEssentials@gmail.com