Jan 1, 2019 08:13 AM Central
Happy New Year! 2019 is here and we all get to start off a new year with fresh chances to make life what we want it to be. It's always so exciting to not only see what the new year has in store for us, but also to see what we can make happen with the time that's given to us.
Young Living has a lot in store for us this year, and they're starting it right with January's promos. Let's take a peek at those and then I'll tell you why they're so exciting.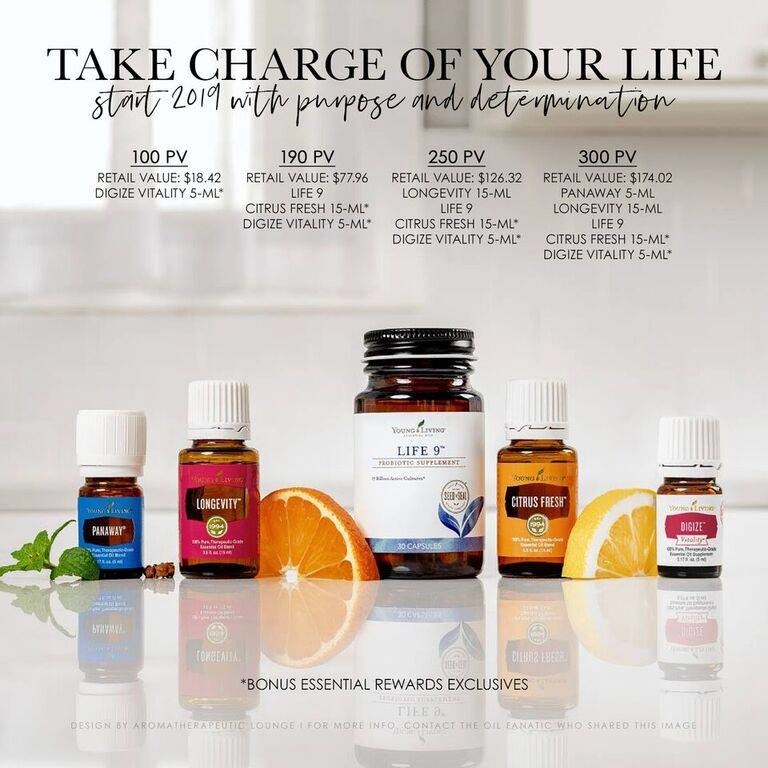 Digestive Support
Like you, I've got some goals in the new year related to getting healthy, feeling better, and looking better, and these promos help tackle all three of those areas. Let's start off with gut health. In my role as a nurse and wellness seeker, I'm very aware of how important a healthy gut is for a strong immune system and balanced emotions.
DiGize Vitality
and Life 9 can be a big help to rebooting your digestive system and promoting proper digestion. You're already familiar with how great DiGize Vitality is, but did you know that
Life 9
has specially designed special delayed-release capsules to help release its contents and get them to the far end of the small intestine & into the large intestine, ensuring that your good bacteria supplementation gets where it needs to go and isn't wasted.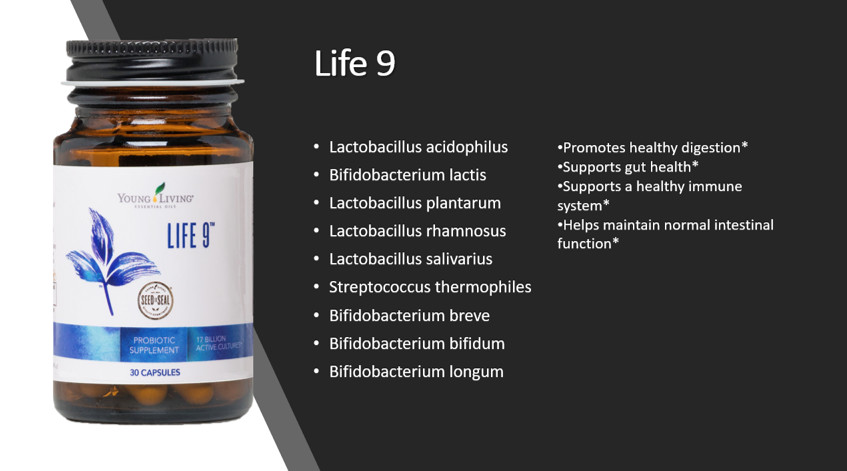 For looking good, have you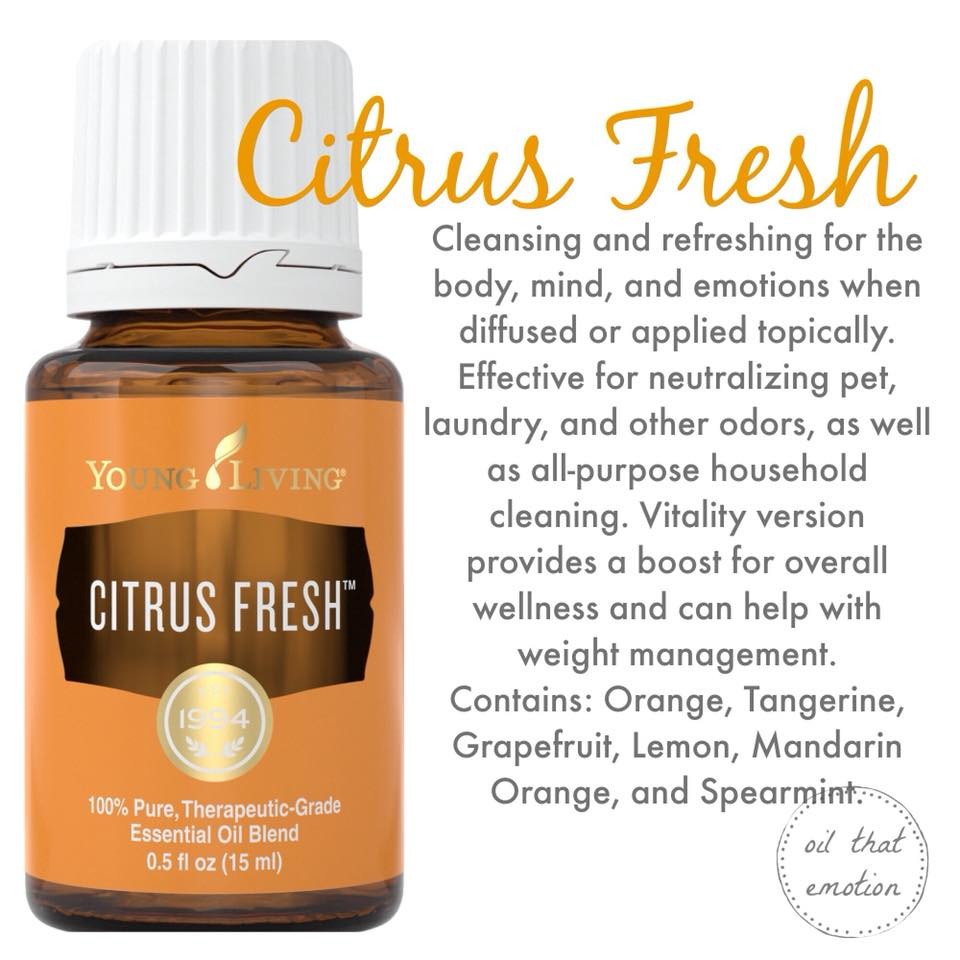 added Citrus Fresh into your nighttime skincare routine? It's important that it's at night, because the citrus oils in it are photosensitive, so you don't want skin that you've applied it to exposed to sunlight afterward, but Citrus Fresh can help smooth skin and keep it looking radiant and healthy!
Longevity
essential oil blend is the same blend that's in Longevity capsules and is also available in Vitality, and it combines Frankincense, Thyme, Orange, and Clove oils that are all great for overall wellness, but did you know that you can add a drop to some carrier oil or one of your nighttime moisturizers to help with healthy looking skin? Keep in mind, Thyme is a hot oil, so you'll want to make sure you use it sparingly and with a good amount of carrier oil or only a drop in your moisturizer. Plus, with Orange in it, you'll want to use it at night as well. And if you have that same blend in Vitality, you can make your own Longevity capsules while they're out of stock in order to get all the great health benefits!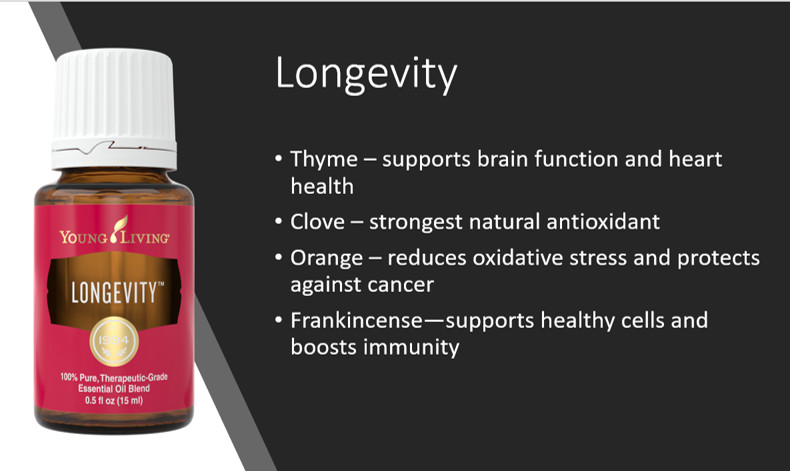 Rounding it all out,
PanAway
is the perfect gym partner to help ease and soothe those tired and aching muscles after you work out or do any kind of physical activity. Make it part of a post workout massage or use it just on the areas that need it - whatever you do, you're going to want to have a bottle or three on hand as you work on your fitness goals. So whether you're starting new goals or keeping up the momentum from 2018, the January promos can help you start 2019 right.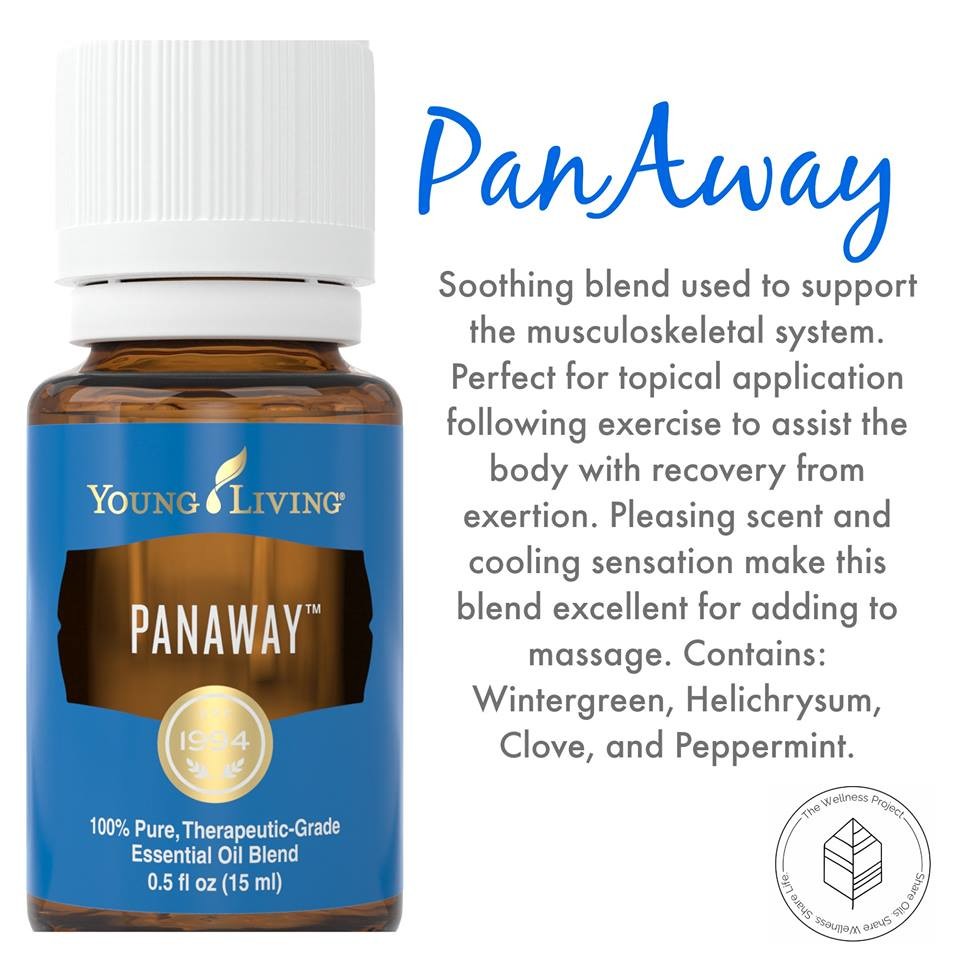 Slimmer You
Another exciting part of the new year is the
Slique in 60 Challen
ge! Slique is Young Living's line of products with naturally derived ingredients that can help you with your healthy weight management goals. These products, coupled with a healthy fitness routine, can really help you hit those goals and transform your whole body health this year. Check out what Young Living has to say about the contest, and if you have any questions about Slique or the contest, just let me know!
"
The Slique in 60 Challenge
is back for 2019! Ready to suit up and slim down? We are too! Get your 2019 off to a healthy start by competing against yourself and other participants in your gender and age group to lose pounds and inches for your shot at $3,000 USD and a NingXia Red 6-pack! The contest will begin
February 1 and run for 60 days
.
Ready to join? You'll need to purchase two Slique collections, one for each month. If you purchase the Slique Complete Kit, you'll receive two free boxes of shakes, and with the purchase of the Slique Advanced Kit you'll receive one free box of shakes! Find the Slique collection that works best for you.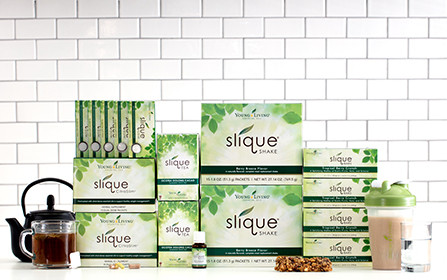 Keeping track of progress is important, so refer to the Slique in 60 Challenge website for the best way to keep a video diary. Also, be sure to check out the registration packet for details on tracking weight and measurements.
Looking for a little support in your Slique journey? During this time, participants can become part of an exclusive Facebook group specifically for the Slique in 60 Challenge. Here you'll find additional motivation, support, product information, healthy recipes, and workout tips; plus you can share what's working for you and offer support for others in the group.
Join now and start the year off feeling good!
In December, Young Living also surprised us with an awesome new product, the LavaMint Softening Foot Scrub! What better way to start off the new year than to treat yourself to a little self care. Couple this with some of Young Living's bath bombs or new shower steamers and you can have a mini spa day right there in your home! Take a look at what Young Living had to say about this exciting new product.
Fabulous Feet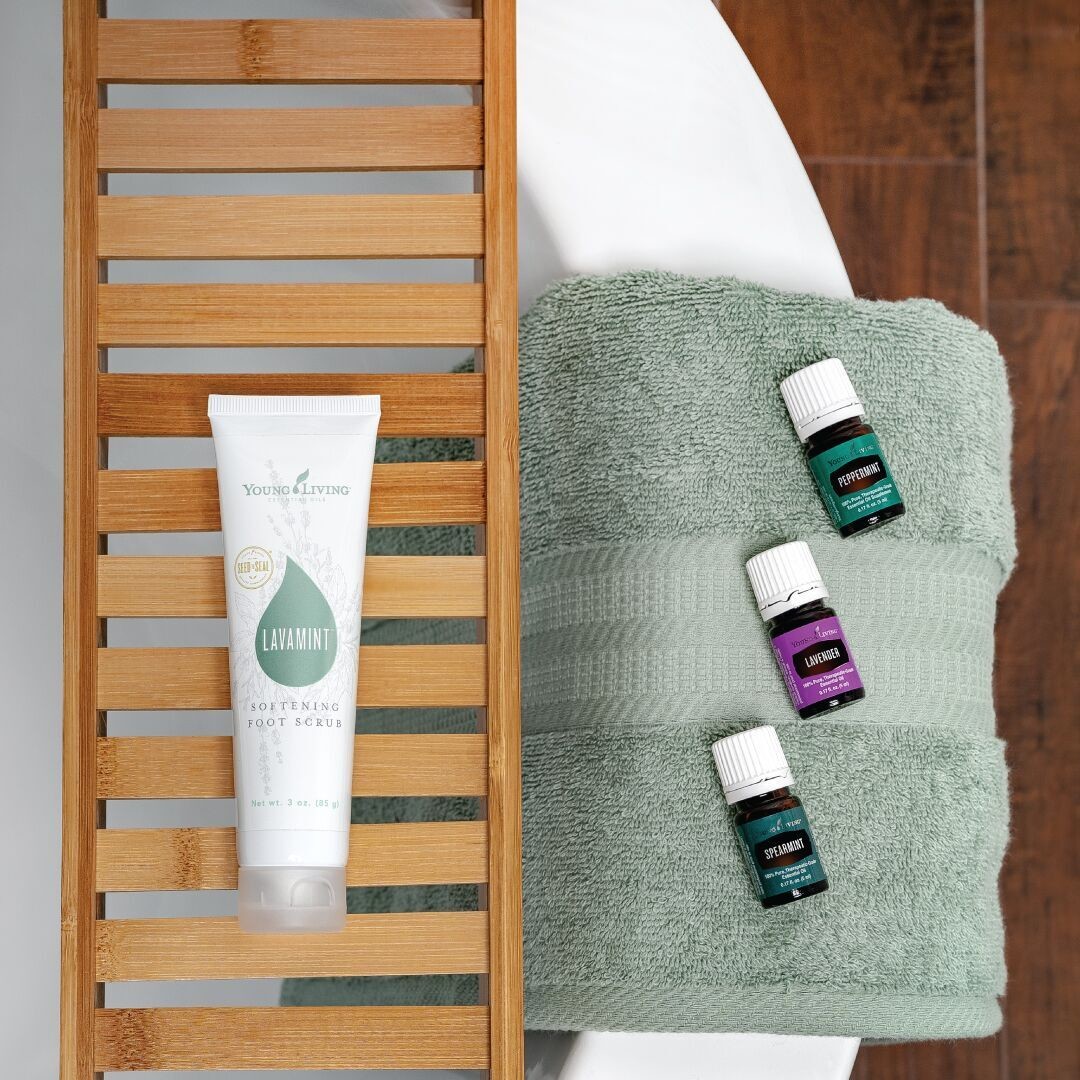 Treat your feet with our new
LavaMint Softening Foot S
crub! A night of pampering can be the best way to recharge your batteries! Take your DIY spa day from decent to decadent with our new LavaMint Softening Foot Scrub.
LavaMint Softening Foot Scrub contains a unique triple-texture, water-activated formula that uses your body's heat to transform the cool gel into a milky lotion. Featuring four natural exfoliants —black volcanic sand from Iceland, volcanic rock pumice from Italy, diatomaceous earth from the seas of Denmark, and coconut shell powder from France — this luxurious scrub reveals soft, silky, healthy-looking skin.
This foot scrub is rich in emollient and moisturizing properties, with glycerin and squalane to hydrate and condition the skin. The soothing Lavender scent combined with Peppermint's cooling sensation refreshes and revives tired feet. LavaMint Softening Foot Scrub also pairs well with other spa-worthy Young Living personal care products, including Stress Away Relaxing Bath Bombs and Easy Breeze Awakening Shower Steamers, so you can spoil yourself from head to toe!
Item #: 25152
Size: 3 oz. (85 g)
Wholesale Price: $24.75
PV: $24.75"
RECIPES
As you start this new year, use these oils to help you get on the path you want and stay on track. Below are a couple recipes to help keep you motivated and energized well into this new year and help you check off the things you want to get done.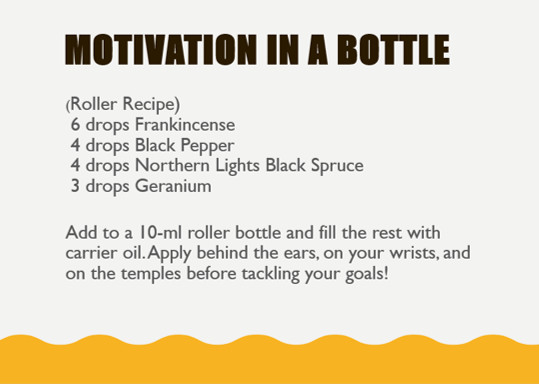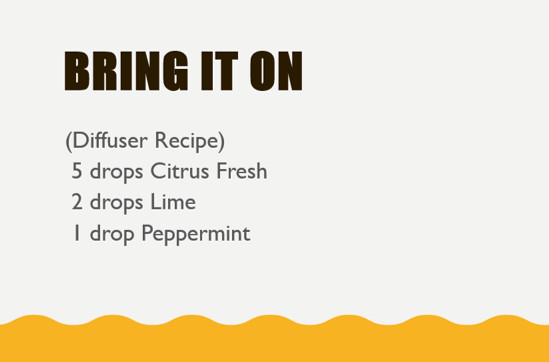 I hope that you are as excited about starting a new year as I am. I'm so excited to see where this year takes us all! As always, if you have any questions or need any help, please let me know. I'm more than happy to help! Here's to a new year, and I hope you have an incredible January!
Linda
___________________________________
Here is the full breakdown of the January PV promos:
100 PV
DiGize Vitality 5-ml*
190 PV
Life 9
Citrus Fresh 15-ml*
DiGize Vitality 5-ml*
250 PV
Longevity 15-ml
Life 9
Citrus Fresh 15-ml*
DiGize Vitality 5-ml*
300 PV
PanAway 5-ml
Longevity 15-ml
Life 9
Citrus Fresh 15-ml*
DiGize Vitality 5-ml*
*Remember, in order to get the Essential Rewards Exclusive DiGize Vitality 5-ml and the Essential Rewards Exclusive Citrus Fresh 15-ml, you have to be enrolled in Essential Rewards (ER) and have an order that meets the PV requirements for those items. The extra bonus of meeting these PV amounts with your ER order is that you get even more ER points to spend later!
Dec 23, 2018 08:43 PM Central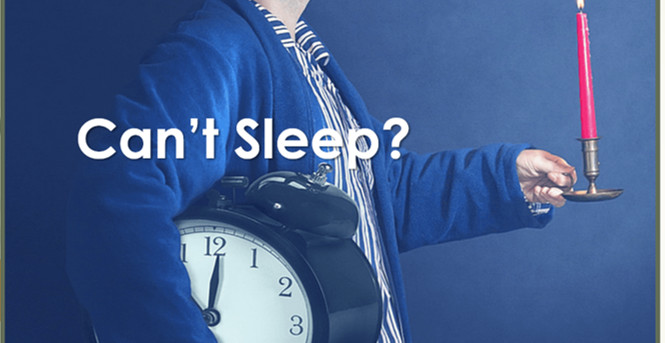 Are you one that sleeps like a baby.....up in the night? I see your puffy eyes…
Or maybe someone you love is one of the roughly 60 million Americans who have some sort of sleep disorder. It may be short term, it may be something that's been going on for years. You may have even been to the doctor for help. And found there really are no right answers for treating sleep disorders.
That means there are a whole lot of people driving, working and living in a state of sleep-deprivation. You all know what that means. You simply aren't your sweet lovable yourself! Yep. Irritability. Poor concentration and poor quality of work. Accident in cars or around the house. If you are a student, this is death to your grades! People who are sleep deprived are more likely to be ill. The body simply is too exhausted to support a strong immune system.
"Sleep deprivation is a serious medical risk, but few people are aware of that," says Joyce Walsleben, PhD, an associate professor of medicine at NYU School of Medicine. "You have to pay as much attention to your sleep as you do to eating a nutritious diet."
You know there are hundreds if not thousands of businesses that are marketing to the sleep deprived, and I'm not just talking about the shopping channels you can watch in the middle of the night! Right?!
With that many people wide-awake the market is flooded with all sorts of devices and treatments to help with sleep. Mattresses. Pillows. Specially tinted glasses. Noise-canceling devices. Light-blocking window treatments. Supplements. Medications. And more.
Let's talk medications:
The Consumer Reports Best Buy Drugs
team, which evaluates the safety and effectiveness of medications, reviewed the research on
sleep drugs
and found them to be limited in their effectiveness and prone to potentially dangerous misuse.
Sleep medications are designed for short-term use. For the chronic insomniac, which most medication users are, the on-going use can cause long term health risks such as addiction and permanent harm to the nervous system, heart and liver.
Seeking something natural, another 34 million Americans have turned to melatonin as a sleep aid. Natural Melatonin is a hormone secreted by the brain's pineal gland which sets the body's 24-hour "clock" that controls when you fall asleep and wake up. Since trace amounts are found in some foods, the FDA allows a synthetic version to be sold over the counter. (In the U.K. you can get melatonin only through a doctor.) As a dietary supplement, synthetic melatonin is not subject to FDA requirements for extensive research into safe use and has many documented health side-effects. We simply don't know how safe this artificial substance really is.
You guys. If you aren't sleeping your long term health and wellness are in jeopardy, and you aren't alone.
Candidly, I've tried everything offered in this blog. Breathing machine, new [super comfy, I'm in love with mine] mattress, over the counter and prescription sleep aids, counting sheep or the number of snorts my husband makes in his sleep! And that search for solutions lead me to essential oils.
We're going to cover some healthy sleep habits and then dive into using essential oils. In these posts, you're going to find a long list of oils and supplements that can promote sleep. And it's a long list because I want you to have choices. Lots of choices. I'm so glad the list is long because I've used most of these oils in my quest for 'the' oil that sends me to the land of nod.
If you've become discouraged by lack of success find sleep solutions, my intent in writing is to reignite hope.
This is an important question. Different causes of sleeplessness require different solutions.
Insomnia can be a symptom of other medical conditions that should be discussed with a medical provider who can review all of the prescription and over-the-counter medications you take, a number of which—including blood pressure meds and a variety of antidepressants—can disrupt sleep. Medical conditions such as arthritis, heartburn, menopause, and prostate enlargement are notorious for interrupting sleep. Your doctor may also want to find out if you have sleep apnea (periodic pauses in breathing while you sleep, lasting from a few seconds to a few minutes) or restless legs syndrome (involuntary urges to move your legs).
For most of us, there are other things that keep us awake. Do you find yourself on this list?
You think too much
You sleep in
Your spouse chops wood
Your hormones change
Your stomach growls
You can hear a pin drop
You have pets in your bed
You have health issues, such as pain
Frequent trips to the bathroom
Healthy sleep habits should happen all day long, experts say. There are scores of 'lists' out there on good sleep habits. I like this pithy list from Consumer Report. See how many of these you are doing…perfectly.!
7 A.M. GET UP AT THE SAME TIME, EVEN ON WEEKENDS. A top goal is to keep your body's wake-sleep cycle predictable. Sleeping in some days feels good in the short term but creates long-term havoc.
7:30 A.M. SOAK UP MORNING SUN. Get your body into daylight early in the day if you can. That helps set a proper 24-hour clock. Consider light therapy if you live in northern states where the daylight hours are limited.
8 A.M. GET A MOVE ON. Regular exercise encourages sleep, possibly because it tires you out and eases stress. Avoid working out within an hour or two of bedtime because that may increase alertness and make it more difficult to fall asleep.
10 A.M. TIME YOUR CAFFEINE CAREFULLY. A cup of coffee at breakfast or midmorning is okay, but if you have chronic trouble sleeping, avoid caffeine for at least 6 hours before bed.
NOON -- SOAP UP MIDDAY SUN. Midday exposure to natural light helps strengthen your body's 24-hour sleep-wake cycle.
3 P.M. NIX THE NAPS. Fight the urge for an afternoon snooze even if you didn't sleep much the night before, for the same reason that you shouldn't sleep in: When bedtime comes, you're ready for sleep.
6 P.M. HAVE A LIGHT EARLY DINNER. Big meals close to bedtime are a no-no, especially if you suffer from heartburn, which tends to worsen when you lie down. Alcohol before bed might help you conk out, but it can increase the likelihood of waking up in the middle of the night.
If you need a bedtime snack, avoid eating sugary sweets, chocolate, simple carbs, juice or high-glycemic fruit just before bed, as it can spike blood sugar, boost your energy and you can wake up feeling hungry. Instead, try a little bit of protein with vegetables or a small amount of complex carbohydrates with protein, which can boost natural production of melatonin and help you fall asleep fast!
9 P.M. POWER DOWN YOUR GADGETS. The blue light from laptops and smartphones can slow production of the sleep hormone melatonin. So shut them down 2 hours before you intend to go to sleep. Can't unplug? At least dim the device and hold it a foot or so from your eyes. Or consider special glasses designed to block out blue light.
10 P.M.POWER DOWN YOUR BRAIN. An hour or so before bed, dim the lights in your bedroom and do something relaxing: Read a physical book (not a lit screen), listen to quiet music, meditate, or have a glass of a warm, noncaffeinated drink. (Note that there might not be anything magical about milk, but any soothing drink before bed may help you unwind.)
10:55 P.M. TRY SENSORY DEPRIVATION. Close your curtains, try eyeshades, use earplugs, or turn on a fan or a white-noise machine.
11 P.M. GO TIMELESS. Watching the minutes tick by can become a self-defeating obsession. So put your alarm clock or smartphone someplace where you can't easily see or reach it, such as under your bed.
3 A.M. IF YOU WAKE UP. . . . and can't get back to sleep within 20 minutes, go to another room and do something relaxing. When you start feeling sleepy, head back to bed.
For thousands of years, people have been turning to herbal remedies to promote sleep. If you're taking this class, you may have tried some aromatic compounds from plants! I'm talking essential oils.
We'll start with 10 essential oil singles. I hope we have few new options for you to try! Then we have some amazing blends [you know, premixed combinations that provide more comprehensive support] and some fabulous supplements to nourish the body.
Many people will say, "Oh, I tried essential oils and they don't work." Or, "with all of the essential oils flooding the market, how do you know which ones are safe and will actually work? "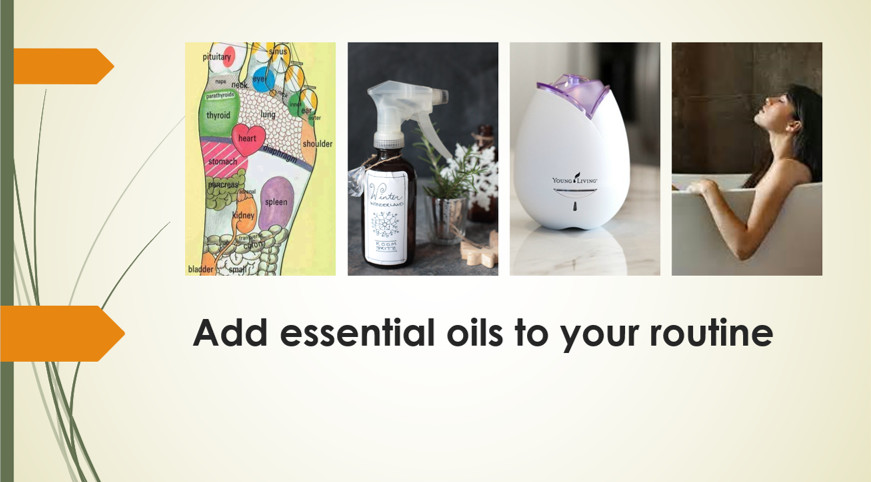 If purity is lacking, they simply won't be effective. Many oil manufacturers add carrier oils, perfumes and smell enhancers which provide a great smell, without the herbal benefits. I chose Young Living because of it's SEED TO SEAL guarantee that the product is handled with utmost care from planting in the ground to harvest, distillation and packaging. When I'm asked about oils for sleep, I recommend Young Living essential oils to all my friends.
There are three schools of thought on how to use essential oils. Topical, Ingestion or Inhalation. Actually, there are four! We Americans think that it's good to integrate all three!
TOPICAL – PUTTING OILS ON YOUR SKIN.
Ready to put essential oils on your skin? Grab your favorite carrier oil. I like Young Living's V-6 or grapeseed from the grocery story. Add a few drops of essential oil and gently massage this on the feet, back of the neck, forehead or behind your ears.
Children enjoy a foot massage at bedtime.
A quick and easy way to do that routinely is to put the mixture in a glass roller-ball bottle. Just pop the top and apply.
You can also apply 1-2 drops neat on your temples, back of neck or on the Vita Flex points of the feet.
For the milder oils, you can apply a single drop under the nose.
DIFFUSING – GETTING OILS INTO THE AIR YOU BREATHE
A diffuser is a great sleep aid. Load the diffuser basin with water, and add 8-10 drops of essential oil into the water. For new user, you may want to start with 3-4 drops and increase to the level your nose approves. I still only use 3-4!
If you live in a dryer climate, diffusing helps to humidify the air for easier breathing.
Another form of diffusing is Spritzing. Mix water and essential oils into a spray bottle and mist your pillow before going to sleep. This will help you smell the scent as you're falling asleep and throughout the night. I use this technique to freshen the bed and room where guests will sleep.
BATHING
After a long hard day, the body needs a bit of pampering. Try a detox bath. It'll help relieve your body of toxins, release the power of essential oils, and soothe both your body and brain. Add a few drops of essential oils to ½ to 1 cup of Epsom Salts [magnesium]. We'll talk more about magnesium in a bit. Add the mixture to comfortably warm bath water. The magnesium and oils will help the body relax.
I guarantee it!
Now that you know how to use the oils, let's start our tour of oils. We'll begin with Bergamot.


Christopher Columbus is believed to have brought bergamot to Northern Italy. You may recognize Bergamot as the distinctive flavor of the renowned Earl Grey Tea.


Bergamot is a citrus fruit, which gives this oil its pleasant smell. The oil is extracted from the rind.
Studies
[1]
have shown that bergamot oil has the ability to promote a sense of calm and raise spirits. Bergamot can help to increase the amount of time you spend in the restorative stage of sleep, leading to more energy the following day.
One characteristic of Bergamot is that releases the need to be in complete control so that we can flow with life more easily.
Some of its characteristics further enhance its action as a sleep aid. Compare this list to the issues that impact your sleep quality.
Promotes physical comfort
Promotes relaxation of nerves and muscles.
Relieves spasms.
DIRECTIONS FOR USE: for use:
INHALATION: Diffuse
TOPICAL: Dilute 1 drop essential oil with 1 drop V-6 or other pure carrier oil. Apply 1-2 drops on location or Vita Flex points.
DIETARY: Dilute 1 drop of Bergamot Vitality with 1 drop of carrier oil. Put in a capsule and take up to 3 times a day.
All through history books, you'll find this essential oil talked about. King Solomon was rather wise to use this calming wood for the walls of his palace and throne room. With a hundreds of wives and children, there was some need to creating a calm living environment.!
Cedarwood Essential Oil
has an earthy aroma that gives you a sense of security. It is calming, purifying and grounding, and promotes a great night's sleep. One of my personal favs and highly recommended by many of my closest friends!
DIRECTIONS FOR USE:
INHALATION: Diffuse
DIETARY: Take as a dietary supplement
TOPICAL: Apply 2-4 drops directly to desired area or apply to chakras and/or Vita Flex points. Dilution not needed except for the most sensitive skin.
Clary Sage is similar to valerian in the sense that it affects the GABA receptors in the brain, which help to reduce stress. Try this oil if you are prone to muscle spasms.
Clary Sage helps promote emotional well-being and alleviate the occasional blue feeling everyone experiences from time to time. When this oil was compared to others, such as chamomile and lavender, it was found to be the most effective at combating stress.
If mid-life changes are contributing to restless sleep, your body will love this oil. Clary Sage supports healthy attitude during PMS; and may support menopausal women emotionally due it's balancing nature.
DIRECTIONS FOR USE:
INHALATION: Diffuser
TOPICAL: Dilute 1 drop essential oil with 1 drop V-6 or other pure carrier oil and apply on location (feet, ankles, wrists) or apply on chakras and/or Vita Flex points. Rub 6-8 drops on lower back during PMS.
Calming. Quiets the mind and helps promote emotional well-being.
One source says it is helpful for to support the muscles of in the urinary tract to reduce to bed-wetting. Apply a few drops of copaiba oil to the lower regions of the abdomen before bed.
DIRECTIONS FOR USE:
INHALATION: Diffuse
DIETARY: Ingest Copaiba Vitality. Add a drop to a shot of NingXia Red. Place a drop on your thumb and press it to the roof of your mouth.
TOPICAL: Apply to Vita Flex points


Warm, spicy aroma promotes feelings of peace, relaxation, and satisfaction. A great oil to use to help balance your mood.
When combined with other oils, frankincense often enhances the properties of the other essential oils.
Soothes muscles and nerves. Supports healthy joint and cartilage function
Helps alleviate minor aches and pains associated with daily life
Try massaging frankincense oil to the affected area or diffusing it in your room.
My personal favorite is massaging my feet at the beginning and ending of the day with frankincense to quiet my mind and relieve tenderness in my feet and throughout my body.
DIRECTIONS FOR USE:
INHALATION: Diffuse
TOPICAL: Dilute 1 drop essential oil with 1 drop V-6 or other pure carrier oil and apply on location, or on chakras and/or Vita Flex points.
DIETARY: Ingest Frankincense Vitality
Lavender is the oil most often suggested for relaxation that promotes sleep.
Lavender Essential Oil
(
Lavandula angustifolia
) can help you relax, wind down before bed and even ease stress. Its balancing properties can create a relaxing and comforting environment for you, your family and your animals when diffused.
DIRECTIONS FOR USE:
INHALATION: Diffuse
TOPICAL: Apply 2-4 drops on location, chakras, and/or Vita Flex points. Dilution not required except for the most sensitive skin.
DIETARY: Ingest 2 drops Lavender Vitality in a capsule.
Since you end up going 6–8 hours without any liquid at all, drinking water throughout the day and before you hit the sack is essential to keeping yourself hydrated. Try adding
Lavender Vitality™ essential oil
to your water or herbal tea for a calming influence. Aim for an hour before bed, so you aren't waking up in the middle of the night for a bathroom trip.
#TIP If you are making frequent trips to the bathroom, rub a drop of Cypress across the bladder or Vita Flex points to strengthen and calm the bladder.
Manuka is the Maori name for the bushy tree from which the oil is produced. This essential oil is so beneficial for people who suffer from nervous tension, everyday overwork and fatigue. Manuka is able to promote relaxation and ease aching muscles. It helps to calm an overactive mind and promote relaxation that leads to sleep. Works as a marvelous sleep aid.
DIRECTIONS FOR USE:
INHALATION: Diffuse
TOPICAL: Apply topically. Dilution not required except for the most sensitive skin.


Marjoram was known as the "herb of happiness" to the Romans and "joy of the mountains" to the Greeks. It has a slightly spicy, warm aroma that calms and helps you release emotional tension and trauma. Some say it is more powerful than lavender or chamomile!
It also has muscle-soothing properties to give relief to aching joints. Very calming to nerves.
DIRECTIONS FOR USE:
INHALATION: Diffuse
DIETARY: Take Marjoram Vitality as a dietary supplement. Dilute 1 drop with 1 drop of carrier oil. Put in a capsule and take up to 3 times daily or as needed.
TOPICAL: One source suggested it paired with orange as a massage oil or detoxing bathe.
Noted in German medicine reference books as early as 1009, this essential oil enhances the body's natural production of melatonin, and relaxes muscles. This oil providing calming support for when the body experiencing fatigue and exhaustion.
Supports healthy joint and cartilage function
Helps with normal, overall cardiovascular health and function.
Supports the nervous system and aids in normal digestive function.
According to Ayurveda, add a drop of nutmeg to a glass of warm milk at bedtime. You can add a drop of cardamom for added benefits.
'
DIRECTIONS FOR USE:
INHALATION: Diffuse
DIETARY: Ingest Nutmeg Vitality. Dilute 1 drop with 1 drop of carrier oil. Put in a capsule and take up to 3 times a day or as needed.
TOPICAL: Apply on Vita Flex points or to points on the body that need some comfort!
The sweet floral aroma of Roman Chamomile is calming and soothing to the mind and body, making it one of the most often used essential oils for sleep.
A 2006 case study explored the inhalation effects of Roman chamomile essential oil on mood and sleep. The results found the volunteers experienced more drowsiness and calmness, demonstrating its potential to promote sleep and help enter a restful state. Inhalation of chamomile reduces stress-related hormone levels. Another study indicates it may help keep nightmares away.
DIRECTIONS FOR USE::
INHALATION: Diffuse or inhale directly.
TOPICAL: Topical application on Vita Flex points. Dilution not required except for the most sensitive skin.
With a unique, exotic aroma, Vetiver is known to provide a grounding effect on emotions-making it ideal for massage therapy and promoting restful sleep. Vetiver calms and uplifts the spirit, providing comforting sleep support, as well as supporting comfort to bones and joints.
DIRECTIONS FOR USE::
INHALATION: Diffuse or inhale directly.
TOPICAL: Topical application on Vita Flex points. Dilution not required except for the most sensitive skin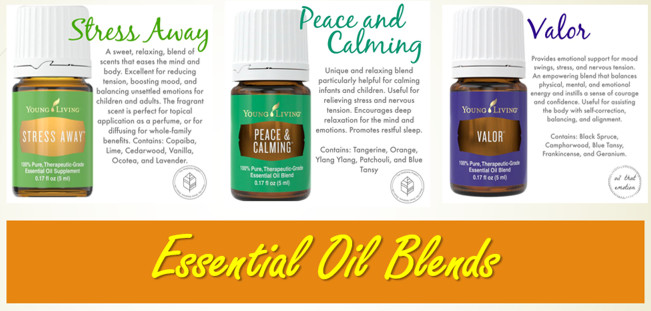 StressAway
– helps relieve daily stress and nervous tension. The ingredients include several we've talked about already: Copaiba, Cedarwood and Lavender. The beauty of a blend is that you get all the benefits of each of those oils….in one application. This one is found in the Premium Starter Kit.
Peace and Calming
– Just like its name, it promotes relaxation and a deep sense of peace and emotional well-being. Massage on the bottoms of feet for a peaceful night's rest. Many people find this helps to calm restless legs.Samples of this oil are included in the Premium Starter Kit.
Valor
– Apply to the big toe for a quiet night – helps to reduce snoring. Builds confidence and courage. Helps the body self-correct its balance and alignment. When using a series of oils, apply Valor first and wait 5-10 minutes before applying other oils. May diffuse.
HAVE YOU TRIED ANY OF THESE OTHER SINGLES AND BLENDS?
If not, look them up at
YoungLiving.com
or in your Essential Oil Pocket Reference to learn how these can support deep, refreshing sleep.
Goldenrod
Sandalwood
Valerian
Ylang Ylang -- restores confidence and equilibrium.
AromaSleep
Dream Catcher
Hope
Humility
RutaVala
SleepEssence [capsule] contains, vetiver, valerian, and Ruta graveolens essential oils with the hormone melatonin.
TranQuil [Roll-on]
Trauma Life
A magnesium deficiency can lead to sleepless nights. While there are plenty of magnesium-rich foods you can eat naturally, adding a supplement can help jump-start your levels and help you sleep better. In fact, one study in the Journal of Research in Medical Sciences found that magnesium supplements improved insomnia and sleep efficiency.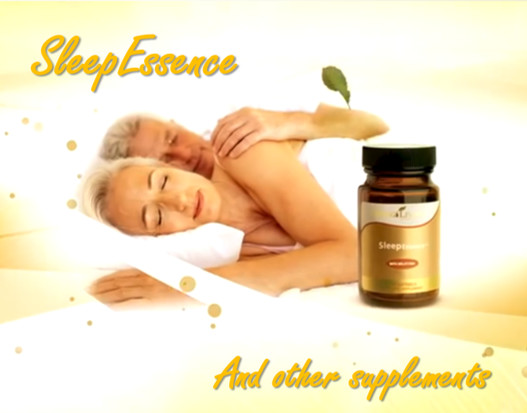 Megacal is a Young Living supplement that contains calcium, magnesium, manganese, and vitamin C.
Bathe in Epsom salts for a natural way to absorb magnesium and relax.
Here are other supplements you will want to explore. These can support the body's natural sleep rhythm in more complex ways.
Young Living is a trusted place to purchase essential oils.They offer two ways to purchase essential oils.
Purchase a Starter Kit to receive wholesale pricing (24% off retail prices) on all Young Living products. There are no commitments or minimums when you become a Young Living Member with a Starter Kit!
Try individual products as a retail customer
In the Premium Starter Kit, you'll find a number of the oils we've just discussed:
Copaiba
Lavender
Frankincense
StressAway
If you need help purchasing for the first time [or the second time!] please contact message me. I'm here to help.
Our thoughts are powerful. Training our minds to be mindful, thankful and prayerful leads to a quiet mind that is ready to relax for restorative sleep.
Let your thoughts rest, and focus on relaxing each part of your body. Then spend a few minutes reflecting on what you're thankful for, praying or just spending some time alone with your thoughts.
Always dwell on the positive parts of your day and the bright things you have to look forward to, as it can have a powerful effect on easing your mind into a restful state.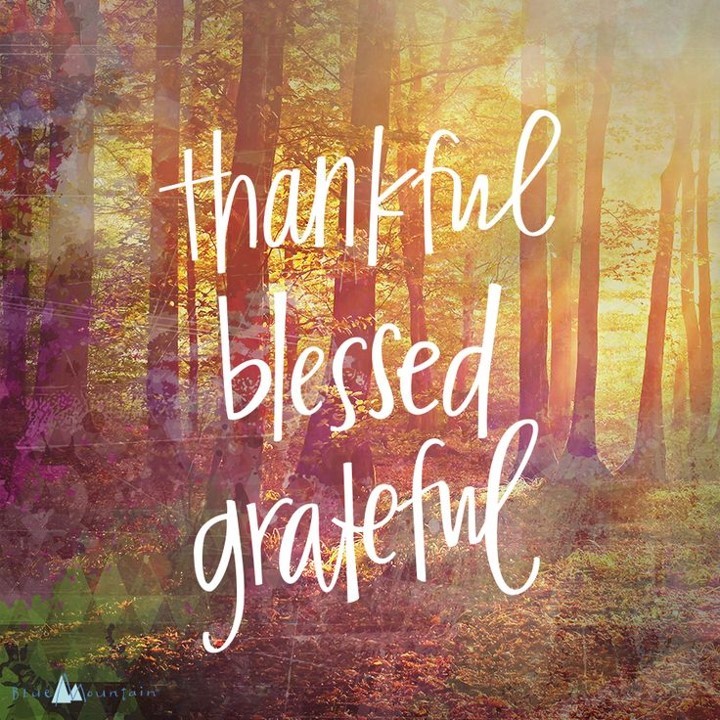 Sleep is so important for physical and mental health. Solving the riddle of why one isn't sleeping will take some experimenting with different essential oils and discipline to keep up those healthy sleep habits. The reward is a good night's sleep and better overall health.
Sweet dreams.
*All statements in this class have not been approved by the Food and Drug Administration. Our products are not intended to diagnose, treat, cure or prevent disease. Pregnant or lactating women and persons with known medical conditions should consult a physician prior to the use of any Essential Oil product.