Sep 11, 2018 08:07 PM Central
Happy September!
Are you ready for cooler weather yet? I started writing this from Myrtle Beach where it was hot hot hot. Some computer challenges delayed completing the newsletter until now. And how happy we are to be home with the Hurricane Florence pending.
I am looking forward to cozy fall decorations and comfy sweatshirts here real soon. And as we all get ready for that change in season, we need to remember to address the specific wellness challenges that change can bring.
Colder weather means more people coughing which means GERMS EVERYWHERE. Sorry. I'm fine. But we do need to make sure we have things on hand that can help us stay well or help us get well if we start feeling under the weather. The Young Living promos for September do just that and can help us transition into the land of pumpkin spice lattes with ease and grace. Let's take a look at the promos for September and I'll show you what I mean.
Here's the full breakdown of the US September PV promos: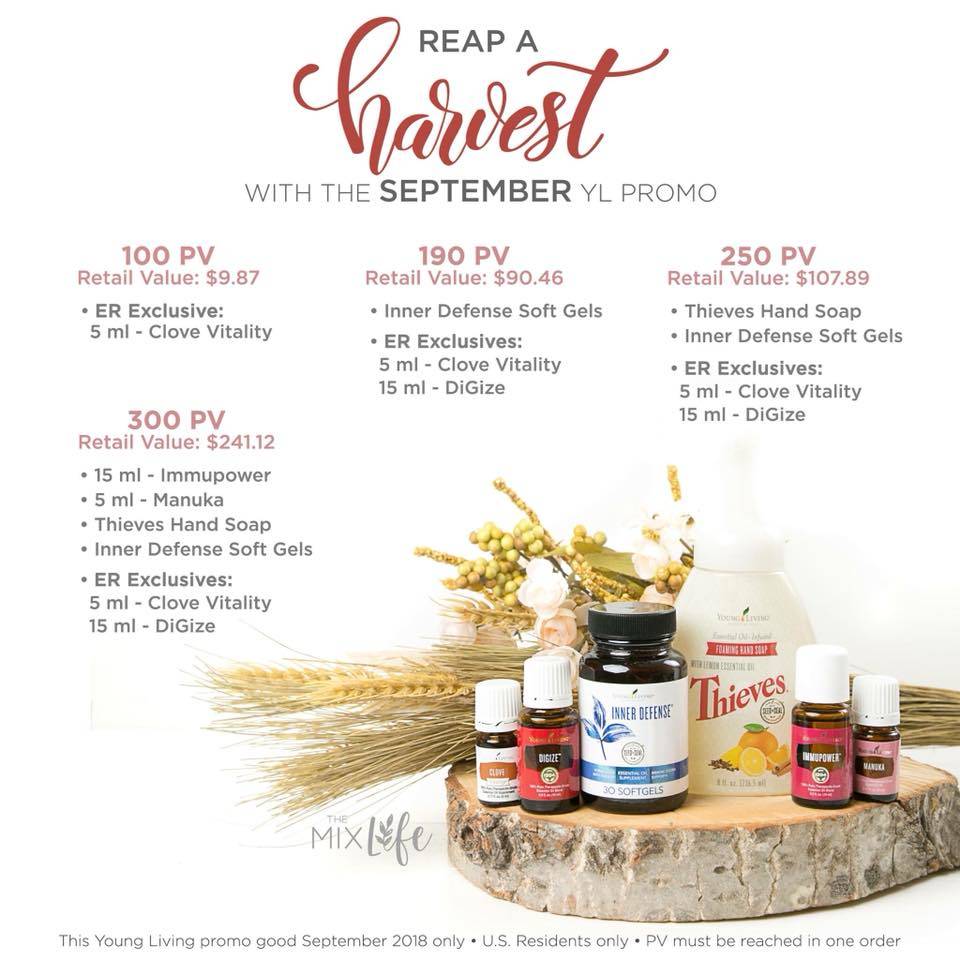 *Remember, in order to get the Essential Rewards Exclusive Clove Vitality 5-ml and the Essential Rewards Exclusive DiGize 15-ml, you have to be enrolled in Essential Rewards (ER) and have an order that meets the PV requirements for those items. The extra bonus of meeting these PV amounts with your ER order is that you get even more ER points to spend later!
Clove
has been used for generations to help with health and wellness, so it makes sense that it's part of the Thieves blend and that Clove Vitality is in this month's promos. Take it in a veggie capsule or add a drop to a warm tea for a spicy, healthy kick.
DiGize has been a lifesaver for me on this trip when my belly had difficulty with too much rich resturant food. Rich foods and eyes too big for our stomachs can sometimes lead to upset stomachs, so keep that bottle near.
Inner Defense
is one of the big guns for when your body is under attack. It really packs a punch, so it's not meant for everyday use, but when you're feeling under the weather, let it help you fight off what's going on and help you on the road to recovery.
And to avoid as many of those times of feeling nasty,
Thieves Foaming Hand Soap
will help keep your hands clean and fresh when germs are on the loose. Truly. Hand hygiene is the ticket to reducing risk of nasty diseases.
Helping with another seasonal transition,
Manuka
can help keep your skin soft and avoid dryness as the weather changes. Add it to your skincare routine and you'll notice less of a change in your youthful looking skin, even as the seasons change.
And last but not least
, ImmuPower
rounds out the promos with an aromatic treat for your senses. With oils like Dorado Azul, Ravintsara, Oregano, Cumin, Hyssop, and more, your nose, chest, and body will thank you as you diffuse it or apply it to our neck and chest with a carrier oil. It's not one that gets talked about a lot, but it's a great addition to your fall and winter oil collection. All of these promo items together will have you feeling ready to fight whatever this change of season brings our way.
New Heart Health Supplement -- CardioGize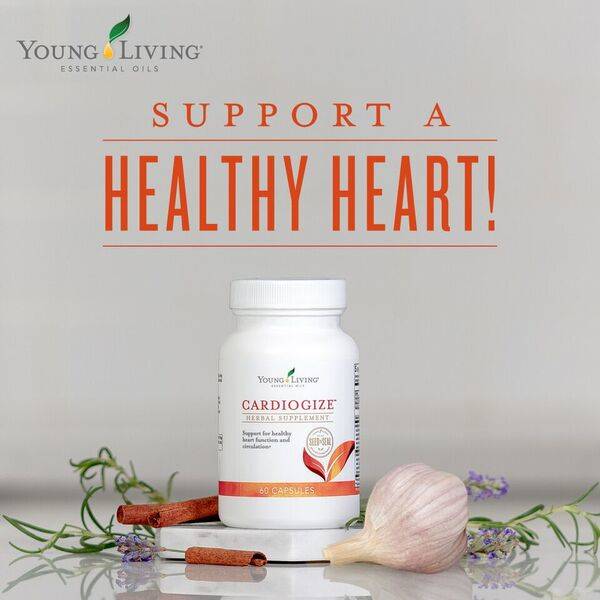 On top of those incredible promos, last month Young Living introduced a new product that is good for the heart and reintroduced a newer product that's good for our bodies but also puts smiles on everyone's faces in the family. CardioGize is a brand new cardiovascular system supplement and the Einkorn Flakes Cereal that was introduced at Convention this year is back in stock and here to stay! Here's what's so great about both of these awesome products.
CardioGize is a new herbal supplement that supports healthy heart function and blood circulation. Using garlic, a synergistic ratio of CoQ10 and selenium, vitamin K, plus essential oils like Angelica, Cardamom, and more, CardioGize supports healthy vascular system function. This is the perfect complementary product to OmegaGize to support a healthy heart and keep those tickers tickin'! I am so happy that Young Living has given us another option to help keep us healthy and living life longer and happier. Here's the information for CardioGize:
CardioGize (60-Count Bottle)
Item #: 21696
Wholesale Price: $39.75
PV: 39.75
Limits: No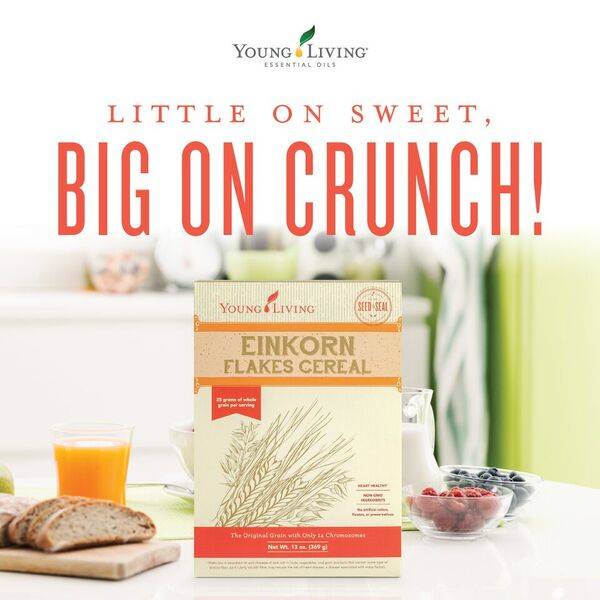 Einkorn Flakes Cereal
is not technically a brand new product, but because they sold out at Convention so quickly this year (all the people who tried them there at Convention scooped them up!), they're new to most of us. This is a nourishing morning meal that your whole family will get excited to wake up for. It is low in fat, has no trans-fat, contains non-GMO ingredients, and has high levels of protein. This is also a great alternative for those who are sensitive to modern wheat. Plus, it tastes great! They have upped the production on the Einkorn Flakes Cereal to make sure that this can be a staple in homes across the country, and I think once you try it you'll know why! Here's the information for Einkorn Flakes Cereal:
Einkorn Flakes Cereal
Item #: 24327
Wholesale Price: $5.50
PV: 2.75
Limits: No
So there you have it. September looks like it's going to turn out to be a fine month and I hope you're ready to embrace fall just as much as I am. A few other tips as we head into the cool embrace of autumn:

Use a drop of your Thieves Vitality to make a nice warm tea that helps support your immune system and tastes like fall in a cup.
Stock up on those Thieves Essential Oil Infused Cough Drops and Lozenges so your throat doesn't revolt against you!
Keep a thing of Thieves Waterless Hand Purifier in your car so when you pick up the kids or get out of the grocery store (or anywhere in public) everyone can get their hands purified and clean.
Basically just get all Thieves everything in your Essential Rewards order this month.
Get a few good books that you want to read all cozied up and prepare for those crisp autumn days.
As always, if you have any questions or need help with anything, please let me know. I'm happy to help in any way I can. I hope you have a truly spectacular September and that the transition into fall treats you and yours well!
Linda Grupa
Aug 11, 2018 07:50 PM Central
I love yogurt for its probiotic properties. What I don't like is all the sugar in commercially prepared yogurt. For years, I avoided yogurt because it didn't fit my sugar-free diet. As I read about the health benefits of yogurt, I started on my quest to create a natural, sugar-free version to support gut health. This recipe pairs nicely with
homemade granola
for a daily dose each morning of pro-biotics. [I leave out the sugary items when I make this granola recipe].
Many of you have asked how I do it. I will confess, I had a few flops, and had to consult a colleague who has more do-it-from-scratch skills in the kitchen than I do! Honestly, the first time [or two] is a bit putzy. Very quickly, you too will develop a routine so you can offer this healthy snack to your family.
This recipe is for 11 pint jars of yogurt. Here are the tools and ingredients you will need.
Gather the ingredients:
· ½ gallon of milk. I like whole milk
· 1 1/3 cup nonfat dry milk
· 8 ounces of commercially prepared yogurt
· Vanilla flavoring, optional
· Vitality essential oil, optional [I like lemon or orange]
Gather equipment:
· 11 pint mason jars with lids and rings
· 1 double boiler
· Crock-pot [I need 2 crock-pots for 11 jars]
· Candy or meat thermometer
Shall we get started?
Combine ½ gallon of milk with 1 1/3 cup nonfat dry milk.
Heat mixture in a double boiler to 190°F.
Hold at temperature for 10-20 minutes so the protein in the milk mixture will make a better gel.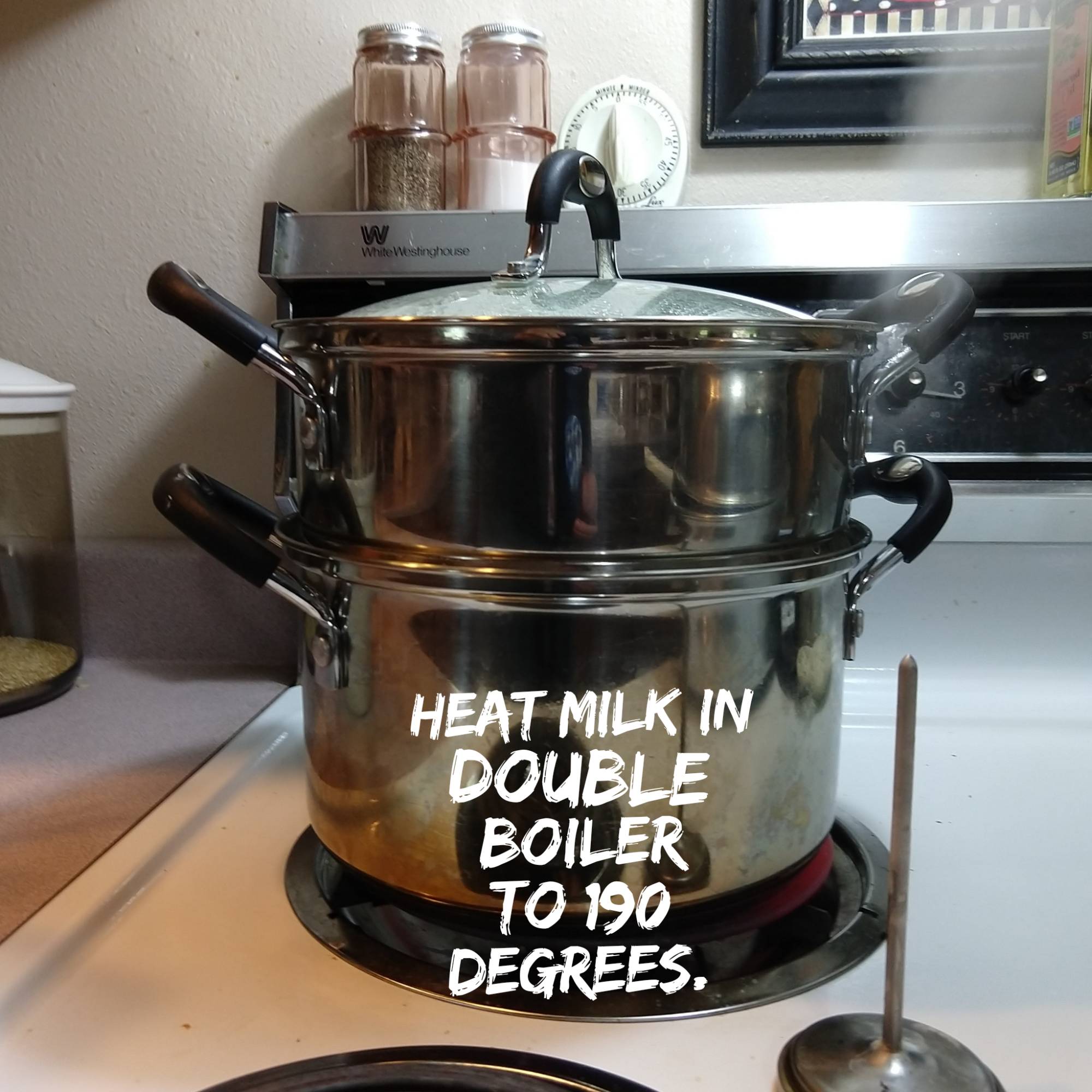 While the milk is heating, sterilize mason jars. I find 11 is the perfect number for ½ gallon of milk. You can do this on the stove or microwave.
Microwave jars with water in the jars. Add Saran Warp to seal over the top until the wrap bubbles up from the steam.
I prefer use a large, covered roaster. Place jars in roaster. Fill jars and roaster with water. Bring the water to a boil for 5 minutes. Put the lids and rings in with the jars.
Place prepared jars upside down on a cooling rack to dry. I place a clean dish towel on the rack to catch the drips.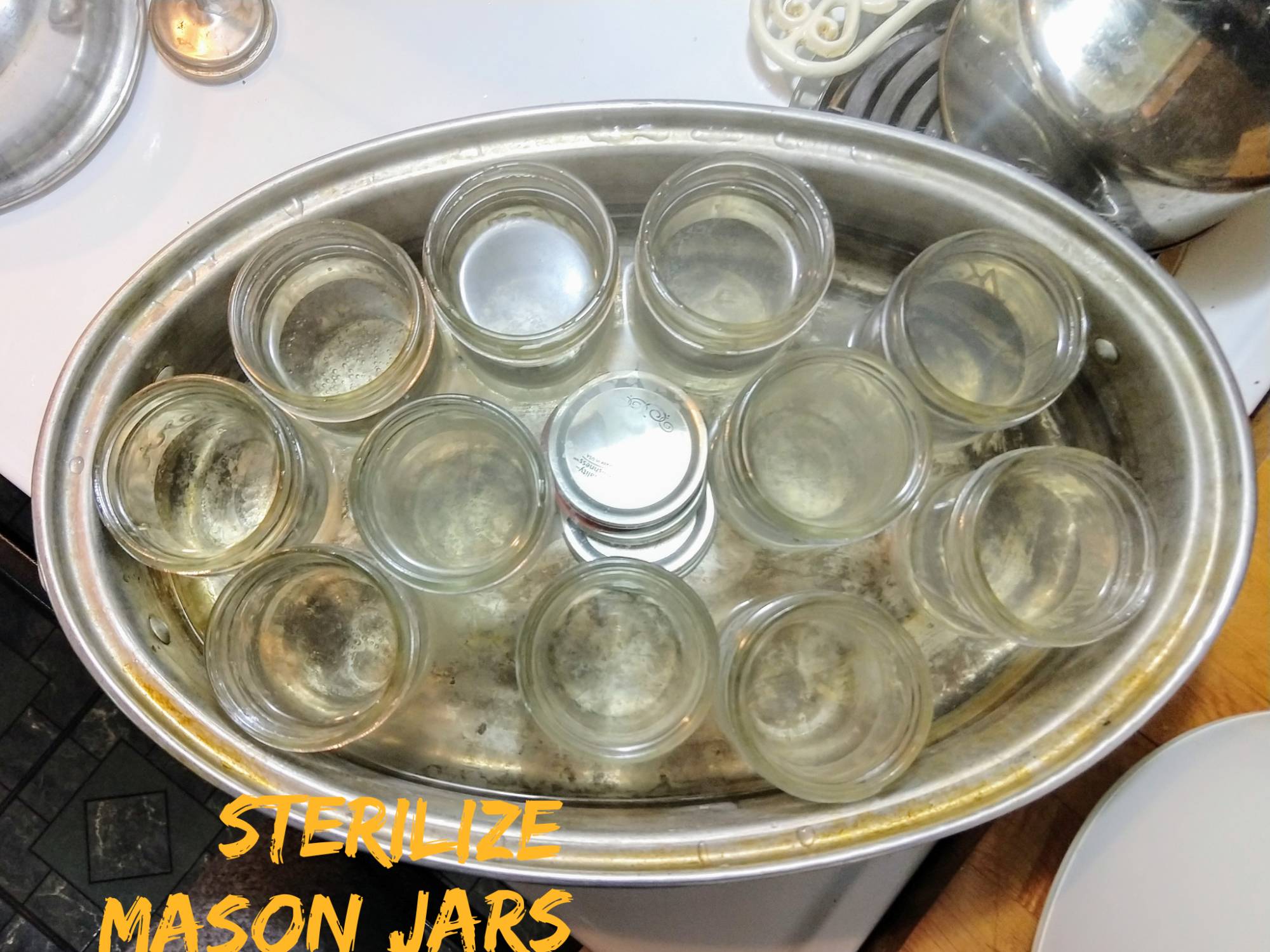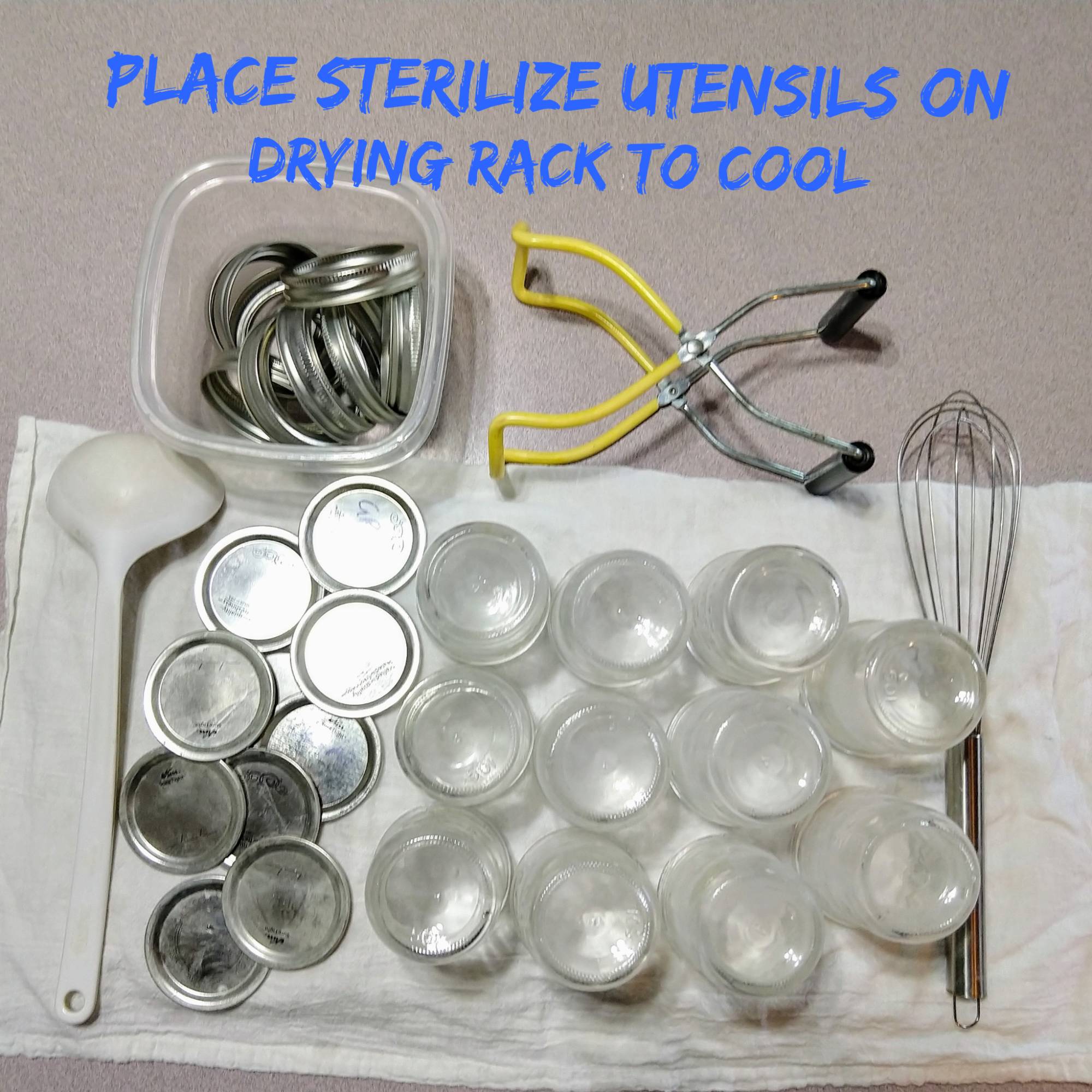 When the milk mixtures has finished heating, cool to 115°F (warm). I put mine in the sink with cold tap-water. You can use ice cubes in the water to speed up the process. When chilled, remove pan from cold water bath.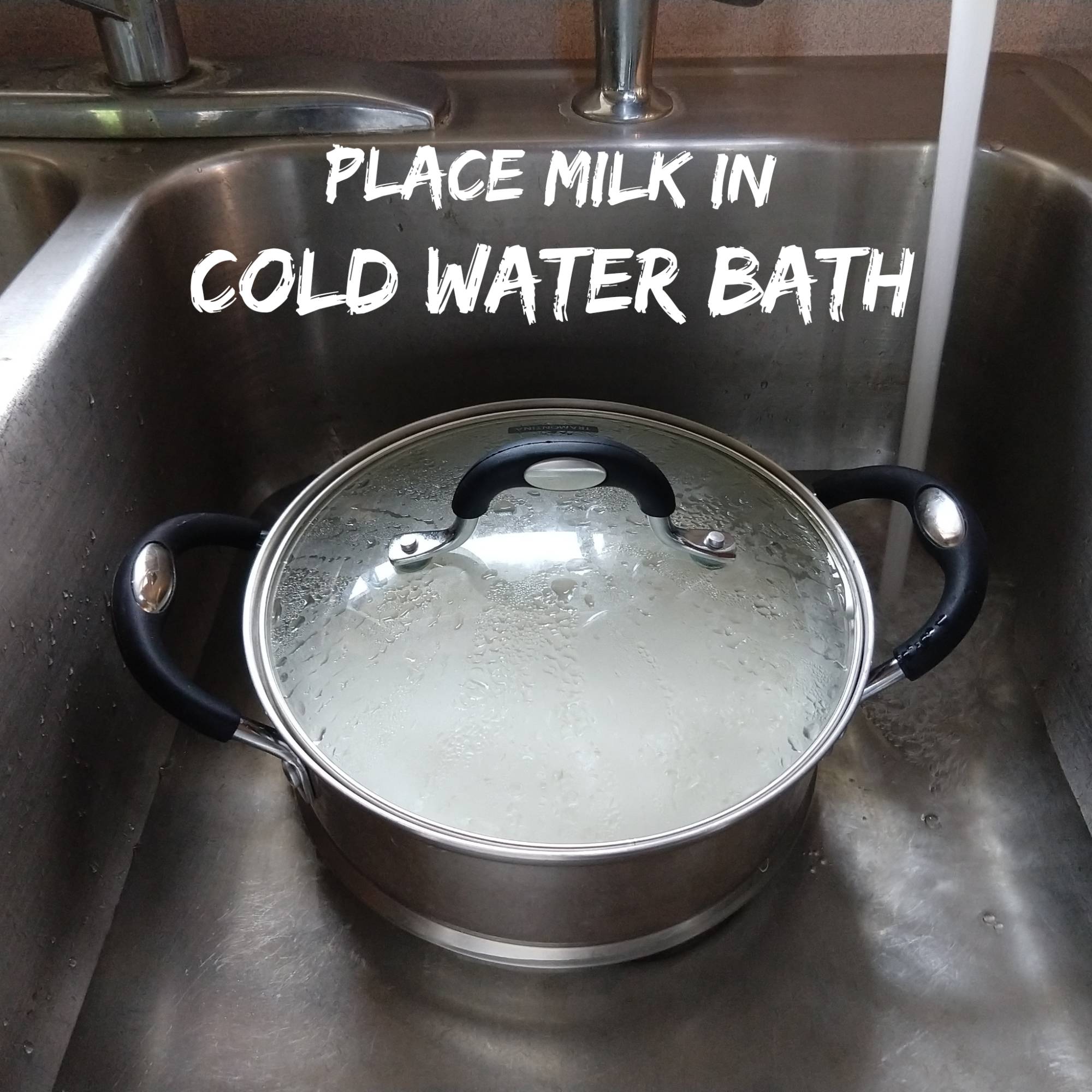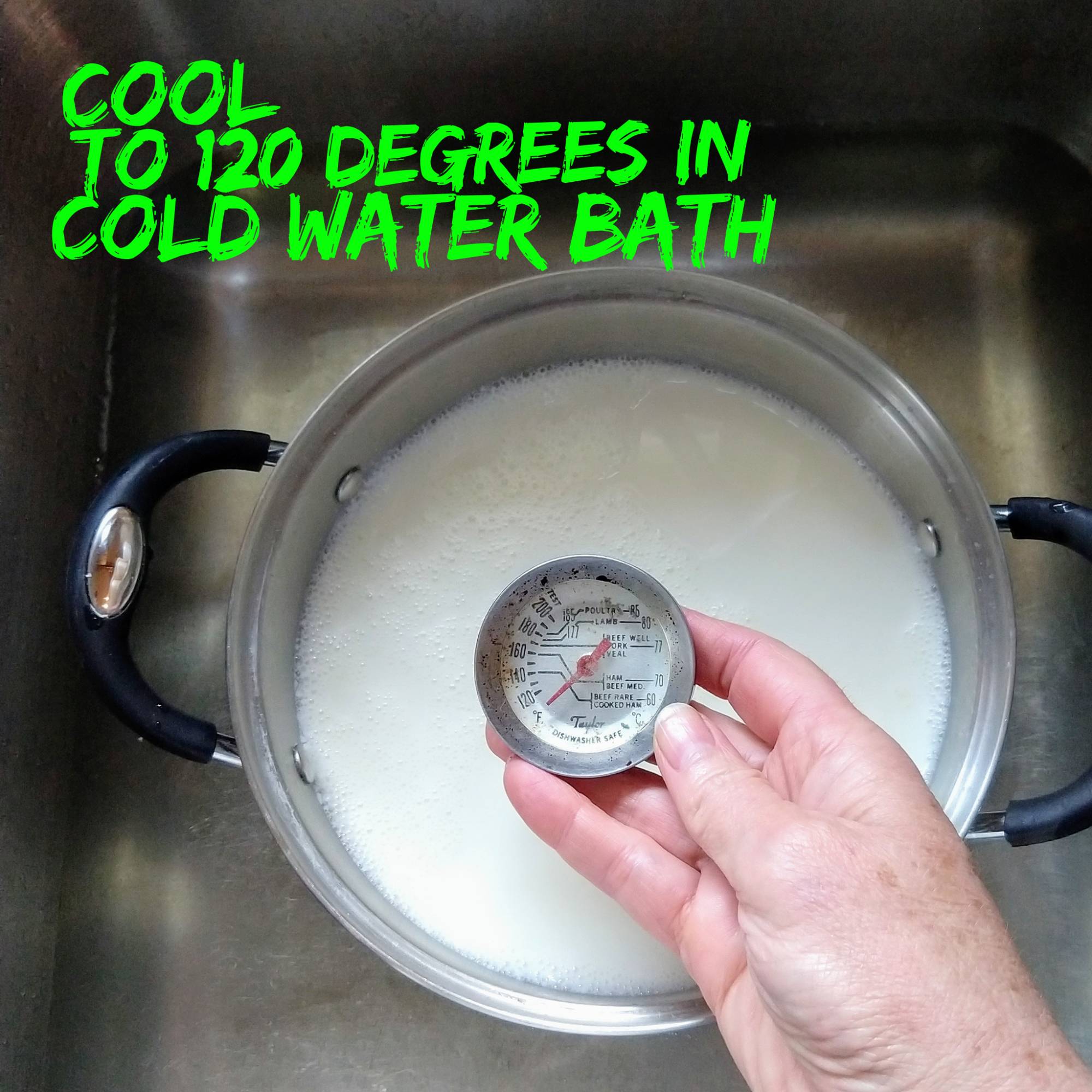 Add cultures and favorings
Chose your preferred brand of yogurt such as Organic Valley, Old Home Vanilla or, my fav….Noosa. Whisk 8 ounces of yogurt into the milk mixture.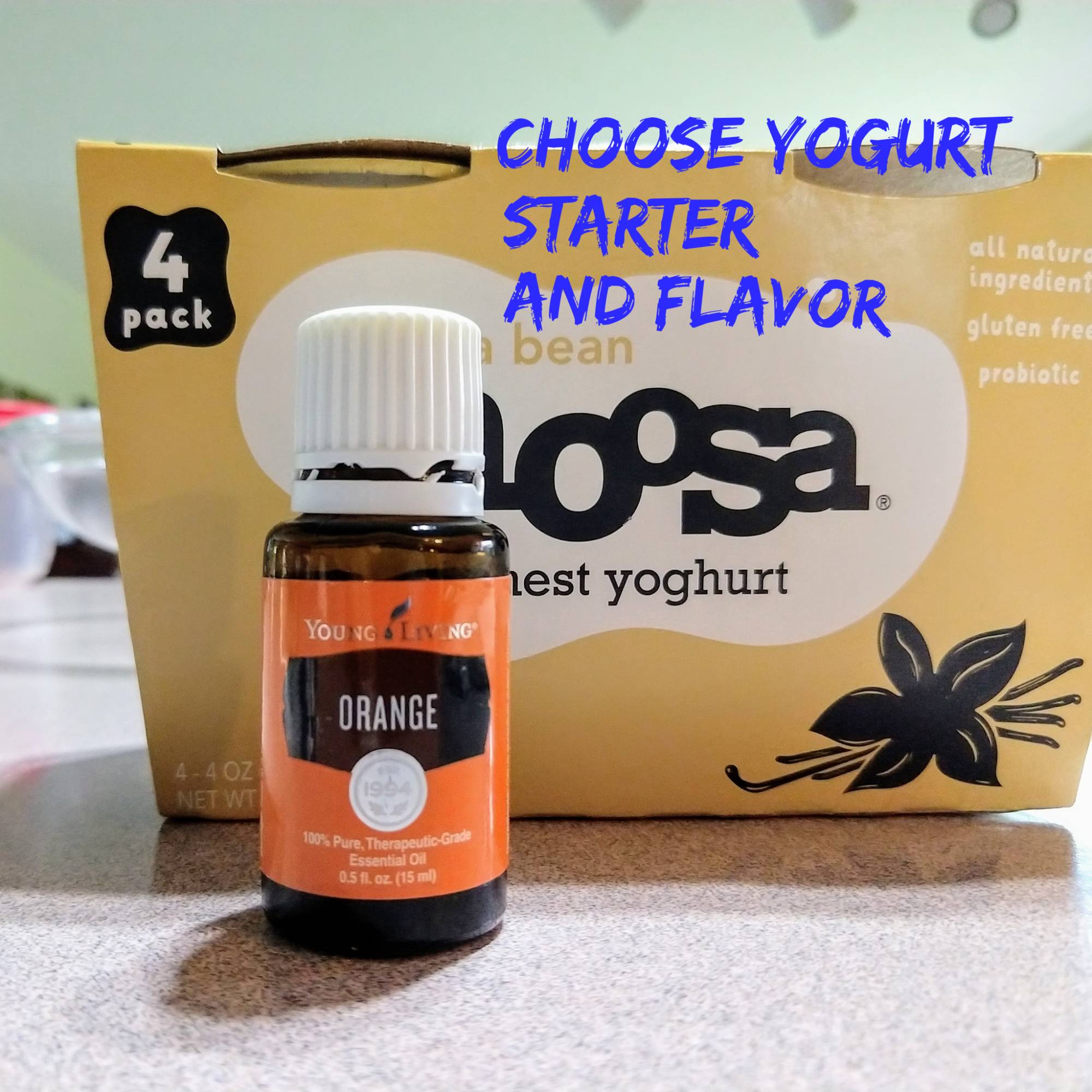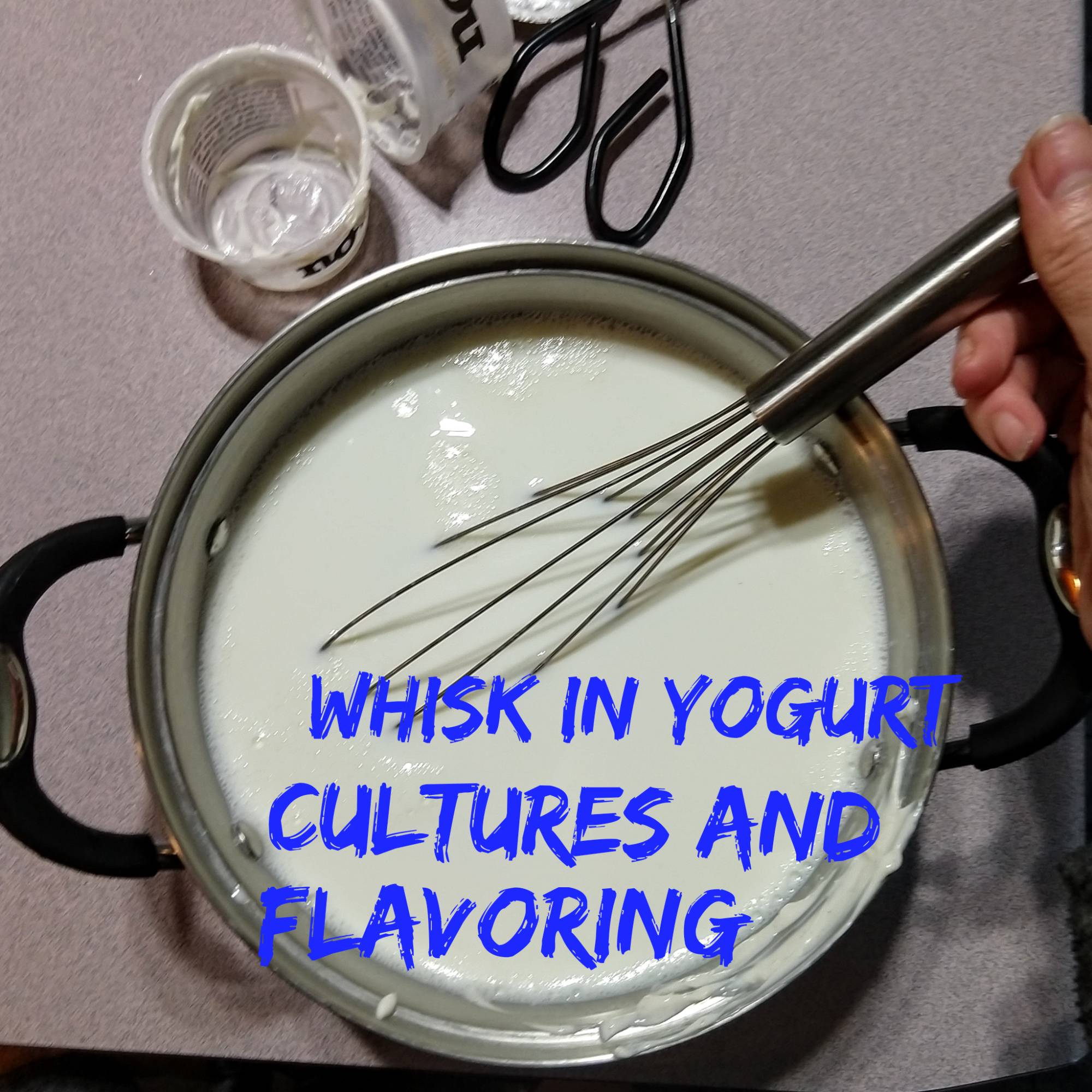 At this point, add favorings such as vanilla or essential oils. I like teaspoon of Watkins vanilla and 5-15 drops of Vitality Lemon or Orange Essential oil. Feel free to experiment with different flavors!
Ladle milk mixture to prepared jars. Add lids and seal with canning rings. Gently tighten.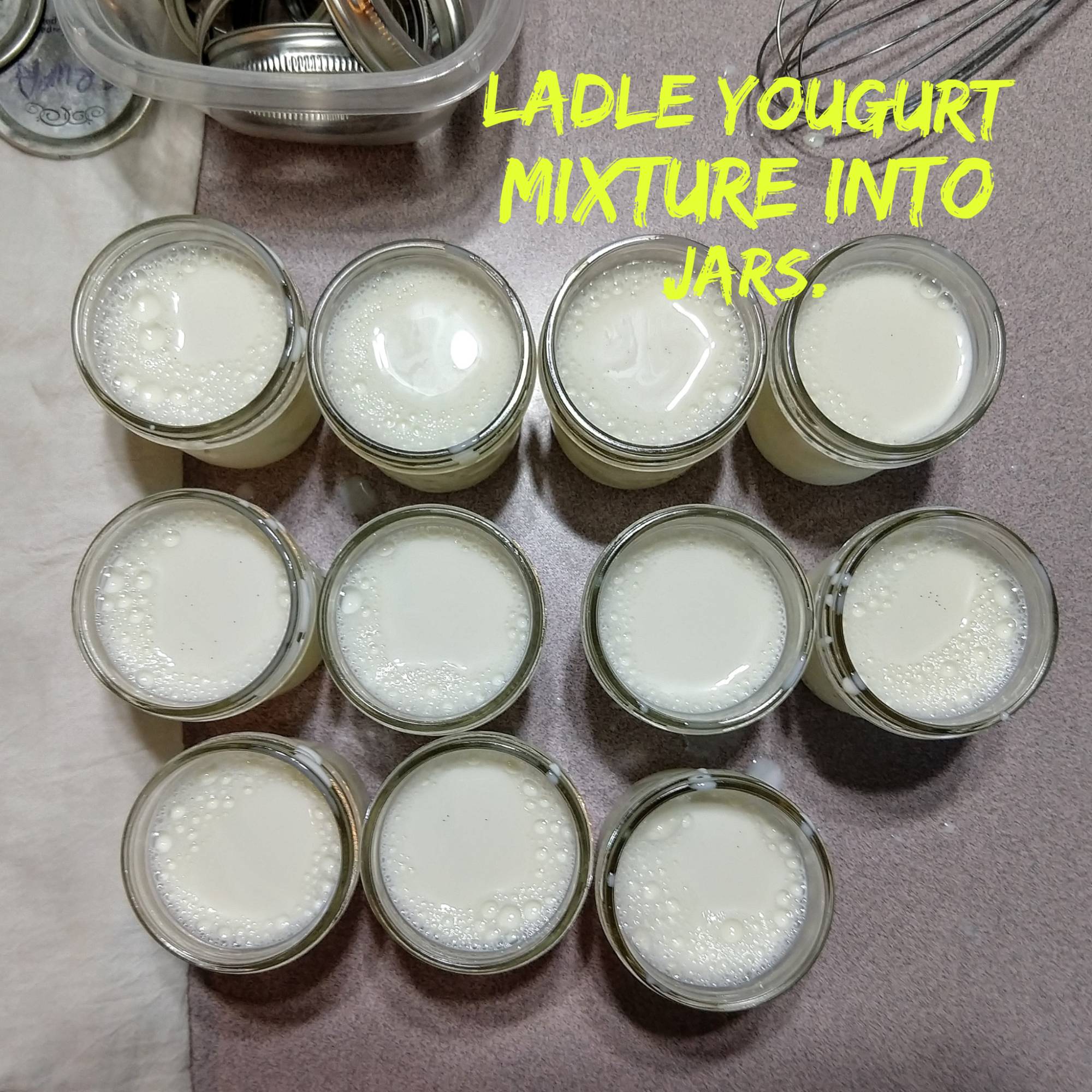 Hot water bath for incubating
Place clean wash rag in crockpot. The rag keeps the jars off of the ceramic.
Place jars in the crockpot. [I use two crock pots for 11 jars].
Add water to about 1 inch from the top of the jars. This creates a nice bath to allow even warming.
Heat the water to 115°F to bring the mixture back up to temperature. Shut off the crock-pot.
Oops? Do not let the water get over 120°F as this will kill the cultures and stop the process. If that happens….and I've done it several times, no worries. Just open the jars and add a bit more yogurt culture to each jar. Re-incubate for 4 hours.
Place a towel over the crockpots to help them stay at temperature.
The temperature within the crockpot "incubator" should be about 110-120°F to provide optimal conditions for yogurt culture activity.
Periodically check the temperature. If it cools off too much, turn the crockpot back on until the water is again warm around 115°F. It doesn't have to be exact.
Allow to stand undisturbed until the mixture is firm when the jar is gently wiggled. This may take as long as 6-8 hours. Note the time so that less care is needed for the next batch.
Chill yogurt after it sets.
Store yogurt in the refrigerator of up to 3 weeks.
Serve with fruit or granola. Or enjoy plain.