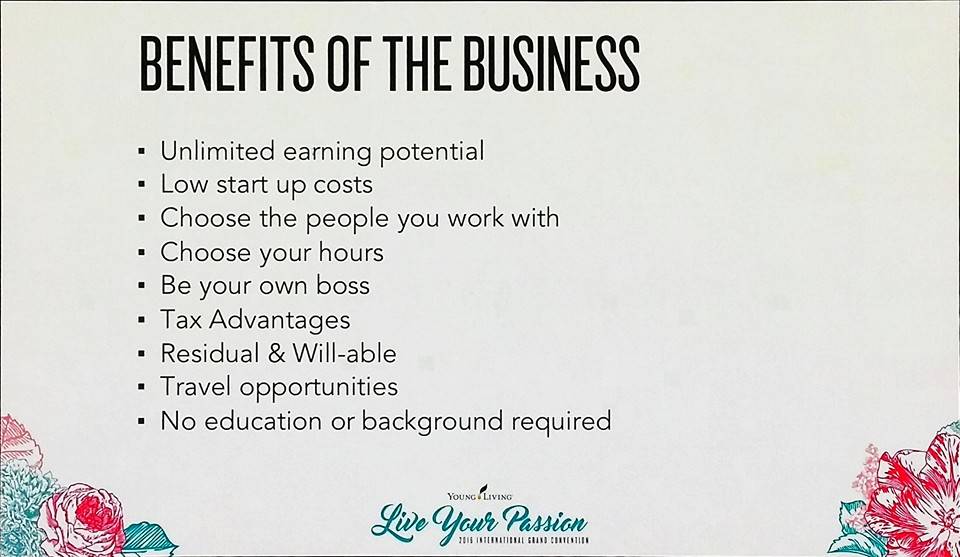 03/19/2017 12:00 PM Central
I want to start off by saying that when I first started with Young Living and even up until recently, I had ZERO intentions or desires to start doing Young Living as a business. I already have a full time job where I'm working 40-50 hours a week and the thought of doing more work was just overwhelming and unappealing to me. It wasn't until a couple of months ago when my husband point blank asked me why I'm not doing this as a business. He pointed out how much I love the products and how I'm sharing Young Living with people already. After he said this, it was like a light-bulb turned on in my head. I decided that I at least owed it to myself to look into it and see what it was all about. I was literally blown away by what I found, and that's when I decided to go all in!
Yeah, it was literally that simple of a decision for me. When you have a product that people love and want to use again and again, you don't have to be a sales person! I do not like selling stuff or being pushy, but I do love sharing my knowledge about things I am passionate about. For me, this just made sense. I do not like to call it selling oils or memberships, but rather, introducing people to their amazing benefits and letting the oils sell themselves. This is not a door-to-door, cold-calling, or flyer passing business. Not at all. It's all about sharing with friends and friends' friends, and then getting those friends to share with their friends. (OH! and you DO NOT have to be an expert to do this as a business, you just have to share with people and be able to point them in the right direction if you don't know answers to their questions via reference tools, upline members or other references!) To some, this may seem like a lot of work, but really if you think about it we are constantly referring our friends and families to different things everyday, from movies, restaurants, shops etc. When you see just how powerful these oils and Young Living products are, you can't NOT share with people you care about, because in the end, we want wellness for all our loved ones!
Benefits of Building a Young Living Business
The Young Living opportunity allows you to:
Start a successful business using a simple plan that is backed by extensive corporate support and training.
Begin your business for a minimal cost, unlike expensive franchises and other small businesses.
Work part-time or full-time; set your own hours and spend more time with your family & friends.
Access successful people eager to teach you one-on-one.
Enjoy residual income.
Benefit from the tax savings available to small businesses.
Build a solid retirement you can count on.
Help your friends and family enjoy a better quality of life.
The ability to earn trips all over the world!
Liking what you seeing? It gets even better! Check out the Income Disclosure Statement that shows the earning potential. You can view it
here
.
Young Living's Compensation Plan is:
Up-front and long-term with bonuses specifically structured to quickly create steady income, combined with a commission structure that can create continuous cash flow for years.
Leveragable so that each member of your organization can benefit from the efforts of others.
When you become a Young Living Independent Distributor, you help people enjoy greater wellness, purpose, and abundance in two ways:
By introducing others to Young Living's therapeutic-grade essential oils, oil-enhanced nutritional supplements, and essential living products—and all the ways they can use Young Living products to enhance health and well-being for themselves and their families.
By introducing others to the Young Living business opportunity, which lets people earn rebates on personal purchases, commissions on sales within your network, generous bonuses, and exclusive reward trips—all in addition to the joy of helping others.
Young Living's compensation plan offers the most generous immediate payout in the industry and the opportunity for long-term wealth. With Young Living, new distributors access a simple, attainable way to quickly create a substantial monthly income. For those interested in permanent stability, Young Living's residual compensation provides complete financial peace of mind.
Are you ready to start your journey with Young Living!? Email me at meagan.rousseau89@gmail.com and I would be happy to give you more information and answer any questions you have.
03/12/2017 03:08 PM Central
Today I wanted to take a second to point out just how easy some DIY projects actually are. Household laundry cleaners (Laundry Detergents, Fabric Softeners and Dryer Sheets) are just about some of the biggest toxins lurking in your home. When I first learned this, I immediately started searching for alternatives. I stumbled upon wool dryer balls that I infuse with essential oils (instead of dryer sheets), and Young Living's Thieves Laundry Detergent. Now, well I love both of these toxin free items, I still needed to find a fabric softener that I liked, and that's when I decided to make my own! It smells amazing and works better than the store bought stuff if you ask me. My clothes feel soft and smell so amazing! This DIY project literally took me less than five minutes!
Here is what you will need to make the Fabric Softener:
- A glass jar (I used a mason jar)
- 3 Cups White Vinegar
- 1/4 Cup Rubbing Alcohol
- 20 drops of Young Living Purification Essential Oil (or alternative of your choice, Thieves or Lavender work great as well!)
*Be careful if you decide to use a citrus oil in place, I've heard they can cause some bleaching!
Next, just add all the ingredients in the glass, shake it up and you're done! Just add 1/3- 1/2 of a cup to your laundry machine and you're good to go!
(*Note: Make sure to shake it each time before use so you can make sure the essential oils are evenly distributed)