Nov 13, 2021 09:23 AM Central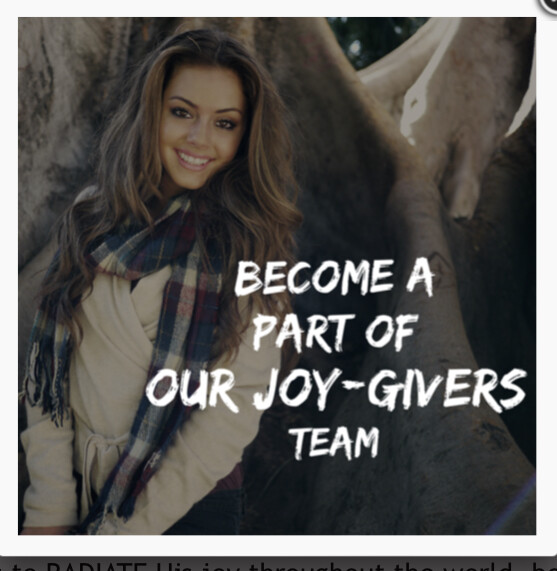 God promises us to trade our sadness for the oil of joy(Isaiah 61:3). He wants to fully restore our lives and the oil of joy is a physical symbol of what He will do in our lives if we surrender to His plan for our life. Do you believe this?
God doesn't want us to be Christians by name only. He wants us to RADIATE His joy throughout the world, both online and offline. When we learn to abide in Him, He will take all our years of sadness and trade them in for joy.
The joy God gives us we cannot find in this world; we can't even imagine it exists if we have not fully experienced it before. It is a joy that is ever-present regardless of our circumstances. It's the joy that the apostle Paul experienced in the Bible and why he could always write such encouraging letters to the different churches. Read through the book of Philippians - read it again if you already have - and realize that Paul is speaking these words while he is in prison for simply spreading God's word of hope to the world.
When go through hard times, our faith and trust in God - Father, Son, and Holy Spirit - can grow stronger instead of allowing those times to embitter us. As we draw closer to Him, resisting the devil who is trying to make us lose hope and joy, and we experience God's comfort and can learn to be joyful regardless of our circumstances, God can use us in POWERFUL ways.
You may not be in the place where you feel you can share that joy because you still feel the hurt of so many years of pain and are having a hard time forgiving those who hurt you. I understand. I've been there! By joining the Joy-Givers group you are simply COMMITTING TO A JOURNEY in which you will surrender to God all your years of sadness and you publicly declare that you will abide in Him so that He can transform your life in order for you to share joy.
You will take it one day at a time on this journey. You will start each day declaring God's promises over your life, but you can only do this if you take time to study the Bible and learn those promises that are both in the Old and the New Testament.
This journey is all about a mindset and lifestyle change:
~ You will start to think about what you eat and drink, making sure your body is getting the nutrients it needs so that you can be healthy, fit and energetic every single day of your life.
~ You will get into the habit of exercising 30 minutes a day at home or at a gym with a program that is challenging for YOU.
~ You will learn to go through every room in your home and see what products you can swap for those that Young Living offers, experiencing the difference that they make in our lives because they are made with essential oils that have the "Seed to Seal" quality.
Don't worry about how long the journey will take. Simply enjoy each day and always wear a smile knowing that God WILL be faithful to complete the work that He started in you when you said "yes" to become part of the Joy-Givers team.
ACTION: Every morning apply Young Living's JOY essential oil blend as a perfume or cologne, or diffuse it in your bedroom or living room; If you don't like this scent, try using another uplifting oil, like maybe orange. Repeat to yourself that God will trade your sorrows for His joy. Remember also that the Joy of the Lord is our strength. (Nehemiah 8:10)
**If you struggle with depression or with low self-esteem, like I do, I also recommend applying the oil blend of VALOR on your wrists, back of your neck, and/or bottom of your feet. Ask God for the courage to keep going on the path He has laid out for you and wants you to take, promising you that He will be with you always.
READY TO GET STARTED on the leadership journey? Here are the steps you need to take:
1. Contact the person who shared this post with you and ask them for their personal website or their Young Living sponsor number to enter into the online form at the Young Living website. **If you would like me, Mirdza Hayden, to be your sponsor, my number is 918382.
2. Purchase the Business Essential Kit. Optionally: Choose one of their Premium Starter Kit you desire, since they are an amazing value. I recommend getting the Premium Starter Kit with one of their diffusers so that you can start scenting your home beautifully. If you are more into immediate lifestyle changes without having to learn about the oils right away, then get the Premium Starter Kit with Thieves. If you were introduced to NingXia Red and want to start drinking it daily right away, they also offer the Ningxia Red Premium Starter Kit which has 4 bottles of my favorite daily supplement and also a box of Ningxia Nitro which is very refreshing to take combined with NingXia Red, lime oil and some water in the middle of the afternoon slump. **You may also be interested in getting the make up Premium Starter Kit. You decide, or talk to your sponsor to see which one would be the best one for you to start with. They are all an amazing value, that I can guarantee you.
3. Join their autoship Rewards Program, called "Subscribe and Save", right away as a sign of commitment to living a healthy lifestyle, and thereby swapping many of the products you are currently using for those that Young Living offers. Go through the catalog that you will receive in the starter kit and see what all they offer. You will be amazed!
4. Create a blog post like this one so that you can share the message YOU want to share. Write in it what being on the Joy-Giver team means to YOU. **At the end of the post, paste this part of the blog - the section under "Ready to get started?" This will allow you to PASSIVELY SHARE about the Joy Givers team while you go about your day to day life.