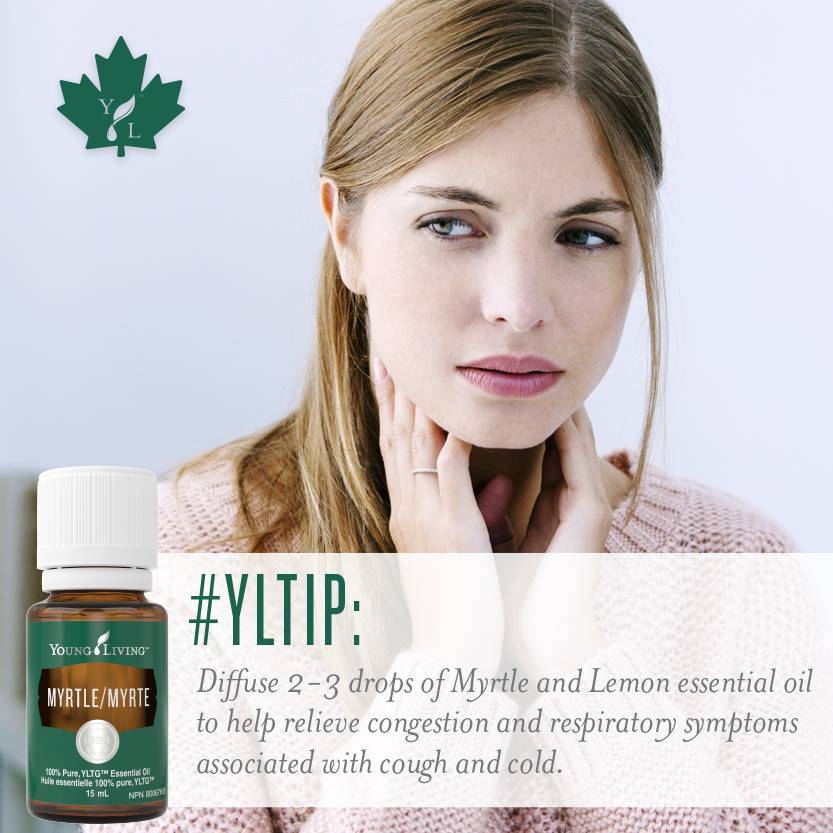 Dec 18, 2017 01:16 PM Central
I have a new found love for this bottle right here!
At the end of our summer this year, Addison came home from our vacation with a cold, which came with a pretty nasty cough. I have my 3 or 4 that are my go to oils for her to use, but for whatever reason, I decided to change things up and try something different. To my amazement, this was even more effective than what we would have normally used.
Myrtle is a Natural Health Product in Canada. I paired this with Frankincense (because.....its FRANKINCENSE!)
How I applied it:
2 drops of Myrtle and 2 drops of Frank to her chest and up her throat.
2 drops of Myrtle on each foot, focused on massaging it on the Vita flex points for her sinuses at the base of her 3 middle toes.
I did this morning and night for a week. Her cough was better before that, but I wanted to make sure it stayed gone and she stayed comfortable.
Oct 6, 2017 05:29 PM Central
As many of you know, I am pregnant with baby #2! I'll be 31 weeks on Thanksgiving Sunday. I've always been a bit of a fidgety person, more so when I'm getting tired or over tired. Add being pregnant to that mix; not the happiest of campers when it comes to winding down in bed for the night. There have been a few sleepless nights between being restless and under no circumstances, being able to get comfortable. That was all expected, and I find me reminding myself that I am growing a human inside my belly! This past week however, my short legs went beyond restless. I couldn't keep them still for longer than 15-20 seconds.....and no, that is not an exaggeration. As I tossed, turned and kicked for well over an hour I couldn't help but get frustrated (more so because I know that poor Ty isn't sleeping because his wife has created a never ending earthquake). On the verge of having a hormonal meltdown, I got up, found my bottle of Lavender and some body lotion and loaded both my calves up with about 6 drops on each leg (I was aiming for 4 drops, but I did this in the dark). I'm super thankful for the calming properties lavender has because shortly after, I was asleep. This has now become a nightly routine, and the earthquakes have stopped.
One thing I've done differently this pregnancy than I did with Addison was take a calcium supplement right from the start. I had so many Charley Horses with her, there was no way I was going to wait for the doctor to tell me to start taking them. My plan had worked this whole pregnancy, until 3 nights ago. I was woken up from a dead sleep, gasping for air and yelling for Ty to wake up (poor guy had no clue what was going on, and as usual doesn't complain, just asks what he can do to help.....seriously best husband EVER). I knew I had to unbend my leg, but wouldn't be able to massage the area because you know, flexibility and pregnant do not go together for me. I kicked out my leg and Ty tried to massage it out. I asked Tyler how big the area was that was spasming, and he showed me with his hands; it appeared to be the size of a half tennis ball. All he could say was, "that was intense." Once that fiasco was over, I got my bottle of Deep Relief and rolled it all over that area on my calf. I needed that soothing feeling on my muscles, in hopes that I wouldn't get another one that night(In the past, once I get 1, I've gotten up to 3 in the same night, in the same spot). Luckily I was in the clear.