Dec 3, 2018 09:17 PM Central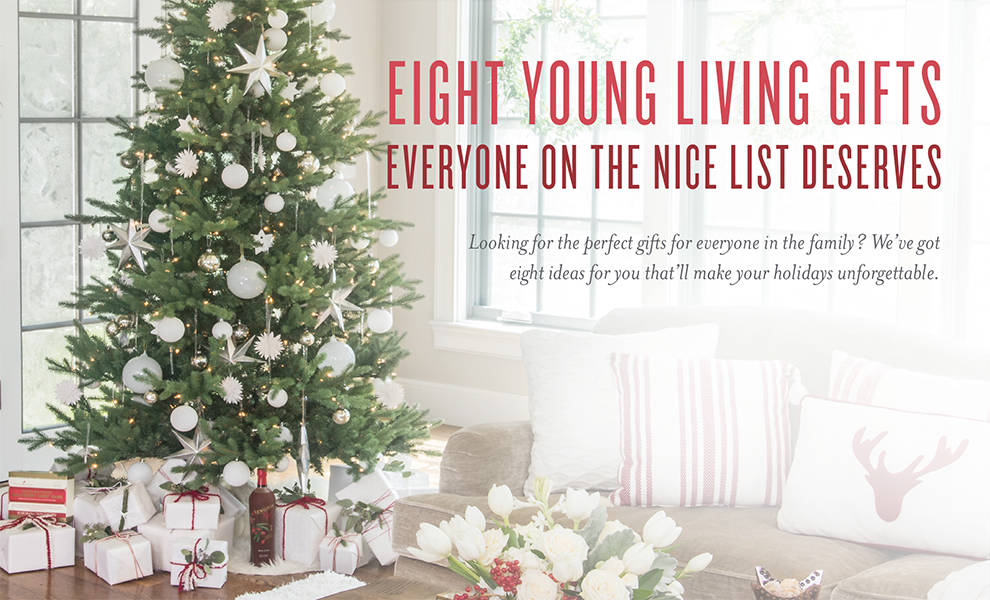 It's beginning to look a lot like gift-giving season!
Everywhere you go, you're sure to find things that remind you of someone on your nice list.
But just in case you want to skip right to the good stuff, we've put together a few things that you may want to add to your list this year.
Find the top 8 gifts
here
!!!
Then
click
through to send them straight to your home. Couldn't be easier or more rewarding!
Bake the cookies, sip the wassill, deck the halls, play the games, sing the songs and wrap the gifts.
It's that easy!
Happy December and enjoy the quality time with your family and friends!
Blessings,
Charlotte, Caleb & Christa Friske
512.954.3936
Jul 25, 2018 10:35 AM Central
You can be sitting in the sweltering summer sun or getting refracted rays off snowy slopes—no matter how you're playing in the sunshine, one thing is vital: protecting your skin. Having a natural sunscreen you can count on means more fun outdoors without worrying about sunburn or the intrusion of toxic chemicals into your bloodstream.
How does sunscreen work?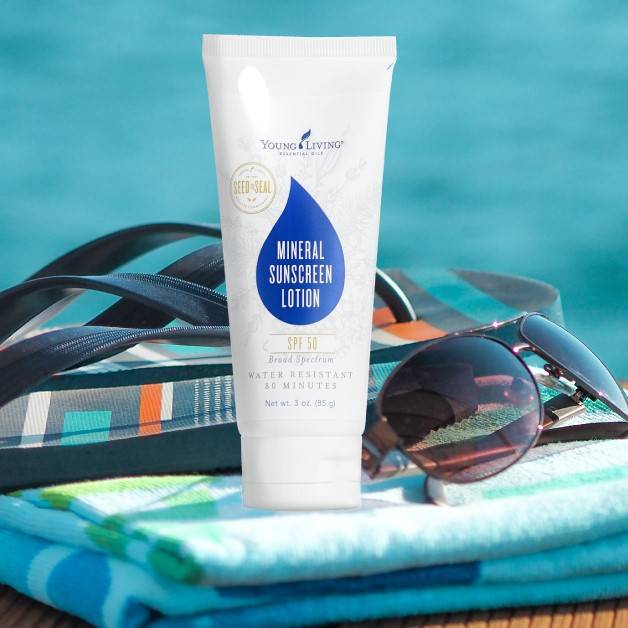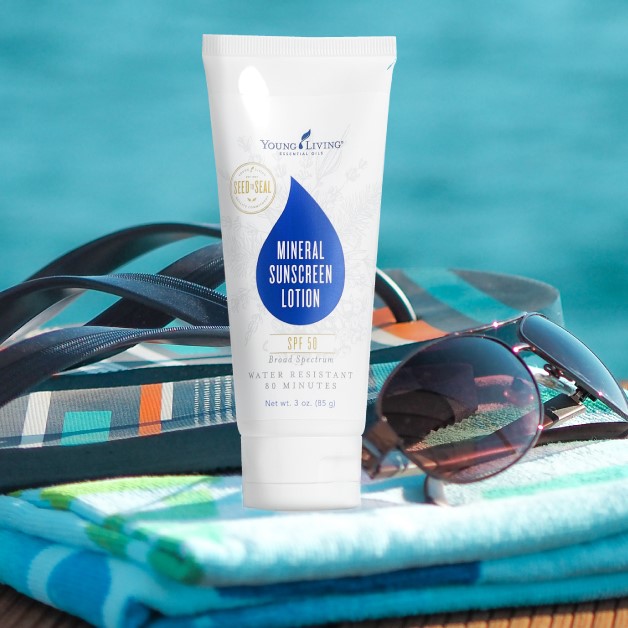 Sunscreen protects your skin by blocking UV rays. Watch
this video
for a complete breakdown, and check out our simplified explanation below.
Chemical sunscreens: Many chemical sunscreens contain avobenzone, oxybenzone, retinyl palmitate, parabens, phthalates, petrochemicals, PABA and 1, 4-dioxane, UV chemical absorbers, artificial colors, and synthetic fragrances. These work by chemically absorbing UV light, but they also present the potential for system toxicity.
Barrier sunscreens: Using ingredients such as zinc oxide or titanium dioxide, barrier sunscreens block UV rays rather than absorbing them. However, in attempts to make these more appealing to the consumer, many so-called "natural sunscreens" end up using nanoparticle-sized zinc oxide in their sunscreen formula, which means they contain particles so small they can enter your bloodstream.
What makes Young Living Mineral Sunscreen different?
When the scientists at Young Living formulated our Mineral Sunscreen, they wanted to develop the very best—for kids, adults, for everyone in the family. To create the right sunscreen, they knew blocking UV rays was the right path, so a zinc oxide sunscreen—a barrier approach—was the right formulation. But Young Living's scientists, bound by the
Seed to Seal®
commitment to create the absolute best products available, developed a sunscreen that uses non-nano zinc oxide, which means when you wear this sunscreen, you won't absorb the chemicals into your bloodstream, however benign they may be. To learn more about nanoparticles and why you should steer clear,
check out this blog post
.
Young Living Mineral Sunscreen SPF 50
Now that you're well-versed on what makes sunscreens work, check out everything that makes our
SPF 50 formulation
better than all the rest:
This over-the-counter sunscreen is lightweight, fast-absorbing, and provides your skin with added protection from UVA and UVB rays.
Adults and kids alike get powerful sun protection, free from harsh chemicals.
Developed to provide a non-greasy finish, Young Living Mineral Sunscreen can be used under your Savvy Minerals by Young Living® makeup.
Unlike most chemical sunscreens, our Mineral Sunscreen is reef safe. That means the formulation we use doesn't contain chemicals such as oxybenzone and octinoxate, which cause coral bleaching. Similarly, our non-nano formula means that coral cannot ingest the zinc oxide particles in our sunscreen.
This sunscreen is sweat- and water-resistant for up to 80 minutes, so your workout or time at the pool is well protected.
Like we mentioned before, this mineral sunscreen formulation is made with pure, naturally derived ingredients and is free of avobenzone, oxybenzone, retinyl palmitate, parabens, phthalates, petrochemicals, PABA and 1,4-dioxane, UV chemical absorbers, artificial colors, and synthetic fragrances.
We're very proud that this sunscreen has the Skin Cancer Foundation's seal of approvalfor daily use.
Our Mineral Sunscreen was dermatologist reviewed to smooth onto skin without a white residue. No more blue tinge or white cast to your zinc sunscreen!
A little bit about SPF
What do you know about Sun Protection Factor (SPF)? This oft tossed-about term can be confusing, with the assumption that high numbers mean more protection. Well, that's only sort of true. SPF is a measure of protection from UVB rays, which can cause cancer. If your skin would burn after being in the sun for 10 minutes, an SPF 15 sunscreen would allow you to stay in the sun for approximately 150 minutes—a factor of 15 times longer—without burning. SPF is not meant to help you determine duration of wear.
The SPF scale isn't linear. For example, SPF 10 blocks 90 percent of UVB rays, SPF 30 blocks 97 percent of UVB rays, and SPF 50 blocks 98 percent of UVB rays. Super-high SPF such as 75 or 100 do not offer significantly greater protection.
Young Living Mineral Sunscreen SPF 10
When you need lighter coverage, perhaps under your makeup every day for work or during fall and spring, an SPF 10 provides more than adequate coverage for running the kids around or getting errands done. Just make sure to put on our higher SPF sunscreen if you plan on being in direct sunlight for extended periods of time.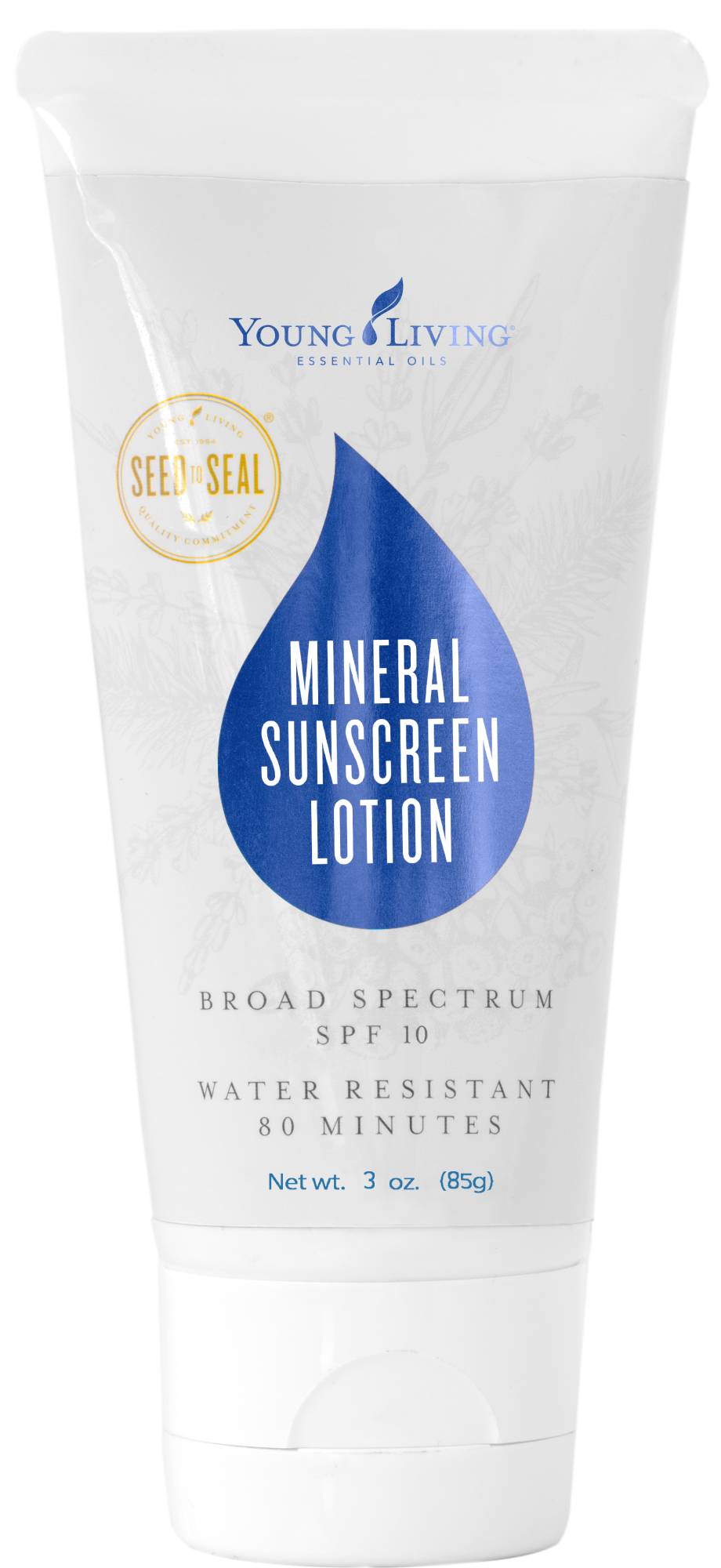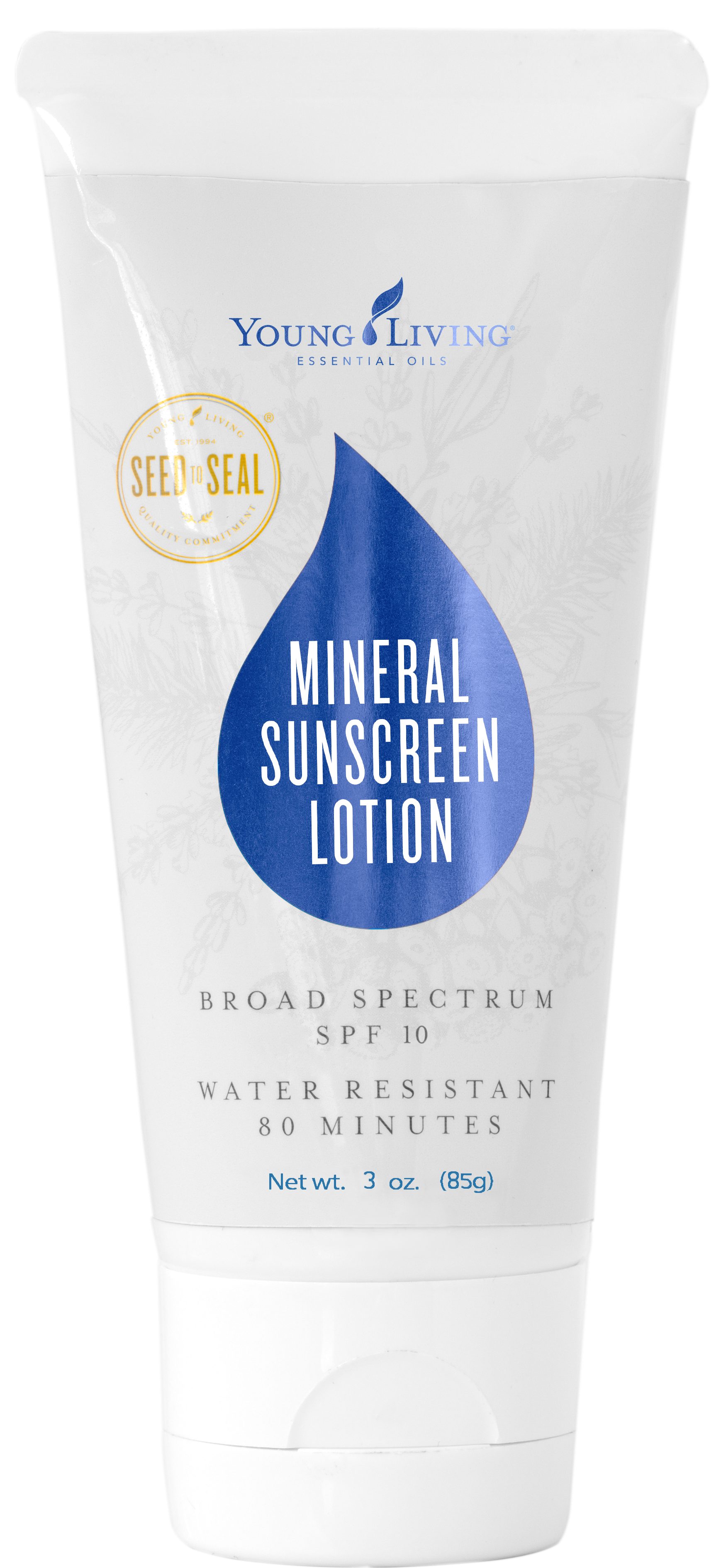 It offers broad-spectrum SPF 10 sunscreen protection and blocks both UVA and UVB rays.
If you end up getting a little sweaty or caught in a drizzle, don't worry! This formulation is sweat- and water-resistant for up to 80 minutes.
Try this sunscreen on your face under your makeup if you won't see a lot of sun exposure. It smooths on easily and won't leave a white residue.
Have sensitive skin? This hypoallergenic, dermatologist-tested sunscreen was formulated with you in mind.
This Mineral Sunscreen is made with naturally derived plant- and mineral-based ingredients and without any UV chemical absorbers, parabens, phthalates, petrochemicals, synthetic preservatives, synthetic fragrances, or synthetic dyes—so you can feel 100 percent amazing about what you're putting on your skin!
Even the most diligent sunscreeners can forget to reapply or miss an awkward spot. When that happens, try
LavaDerm™ After-Sun Spray
to help soothe, cool, and temporarily relieve the itching and pain that show up alongside your pesky sunburn.
---
Besides having fun, there's nothing more important in summer than staying safe in the sun. Check out our posts on
photosensitive oils
and on some of our favorite
summer blends
, so you can get the best of both!
Now that you've slathered on your Mineral Sunscreen, what outdoor summer adventures do you have in store? Let us know in the comments!