Jun 16, 2018 10:26 AM Central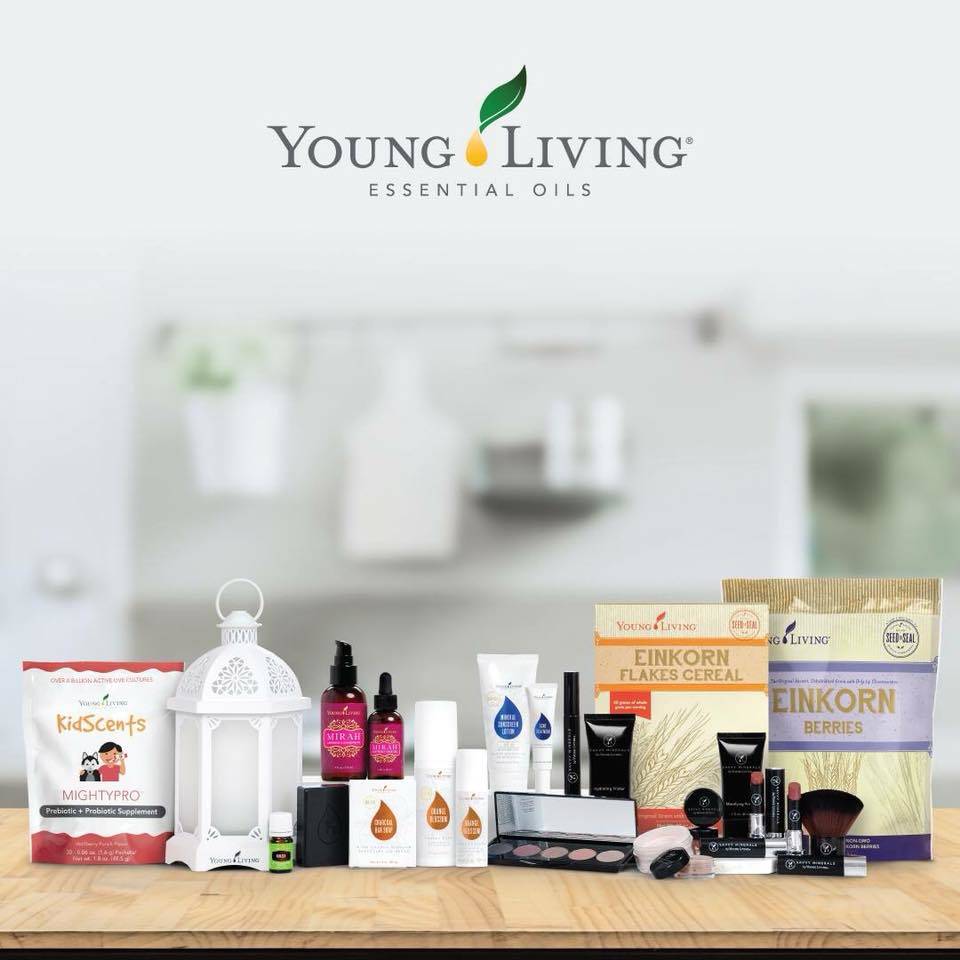 Have you been seeing any of the Young Living products launched at Convention this week? I think there's something new for everyone.! I wish I had more photos for you to see but those that I've included along with the list of products should give you an idea of how amazing this year's launch was.
Unless you are at the convention, or have a "digital ticket" they won't be available until
Monday, June 18th
to order. And then, only by
"Quick Order" until

July 1st

,
when you can add them to your
Essential Rewards
order. There are a few that I'm interested in that I'm willing to take my chances that they won't be out of stock by July but
I'll be ordering at least 3-4

on Monday
because I've learned from previous years that the new products fly off the shelves in a hurry!
NEW CONVENTION PRODUCTS
Prices listed are wholesale prices. If you aren't a member yet, ask the person you order from for the retail price. (Better yet, sign up with that person and get the wholesale prices now!)
Freedom Essential Oil Blend
(May only be available to convention goers or those with a digital ticket at this time).
Item No. 24303 $28.00 28 PV
- Calms the mind during nightly routine
- Promotes feelings of emotional freedom
- Inspires feelings of freedom from everyday troubles
- Grounding and relaxing
- Helps with occasional sleeplessness or restlessness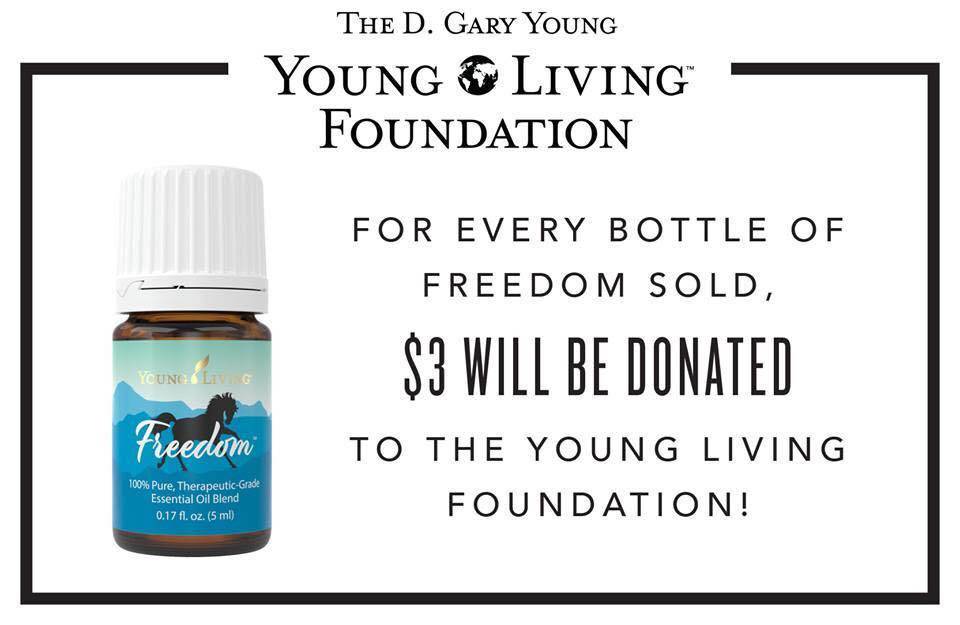 Journey On!
(May only be available to convention goers or those with a digital ticket).
Item No. 25121. $44.75 44.75PV
- Herbacious and earthy
- Inspires what makes us unique
- Motivating in personal journey
- Brings joy, harmony, and peace
- Made for the peace caravan
- Combination of 34 blends

Kunzea Essential Oil
Item No. 23433 $39.75 39.75 PV
- Clean, spicy, and woodsy
- Comparable properties to Tea Tree
- Helps soothe fatigued muscles
- Reduces the appearance of blemishes
- Purifies the air from unwanted odors

Lantern Diffuser
Item No. 23700 $84.75 50.75 PV
- Metal and Glass
- 11 light settings
- Candle flicker mode
- Same base as Desert Mist
- Runs 5-8 hours, 10 hours on intermittent
- Can be used indoors or outdoors!
Gary's True Grit Einkorn Berries (already sold out - but look for them to be back in stock soon!)
Item No. 24552 $15.50 7.75 PV
- Oldest grain varieties
- Lower gluten content
- Grind to make flour
- Use whole as a base for salads and porridges

Gary's True Einkorn Flakes Cereal
Item No. 24327 $5.50. 2.75 PV
- Lower gluten content
- Sweetened with organic coconut sugar
- Higher levels of protein and trace minerals

KidScents MightyPro
Item No. 24261 $32.75. 32.75 PV
- Supports and maintains healthy digestive and immune system
- Promotes healthy bacteria in gut by colonizing GI tract
- Helps with bouts of constipation
- Support against digestive discomfort
- Helps with diarrhea, gas, and bloating
Maximum Strength Acne Treatment (WHAT!?! Ordering this for my sons and their teenage skin!)
Item No. 23795 $26 26 PV
- Maximum strength salicylic acid from wintergreen oil
- Prevents new acne, blemishes, pimples, and blackheads
- Willow Bark improves appearance of skin
- Aloe + Chamomile softens and moisturizes
- Vegan-friendly
Mineral Sunscreen SPF 50 (stronger SPF than the last year's Sunscreen - my fair-skinned family needs this for sure!)
Item No. 24137 $29.75 29.75 PV
- Non-greasy, matte finish
- Prevents sunburn for ALL skin types, including sensitive skin
- Reef safe
- 80 minutes water and sweat resistant
- Recommended by Skin Cancer Foundation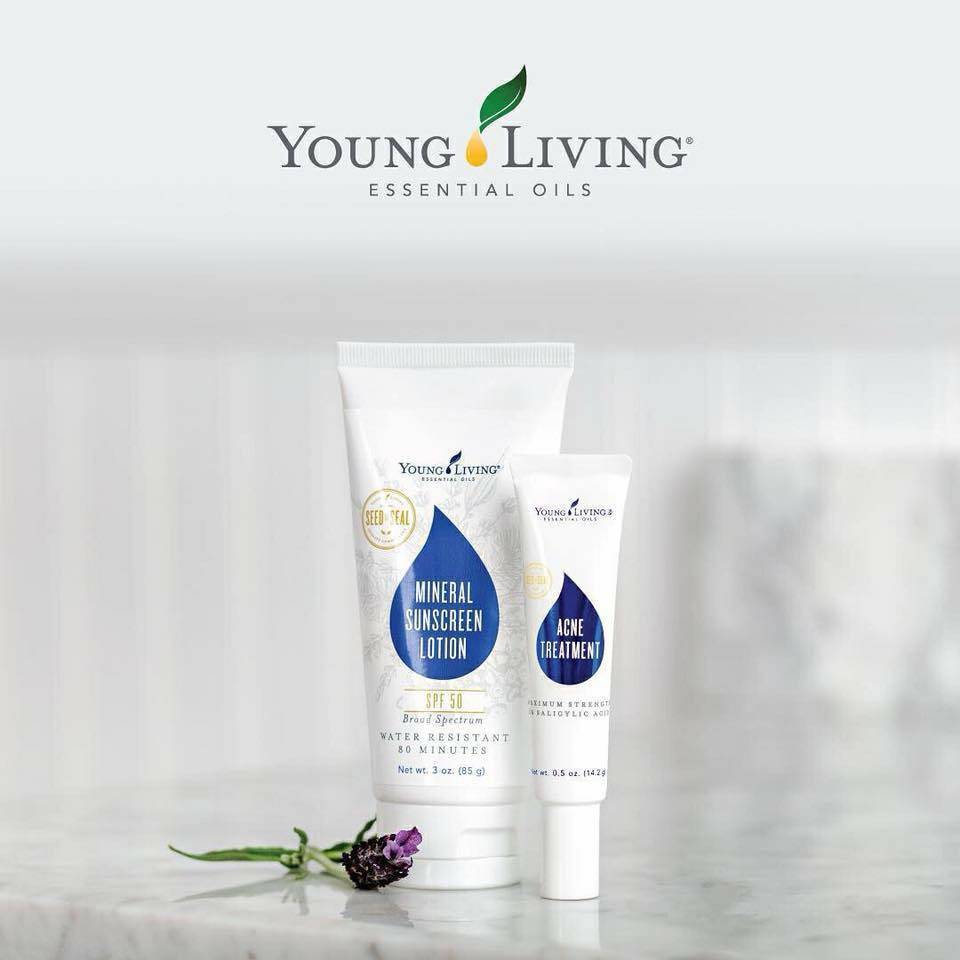 Mirah Lustrous Hair Oil
Item No. 23705 $26.75 26.75 PV
- Improves manageability, softness, and shine
- Leaves hair silky and glossy
- Minimizes frizz, flyaways, and tangles
- Restores damaged hair
- Use on wet or dry hair
- Vegan friendly

Mirah Luminous Cleansing Oil
Item No. 23735 $36.75 36.75 PV
- Sandalwood, Jasmine, + Rose w/ Jojoba and Argan oil
- Removes impurities, makeup, and water-resistant sunscreens
- Antioxidants to improve skin texture and skin appearance
- Softens and moisturizes
- Vegan

Charcoal Bar Soap
Item No. 23799 $12.50 12.50 PV
- Pulls out dirt and impurities w/o stripping skin's moisture barrier
- Orange Blossom scented
- Cleanses and deodorizes body
- Suitable for face soap for oily, combination, or acne prone skin
- Promotes clear, healthy-looking complexion
- Leaves skin soft and smooth
Orange Blossom Facial Wash (Reformulated - a member favorite)
Item No. 20176 $39.75 39.75 PV
- Maintains healthy looking skin
- Leaves skin clean and soft
- Removes dirt and oil from pores
- Reduces oily skin and surface oils
- Maintains skin's natural moisture barrier
- Created w/ sensitive skin in mind (!)

Orange Blossom Moisturizer
Item No. 21622 $33.50 33.50 PV
- Soothes, softens, calms, and moisturizes skin
- Improves appearance of skin
- Non-greasy, non-irritating, non-comedogenic
- Controls excess oil and shine
- Preps face for makeup
- Hypoallergenic
- Vegan friendly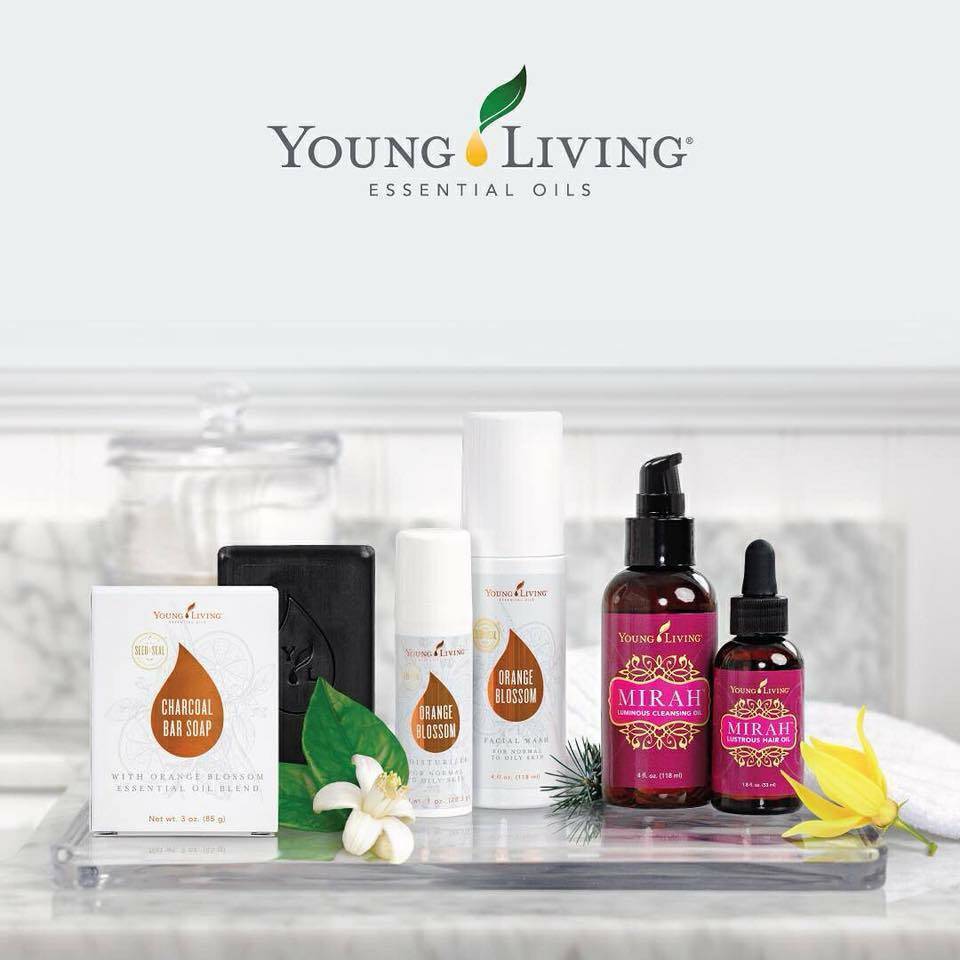 Savvy Minerals Cinnamon Infused Lipstick
5 Shades
Siren (cool plum) Item No. 23841 $26.75 26.75 PV
Icon (dark pink) Item No. 23839 $26.75 26.75 PV
Posh (Red Burgundy) Item No. 23843 $26.75 26.75 PV
Muse (copper brown) Item No. 23848 $26.75 26.75 PV
Untamed (deep raspberry) Item No. 23845 $26.75 26.75 PV
- Moisturizes, hydrates, soothes, and softens lips
- Adds shine
- Velvety, creamy texture
- Long-lasting

Savvy Minerals PrimerMattifying Primer
Item No. 23837 $35 35 PV
- Mattifies and controls shine and oil
- Smooths and blurs lines and evens look of skin
- Reduces shine and prolongs makeup
- Minimizes look of pores and fine lines
- Cleanses skin and reduces appearance of blemishes
- Non-nano ingredients, non-comedogenic

Hydrating Primer (awesome for my mature skin!)
Item No. 23684 $35 35 PV
- Smooths, conditions, hydrates, and moisturizes
- Creates smooth surface for foundation
- Reduces shine and prolongs makeup
- Minimizes look of pores, imperfections, and fine lines
- Non-nano ingredients

Savvy Minerals Kumuki Brush
Item No. 24283 $49 49 PV
- Gives medium to full coverage
- High quality fibers made in Italy
- Soft and easy to clean
Savvy Minerals MASCARA (will be ordering this for sure!)
Item No. 21072 $29.75 29.75 PV
- Infused w/ lavender
- Conditions, nourishes, and gives a naturally defined look
- Clinically tested for ocular irritation and safe for sensitive eyes

Savvy Minerals Multitasker (3 New Shades)
Dark Brown Item No. 20794 $20.75 20.75 PV
Tan Item No. 23323 $20.75 20.75 PV
Medium Item No. 23322 $20.75 20.75 PV
Light Item No. 23321 $20.75 20.75 PV
Savvy Minerals Eyeshadow Palette No. 1
Item No. 23954 $55 55 PV
- Pressed powder
- Lavender infused with coconut oil and shea butter for smooth application that blends and builds
- Long-lasting
- Vegan
Shades:
- Ambition (deep charcoal shimmer)
- Timeless (mauve shimmer)
- Elegant (bronze shimmer)
- Chic (rose pink shimmer)
- Charm (cream shimmer)
Savvy Minerals Veil (2 Shades)
Diamond Dust (shimmer) Item No. 20793 $45 45 PV
Matte (non-shimmer) Item No. 23327 $45 45 PV
- Blurs appearance of imperfections, blemishes, fine lines, and wrinkles
- Absorbs excess oil
- Gives skin an airbrushed look
- Minimizes appearance of pores
- Prolongs wear of foundation
- Vegan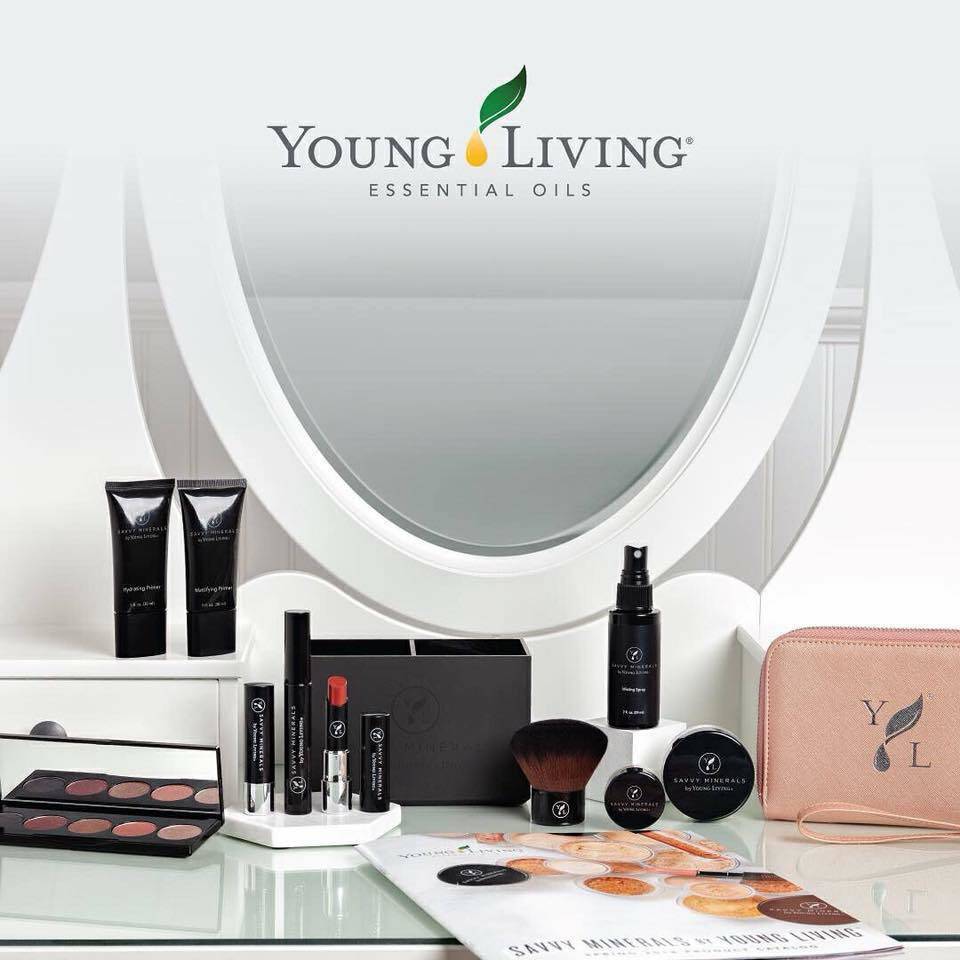 If you're interested,
here
is a link to a video the Young Living team put together at convention. They go over each of the new products. (I believe it's only available on Facebook but is public, so you should be able to access it if you're on FB. If you're not following them yet, it's a great page to follow for sure! )
If you have any questions about these products, please get in touch with the person who introduced you to Young Living or me (if we aren't one and the same). I'll update information in the future as it comes.
Enjoy your weekend and Happy Father's Day to all the Dad's out there!
XOXO
Rachael
Young Living Essential Oils Silver Leader
Independent Distributor #1874961
4041-358-1110


May 2, 2018 12:28 PM Central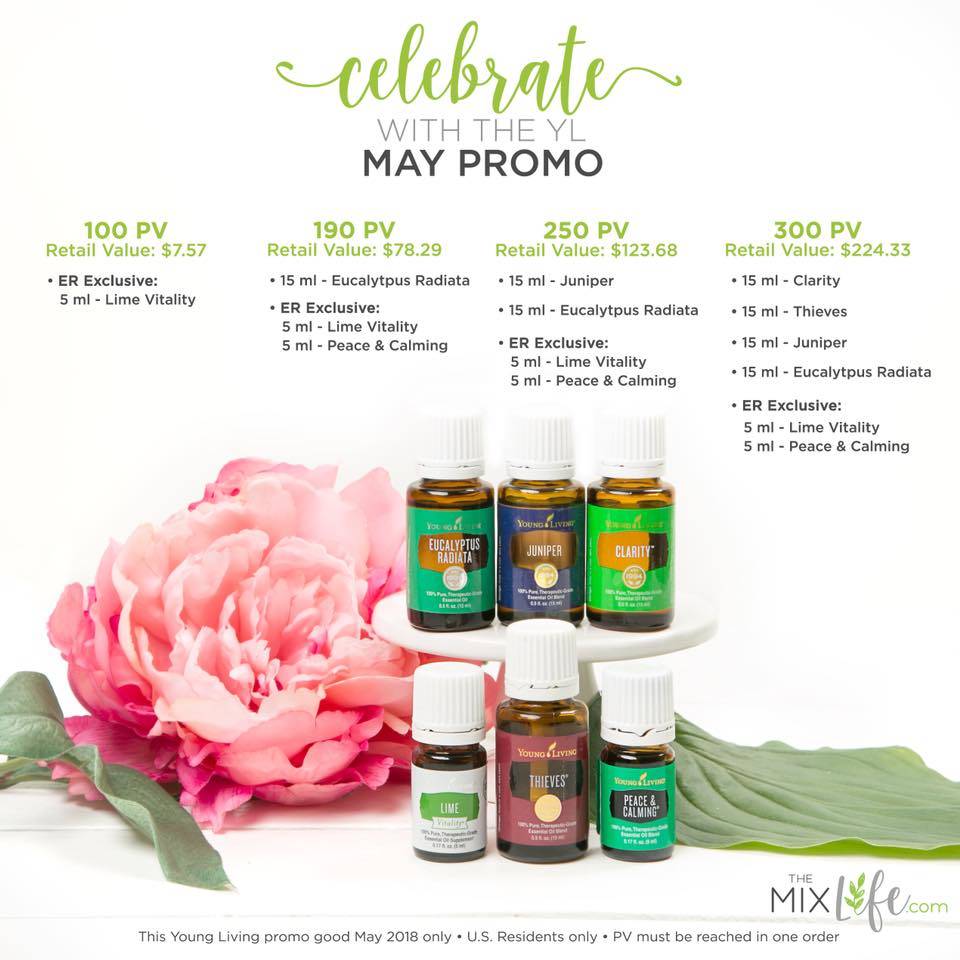 Hello wonderful oily peeps!

The month of May has blossomed! Young Living's May Promo freebies can support us though all the festivities and end-of-the-school-year excitement that fill our May calendar!
Want to see a sneak peak and beautiful cheat sheet of May's amazing promo lineup?
Click on this link and check it out...
Got some extra time & wanna learn more? READ ON!
If you're new to Young Living, lemme fill you in. Every month Young Living gives us amazing products for FREE when you order a certain PV amount. These freebies will come with your order. The ones marked *ER Exclusive are for Essential Rewards orders only. Which if you're ordering and NOT on ER, that's just sillllllly. (No commitment, customize your box program where you earn points back to use on whatevs. It's the bomb.)
5ml Lime Vitality - 100pv ER Exclusive
Everything tastes better with Lime Vitality! Guacamole. Water. Ningxia. Add it! Did you know that Lime Essential oil is 100 % Bioflavonoid? Yep! That means it not only supports the immune system, but it stimulates the detox pathways and helps with the absorption of Vitamin C. Emotionally, Lime is linked to feeling unmotivated. Apply a couple drops of Lime over your lungs- yep! Over your lungs and get some motivation going!
Eucalyptus Radiata - 190pv
Must have for the spring and summer months!!!! Because breathing is awesome

. Add to your diffuser or to some cotton balls and place in your shower to awaken those sinuses. This is also the Eucalyptus that smells the most "spa like" so it's a wonderful oil to use to relax with. Have kiddos? This is gentlest Eucalyptus oil so we keep this around for all the littles. You can add it to a relaxing massage, because your muscles will love this oil. After a work out, your muscles will thank you, but you can also apply it to your chest before a workout to feel energized. But one of my favorite uses that not a lot of people know - it's amazing for those struggling with grief. We store grief in the lungs so any oil that your lungs like, can help you release and work through those stored emotions of grief.
Peace + Calming - 190pv ER Exclusive
The name literally says it all. So calming and peaceful worn on your body, diffuser jewelry, or diffused. This is a favorite for sleep, relaxation, and that two hours before bedtime when you want to rip your hair out.

GREAT for traffic, annoying co-workers, basically anytime you need some Peace + Calming. Combine it with Lavender in the diffuser for zzz -- you're welcome!
Juniper - 250pv
Juniper is a great oil for cleansing -- our bodies and spirits. It's awesome in your skincare or on itchy dry skin. It's wonderful to use to cleanse your home of negative energy. Rub it on your sore muscles after a long workout, and over your liver and kidneys. It's beautiful to diffuse with sage and lavender when you want to have positive energy and happy thoughts. Also, your ears -- they like Juniper too! Apply a couple drops behind those ears!
Clarity - 300pv
The perfect blend any time you want to foster feelings of clarity and alertness!! I diffuse Clarity often in my work space, especially when I REALLY need to brainstorm or knock out a giant to-do list! This blend contains a host of much-loved, stimulating oils, including Basil, Rosemary, and Peppermint. Add a few drops to your diffuser necklace, gently massage into temples or back of neck (careful to avoid the eyes), or simply place a drop in the palm of your hand and inhale this invigorating scent! It is also linked to the emotions of repression and guilt. Neither of those emotions serve us. So grab up some Clarity essential oil and work on that guilt that you need to let go!
Thieves - 300pv
This blend might be Young Living's most well-known blend. Did you know -- Thieves is so awesome Young Living has an entire plant based cleaning line all made with Thieves?!? Thieves is also comes in our Vitality line, so you can ingest it! A couple drops in your tea or in a capsule and your immune system will be working like a powerhouse. We love to diffuse it too for purifying the air. I love the way it smells, add some peppermint or orange and you will have your family asking what amazing aroma that is! Here is the truth -- friends don't let friends live without Thieves. We keep a back stock of about 3-4 bottles at all times. So help yourself out this month and stock up on some Thieves for free.
Got questions? Just reach out to me and ask away. Looking forward to getting my FREE May Promos from Young Living - how about you?!?