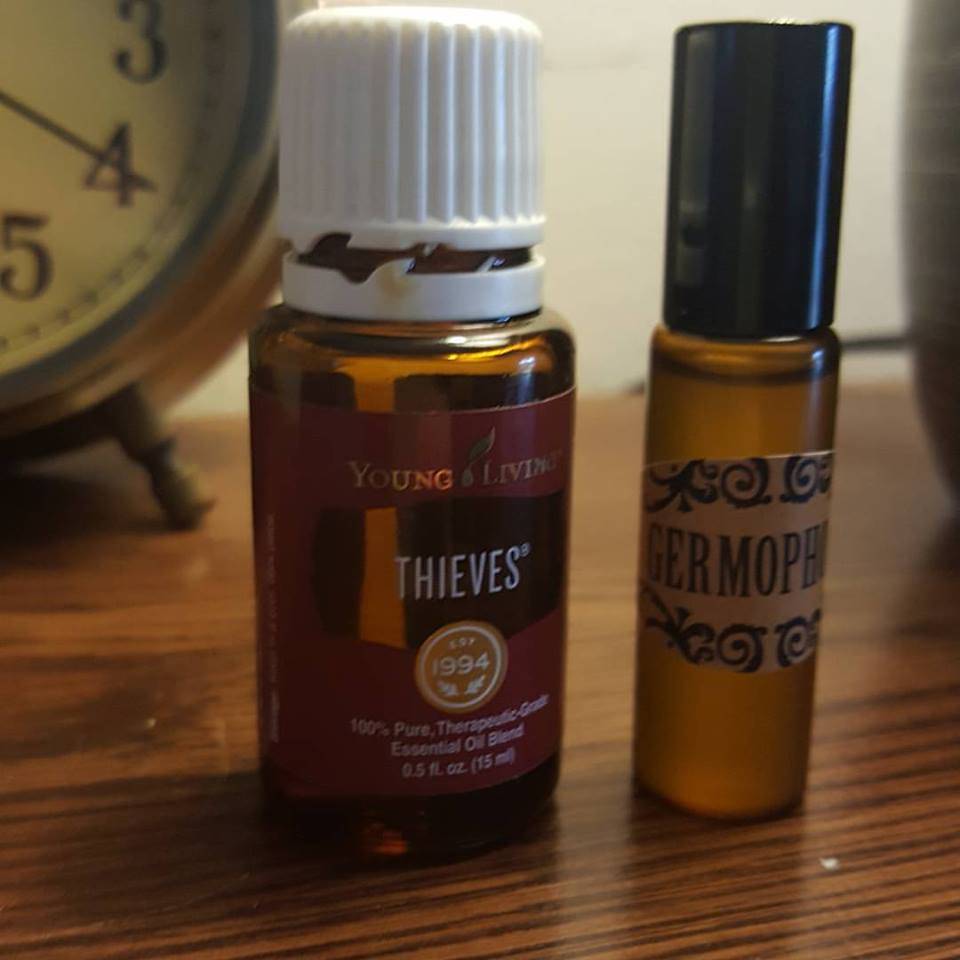 01/21/2017 07:32 AM Central
Who here loves germs??? Not me, thats for sure!!! Between my hospital job, which involves the ER and everyone with their bugs coming in and coughing all over me, and the 2 school age children I have, germs are a constant fear in my house. Colds suck, but its the stomach bug that I can not stand and fear like nobody's business...
And then comes Thieves essential oil blend. This stuff is an amazing lifesaver!! Its a blend of Cinnamon, Clove, Lemon, Eucalyptus, and Rosemary, and its smells freaking amazing. This is a crazy germ buster and immunity booster! I make foaming hand soap, bath soap, roller bottles, diffuse it, drop under my tongue, put in with honey for a sore throat buster, drink in tea......the list goes on and on and on...
Young Living also has an entire line of Thieves products...There is a bottle of thieves cleaner that comes super concentrated, so it lasts forever and cuts through any crazy sticky mess PLUS doesnt have that burning your nose chemical base like most cleaning products. Its all plant based so the kids can even rock the cleaning process, which is an extra plus!! There is also toothpaste, mouthwash, hand sanitizer, spray, wipes, veggie spray, laundry detergent....the list goes on and on and on...
But my favorite will always just be the magical little bottle of essential oil. It has saved me more times than I can count!
07/20/2016 05:39 PM Central
Hey all!
Its summer, and with that comes all kinds of fun. Between bugs, bites, burns and the like, there are plenty of oils to help! I am a wimp, and susceptible to all of the above as a sweet blooded (literally according to mosquitoes) paled skinned redddish head. And with avoiding all that typically comes with dousing yourself with chemicals.
I still can't part with sunscreen, simply because I am afraid of sunburn and sun damage, but for someone who isn't as sensitive as I am, there are options to make your own sunscreen using coconut oil, carrot seed carrier oil, and carrot seed and lavender essential oils. For when you do still get sunburned regardless of what option you slathered yourself with, there are a few options :) Aloe, mixed with lavender and peppermint, draws out the heat and soothes :) There are also a few options for an after sun spray, usually involving some combo of Aloe, Lavender and Peppermint. Let me tell you how much I appreciated this combo when I drove to the beach and ended up sunburned on my driving arm before I even got there!!!
Next: BUGS! Ugh I hate the stupid things. I react horribly to mosquito bites, with huge large welts, usually all up and down my legs. This year I bought citronella, which is an awesome thing to diffuse, instead of breathing in candles with their chemicals. Bugs hate peppermint, so I diffused a lot of citronella and peppermint on vacation. I will confess that Assateague flies were not bothered at all by the diffuser, but we really didn't have many problems with other insects while we were camping close to Assateague in June. There was also bug spray that I made, which included Citronella, Thieves, Peppermint, Purification, and Lemongrass. Very few bugs wanted any part of that, and no ridiculous horrible chemicals needed to be sprayed. When a bug still sneaks through and gets us, I have an itch stick. I am the person that has panic attacks over bug bites. My husband seriously looks like I am crazy, and I think gets annoyed when I look all over dramatic cause I feel like I am gonna die from mosquito bites. I will then be at a store buying every single itch stick known to man, with none working. I have even gone so far as to spread toothpaste on my bug bites, and made cross marks with my nails into the bite to stop it. I was SHOCKED when I made an itch stick with Purificaton, Lavender, Peppermint, and sometimes Frankincense and that stopped it instantly. Since I had the oils with me, there was no waiting til morning to go shopping, no going out of my way to go to the store, and no spending needless amts of money to fix my problems. Can you tell I love my itch stick??? BEST THING EVER!!!!
There are even more summertime oil recipes, let me know if you are looking for anything in particular, and I will be happy to let you know, or find out for you :)