Jun 29, 2023 04:47 PM Central
Sarah Claburn
Did you know that processed foods can deplete nutrients?
I know, convenience foods are, well, convenient!! And it is definitely so hard to avoid them at times. But I recently read an article on this so I wanted to share.
Whole foods are exactly that - designed specifically how God wants them to work optimally in our bodies to nourish us. The companion vitamins and minerals are together with fiber, fats or proteins in one complete source.
So what happens when we fill our bodies with processed foods instead? We replace the natural absorbable compounds with synthetic chemicals and "food-like" ingredients that actually impair the body's ability to digest and absorb nutrients.
Some of the culprits are:
excessive salt
sugar
artificial sweeteners
emulsifiers
food dyes
Overall, these processed food additives wreak havoc on your body in a variety of ways. Excessive salt can interfere with the absorption of minerals like calcium, magnesium and zinc while also putting a strain on your kidneys. Sugar can reduce the good bacteria diversity in your gut and can cause inflammation. Artificial sweeteners and emulsifiers also can deplete your good gut bacteria which decreases nutrient absorption.
I have a saying I've used for forever which is, "The closer to God the better the food." It's a simple saying but I think holds true. So do your best: at least 80 percent of the time - do better. Eat a variety of good whole, fresh foods and skip the inner aisles of the grocery store where the box foods are located.
Blessings from our house to yours!
Sarah Claburn, ND
Nov 4, 2020 07:22 PM Central
Sarah Claburn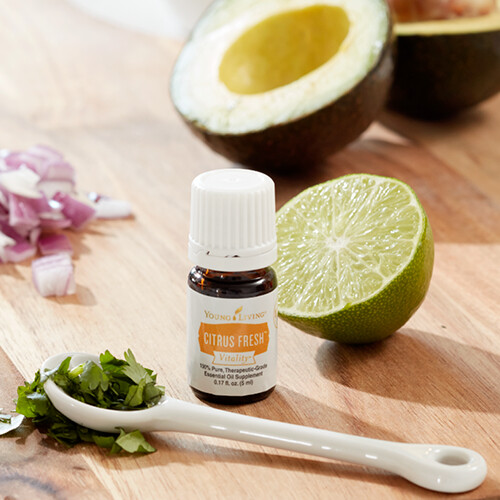 Everyone loves a good guacamole, right? And with all of the health benefits of avocados, you can feel good about eating it.
Avocados have a variety of nutrients, including 20 different vitamins and minerals including Vitamin K, Folate, Vitamin C, Potassium, Vitamin B5, Vitamin B6 and Vitamin E. They also contains small amounts of magnesium, manganese, copper, iron, zinc, phosphorous and vitamins A, B1 (thiamine), B2 (riboflavin) and B3 (niacin).
Avocados contain healthy fats and are also low in carbohydrates, but contain no cholesterol or sodium so they can fit a variety of diet plans.
So grab those avocados and get munching! Enjoy!
Ingredients
2 avocados
2 drops Citrus Fresh™ Vitality
1 drop Lime Vitality
1 tablespoon fresh lime juice
1 clove garlic, minced
2 tablespoons chopped red onion
1–2 Roma tomatoes, seeded and diced
1 tablespoon chopped cilantro
Pinch salt
Pinch black pepper
Instructions
Remove the pit from the avocados and scoop the flesh into a bowl, mashing roughly with a fork.
Add all other ingredients and stir until mixed.
Garnish with cilantro.
Enjoy with tortilla chips or with your favorite Mexican-inspired dishes!