Bloom Brightening Cleanser
Featuring Young Living's Sheerlumé™ Brightening Complex, BLOOM™ by Young Living Brightening Cleanser uses naturally derived ingredients to gently remove makeup and impurities, leaving your skin feeling fresh, clean, and smooth. Take a moment to begin and end your day with carefully selected natural cleansing ingredients like plumeria flower extract, sodium hyaluronate, and pracaxi seed oil to help keep your skin bright, luminous, and hydrated.
Our new Bloom by Young Living Brightening Cleanser will cleanse and remove makeup and impurities, all while leaving your skin feeling fresh and smooth. With naturally derived ingredients, this facial wash brightens and gives you a radiant glow while also helping to restore the appearance of even skin tone. It also provides the skin with a smoother texture while providing hydration benefits. It has a thicker consistency that gently glides over the skin and works to give you that deep, but soft cleanse. Perfect for all skin types, this formula is hypoallergenic and non-comedogenic, and is perfect for those looking for a brightening boost.
Bloom Brightening Cleanser has some very unique ingredients that give it its brightening power, but the formula is also impressive because of the things it doesn't include. This cleanser is formulated without gluten, parabens, phthalates, synthetic fragrance, sulfates, petroleum, mineral oil, and thousands of potentially problematic ingredients we refuse to use!
Let's talk about some of the key ingredients in this product:
· Sodium Hyaluronate provides hydration and pulls moisture into the skin. It has a very low molecular weight which helps it to have more effective penetration into the skin. Once absorbed, it works to draw moisture into the skin and provide hydration, aid in natural exfoliation, reduce the appearance of pores and wrinkles, and helps to strengthen the protective layer of the skin.
· Plumeria Flower Extract is a fast absorbing oil with moisturizing effect that makes the skin feel soft and smooth. It has been commonly used in South Pacific as a staple in hair and skin beauty.
· Pracaxi Seed Oil helps to support the skin's natural hydration
· SheerLume Brightening Complex includes powerful oils that are known for their skin-supporting benefits. Using our popular Sheerlume Brightening Lotion as inspiration, the Bloom Cleanser as infused with the same essential oils included in Sheerlume. Vetiver, Blue Cypress, Davana, Royal Hawaiian Sandalwood, Clove, Jasmine, Carrot Seed, Spearmint, Geranium and Frankincense.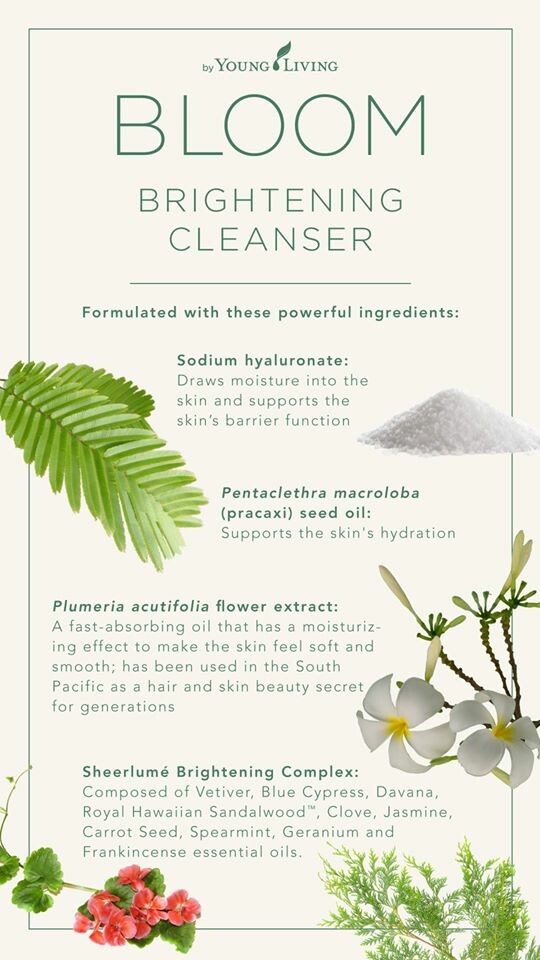 To use, gently wet your skin and massage a small amount of cleanser onto the skin. Rinse thoroughly and pat dry. This product can be used morning and night.
Bloom Brightening Essence
Step two in our Bloom by Young Living Brightening Skincare Collection is our new Brightening Essence. Never used an 'essence' before? You're sure to fall in LOVE with this product. This light-liquid should be applied after your cleanser and before your moisturizer. It helps to balance and restore the natural pH level of your skin, which ultimately helps to support skin barrier function, reduces the appearance of pores, and helps to brighten and hydrate your skin. This product was developed to help address uneven skin that appears dull, and delivers by offering an instant radiant glow—with the help of one of its key ingredients!
At first glance, you will notice the Essence has a visible radiant but natural shimmer. This is thanks to the ethically sourced quartz crystalline Mica. Mica is a naturally occurring mineral that is found all over the world. It has been loved and used for years because of the natural instant shimmer it adds to the skin!
Madonna Lily Leaf Cell Extract is another important and beneficial ingredient to this formula. It helps to brighten the skin, prevent and decrease the appearance of dark spots, and contributes to a more uniform skin tone. What is Madonna Lilly Leaf Cell Extract? This unique ingredient is made using a unique biotechnological process that takes a piece of the Lily plant and cultures it to produce what is called a mother cell. The mother cell is then used to produce the active cells that are within the Lily plant. This process produces pure active ingredients that are free from any by-products and preserves the environment and biodiversity since only one sample is taken from the plant. Another amazing benefit of this process is that this technology uses sustainable energy and reduces the carbon footprint and requires less water than agriculture! So, not only does the Madonna Lily Cell Extract have incredible skin benefits, but the process we use to obtain this ingredient is sustainable and ecofriendly.
Apple Fruit Extract comes from the de-juiced apple pieces (commonly used for fruit juice) that are then used for extraction to create an apple extract. Apple Fruit Extract has been shown to increase the skins hydration by up to 88% as well as contribute to skin that overall feels smoother.
One of the last key ingredients is the green algae extract. This ingredient revitalizes and strengthens the skin while adding prebiotic benefits, providing balanced nutrition for the skin's bacteria; and has been shown to decrease excess oil. It also helps to maintain a healthy skin microbiome.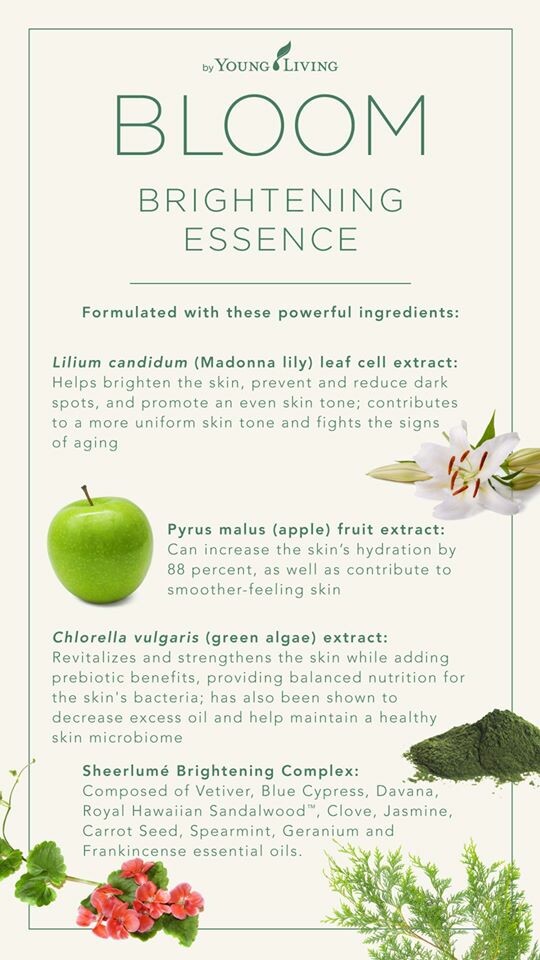 How do you use Bloom Essence? Gently shake the bottle before use. Pour a quarter-sized amount into the palm of your hand and lightly press your hands into the center of your face moving outward. Don't forget to include your neck and décolletage!
Help improve the appearance of an even skin tone, hydrate the skin and strengthen the moisture barrier, reduce the appearance of dark spots, and give your skin a smoother texture with BLOOM™ by Young Living Brightening Lotion.
The entire BLOOM by Young Living Brightening Skin Care Collection was developed to address uneven skin that has lost its natural radiance. This skin care collection is a system for brighter and more luminous skin using natural, clean ingredients. Featuring the Sheerlume Brightening Complex, the BLOOM Brightening Skin Care Collection is loaded with antioxidants to help intensify hydration, minimize the appearance future damage, and help improve the appearance of an even skin tone.
Bloom Brightening Lotion's lightweight hydration helps moisturize skin, while antioxidants help minimize the appearance of future damage. This helps brighten your skin and gives it a radiant glow. It's also Hhpoallergenic and non-comedogenic, cruelty free, and formulated without gluten, parabens, phthalates, synthetic fragrance, sulfates, petroleum, or mineral oil, or any of the thousands of potentially problematic ingredients we refuse to use.
What ingredients make this lotion so powerful?
· Pili pulp oil: Sourced directly from the Happy Pili Tree Farm and Distillery in the Philippines, cultivated and crafted according to Young Living's exacting Seed to Seal® quality commitment. Native to Southeast Asia, pili pulp oil offers major moisturizing benefits for the skin.
· Alpinia officinaru: Also known as ginger root extract, this powerful ingredient brightens skin and balances skin tone.
· Palmaria palmata: Derived from seaweed, Palmaria palmata is effective against signs of photoaging and can brighten and enhance the complexion and radiance of your skin.
· Sodium carrageenan: Derived from red algae, this ingredient works to moisturize and hydrate your skin, which strengthens the skin's natural protective layer.
·
Sheerlume™ Brightening Complex:
Composed of Vetiver, Blue Cypress, Davana, Royal Hawaiian Sandalwood, Clove, Jasmine, Carrot Seed, Spearmint, Geranium and Frankincense essential oils