Aug 7, 2018 10:33 PM Central
Teri Palochak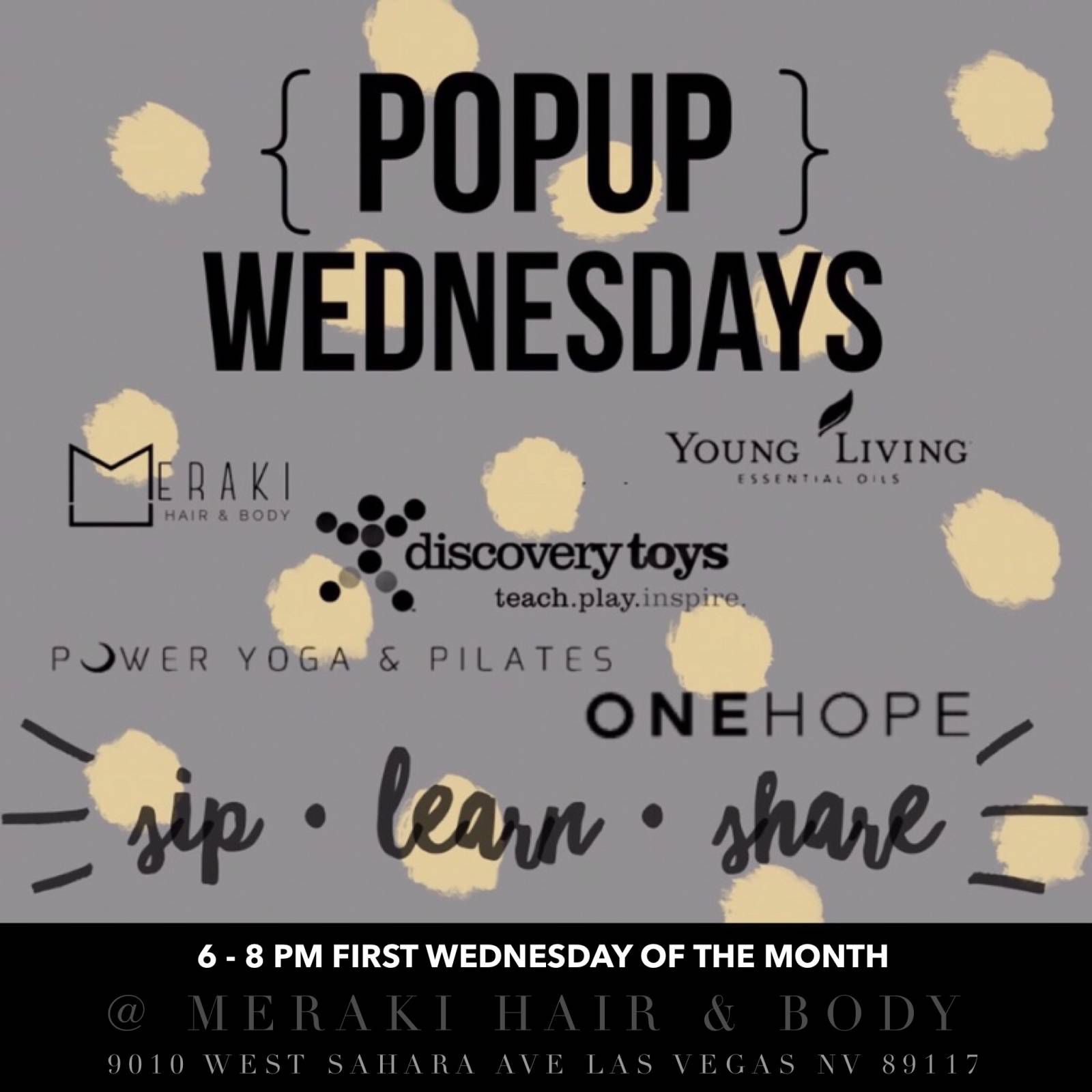 I am so excited about a recent group project and I have to share it with you! Some friends and I have been pondering how to get together for regular chats, possibly have a glass of wine together, and try to help some people in need... all in the same venue. Well, earlier this month we made this happen. We had great success with our first Pop-Up Wednesday Event on August 1st and we can't wait for the next one!
You see, we are a group of women with small businesses that want to give back to the community. Specifically to individuals in need. Yes, there are many local and national charities that we could help. But, our goal is to help a specific person or people in need. Local, Las Vegas people in need.
Crystal, Mary Beth, Cindy and I are so excited to host these monthly events and want you to be excited too! Here is how the events work. The four of us are donating products and fun items from our small businesses for an awesome raffle basket. All attendees have an opportunity to purchase raffle tickets to win the basket of amazingness. The winner gets the basket and the local person in need gets the donations from the raffle to help them out. During each event, you will also get to sip a wine or two, enjoy some tasty snacks, have great conversations with others in attendance, possibly network with others, and maybe sample a product or two as well!
We will also highlight the local person in need and you will get to know more about them too. Locals helping locals!
So, mark your calendars for the 1st Wednesday of each month from 6pm to 8pm at Meraki Hair &Body 9010 W Sahara Ave, Las Vegas, NV 89117
Do you know a local person that needs help? Please contact us and let us know!
See you September 5th
Jun 27, 2018 12:37 AM Central
Teri Palochak
So.. did you know that most health issues are related to you gut?! The Gastrointestinal tract ( stomach and intestines) are an integral part of our body that not only ingests and digests food, but and helps excrete waste and is responsible for part of our immune system health. Our gut helps with regulating inflammation throughout the body as well. Weight gain has a lot to do with this inflammation. A healthy gut is important for making sure there is proper function, absorption of nutrients, and helps get rid of unnecessary waste. Lots of things will make this not work properly. The chronic ingestion of harmful processed foods and liquids, not drinking enough water (dehydration), lack of circulation (exercise), mutation of certain genes with prolonged inability to methylate, disease process, overactive bad bacteria.
Of course, a great way to get your gut health and decrease overall inflammation in your body is to eat less red meat, eat lots of veggies and drink tons of water. Decrease caffeine intake, get rid of processed foods and seek out natural options for diet and supplementation.
Probiotics are a great way to restore healthy bacteria to your gut. You need healthy bacteria in order to process the things that go through the GI system. Things like processed foods and overuse of antibiotics damage the lining of this system and decrease the healthy bacteria. In some cases it mutates the good bacteria into bad. Probiotics help to restore and replenish the good bacteria.
Digestive enzymes help move the food we eat efficiently through the GI tract. They help breakdown what we eat and move it along. Some of the things we eat try to stick to the intestines and digestive enzymes help the motility (move the crud along) the tract.
Prebiotics are nondigestible nutrients that are used as an energy source by good bacteria that naturally live in your intestines.
So... how do we fix our gut naturally and decrease overall inflammation?? Probiotics, digestive enzymes and prebiotics.
Young living has several products to help get your gut healthy. A new product that is super amazing and great for all ages is the Kidscent MightyPro. Yes, it is a kids-line product. But, it is great for everyone! It has a Prebiotic and Probiotic in it. It tastes great (important for kiddos and adults), and it doesn't need to be kept in the fridge like most probiotics. Add in Essentialzymes or Essentialzymes 4 as your digestive enzyme and you are golden!
Contact me is you have more questions!