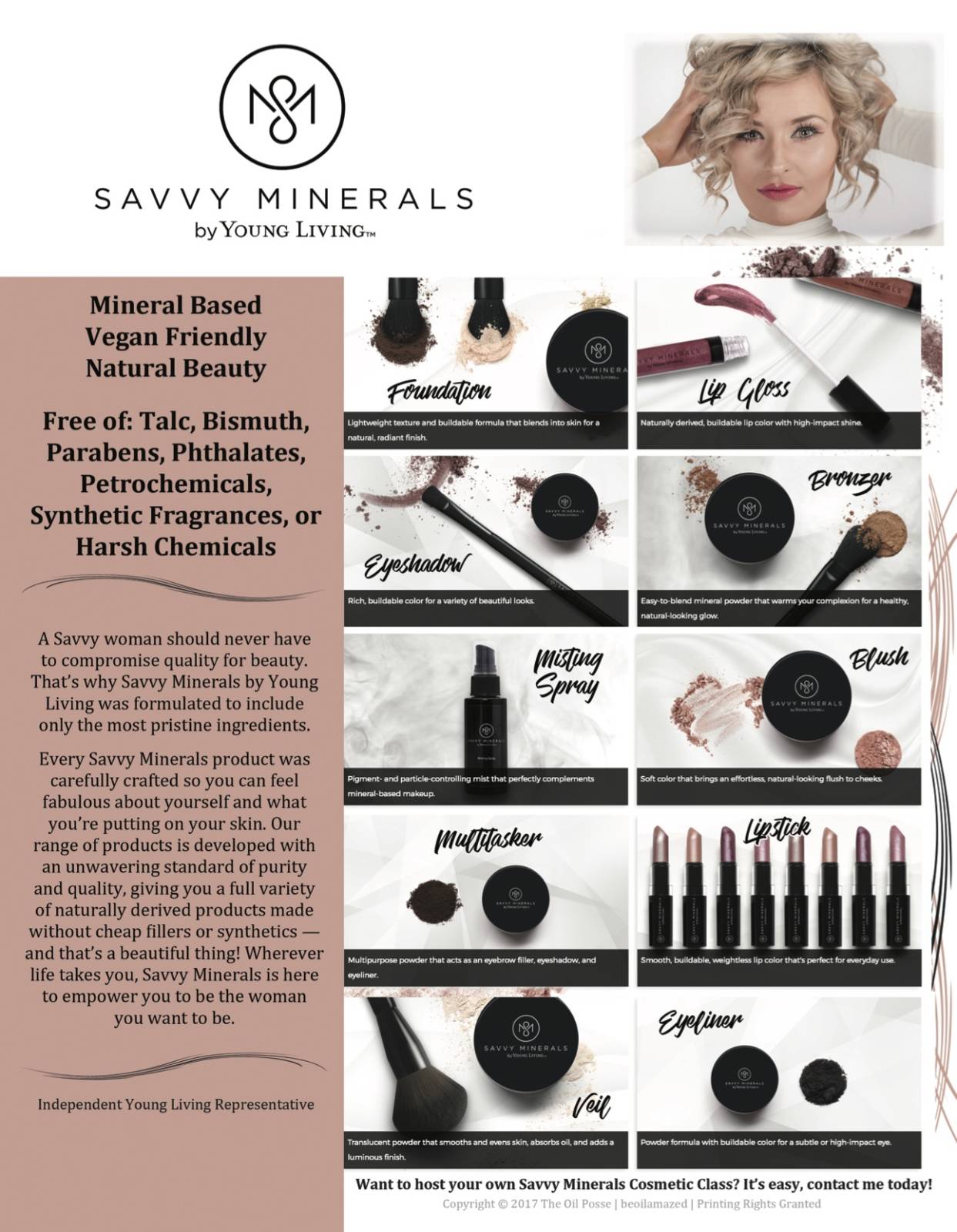 Mar 15, 2018 09:11 PM Central
Teri Palochak
Did you know that Young Living has a mineral makeup line? Savvy Mineral makeup is toxin free and ALL Natural. The products do not have any toxic Parabens, Bismuth or Talc that are known to be hormone disruptors and health hazards
The average woman puts over 500 chemicals per day on her body. It is believed that our skin absorbs 60-70% of any topical products we use. Why not give your makeup a makeover and swap them out for their non-toxic counterparts? We encourage you to run your current cosmetics through the EWG's Skin Deep Database or the Think Dirty App and see where they rank.

Let's talk about three common toxic substances that are found in most commercial cosmetics. Chances are, these things are in your makeup bag right now. *There are WAY more than 3 that we're worried about. But we won't go over all of them here*

PARABENS (METYL, PROPYL, ETHYL, BUTYL):
 Parabens are chemicals that have been used since the 1950s to prevent bacteria growth and act as a preservative in deodorants, lotions, lipsticks, shampoos, scrubs, and more. Parabens can mimic estrogen and act as potential hormone (endocrine) system disruptors in the body's cells. Parabens have been found present in breast tumors and are possibly linked to breast cancer.
TALC: 
Talc is a mineral substance made up of mainly magnesium, silicon and oxygen used in a variety of cosmetic and personal care products such as baby powder, body and shower products, lotions, feminine hygiene products, eyeshadow, foundation, lipstick, deodorants and face masks. Some talc may contain the known carcinogen asbestos, therefore it should be avoided in powders and other personal care products.

BISMUTH: 
Bismuth Oxychloride is a naturally occurring heavy element found in nickel, tin and silver that's primarily used to manufacture metal by-products. It's used in cosmetics because it has a distinct shimmery, pearlescent appearance and a fine white powder texture that adheres well to the skin. Many cosmetic companies use bismuth because it hides flaws, adds a radiant glow to the face and is a dirt-cheap filler! It also has binding qualities, so the make-up will "stick" to your skin and last all day.
What may surprise you even more is that bismuth resembles ARSENIC chemically, yet it is commonly found in many cosmetics.
Many women will experience itchiness when wearing products containing bismuth, most noticeably when they sweat. This can often lead to nasty rashes and severe acne. Also, we can't forget Bismuth is also akin to arsenic. If you've been wearing mineral makeup, you may be experiencing irritation or breakouts due to the Bismuth in this makeup!

Wow!! Did you all know that most of those commercial cosmetics have these toxic ingredients??
Savvy Mineral Makeup has all natural ingredients and amazing coverage for all types of skin! I love the foundation, bronzer and blush... oh and the eyeshadows too. Young Living has put together an AWESOME Savvy Starter Kit to get you going on the natural makeup journey. Check it out on this site or ask me questions!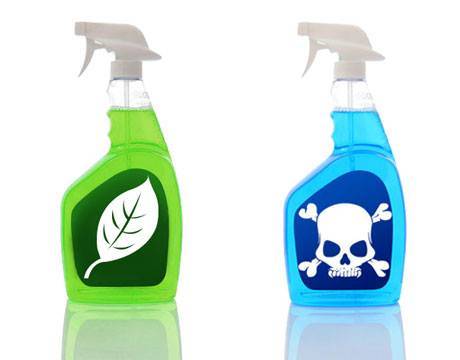 Dec 28, 2017 10:40 PM Central
Teri Palochak
Are you ready for the new year?
What are your goals?
I am going to get more organized. I always put too much on my plate for each day and have trouble getting everything done. Things that I really thought were important seem to fall off or are forgotten for a while.
I am also going to continue to detox my home by switching out all the toxic home care products with all natural ones. Switch to ALL NATURAL and DITCH the toxins! Did you know that Young Living has all natural personal care items? Toothpaste, deodorant, shampoo, conditioner, body wash, foaming hand and and bar soap, face and body moisturizers, dental floss, mouthwash, and many more! They also have all natural dish soap, laundry soap, dishwasher soap, and the ALMIGHTY Thieves household cleaner!! This piece of heaven smells good and is even MORE effective than popular commercial toxic home cleaners. I use it on every surface of my home and it cleans and sanitizes better that anything I have used. This saves me tons of money because I only need a tiny amount and it is the only cleaner I need to purchace! (Not to mention it is non-toxic).
Did you know that the scented plug-ins, candles and dryer sheets in your home are the most toxic items commonly used in households? The toxic chemicals in these and other products are negatively affecting you, your family and your pet's health.
"It sounds so expensive to switch all those items", you may say. No way! You are replacing toxic items on your grocery list with all natural ones as you run out. Young Living has a monthly program that not only helps you do this, but it also pays you back a percentage of your order to get free items too!
So, one of my 2018 goals is to continue to detox my home and make it a safe and healthy environment for my family. How about you?
Have questions? contact me here :)