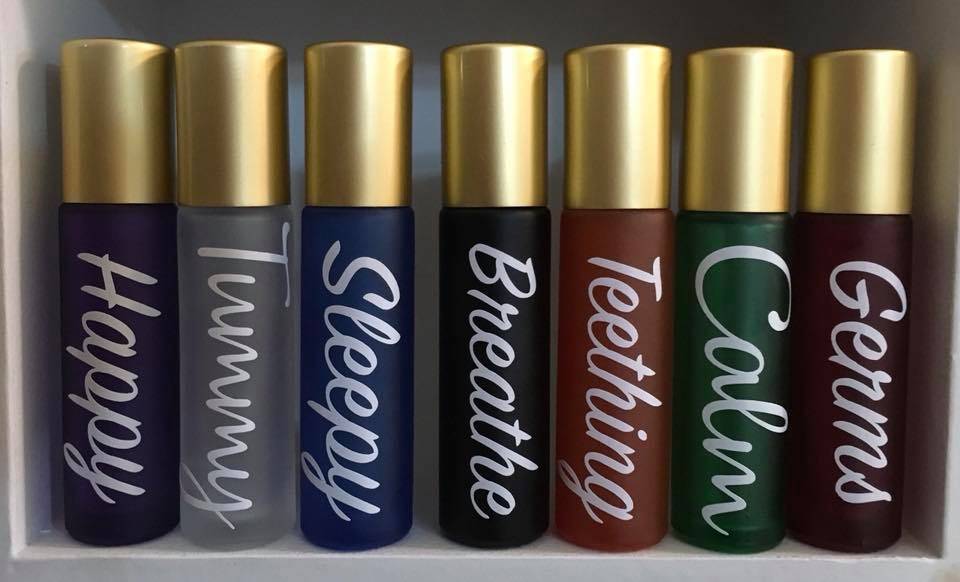 Mar 6, 2018 11:03 PM Central
One of our favorite ways to use essential oils is making custom roller bottles. Essential oils support various body systems and help to promote homeostasis in the body. By combining certain oils for specific purposes, you can create custom, targeted support that's both simple and convenient to use. Within just a matter of minutes of applying the oils topically, the tiny molecules will reach every single cell in your entire body, providing support where you need it. Making your own roller bottles is simple! Here are the general guidelines:


Add 20-35 drops of your preferred essential oil (or oils) to a 10ML roller bottle.
We typically get our roller bottles from www.discoverlsp.com, but there are many places to get them. Just make sure your bottle is made with a dark colored glass like blue or amber (to protect the integrity of the essential oils) and has a stainless steel roller ball (not plastic).
Fill the rest of bottle with your carrier oil of preference (jojoba oil, fractionated coconut oil, grapeseed oil, etc.). Make sure you're using an unrefined, organic oil as your carrier.
Add top, shake well to mix, label bottle and you are ready to roll!
Now that you know how to make a roller bottle, here are a few of our favorite roller bottle recipes. These can be used daily or as often as needed:
Healthy Tatas:
10 Drops Frankincense
10 Drops Lavender
10 Drops Orange*
Carrier Oil
Apply directly to breasts 1-2x/day.
Restful Sleep:
15 Drops Stress Away
10 Drops Lavender
5 Drops Orange*
Carrier Oil
Apply to back of neck and bottom of feet before bed.
Immune Support:
15 Drops Thieves
10 Drops Frankincense
5 Drops Oregano
Carrier Oil
Apply to bottom of feet 1-3x/day as needed.
That Time of the Month:
20 Drops Dragon Time
10 Drops Clary Sage
Carrier Oil
Apply directly to lower abdomen as needed.
Seasonal Discomfort:
10 Drops Lemon*
10 Drops Lavender
10 Drops Peppermint
5 Drops Copaiba
Carrier Oil
Roll onto hands, cup and inhale; apply to back of neck several times daily.
Radiant Skin:
10 Drops Sandalwood
5 Drops Lavender
5 Drops Sacred Frankincense
Carrier Oil
Apply directly to skin and massage in. Use at night after cleansing the skin thoroughly.
Tummy Trouble:
15 Drops Digize
15 Drops Peppermint
Carrier Oil
Apply directly to stomach as often as needed.
*Citrus oils are photosensitive. Do not apply before going out in the sun.


Note that there are many variations of the above recipes that others may find useful, but these are simply some of our personal favorites. Have fun and play with your own recipes if you're feeling adventurous! We also highly recommend the following roll-ons that Young Living carries ready made: Stress Away Roll-On (for stress, of course), Deep Relief Roll-On (relief for sore muscles and other such discomforts), and Breathe Again (respiratory support).


Happy rolling!
Mar 4, 2018 12:15 AM Central
There's a really great (kind of scary) app that I downloaded a few years ago when we started our journey of toxin-free living. It's called "Think Dirty." It basically allows you to scan your personal care products, and it assigns them a toxicity rating on a scale of 1 to 10 (with 10 being the worst) based on its ingredients. I really wanted to eliminate as many chemicals as possible from my environment in an effort to improve my health, particularly my respiratory function, which was always an issue. After a few quick scans, I quickly discovered that I was a victim of good marketing. Everything in my bathroom was "green washed" and said things like "natural" or "pure." But what does that really mean? In the world of personal care products and cosmetics, it means absolutely nothing. Interestingly enough, one of the most toxic items in my bathroom was actually baby shampoo! Yes, the very thing I was scrubbing my eye makeup off with every day and considered washing my newborn baby with was actually a big fat load of cancer-causing toxicity. What a fun discovery!

Did you know that the average person applies 300 chemicals to their body every single day – and about 80 of those are before breakfast? Many chemicals found in our products are not tested for safety. Others have been linked to hormonal disruption, respiratory ailments and even cancer. I have seen noticeable differences in my health – most notably in my immune system and respiratory function – since transitioning to a nontoxic lifestyle. I am SO thankful that Young Living provides us with high quality options that we don't have to second guess. If you're serious about transitioning to a chemical-free home but you're not sure where to begin or which of your household items to ditch and switch first, here are some of my top product recommendations (outside of the oils). These are things we use in our home every single day and LOVE:


1.
Thieves Household Cleaner
– The smaller bottle of concentrate will literally last you 3-4 months and replace every toxic cleaner in your home. Plus it's so safe, our toddlers can even go around the house spraying it on everything in sight.
3. Really…Just all the Thieves products. We love them all.
4.
Pure Protein Complete Chocolate
– Hands down the BEST tasting and highest quality protein powder I have ever encountered. We mix it into smoothies every morning for ourselves and the kids, and it keeps us going for hours.
5.
Ningxia Red
–Another game changer for your overall health. This is how we get the nutrients our bodies need (including our picky kids!) without having to eat POUNDS of fruit and veggies daily. Check out this video -
https://youtu.be/TB1ZlBJUYuA
6.
Meadow Mist Deodorant
– Smells amazing. Works well. Plant-based and extremely safe and non-irritating.
10.
Sandalwood Moisture Cream
– Amazing facial moisturizer, and it lasts FOREVER. As with all YL products, a little bit goes a long way.
11.
Genesis Hand & Body Lotion
– If you're a lotion freak, this is the richest, most moisturizing body lotion ever. We use this on our B&B guest rooms, and they all rave about it.
12.
Progessence Plus
– Game changer for women. This is a natural form of progesterone (derived from yams) that helps to balance our body's hormones. Regulates periods, helps with menopausal symptoms, relieves monthly discomfort, helps with mood, increases libido, and SO much more. Use it daily.
13.
Life 9 Probiotic
– About 80% of your immune systems lives in your gut. Your gut bacteria needs constant replenishing whether you realize it or not. This is an extremely potent, high quality, time release probiotic that has done wonders for my digestive and immune function.
If you are a Young Living member and you find yourself ordering products regularly like we do, you should absolutely take advantage of the Essential Rewards program. Otherwise, that's just free money down the drain! Our family has been utilizing Essential Rewards at 300PV/month for nearly four years now. It's how we have been able to cost-efficiently ditch toxic, chemical-laden products and replace them with safe, plant-based products – all while saving THOUSANDS of dollars. Literally. Here's more info on how it works:
https://youtu.be/2ThONHudUOY
Need other oil or product recommendations? Don't hesitate to reach out!
-Sarah Federer
Inn With The Oils