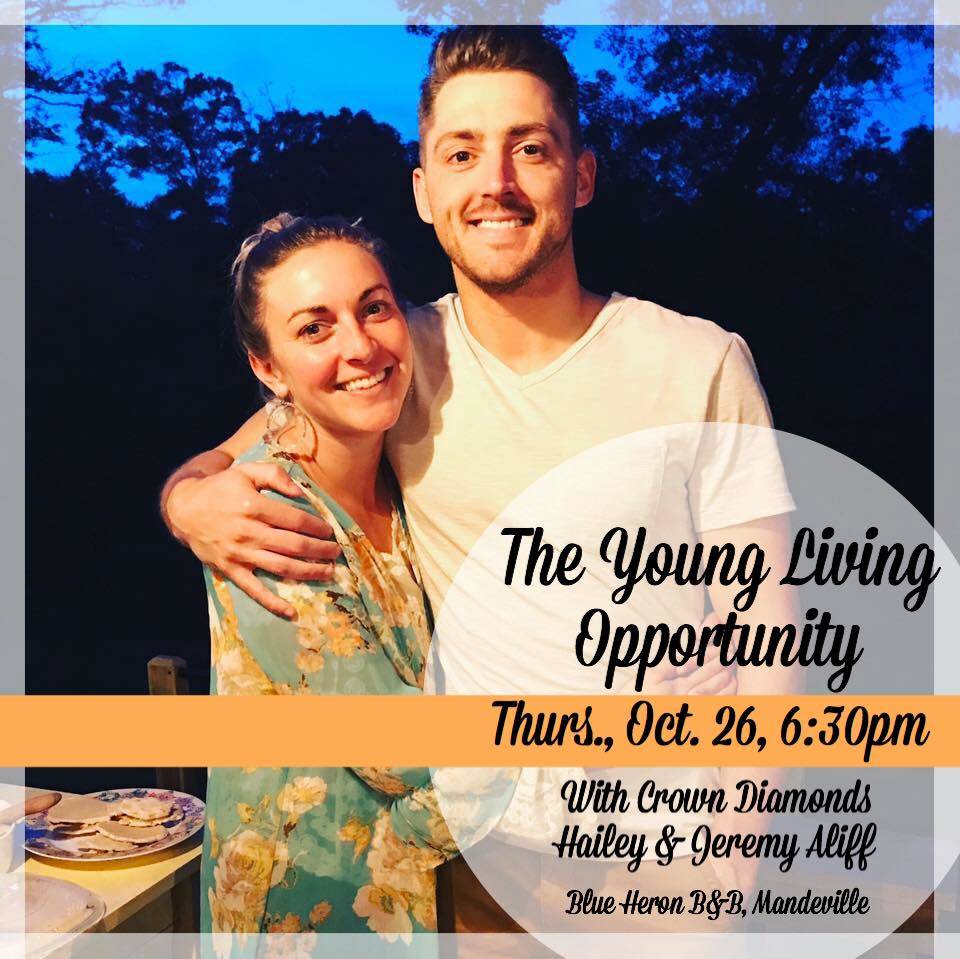 Held 10/26/2017 06:30 PM

to

10/26/2017 08:00 PM

Central time
God has a funny way of putting people and opportunities in your life right when you need them most. He's showed me this time and time again. Hailey Aliff, my childhood friend and our Crown Diamond leader with Young Living, is one of those people.
Our Young Living "business" actually started before it was ever intentional. I had been using and loving my oils for almost three years and casually shared them with friends and family. Essential oils were a complete game-changer for my health, and I knew plenty of people who could benefit from them, too.
About a year ago, I found myself venting to Hailey. I was pregnant with baby #2, exhausted, financially stressed and desperately wanted to get my husband out of his stressful work environment. That's when Hailey shared the Young Living opportunity with me. I had never really considered Young Living as a business before - I honestly didn't have time for it. But Hailey, who reached the top ranks of Young Living in just a few short years, helped us catch that vision of "lifestyle freedom." Since then, we've never looked back. Young Living has been the most rewarding, fun, lucrative work we have ever done. It has removed the financial stress from our lives, allowed my husband to step away from his job to be with our family, and introduced us to some incredible new friends. We reached the rank of Silver within a year of starting the business, and it all happened simply by sharing our passion with others. Bottom line, it is the best business opportunity we have ever encountered!
If you're thinking, "I don't have time for another business," or "There's no way the income is that great" - just trust me. If you have a few extra hours per week, you can do this. And Young Living's compensation plan is the most generous we have ever encountered.
If you want to learn more, join us at our Wine Down on October 26, 6:30PM, at
Blue Heron Bed and Breakfast
or in our
Inn With The Oils group on Facebook,
where we will be streaming the class live. Lifestyle freedom is waiting for you!
Sarah Federer
Inn With The Oils
Young Living Silver Leader