Apr 1, 2019 05:28 PM Central
Young Living is so generous to us as wholesale members.
We get a 24% savings on the products we order, we get monthly promotions with free items when we order (100, 190, 250, 300, 400 levels), we have the opportunity to earn essential rewards points for more free products when we sign up for the essential rewards program (up to 25% back) and free shipping with YLGo or YLGo+.
What will you be getting this month for free?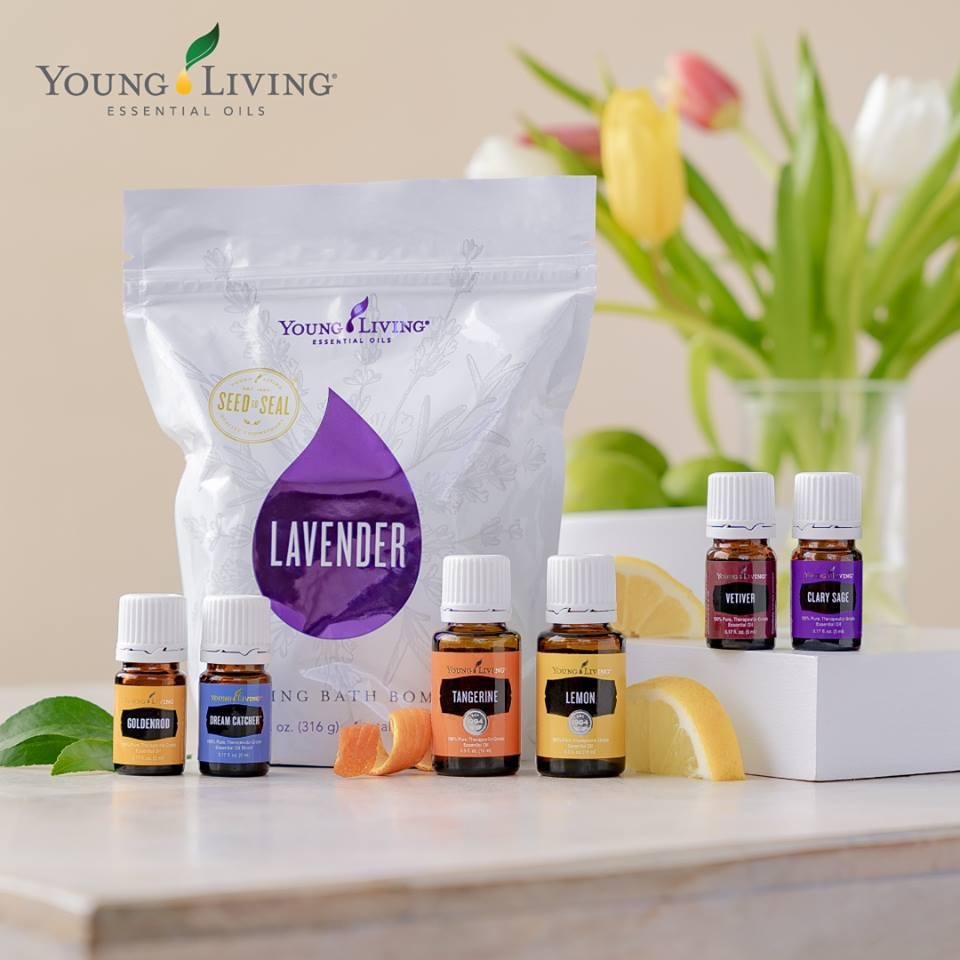 • Relive springtime adventures with Goldenrod! Add a few drops of this grassy, sweetsmelling oil to your diffuser at night and you'll slip into soothing dreams of simpler times.
• Radiant look? Yes please! Mix this spring-scented oil with your face wash and your skin will
look fresher and firmer in no time!
• Chase creativity with Dream Catcher™! Plug in your diffuser and add this blend for
surprising citrus scents and decadent floral notes that will inspire you the way a gorgeous
• Whether you're climbing an actual mountain or a metaphorical one, breathe in the aroma
of this light and bright blend for a quick burst of motivation as you run after your hopes
4-pack Lavender Calming Bath Bombs
• Seek renewal this spring! Feed two birds with one scone by relaxing in a Lavender-scented
bath that also treats your skin to ultra-hydrating ingredients.
• Now that the sun is up almost all day, you're enjoying more adventures! Soothe and soften
the wear and tear on your skin with a soak in a bath that's as fresh as it is floral.
• Let's roll down the windows! Soak cotton balls with this tangy scent and stash them in your
car vents so the smell of tangerines will forever recall bliss-filled road trips.
• Find daily gratitude with Tangerine! Rub this zesty-smelling oil, mixed with V-6™, on your
temples each night as you give thanks for the sun, the moon, and all the stars.*
• Your house can smell like it's nestled in a lemon grove! Diffuse this oil for a crisp, luscious
aroma that beats back odors that have no place in the home.
• Spring cleaning that actually smells like spring? We've got you covered. Add Lemon to
your plant-based cleaning products for a living space that smells as good as it looks!
• Summer's just around the corner! Use the exotic aroma of Vetiver to wrap up finals, big
projects, and major deadlines so you can head on vacation worry free!
• While you're jumping in and out of pools, lakes, and oceans, you'll want to go makeup
free! Put your best face forward and use Vetiver as a part of your skin care routine.
Bonus Essential Rewards: 5 ml Clary Sage
• Get stunning hair that even mermaids will envy! Add Clary Sage to your shampoo for hair
that looks as healthy as the sun is bright.
• Combine this herbaceous and slightly honey-scented oil with V-6™ Vegetable Oil Complex
and massage into your shoulders after a stressful day.
Bonus Essential Rewards: 10 Essential Rewards points
• Use these 10 Essential Rewards points to get sunny-weather favorites like Lavender Lip
Balm and Lemon Vitality™ essential oil.
• Note: Points can take up to three days to be credited to accounts
Feb 13, 2019 06:42 PM Central
It's been quiet lately. No classes (held by me anyway), no emails, few contacts with you if any.
I haven't forgotten you. Quite the opposite. I am so thankful to each of you on our team and praying for you individually.
Most of you know I have relocated to Wisconsin the end of January. Much of my time here has been learning a new position in my full time job and searching for a home so my husband and pups can join me here.
Great news is that I love the job and we have an accepted offer on a house.
I will be doing online classes only until we get settled so be sure to check EVENTS on this website and/or on Facebook on my page "Healthy Living with Young Living" The classes will take place on Facebook. If you are not on Facebook I have created multiple email classes with a new email daily on the subject you choose. So far there are three categories: Emotions and Essential Oils, Toxin Free Living & Savvy Minerals. Look for more to come in the near future.
As always, thank you for trusting me to help you in your Young Living journey.