04/30/2017 06:20 PM Central
Three years ago, I made the best purchase of my lifetime. I was seeking relief from issues dealing with seasonal discomfort, so bought this little box. Little did I know that it would turn my ideas of wellness upside down!! Essential oils are now my go to when we are feeling less than desirable. Each oil has many uses and benefits, yet, you just use one drop at a time, so they last a very long time.
The Premium Starter Kit is planned to give you everything you need to begin using essential oils, including 11 essential oils, a diffuser of your choice, Ningxia Red packets, essential oil samples, small bottles for sharing and more. The cost is 50% off! By getting a PSK, you will then get all of your products 24% off after becoming a member. There is no monthly purchase needed, but you may want to!!
Get your kit today! Simply click ORDER on this site, then you'll be directed to the Young Living home page, Click REGISTER NOW, and make sure my #1713806 is in as your Sponsor/Enroller and I will be ready to welcome you with a nice gift package. You will also receive support, training and education from me and my incredible team!! We are a very active, supportive group of oily people.
Welcome!!
Judy Haugen
Treasured Oils 1713806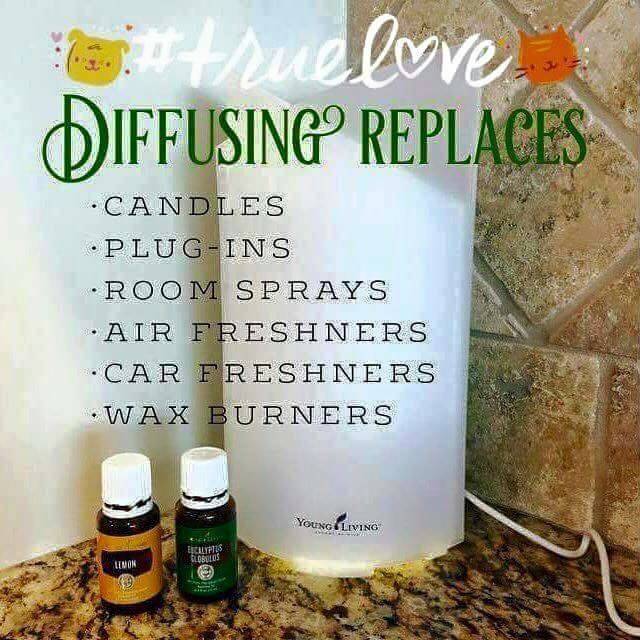 04/05/2017 07:54 PM Central
Look at all of these common items in our homes and we think they are helping us, when they are just putting toxic chemicals into the air that we breathe. It is so easy and economical to switch over to using a diffuser and adding a few drops of Young Living Essential Oils and water!! You pick the scent or the emotion you are looking to gain support from. Peppermint is so helpful to concentrate and stay alert, citrus oils are refreshing and create a positive environment for everyone in the house, and Believe will help you believe that you can accomplish the task that is ahead of you. The list goes on and on!
It's time to swap out these toxins! Toss out the harmful and bring in the helpful!! If you have not gotten your oils yet, I would be honored to be your sponsor and enroller. Simply click on the link to Enroll/Join Now!! It will have my member number in there already, it is 1713806. Then expect a welcome package and phone call from me to welcome you and offer support as your learn how to use these oils!
Blessings to you!
Judy
Treasured Oils