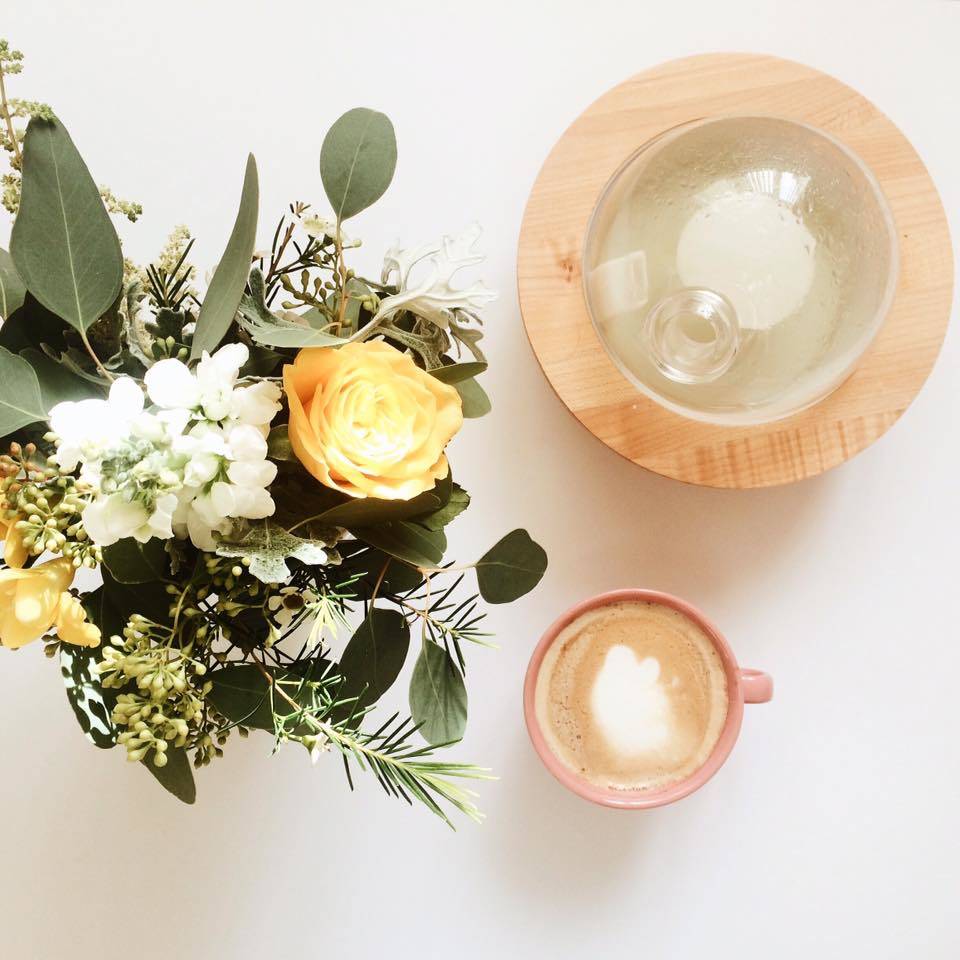 04/13/2017 10:07 AM Central
Quand les gens pensent Aromathérapie, ils pensent en général à la relaxation. Ils se servent de leurs huiles essentielles pour clarifier leur esprit et calmer leur âme.
Mais parfois je suis juste trop crevée ;-)
C'est alors que je me lance sur mes huiles essentielles et mon diffuseur et en général je termine la journée en ayant un peps d'enfer !
Palo Santo et Sacred Frankincense
Ce mélange est un vrai regal et probablement un de mes nouveaux favoris. L'odeur est douce sans être trop fleurie. Riche sans être trop forte. Elle remonte mon moral et me donne la sensation d'être dans l'instant present.
2 gouttes Palo Santo
1 goutte Sacred Frankincense
***
Orange, Cinnamon Bark, et Nutmeg
En réalité, ce mélange me rappelle les muffins et le café du petit-déjeuner. Il me repose et me prépare pour ce qui va suivre dans la journée…
2 gouttes Orange
1 goutte Cinnamon Bark
1 goutte Nutmeg
***
Lemongrass, Eucalyptus Radiata, et Rosemary
Quand j'ai besoin de respirer un bon coup et d'avoir un petit coup d'énergie pour repartir, je fais ce mélange. Il est pétillant. L'arôme est vert et frais avec un feeling d'ondes positives.
1 goutte Lemongrass
1 goutte Eucalyptus Radiata
1 goutte Rosemary
***
Black Pepper et Rosemary
Pensez à ce mélange lorsque vous avez un examen à preparer ou que vous voulez impressionner votre belle-maman. L'arôme frais vous aidera à vous concentrer sur vos tâches et atteindre vos objectifs grâce à un regain d'énergie mentale.
2 gouttes Black Pepper
1 goutte Rosemary
***
Grapefruit, Lemon, et Peppermint
Tout le monde aime ce mélange. Sans blague. Parfait pour encourager toute la maisonnée à mettre la main à la pâte pour faire ce qui doit être fait. Ce qu'il faut quand personne n'arrive à s'y mettre le matin.
1 goutte Grapefruit
1 goutte Lemon
1 goutte Peppermint
***
Idaho Balsam Fir, Cypress, et Bergamot
Cette combinaison d'huiles essentielles c'est comme un souffle de la forêt qui apporte toute l'énergie de la nature. Comme si vous veniez de rentrer d'une longue balade au grand air.
1 goutte Idaho Balsam Fir
1 goutte Cypress
1 goutte Bergamot
***
Thyme et Tangerine
Le thym n'est pas juste pour les soupes et les bonnes recettes. Il rafraîchit une pièce et lui apporte de l'énergie. Cette combinaison c'est comme de passer de l'hiver au printemps !
3 gouttes Tangerine
1 goutte Thyme
***
04/13/2017 09:46 AM Central
When most people think of aromatherapy they think about relaxation. They reach for their essential oils to clear their minds and calm their spirit.
But sometimes I'm just a little too relaxed and tired and worn out.
It's then that I reach for an Energizing Diffuser Blend recipe to put some pep in my step and help me finish the day strong!
Palo Santo and Sacred Frankincense Essential Oils
This blend is a real treat and probably one of my new favorites. It's sweet without being flowery. It's rich without being overpowering. It lifts my spirit and makes me feel in the moment.
2 drops Palo Santo Essential Oil
1 drop Sacred Frankincense Essential Oil
***
Orange, Cinnamon Bark, and Nutmeg Essential Oils
Truthfully, this blend reminds me of breakfast muffins in the morning. It makes me feel well-rested and ready for the next task.
2 drops Orange Essential Oil
1 drop Cinnamon Bark Essential Oil
1 drop Nutmeg Essential Oil
***
Lemongrass, Eucalyptus Radiata, and Rosemary Essential Oils
When I need a deep breath and energy to move on, I reach for this blend. It's bright and lively. The aroma is green and bright with an uplifting feel.
1 drop Lemongrass Essential Oil
1 drop Eucalyptus Radiata Essential Oil
1 drop Rosemary Essential Oil
***
Black Pepper and Rosemary Essential Oils
Reach for this blend when you need to prepare for a test or impress your in-laws. The bright aroma will help you focus on the task at hand and reach your goals with mental alertness.
2 drops Black Pepper Essential Oil
1 drop Rosemary Essential Oil
***
Grapefruit, Lemon, and Peppermint Essential Oils
Everyone will love this blend. No joke. It's perfect for encouraging the whole house to push through and accomplish what needs to be done. It's perfect for when you need everyone to finish their chores or pick up the pace on a lazy morning
1 drop Grapefruit Essential Oil
1 drop Lemon Essential Oil
1 drop Peppermint Essential Oil
***
Idaho Balsam Fir, Cypress, and Bergamot Essential Oils
This combination of essential oils is like a brisk breath of the forest with all the energy of nature. It makes me think of the rush of completing a satisfying hike.
1 drop Idaho Balsam Fir Essential Oil
1 drop Cypress Essential Oil
1 drop Bergamot Essential Oil
***
Thyme and Tangerine Essential Oils
Don't be fooled by what you think of thyme. It's not just for soups and comfort foods. This blend makes the room feel fresh, airy, and invigorated. Try this blend to push from winter to spring!
3 drops Tangerine Essential Oil
1 drop Thyme Essential Oil
***