Feb 27, 2018 07:21 AM Central
Saviez-vous que le site de Young Living est maintenant disponible en version française ?! Notre clientèle francophone augmente chaque jour car nos membres sont absolument époustouflés par la qualité réellement thérapeutique de nos huiles essentielles. Je vous invite à consulter le site et à me poser vos questions. * Si vous passez commande en introdu
isant mon numéro de consultante (3649569), vous recevrez immédiatement accès à mon groupe privé Facebook
. Ce groupe est composé de dizaines de membres Young Living, et nous y partageons recettes, feedbacks et une foule d'informations utiles sur toute la gamme Young Living ! Surprises à la clé également. * En quelques mois seulement, le nombre de nos membres a déjà doublé !!! En devenant membre, vous pourrez aussi compter sur
mon
support direct (3 ans d'expérience et d'utilisation quotidienne chez Young Living). Je reste à votre disposition si vous avez des questions ! Belle journée, Cath
https://www.youngliving.com/fr_FR
Feb 27, 2018 06:22 AM Central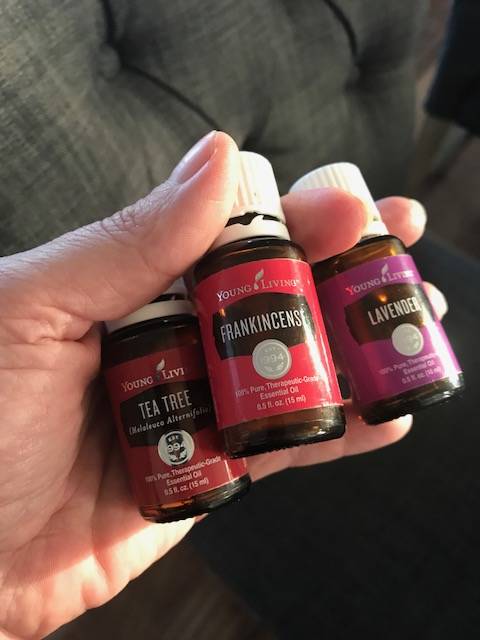 Version française plus bas
Hello :-)
I thought I'd share this very simple recipe to support healthy skin.
See if this one works for you :
- 6 drops of Frankincense eo
- 4 drops of Lavender eo
- 2 drops of tea tree eo
- 30 ml of jojoba oil
Mix all your eo's with the jojoba oil. Apply to acne prone areas every night before bed.
A friend of mine has had really good results with this recipe. Why not try it ? Essential oils work wonders !
Those three oils are great oils to have in your oil cabinet so if you get them, you will be able to use them for many other issues.
Each 15ml bottle contains about 250 drops of eo.
When you place an order with me, you immediately have access to our private FB and enjoy permanent support and the support of a community who shares tips, recipes and feedbacks on the many uses of Young Living Essential Oils.
Have a great day ! xoxo Cath
Je partage cette recette très simple pour aider votre peau à retrouver son équilibre :
- 6 gouttes de Frankincense
- 2 gouttes de Tea Tree (Melaleuca alternifolia)
- 30 ml d'huile de jojoba
Mélanger le tout et appliquer sur les zones à traiter, chaque soir avant d'aller dormir.
Une amie me rapporte de très bons résultats. Essayez, vous serez sans doute très surpris par l'efficacité de cette recette !
Ces trois huiles essentielles peuvent être réutilisées pour de nombreuses autres raisons. Les bouteilles de 15ml comptent environ 250 gouttes chacune.
N
otre groupe privé FB offre recettes et un soutien permanent pour pouvoir optimiser l'emploi de vos huiles essentielles. Vous le rejoignez automatiquement lorsque vous passez commande avec moi :)
Belle journée :) xoxo Cath