07/22/2017 09:11 AM Central
I started hearing and seeing things on Facebook about essential oils and each time I would wonder if it was just a fad. As I heard more and more, I began to wonder, can they really work?
I was a little skeptical, but decided to take the plunge in January 2015 and purchase the Premium Starter Kit. The kit came a couple weeks later, now what, what do I do with these things?
I knew someone that was have a class (101 Class) to learn about these crazy oils. So I signed up. Holy cow, can they really do all that? I couldn't believe what they could do. They could help support every system of the body. I can clean with them too? They can benefit my pets?
With all that being said, I decided in April 2015 to start educating how to use the oils. Although, there is so much to learn, I am learning more and more everyday. I love sharing my journey and my oils with you!
Whether you are thinking about purchasing a Premium Starter Kit or you already have it, you will want to go to a 101/Beginner Class. You learn so much!! If you spend that much money on something, you want to get as much out of it as possible. It doesn't cost anything to come to one of my classes, so come and learn!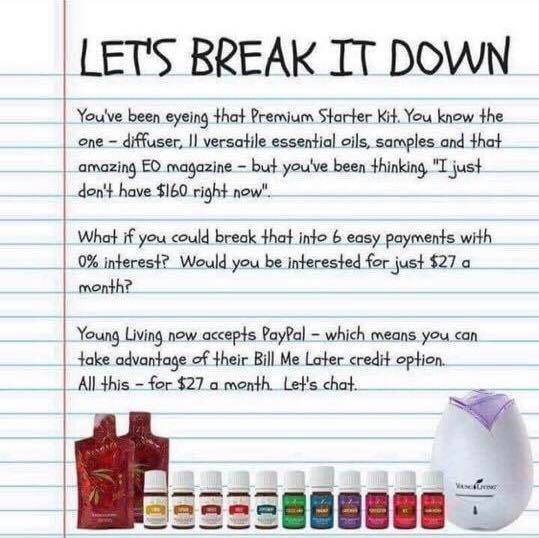 07/22/2017 07:48 AM Central
You can now order your Premium Starter Kit and spread out the payments with Paypal. This is so awesome. I know for me I had to save up to purchase my Starter Kit, this would have been awesome. So if you've been on the fence and didn't want to spend $160 all at once, now you can spread it out and pay a little each month. Don't wait a moment longer, let's get you your kit, and get you on your way to living Toxin Free. Click the link below and get started now. Don't worry.....I will be with you every step of the way and show you all the great ways to use these oils.