Jun 4, 2018 10:22 PM Central
There are three ways Essential Oils can be used.
1.Topically: It is possible to drop an oil directly onto your skin. I do it all the time – and if you're new then I'd recommend just one drop at a time (remember guys, they are potent!). Some good places to drop oils are on the bottoms of your feet (big pores, vitaflex points), wrists, back of neck. If you are using an oil for your knee, then drop on your knee. Or for some digestive help, drop the oil on your tummy, etc.
a.If you are feeling adventurous, you can make your own oil recipes. When doing this, I suggest using a roller bottle and a carrier oil. Examples of carrier oils are fractionated coconut oil, grapeseed oil, sweet almond oil, etc, and their function is to literally carry the oil into your system.
b.If you are using a 'hot oil,' such as peppermint, oregano, cinnamon bark, wintergreen, then dilute, dilute, dilute! Again, get a roller bottle out, add desired drops of oil, and top off with carrier oil. This can be done to ANY oil to s t r e t c h the bottle and still get results from the bottle.
2.
Aromatically
: Oils get into your system simply by breathing them in!! You can simply hold a bottle under your nose and take a yogi-type inhale. Aaaahhhhhh. Or, drop oils in a diffuser. Or, get some diffuser jewelry (such as a lava bead necklace or bracelet) and wear your oils on the go!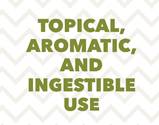 3.Ingestion: Okay – there's controversy over this one.But, I ingest oils daily and so far I'm not growing a third arm J I tend to agree with research that shows all of the benefits (and there are many). There are two requirements when ingesting an essential oil:
a.BRAND MATTERS. Oils are not a food. They are not a drug. So the FDA has some loopholes with regulations and labeling. The regulation for labeling a bottle of oil '100% pure therapeutic grade essential oil' is….. oh wait. There really isn't a regulation. Which means, the bottle you're picking up at the store likely has synthetic fillers in it. Or is advertising 'lavender' when it is mostly filled with lavendin (which is a heartier plant… easier to grow, not as many health benefits). Or has been diluted, diluted, diluted so the end result doesn't benefit you. Do your research. The brand I trust with my own money and health is Young Living. They offer the Seed to Seal Guarantee (
www.seedtoseal.com
for more info), allow members to visit the farms, and are pretty thorough when it comes to detailing EVERY step of the process from seed to, well, seal.
b.Make sure the essential oil is safe for consumption. Most oils are labeled one way or another. Again, I like Young Living because the ingestible oils have a white label. So easy to differentiate.
How do you ingest an oil? Well, you can put a drop in your drinking water or coffee. You can take it 'sublingually' which means right under the tongue (this avoids the digestive system and gets in your blood stream faster), or you can even buy veggie capsules and drop your oils right in it, then you swallow it like any other capsule.