Jan 13, 2020 08:27 AM Central
Let's take the confusion out of the labeling once and for all.
Take a look at your Premium Starter Kit oils. Some of them have bright, colorful labels while others ha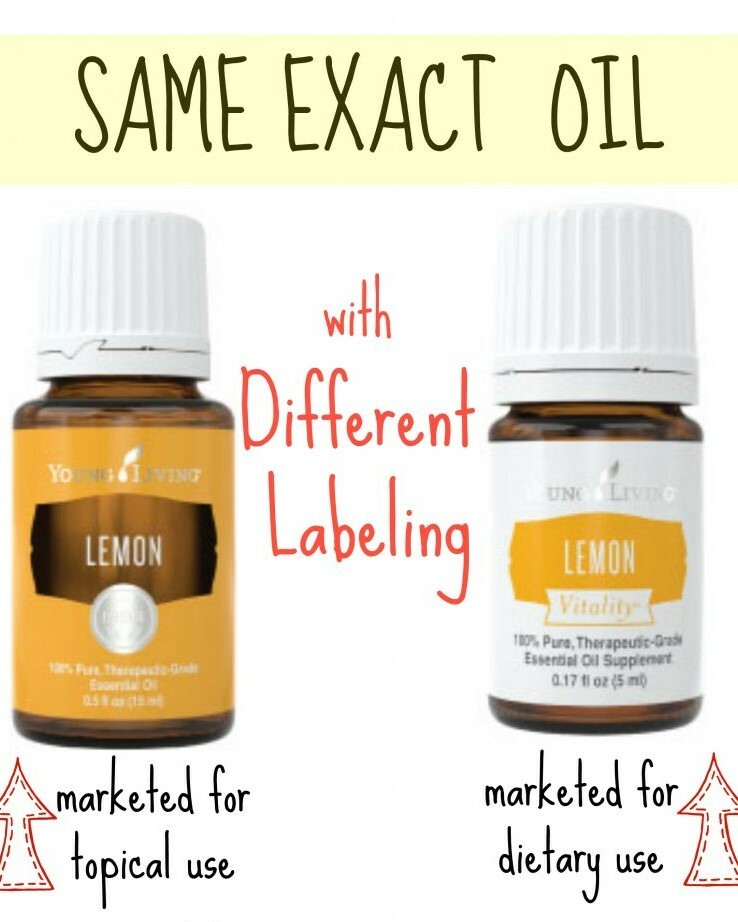 ve a white label and say 'vitality.'
All Young Living vitality oils are safe for internal use. Add them to your water, drop them under your tongue, use them while cooking. Go ahead, it's safe and they're super tasty.
Let's say you use up all of your Vitality Lemon and want to replenish it. And this time you want to order the 15ml bottle (you save when you buy bigger ;) ), however it only comes in the bright yellow label that doesn't say 'vitality.' Hmmmmm…. what now?
The reality is that there is only ONE lemon essential oil. It's all harvested and cold-pressed the exact same way. The FDA came along and required two different labels to make it clear to consumers that lemon is safe for ingesting, AND it can be used in a diffuser/topically. IT'S ALL THE SAME OIL IN THE BOTTLE. Just a different label.
So, if all you have is a bright yellow label lemon essential oil, it's the exact same oil as the vitality lemon essential oil. The same is true for every single oil in the vitality line.
My personal favorite essential oils to add to my water? The combination of grapefruit + lime. It's sooooo delicious. Give it a try next time you pour yourself a glass!
Cheers!
Sep 6, 2018 01:09 PM Central
What's in your arsenal? And, by arsenal, I mean Wellness Cabinet.
Has anyone told you about Raven Essential Oil yet? If not, I'm happy to make the introduction.
Raven is a powerhouse of Ravensara, Lemon, Wintergreen, Peppermint, and Eucalyptus radiata. You know what it's for almost as soon as you open the bottle and let some of those molecules free. The scent is refreshing, and will make an invigorating, clear path through your airways.
Raven is your go-to for various respiratory support. A couple drops in your diffuser go a LONG way. Adults can feel free to put a drop on the bottoms of your feet, on your chest, or on the back of your neck. In a matter of minutes you will notice a difference!
Here are my favorite recipes with Raven:
Chest Rub: Simply melt 1/2 cup of coconut oil in the microwave. Once it's melted (but not too hot), add 3-10 drops of Raven (less for kids, more for adults). Stir, let solidify, and scoop as needed. This can be rubbed into the chest OR on bottoms of feet.
Repiratory Support Roller: in a 10ml roller, add 10 drops of Raven, 10 drops Copaiba, 5 drops of lemon. Fill with carrier oil of your choice. Roll on bottoms of feet, behind ears, or behind the neck.
Creating your natural Wellness Cabinet is going to help you stay above the wellness line. Keeping Raven in that arsenal of yours is going to help you to breathe deeper and clearer.
As always, I hope you found value in this article. Please make sure to comment and tell us what you've already used Raven for OR what you can't wait to try.
For more information on essential oils, natural wellness, or about me,
click here.