Jun 15, 2020 06:14 PM Central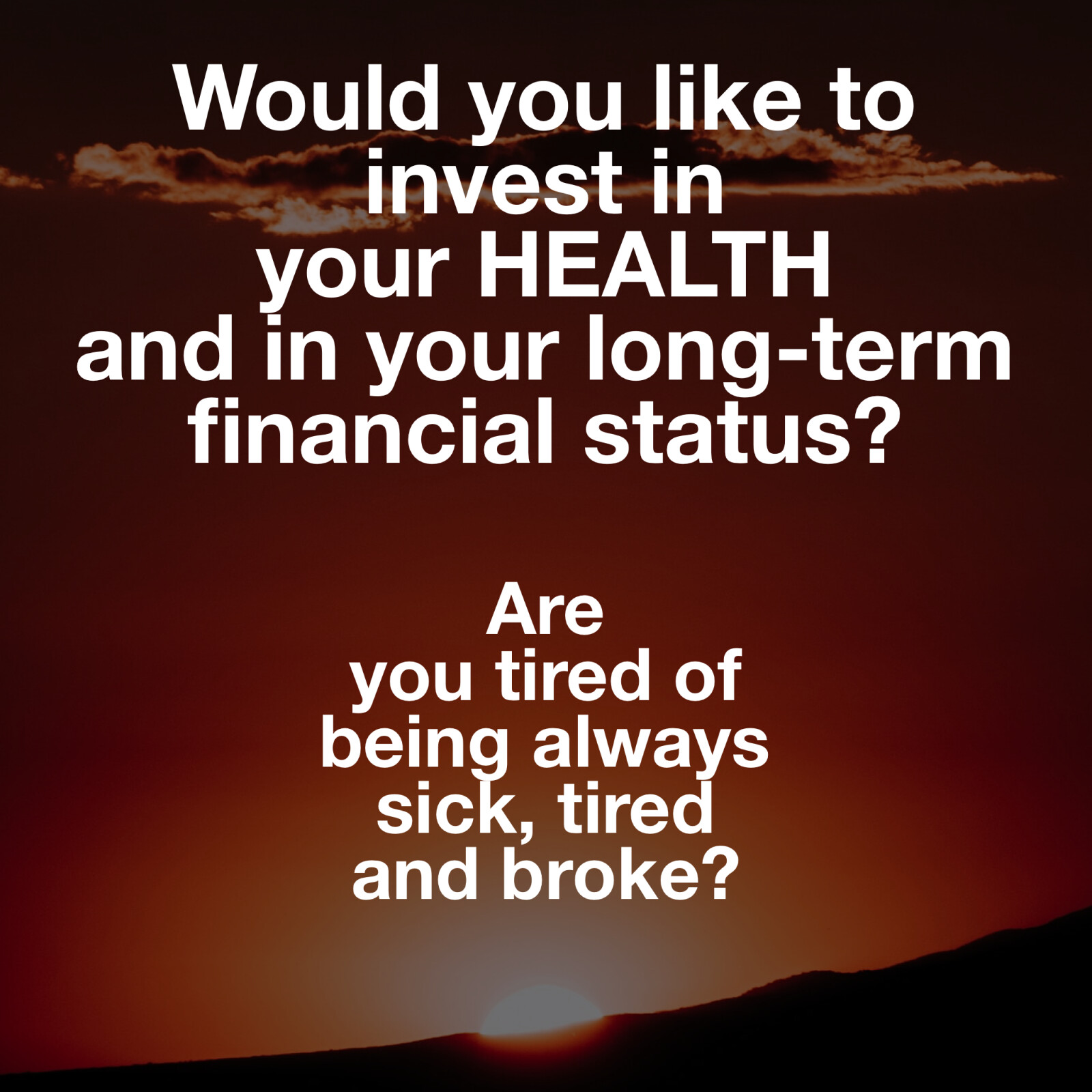 It's very important to not spend all of the money we make each month; we must learn to manage it properly, as well as learn to save some and also invest some. This is the best way to be okay financially, and maybe even well off, regardless of what the economy of our country is doing.
Most people do not have thousands of dollars to invest in the stock market each month, plus we've got to be financially smart in order to be able to do this. Most also do not have tens of thousands of dollars to invest in real estate in order to buy houses and rent them out, or fix them up and sell them at a higher price.
So, what could the average person do in order to invest? Well, one of the smart things that anyone could do, regardless of social-economic background, gender, race or education level is to invest between US$100 and $300 a month in a legitimate network marketing company. This would be all money in products the person would use monthly; tax and shipping must be added to it, so the approximate personal investment would be between US$120 and $360. Now, this is not a "sit back and watch your money grow" kind of investment. In order for this investment to pay off, we must be actively sharing our experiences with the products, as well as the opportunity to invest into the company, like we are. If everyone that puts aside fear and decides to invest the money would do it consistently, all of us would win financially in a massive way, depending on the compensation play that the company with which you are investing in offers, of course.
I personally invest no less than US $300 a month in a company called Young Living Essential Oils. This company is not only the leader in the essential oil industry, but it's also a company that constantly is offering new products and product lines to help enhance our lifestyle. The ingredients in every single product are phenomenal, like few out there. The essential oils they produce come from plants that have been properly cultivated and harvested' after that, they are distilled at the perfect temperature for the right amount of time (depending on the oil), and then bottled properly.
It's safe to say that many people are either fearful of investing in a network marketing company or they are taught to be skeptical, and therefore carry around this ingrained mentality that "all" network marketing companies are scams and "pyramid schemes" where very few people actually even have a remote chance to succeed. That is why we need to go at it avidly with the commitment to keep on sharing this investment opportunity for as long that is needed, and teach those who join us to do the same (duplicate our actions). It's important that we understand how amazing this model of business truly is and how beneficial it is to everyone who decides to invest and stays committed to a simple plan of action, without ever losing heart.
A person who invests in a company like Young Living must go in realizing that they may not see a return on their investment for many years. However, the fact that Young Living offers us products that enhance our life physically, mentally, emotionally, financially, and spiritually, we could say that it's a wonderful investment in our HEALTH AND WELLBEING (quicker benefits, depending on what our health is like when we sign up for a membership, of course). The financial benefits could come quick, as they have for some leaders, depending on how quickly we get some go-getters who are risk-takers and set aside their fear and skepticism, but the reality is that, for most, it could take many years to reap the financial rewards we desire. As long as we understand fully that it may be a long-term financial investment, and do not stop investing into the company each month, and consistently share with others about our experience with the products and the investment opportunity, we will in the end be able to reap the financial benefits. Once we do, though, it's important that we know how to properly manage that money! So learn how to do it as you consistently "build your business" and reap the health and wellness benefits, as well as tax the many tax write-offs that the government offers us for building a small business.
---------------
If you would like to invest in Young Living,
please contact me via this website, or simply sign up easily with the company using the links you can find on this same website; if you have any questions, please feel free to contact me privately. **You can also contact me privately via Facebook by CLICKING HERE.
Jun 9, 2020 07:30 PM Central
It does not matter if "others" think you are qualified or not; it does not even matter if you, yourself, think you are not currently qualified.
GOD will
empower
you to do whatever He wants you to do and will provide ALL that you need along the way. Be
confident
in HIS ability to work THROUGH you; do not place your trust/confidence in your own education, personality, financial resources, etc. He can use you TODAY, right where you are at in life.
If you struggle massively with
lack of confidence
, I understand. If you believe that you cannot make it as a leader in the business world because you're an
introvert
, I totally get it. But
there is something God has taught over the last few years as I journey in a network marketing business called Young Living Essential Oils
and that is that it does not not matter what our personality is like nor what our education level is; what our bank account currently looks like or whether we are black or white, male or female have nothing to do with whether or not
God can use us in powerful ways
to bless others in the world of business. The economical status of our country also has nothing to do with
what God can do THROUGH you.
You see,
we need to shift our attention away from ourselves and the current circumstances around us and we need to place it on GOD alone
, just like David did when he defeated the giant Goliath. God has always been incredibly powerful! When we are baptized, He adopted us as His children and therefore we are heirs in His Kingdom. This does not only mean that we get to live in heaven after we die! Even more importantly it means that we get to enjoy a bunch of privileges while we live here on earth, including being empowered by the power of the Holy Spirit to do the work he assigns us to do, and also joy and peace in a world that is so stressed out most of the time.
If God placed in us a deep desire to do something,
like be a leader in the business world, He will mentor us, guide us, and empower us along the way. If we stick with Him, seeking Him day after day, not running after money, but rather building a strong relationship with Him, He will provide what we need to succeed. Opportunities to learn will open up. As people see walking confidently and purposefully, they will desire what you have and they will want you to lead them to that kind of life. When they ask you, then you can show them. God will give you the words to say even if you're not good with words at all; He has done that for me and can do it for you too.
All God asks from us is that we be available
. He will provide the rest. He will not let you know how long the journey will take, but He does promise to take you to the finish line. If you persevere with Him, constantly drawing closer to Him, you will get to the destination that God has in mind for you and those who follow your leading in the journey. You are His hands and feet and His mouthpiece in this world.
Ready to be an exemplary leader in the business world?
I invite you to join our Joy-Givers team in Young Living. Not only will you become a confident leader as you journey with us, you will also be able to get products delivered to your home that will help enhance your lifestyle; products that will help you be energetic and healthy every day of your life, and therefore more productive so that you can focus on the work God has called you to do.
If you want to join us,
please contact me on Facebook via private message -
click here
to get to it. If you want to simply sign up, on the top of the page you will find links you can click so you can become a member. If you have any questions, please don't hesitate to contact me via Facebook. I will connect you with your Facebook group "Journey To Royal Crown Diamond" so you can get our simple
3-step plan of action
to follow consistently.
Feb 12, 2020 07:25 PM Central
When we get pregnant or have a new baby at home, it's time to really start thinking whether or not our home is a safe environment for him or her.

It's important that all the products we use on our baby have ingredients that will enhance their health too, not ones that will diminish their health. There is nothing worse for us, as moms, than watching our baby suffer through an illness, especially one that we could have easily prevented.
That is why I am writing this blogpost today. Even if you are not into essential oils right now, Young Living offers us much more than that now.
They even offer a line of products specifically designed for babies; it's called "Young Living Seedlings"
. They have a great little basket that contains many of the products in this line, actually. It contains a body wash and shampoo, a lotion, a baby oil, a rash ointment, wipes, a linen spray, and a towel with a hoodie. The best way to get this is is by getting a wholesale membership so you can get it delivered to your house at a 24% discount.
What is the best membership kit to get if you are not into essential oils?
The answer is: purchase the Premium Starter Kit with Thieves. This kit contains a lot of products in the Thieves line, which is all about products that keep our home healthy.
If you go to the home page of this website and scroll down to the Starter Kits, it will be the one called "Premium Home and Personal Care Starter Kit".
If you click on it, you will see that it comes with
Thieves® 15-ml
Thieves® AromaBright™ Toothpaste
Thieves® Fresh Essence Plus Mouthwash
2 Thieves® Household Cleaner
2 Thieves® Foaming Hand Soap
2 Thieves® Spray
3 Thieves® Waterless Hand Purifier
in addition to a few other things. You can later also get other Thieves line products like their laundry detergent, which is great not only to wash your baby's clothes, but also your own. They also have a dishwashing soap and, if you use an automatic dishwasher, they also have a powder to use in it to wash your dishes.
To recap quickly, if you are a new mom, I highly recommend you get the "Premium Starter Kit with Thieves" if you do not have a membership yet, and get the "Seedlings" line of products for your baby, starting with their "Seedlings Gift Bundle", which is the kit that includes all the things I mentioned in this blogpost.