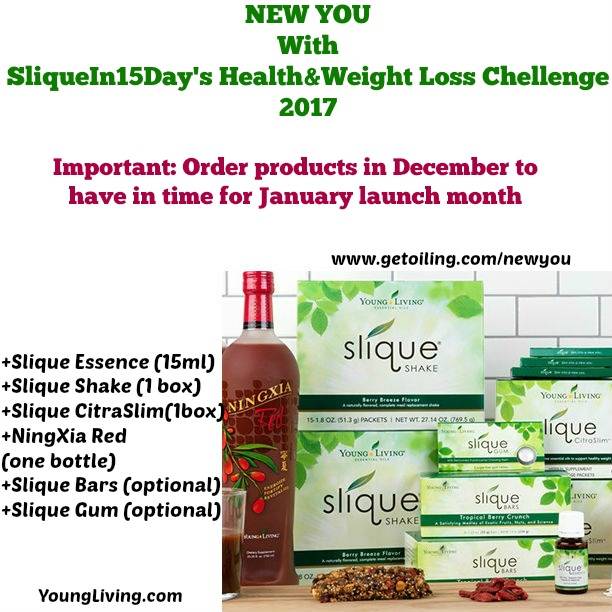 12/06/2016 03:57 PM Central
This is YOUR opportunity to start the NEW YEAR with the
NewYou SliqueIn15Day's
Health and Weight Loss challenge 2017
brought to you by Beate Probst
MAKE A CHANGE FOR THE BETTER
Using a unique combination of naturally derived ingredients and powerful essential oils, our Slique line of products can help you take a step in the right direction toward slimming into a NewYou! YoungLiving's exclusive Slique products, when used with a proper diet and exercise, can help manage weight, create feelings of satiety, support metabolic activity, and provide nutritional support.
The Slique line of products is designed to help you make healthy—and lasting—lifestyle changes and aiming to develop better eating habits or more effectively manage your weight.
The ultimate collection for healthy weight management and optimal nutritional support, Slique Complete is the best way to meet your weight-loss goals when combined with a healthy diet and increased exercise! This pack adds the benefits of the Slique Shake meal replacement with the fat burning benefits of Slique CitraSlim and the whole-body nutrition of NingXia Red.
I am SO EXITED to present you this challenge and to have the opportunity and privilege to coach you all the way through the process with this unique program that I have put together so that you will get all the input that you need, the guided support and most of all THE LASTING RESULTS DESIRED.
Here are answers to questions and guidelines along with instructions for this challenge so that YOU become the best version of YOU.
I went through my weight loss and health challenges 8 years ago and lost 50 lbs which changed my life in so many ways, I feel good and confident that I can live a healthy and balanced life. But I also know that without support most weight loss successes go down hill after some time and that is why I dont just want to tell you what products or ways you can use, I also want to help you go through the process and coach you in any way that can help you way into YOUR future. That is MY PROMISE
Who can participate?
Anyone from Anywhere (If you are pregnant, nursing, taking medication, or have a medical condition, consult a health professional prior to use. And prior to starting any exercise program.)
When does it start?
The challenge starts Monday January 2nd but you can start any day you like after Jan 2nd and just join the participants that have already started the program.
What are the conditions to participate in this challenge?
1. Required to have an active account with Young Living (remember, no obligation, commitments or cost to have an account with Young Living)
2. Use the suggested Slique Line products during the challenge for best results
3. To do your best trying to comply to suggestions and guidelines
How do I sign up?
2
. Open your account with Young Living (with no obligation or commitments and no cost) on my website: and fill out your information here:
open my account
to activate your account, and order the Slique products needed for the challenge (will give further information once you messaged me)
What kind of support will I get?
1. You will be added to a private Face book group that is exclusively for the participants of this challenge and there we will interact on a daily basis with updates of progress, interchange of encouragements or various challenges you encounter, there will be recipes and all sorts of resources and great information on how you will benefit from this challenge and how you can continually improve your health, and yes I will be your coach.
2. There will be uploaded files on the FB page of blank daily and weekly meal plans and grocery list's that you can use and fill out to plan your days ahead because we know how much it helps to stay on track and that really is the KEY to SUCCESS!
Here is a little example of what you can expect during your challenge (more details will be provided) and as you can see, the Slique product are a big part of your daily intakes.
DAILY

Products

Breakfast

o Slique Shake or healthy breakfast
o NingXia Red (optional: add Slique Essence)

Snack 1

o Slique Essence with Water or Tea and Veggies

Lunch

o Slique Caps (45 min prior to lunch)
o Slique Shake or healthy lunch
o 2 Slique Essentialzymes with meal

Snack 2

o Slique Essence with Water or Tea and Veggies

Dinner

o Slique Caps (45 min prior to dinner)
o Slique Shake or healthy dinner
o 2 Slique Essentialzymes with meal

Snack 3

o Slique Essence with Water or Tea and Veggies

How do I use the Slique Produkt Kit?
For a suggested weight management plan and regimen to follow for the kit
click here
More information will be on our private FB group page as well.
What can I eat and what can I not eat?
There is lots that you can add to your food's and we will also post many recipes that are simple and fast.
During the 15 day's I recommend no dairy, weat or gluten, no sugar, and no alcohol to give your system a break and let the Slique products really work its magic.
So I suggest lots of non starchy vegetables which you can eat as much as you like, limited amount of starchy vegetable like sweet potatoes and root vegetables. Also proteins and healthy grains like brown rice, Quinoa are allowed in limits with the right portion size. I encourage to have vegetables included in every meal for the day. There will be more detailed information on the FB group page about the food choices during the challenge.
You will be encouraged to drink up to 2 to 2.5 litre of water per day
Do I need to exercise during the challenge?
I would like you to exercise 30 minutes per day of any activity of your choice, and there will be links on exercise that you can do at home on the FB group page.
How can I stay on track with my health and weight challenges after the program?
You will have continued support on the FB group page with ongoing participation, feed back and resources. You will not be left out in the dark, this is not a quick fix but a lifestyle change opportunity for you to continue on your everyday life with vitality and vibrancy.
How much do the Slique products cost for use during the 15 day challenge?
Here is a product cost breakdown for you
1. Slique Shake (1 Box 15pk) $US 49.75 app $CAN 66.00
2. Slique Citra Slim Capsules (1 Box 15 dual) $US 45.00 app $CAN 59.00
3. Slique Essence drops (1 Bottle) $US 26.00 app $CAN 34.00
4. NingXia Red (1Bottle) $CAN 45.00
5. Slique Gum 3pack (optional) $US 22.00 app $CAN 29.00
6 Slique Bar's (optional) $CAN 26.00
Your total must products for this challenge is $CAN 204.00 (without the optional products) plus shipping and taxes.
This is a one time initial investment of product cost to get you on the right track and is providing you with a head start.
All the support afterwards will continue completely
FREE OF CHARG
E!!!!
Here is a short description of the Slique Line products:
1. Slique Shake
Slique Shake is a complete meal replacement shake that provides quick, satisfying, and delicious nutrition. Formulated with Slique Essence Essential Oil Blend. In a convenient single-serving size packet, it's easy to slip into a purse or pocket for healthy eating on the go. Slique Shake's berry flavor is great on its own or mixed with almond milk or fruit, and its vegan formula contains no artificial colors, flavors, preservatives or GMO ingredients. Instead, Slique Shake is naturally sweetened with Stevia, organic coconut palm sugar, wolf berries, and strawberries. The formula also includes pea protein, quinoa, wolf berry, pumpkin seed protein, and alfalfa grass juice, making it not only a tasty protein shake but an excellent source of dietary fiber as well. Slique Shake also includes a fruit and vegetable blend that provides essential vitamins and minerals that many meal replacement options don't offer.
2. Slique Citra Slim Capsules
Slique CitraSlim includes a proprietary citrus extract blend, which some studies suggest may help support the body in burning excess fat when used in conjunction with a healthy weight-management plan.* This polyphenolic mixture of flavonoids offers powerful antioxidants that are touted for their health benefits.* This blend may also support the release of free fatty acids, which help break down fat. Slique CitraSlim features a two-capsule formulation in a convenient dual-serving daily sachet.
Once-Daily Liquid Capsule
The liquid capsule delivers pomegranate seed oil, Lemongrass, Lemon Myrtle, and Idaho Balsam Fir essential oils. This blend is high in citral, which is a constituent that may increase metabolic activity.*
Powder Capsules
Three power-packed powder capsules contain a proprietary citrus extract blend, cinnamon powder, bitter orange extract, feungreek seed, ocotea leaf extract, and a customized blend of enzymes and four essential oils: Ocotea, Cassia, Spearmint, and Fennel. Slique CitraSlim is designed to be used in conjunction with other Young Living Slique products
3. Slique Essence Drops
Slique Essence combines grapefruit, tangerine, lemon, spearmint, and ocotea with stevia extract in a unique blend. These ingredients work together to help control hunger, especially when used in conjunction with Slique Tea (not available right now, use water or any other brand of tea). The pleasant citrus combination of grapefruit, tangerine, and lemon essential oils adds a flavorful and uplifting element to any day with the added support of spearmint that may help with digestion. Ocotea essential oil adds an irresistible, cinnamon-like aroma to help control hunger, while stevia adds an all-natural sweetener that provides a pleasant taste with no added calories. Add 2-4 drops to 4-6 oz. of your favorite beverage, , or water. Use as needed throughout the day whenever hungry.
4. NingXia Red
Add a daily shot of NingXia Red to your diet to enjoy the benefits of this powerful, whole-body supplement. This sweet and tangy drink's formula includes wolf berry, which is touted for its health benefits. Also featuring plum, aronia, cherry, blueberry, and pomegranate juices and extracts, Young Living's NingXia Red is packed with super foods to support overall wellness.
In addition to these antioxidant ingredients, NingXia Red's formula includes pure vanilla extract and Lemon, Orange, Yuzu, and Tangerine essential oils for a great-tasting, healthy treat.
Young Living NingXia Red benefits include support for energy levels, normal cellular function, and whole-body and normal eye health. A daily shot of 2–4 ounces helps support overall wellness with powerful antioxidants.
5. Slique Gum (optional)
Ancient travelers throughout the Middle East used raw frankincense resin for its nutritional content and ability to help control hunger. Slique Gum offers those same benefits in a modern delivery system that helps control food cravings and improve oral health.
Ingredients: Frankincense Resin (Boswellia frereana), Gumbase, Isomalt, Sorbitol, Natural Flavors, Calcium Stearate, Natural Sweeteners, Colors (Red Cabbage Juice, Turmeric,), Slimming Fresh Mint Essential Oil Blend: (Peppermint (Mentha Piperita) Oil, Spearmint (Mentha Spicata) Leaf Oil], Xylitol
6. Slique Bar's (otional)
Slique Bars dual-targeted satiety approach and medley of exotic fruits, nuts, and science creates the perfect functional, nutritious snack to help you feel fuller, longer. Each box contains six bars (35 g each)
Allergens: Contains baru nuts, almonds, and coconut. Manufactured in a facility that also processes tree nuts, peanuts, soy, milk, and eggs.
Still not sure?
Here are some testimonials. Please keep in mind that these examples are of individuals that have used the Slique product over a period of 2 to 3 month.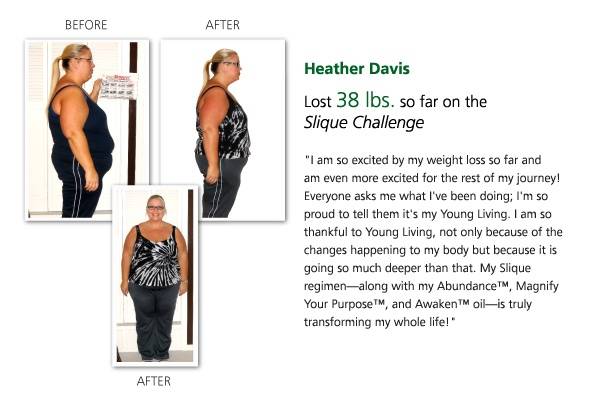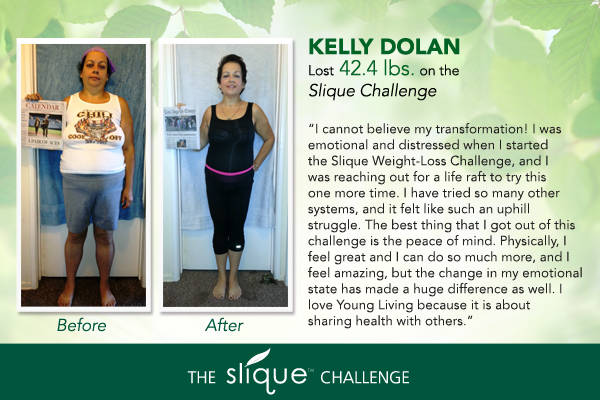 11/14/2016 05:09 PM Central
My name is Beate Probst and I immigrated to Canada in 1987, wow 30 years. Growing up in Germany is always something I think about because trying to live a healthy life is relatively easy there with many resources and options and of course the history that comes along with that. I remember my mom saying "that's garbage and not good for you" So I was thriving to live a healthy lifestyle here in Canada as well and passionately tried to pass it on to my three grown sons. It was hard to come to terms to be so far away from my family and not able to just quickly see them when I felt the need for comfort or advice and nevertheless technology was not advanced like today, phone calls were extremely expensive for oversees and the internet hasn't kicked in yet at that point. Also for my sons to be distended from their relatives and roots of their parents (and I still struggle with that) So I felt sad and alone many times over. I learned to deal and cope with those feelings and life got busy with my own family, business and making new friends plus a new life.
In a way being an immigrant has thought me many ways of being open minded and adaptable, learning a new culture and trying not to loose yourself with in it was a challenge. Then my world broke down when my then husband decided to leave me for another (much younger) woman after 20 years building a life, business and family with him. No chance to go back to my roots with three beautiful boys old enough not to take them away from the only surrounding they have ever known.
I went through so many different ways of being open about alternative health and so many varieties of supplements that come along with it to stabilize my emotional well being but never felt passionate or strong enough about one particular brand or line of product, so I just kept trying and experimenting and thought "dont give up"
After getting remarried and putting peaces back together I opened my business doing skin care treatments and a good friend of mine Erin Poirier who I thank very much for not being shy to tell me, thought that it would be a good idea to introduce the skin care product to my clients and use them in my clinic. I made my own products and learned that the Essential Oils would be a great addition. I purchased my first Premium Starter Kit and was ecstatic about them and the emotional effect some of those oils had on me were calmness, peace, letting go of certain feelings. I quickly learned that it helped me not only emotional but physically as well, it took no time at all to share the with my clients, the powerful effect these precious oils had on me.
I started to introduce friends, family and clients and that meant I made a little bit of money, I thought wow $50 in my account from Young Living, that is a lot for just talking about it and helping others to order their products, within a view month it slowly grew and honestly never thought that this could go somewhere financially where I could actually make a living with it.
I have quickly learned that Young Living Essential Oils are the best quality on the market, yes they are a bit more expensive then the store bought version but you make up for it as in the quality, the quantity and the absolute guarantee that you are using the best EO on the planet for yourself, your loved ones and anyone else that comes in contact with them, believe me I did my research.
I am now at the rank of Senior Star/Executive and my income varies from $200 to $500 per month and I am ready to take it up a notch so my next goal is to reach a consistent Silver rank with an income of app $ 2500 per month just by sharing my experience with these wonderful oils that have helped me in so many ways, like "Stress Away" for my sleeping and calming down, or "Peace and Calming" to ground me back to reality that live is not that bad away from my family, or in my fitness journey where it helps with my recovery of soar muscles and aces and pains with joints, like the supplement "Agilease" or the ointment "CoolAzul". As well my all natural air conditioner the beloved "Peppermint EO" which helps me so much with my hot flashes topically or try a couple of drops in some ice cold water, you will cool down instantly.
My goal is to use my income for a part of my live that I am passionate about, like volunteering my time to speak to people about how they can have a happier future for themselves and their loved ones. Maybe your goal with an income like that would be making your car payments or paying your mortgage, how about paying off your credit card or line of credit, using it for home renovations, holidays or just saving it. There are so many possibility with a residual income which by nature continue's to grow after the initial effort has been expended and that is exactly what happens with Young Living. You might ask "can I do this?" Absolutely it all starts with your initial Premium Starter Kit and I am with you all the way, so email me and I will help you start your journey that will change it all, I will help you with passion and conviction that this is the best decision you have made for you and your family.