Nov 14, 2017 09:23 AM Central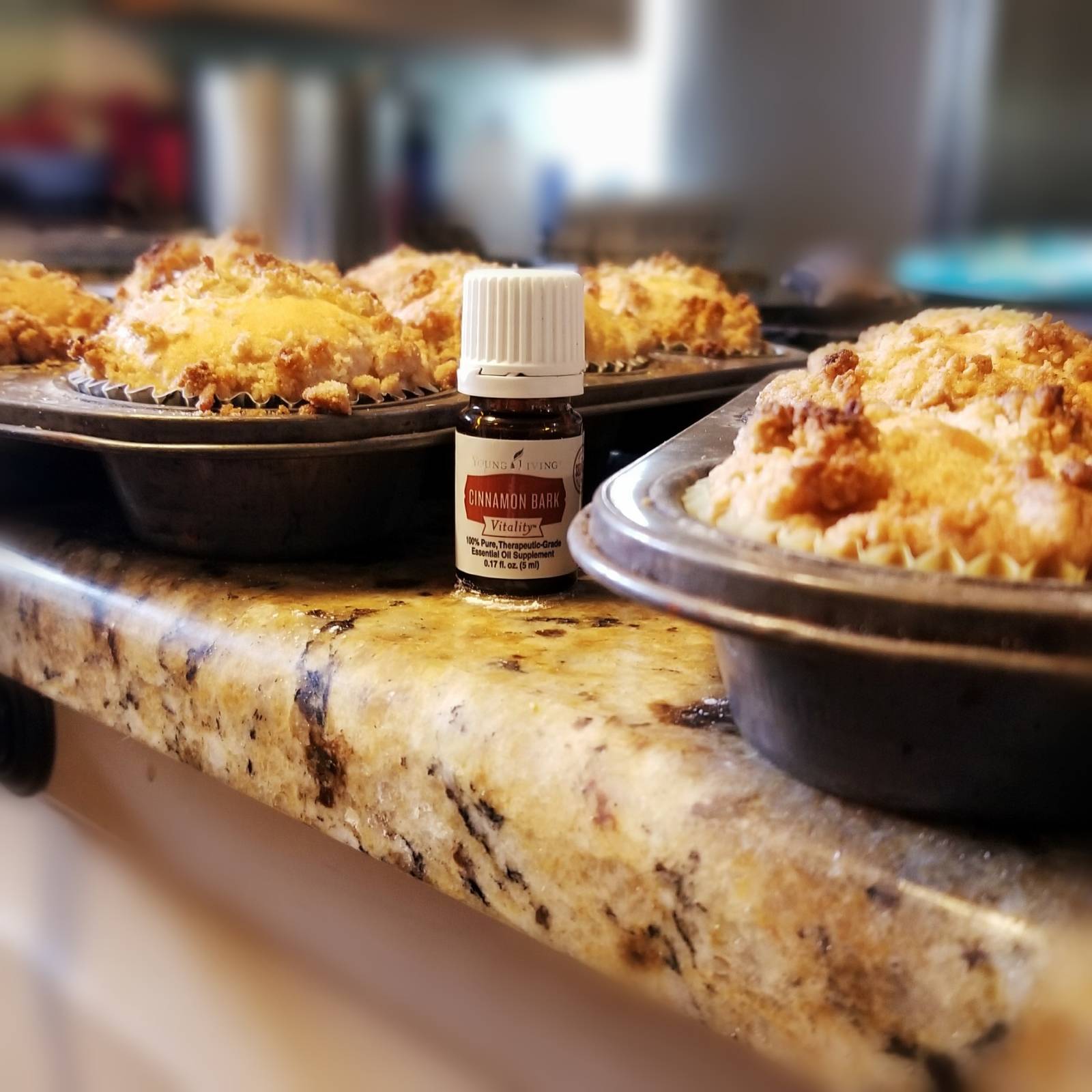 It is finally getting chilly here in Northeast Florida and my kids have been begging me to make Muffins for a few weeks now. I have been putting it off for a few reasons.
The first reason is, I am sugar-free. I have been sugar free for several months now and I love things like cakes, Muffins and doughnuts. Those are my weaknesses!
The second reason, it's hot in Florida. It is true, I don't like to bake when it is hot. When I bake when it is hot I wind up cranking the AC even more than I already do and that is just not a good thing for our family budget.
This morning I woke up and it was chilly. Now remember, chilly in Florida is in the 50's. I know that is not chilly for most of the lower 48, but here it is. It was just enough to get me in the mood to bake.
I have been wanting to try some cinnamon muffins with my recently aquired free bottle of Cinnamon Bark Vitality Oil from Young Living. My families favorite Coffee Cake Muffins were just the recipe to try this oil in.
They turned out amazing and my #4 kid said "Mmmm, these taste like warm eggnog!". I take that as a win! After I made these for the kids I concocted a sugar free mug version for myself. Stay tuned for that recipe soon!
So if you are in the warm muffin, baking mood and you don't know what to do with your new bottle of Cinnamon Bark Vitality Oil I highly suggest you try these out and let me know what you think.
Coffee Cake Muffins with eo
Prep time: 20 min Cook time: 20 min Total time: 40 min
1/3 cup brown sugar
1/2 tsp ground cinnamon
1 drop Cinnamon Bark Vitality Oil
1/8 tsp salt
8 tbsp butter unsalted melted ( or if salted omit salt)
1 3/4 cups flour
For the muffins:
1 1/4 cup flour
1/2 cup granular sugar
1/4 tsp baking soda
1/4 tsp salt
6 tbs unsalted butter softened
1 large egg
1 egg yolk
1-3 drops Cinnamon Bark Vitality Oil to taste
1 tsp vanilla extract
1/3 cup milk
Preheat oven to 325 degrees. Line muffin pan with baking cups or spray lightly with non-stick cooking spray.

In a medium bowl, blend together sugars, cinnamon, and salt. Pour the melted butter over mixture and add one drop of Cinnamon Bark Vitality Oil. Use a wooden spoon to mix. Then add flour until mixture resembles a thick dough. Set aside.
In another medium size bowl mix flour, sugar, baking soda, and salt until well combined. Add softened butter and mix and mash well until mixture resembles moidt crumbs, with no visible chunks of butter.
Add egg, egg yolk, Cinnamon Bark Vitality Oil, vanilla extract, and milk and mix until fluffy.
Divide batter into 12 muffin cups. Then sprinkle a generous amount of the crumb topping. Do not press the crumb into the dough.
Bake 15 minutes then turn broiler on hi and bake 5 minutes longer. Keep a close eye on them. I had to take mine out with about 30 seconds left on the timer.
Let muffins cool for a least 5 minutes before transferring them to a cooling rack.
Enjoy!