08/21/2018 04:00 PM Central
Let's talk about the amazing LAUNDRY SOAP and what it is!!
With a plant-based formula, Thieves Laundry Soap gently and naturally washes your clothes, cleaning them without any chemical or synthetic residue. Natural enzymes and powerful essential oils add to the formula's strength to leave your clothes fresh and clean with a light citrus scent.
Thieves Laundry Soap can be used in all washers, including high-efficiency, and its highly concentrated formula (6X) will provide around 64 loads with just 32 fl. Oz (946 ml).

🌱

🌱

🌱

🌱

🌱

🌱

🌱

🌱

🌱

🌱

🌱

🌱

🌱

🌱

🌱

🌱
Why it's a big deal:
When Young Living formulated Thieves Laundry Soap, there were two major questions they asked themselves: What ingredients do we include? And, almost as importantly, What ingredients do we leave out?
Like other products in Young Living's household cleaner lineup, Thieves Laundry Soap's purpose is to provide our members with a true clean provided by a plant-based formula that is free from harsh additives. What are those additives? Here are three common ingredients that you may not have known about, plus a few tips on naturally keeping clothes white.

🌱

🌱

🌱

🌱

🌱

🌱

🌱

🌱

🌱
🌱

🌱
🌱

🌱

🌱

🌱

🌱
1. Optical Brighteners
Many popular laundry detergents contain optical brighteners to give clothes the appearance of being clean and white. By reflecting blue light, optical brighteners give the illusion of fabrics that look whiter than they actually are. These chemicals are designed to absorb into fabrics and remain on clothes after washing.
Thieves Laundry Soap is free from optical brighteners, because you don't want your clothes to just look clean—you want them to actually be clean! Our plant-based formula uses pure essential oils and natural cleansing enzymes to wash your clothes and keep them fresh.
If you're looking to keep your whites bright without adding synthetic chemicals to the wash, try one of these easy alternatives:
If you see stains on your clothes, pretreat them before washing.
Don't mix your whites with other colors in the wash. Launder them in an all-white load and use hot water.
To whiten small items like socks or napkins, fill a pot with water and a few lemon slices, bring to a boil, turn off the heat, and add linens. Soak for up to an hour, then launder as usual.
For an extra brightening boost for whites, hang them dry in the sun for natural bleaching!

🌱

🌱

🌱

🌱

🌱

🌱

🌱

🌱
🌱

🌱

🌱

🌱
🌱

🌱

🌱

🌱
2. Sodium Lauryl Sulphate (SLS) is a cleansing agent widely used in products like soaps, shampoos, toothpastes, and laundry detergents. It is used so often because it's inexpensive and produces lots of foamy lather. Many people are concerned about SLS in their products because it can sometimes cause irritation, itchiness, and may have other unknown side effects.
Thieves Laundry Soap is free from SLS and other sulfates. The cleaning power behind Thieves Laundry Soap comes from pure essential oils and natural enzymes.

🌱

🌱

🌱🌱

🌱

🌱

🌱

🌱

🌱

🌱

🌱

🌱

🌱

🌱

🌱

🌱
3. Synthetic PerfumesSome people consider synthetic perfumes to be problematic because companies aren't required to disclose the exact ingredients in the fragrances. But as the world leader in essential oils, we prefer to work with the refreshing scents of the pure essential oils that set us apart. Bergamot, Jade Lemon, and the essential oils in our Thieves blend provide a refreshing scent without any hidden synthetic fragrances.
🌱

🌱

🌱

🌱

🌱

🌱

🌱

🌱

🌱

🌱

🌱

🌱

🌱
🌱
🌱

🌱
And let me tell y'all; I've been using this laundry "soap" in my home for almost 2 years! No turning back! It even tackles my husbands dirty construction clothes no problemo! Sometimes I like to add extra YL lemongrass oil to the soap dispenser when I do a load of towels, smells soooooo good!
Did you make the switch yet????
Aug 21, 2018 08:17 AM Central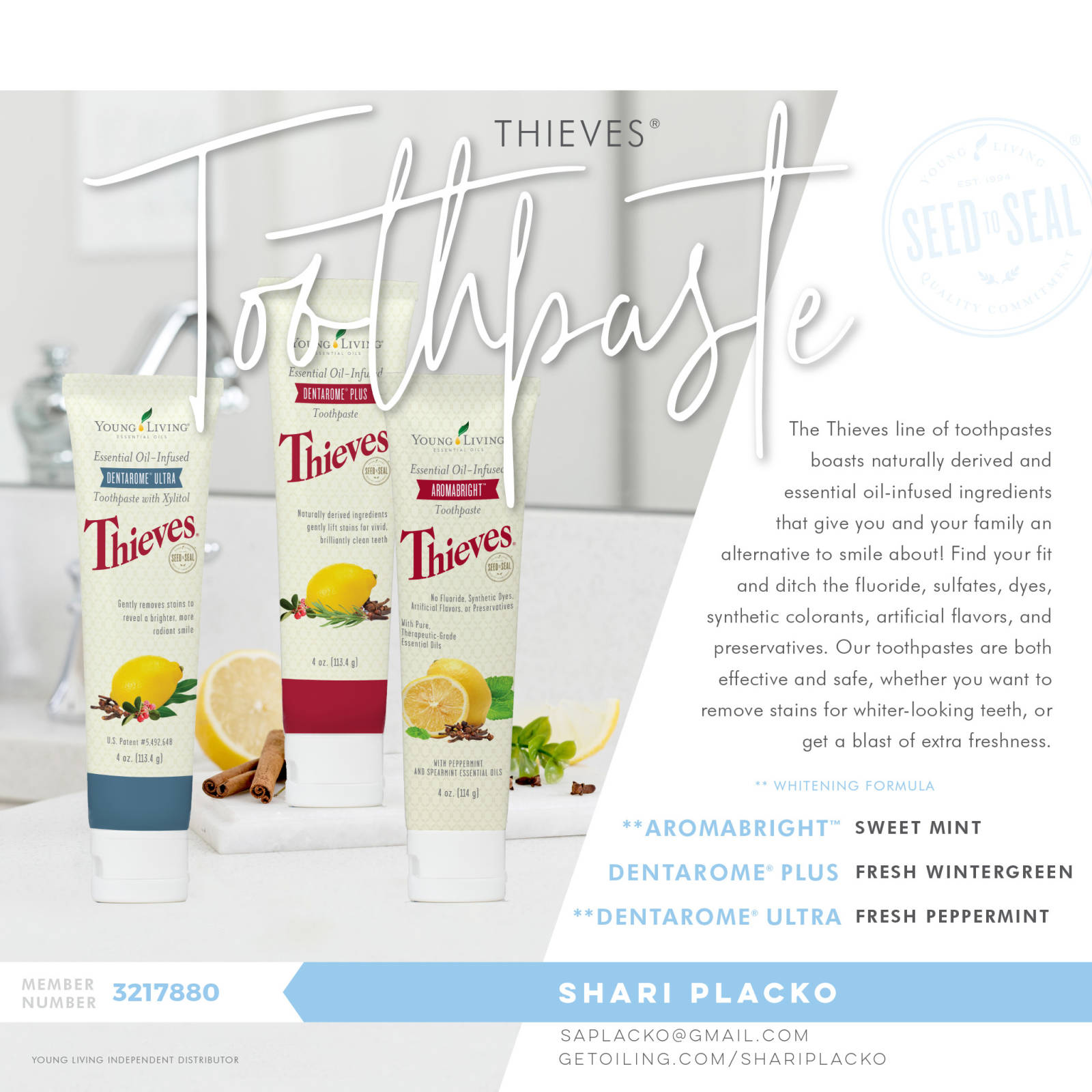 Have you tried the Thieves toothpaste yet?!? It's one of my TOP FIVE Young Living products. My teeth have never been so clean. Plus I use 1/4 the amount I was before.
Looking for a WHITER smile? Add a drop of Orange Vitality to your brush.
Add the mouthwash and floss for a complete oral care regimen!!