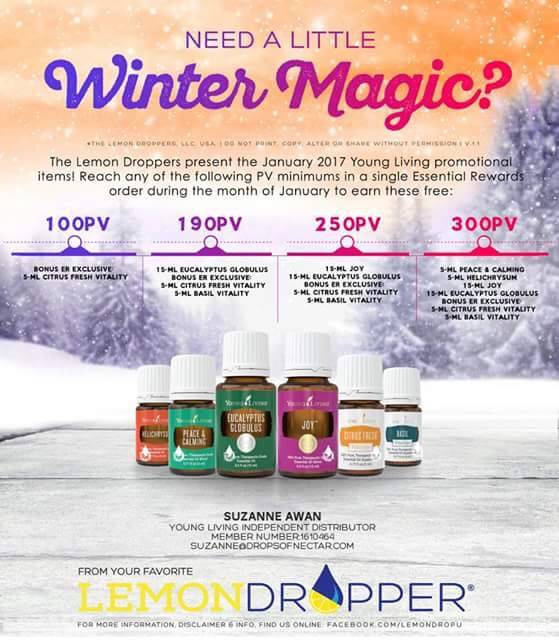 01/03/2017 05:12 PM Central
✨✨✨Happy New Year ✨✨✨
Here's to a little winter magic coming your way! I am so happy to share with you... Young Living is offering two of their most precious oils that they have NEVER offered in a promo before...FOR FREE!!!
Not only will you be getting SIX bottles of oil for FREE this month.....but TWO of the most PRECIOUS and MIRACULOUS and often Out of Stock and hard to source and did I mention MIRACULOUS oils EVER!!!!
Peace & Calming AND Helichrysum!!!
If you don't already have Helichrysum in your arsenal, you NEED it. Like....one day this will be worth more than gold, just sayin. And it's over $111 retail!!! Look it up in your EOPR right now. It's incredible. Stops bleeding quickly.
And Peace & Calming is no longer available to order and ONLY available when you hit 300PV....for FREE!! I don't know about you but the fact that I can get another 5ml bottle of my most favorite oil ever in my home for FREE makes me squeal!!!
Along with Eucalyptus Globulus, Joy, Basil, and Citrus Fresh.....Young Living is starting off 2017 like they have NEVER BEFORE!!!!
Happy New Year Friends! May love & peace surround you. xo.
09/24/2016 11:56 AM Central
Super excited to share this!! Mini squeal ; )
Essential Rewards just got more essential...
ER POINT ACCUMULATION
1-3 Months 10% back
4-24 Months 20% back
25+ Months 25% back
LOYALTY GIFTS
Special gifts at 3, 6 & 9 months. Bonus exclusive oil blend (loyalty) at 12 months. Exclusive ER anniversary blend each year after.
Please note, there is a 50pv minimum for all ER orders to count for the percentage points and loyalty option. The option for a grace or skip month will no longer be available as of 11.01.16.
How awesome is this? & remember when you redeem your free ER points you pick the products! I like saving up for splurge oils, like Rose & Neroli & Sandalwood! These are on my wish list now!!