Oct 1, 2018 05:52 PM Central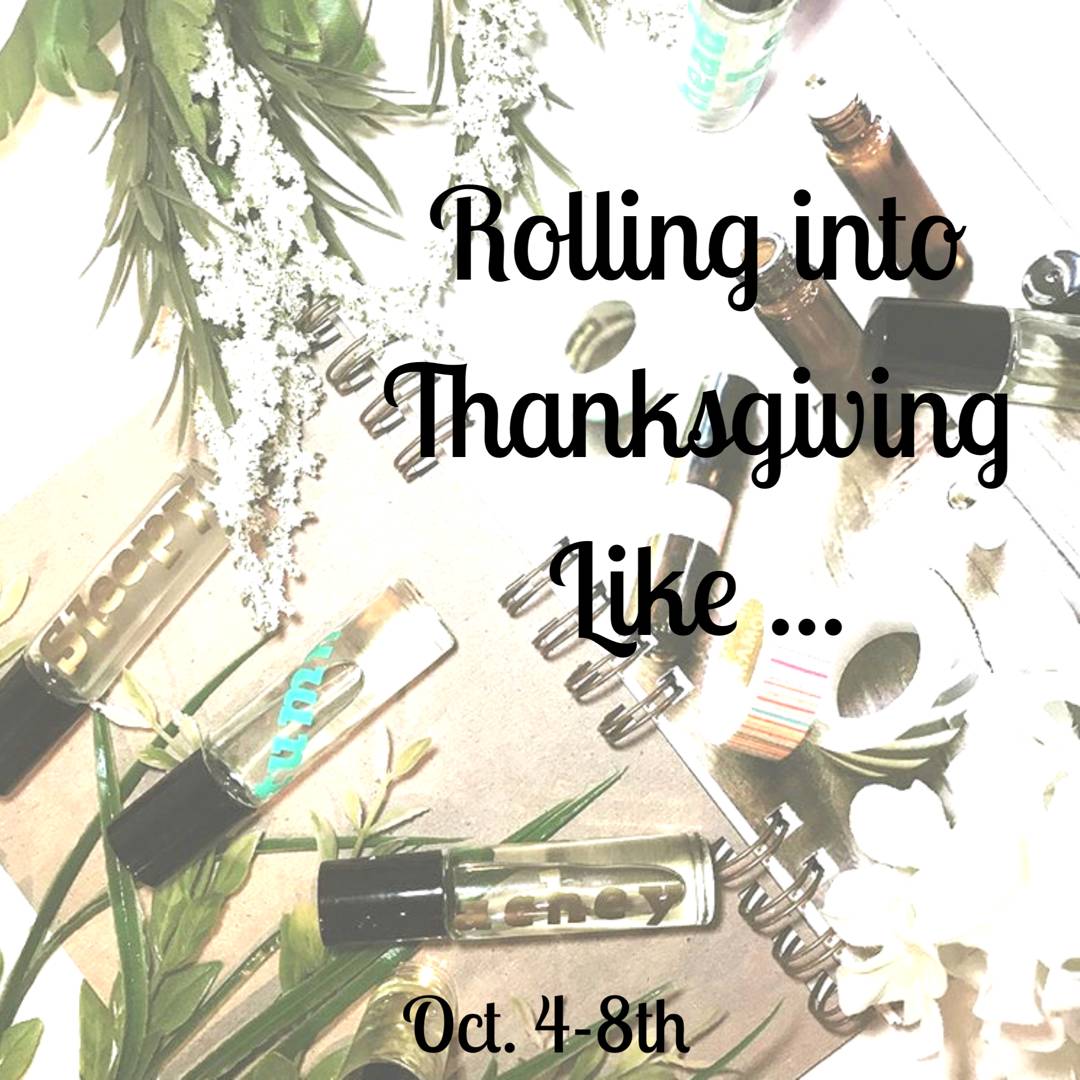 🌱H A P P Y T H A N K S G I V I N G 🌱Thanksgiving is one of my favourite holidays of the year! I love the idea of counting and reflecting on the reasons why I am so blessed - I for one know that I'm lucky to have many!
This year, to celebrate thanksgiving, I decided to do a little G I V I N G myself! So, from October 4-8th, I am giving away a mystery essential oil roller bottle !
Roller bottles are the perfect way to try out a new oil! They contain 100% pure essential oil, and are mixed with a carrier oil! Carrier oils are an incredible way to make potent oils perfect for topical application! Carrier oils can be coconut oil, almond oil, jojoba oil, grape seed oils, and others! These bottles will contain the luxuriously silky V6 complex oil from Young Living. It is a carrier oil carefully formulated with six different fatty, vegetable oils. Your roller bottle will also come equipped with a roller fitment, for easy use!
So... how do you get your hands on one of these roller oils? Simply post a picture on instagram of something you are thankful for, each day between Oct. 4-8, 2018! Be sure to tag me (@theoilbarbybella) and include these hashtags #RollingintoThanksgivingLike and #Iamthankfulfor.
By doing this, you will automatically be entered into a draw to win a roller bottle! I will be doing a draw each evening for the during of the G I V E A W A Y (Oct. 4-8th). Be sure to post everyday, to maximize your chances of winning!
Mar 31, 2018 09:01 PM Central
Hello, Oily Peeps!
You can meet me on the homepage of my website! I share a little bit about myself and my love for essential oils there! But . . . I also wanted to spend a minute typing out the story of how I came to be an oil user, and lover. I mean, we all start out a little skeptical and only wanting to dip our toes in . . . right? Well, here is how my journey began!
I became a Birth and Postpartum Doula in early 2014, in order to begin pursuing my dream of becoming a Midwife. Along the way, I began a business to offer Doula care! I was always looking for ways to expand the services that I was offering to my clients. I became a Pre/Postnatal Yoga Instructor and also certified as a Reiki Master, specializing in pre/postnatal Reiki therapy. In May 2014, I was introduced to Young Living by my direct upline, who has been a consistent support to me! She had just had her son, and had sat in on a class about essentials oils in pregnancy. She knew that I was a doula, and thought that the oils went hand-in-hand with the work I was already doing.
I totally, agreed. I ended up surrounding myself with oilers, doing research, purchasing a premium starter kit, becoming an essential rewards member and, well . . . basically just falling in love with the Young Living lifestyle. I began hosting classes, with a focus on pregnancy and birth; I also did private consulting for pregnant women, and new moms that I met through my journey as a Doula. I found that the women I shared Young Living with were seeing fabulous results! With every great testimony I received, I had one to match, from my personal life! At this point, my family was beginning to embrace the Young Living Lifestyle, as well.
Over the past (almost) three years, I have grown so used to having my essential oils. - I can't even imagine life without them! With that being said . . . trading out ALL of the dirty products we use on a daily basis ( I bet you do too, whether you know it or not!) is quite a task! I still consider myself to be on a journey to natural living! I am constantly finding ways to replace household products with Young Living Oils and EO infused products. I have also learned lots about DIYing!
I have met some truly amazing people on this journey of wellness, purpose, and abundance. What is so neat about YL, is that everyone comes to this adventure in their own unique way! I'm sure your story will be unlike any other!
If you are interested in seeing the change that Young Living can make in your life, send me a message! I'd love to support you in any way you need! if i's a simple question, a desire to completely overhaul your cleaning cabinet, or anything in between . . . I am here to help you make your first step on this journey!
Bella
The Oil Bar