Jan 17, 2020 02:20 PM Central
Sarah Claburn
You've probably heard the reports on antiperspirant not being the best for your body (and if you haven't, Google it!). So a few winters ago I decided to make my own one day when I was iced in at my house. It was so easy and you can really use whichever oils you prefer. Mine changes each time! lol I do generally always have lavender and Frankincense in each batch along with the Thieves and Purification. Just play around and see what works best for you, I have seen a lot of recipes that recommend sage essential oil.
Note: some people are irritated by the baking soda. Try using less if that happens, or none.

I got the recipe off of a Young Living essential oils FB page:
1/4 cup each cornstarch (or arrowroot powder) and baking soda
6 tbs. coconut oil
10 drops each Purification and Thieves oils
I mixed the powdered ingredients together in a glass bowl, then basically "cut" the coconut oil in like you would cut shortening into a pie dough. Once it was all well mixed, I added in the oils a few drops at a time to get them all distributed. The result was a fairly stiff paste.
I had deliberately saved my empty Tom's container to reuse. I just dialed it all the way to the bottom and started stuffing balls of the mixture into the container.It looked like this when I was done: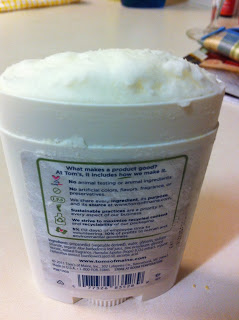 These days I use the empty containers I order off of Amazon, or I also just keep it in a small jar and use my fingers to apply it. Pimiento or baby food jars work great!
If you've made your own - which oils do you prefer to use in yours?
And I totally get that not everyone wants to spend the time making your own deodorant. But you can still get a great non-toxic deodorant from Young Living, which is what I take with me when I travel. Click
HERE
to learn more about some of the personal care items available through Young Living.
Be blessed, and let me know how I can help you find better health!

Sarah :)