Oct 14, 2020 12:08 PM Central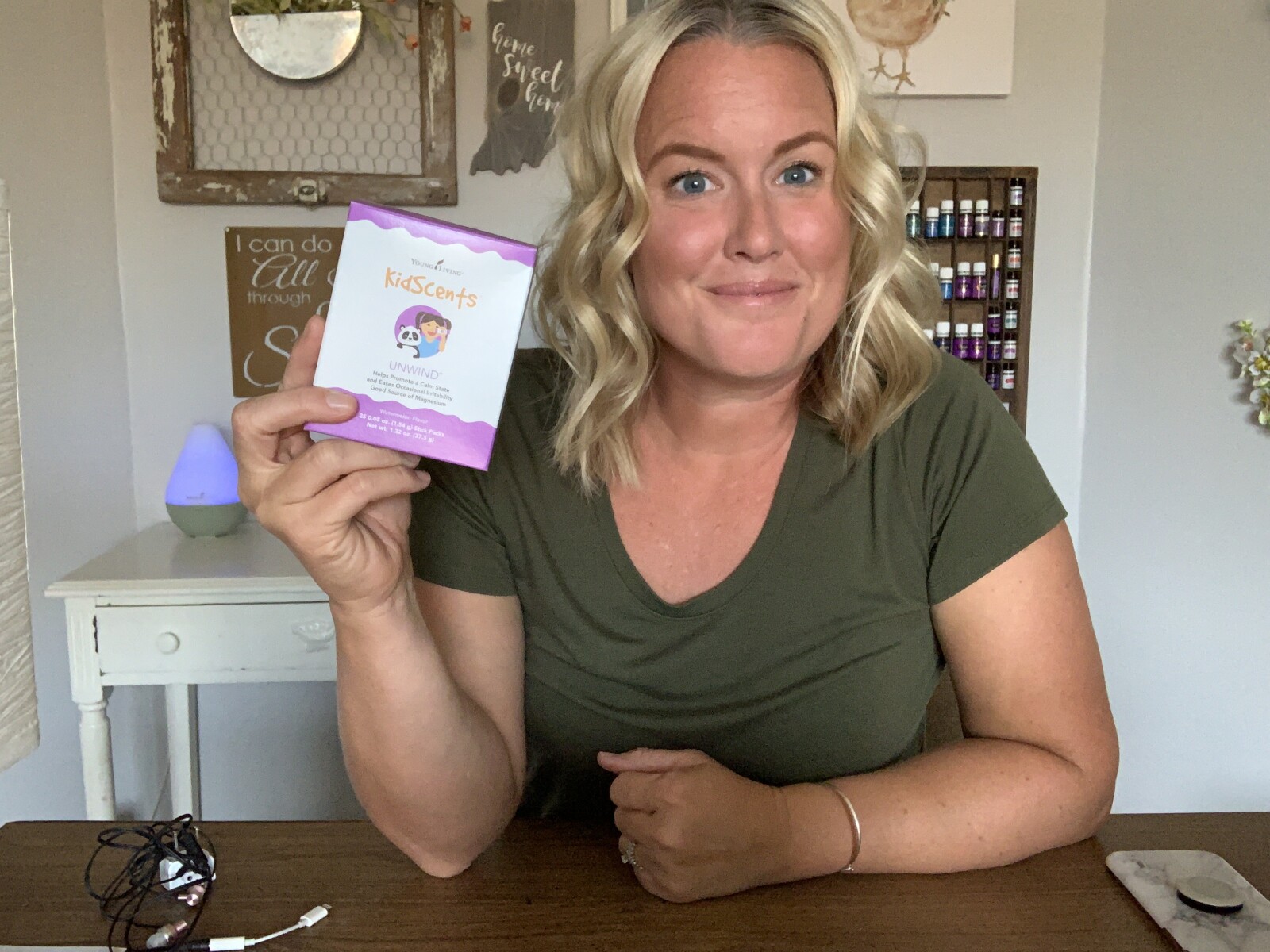 Do your kids ever get overstimulated and have trouble falling asleep at the end of the day? Do you ever have that feeling?
I want to share with you today one of my favorite supplements that was released this year - Unwind. It's part of the KidScents line but adults can benefit from it too. In fact, I'm the one that uses this one in my home! Unwind promotes a calm state and helps with occasional sleeplessness. It also reduces restlessness and eases occasional irritability (hello!! we can all benefit from this!). One of the really cool benefits is that it also helps improve focus and mental clarity the next day...which can be beneficial in the classroom or home. Plus, did you know that a healthy night's sleep helps with your immune system as well? Healthy sleep can help with a healthy body...they go hand in hand.
Unwind
features calming ingredients such as L-theanine, 5-HTP and magnesium. As an added calming bonus it also has lavender and roman chamomile essential oils as well.
L-theanine: Occurring naturally in green tea, L-theanine helps promote a sense of relaxation while helping ease occasional irritability. It also offers next-day benefits, helping improve focus and mental clarity in the home and the classroom.

5-HTP: Working synergistically with L-theanine, 5-HTP promotes a calm state and relieves occasional stress.

Magnesium: Naturally derived and necessary in over 300 metabolic reactions in the body, magnesium plays a role in defending against occasional sleeplessness and may also bring a sense of calm to your environment.

Unwind
can be taken directly from the packet or mixed with juice. I personally love it mixed with orange juice. It can be used on kids aged 4+ and as I've said, it's great for adults as well. I use it whenever I want to achieve an extra deep sleep. Have you tried Unwind yet? Give it a shot and let me know what you think.
Sep 16, 2020 04:18 PM Central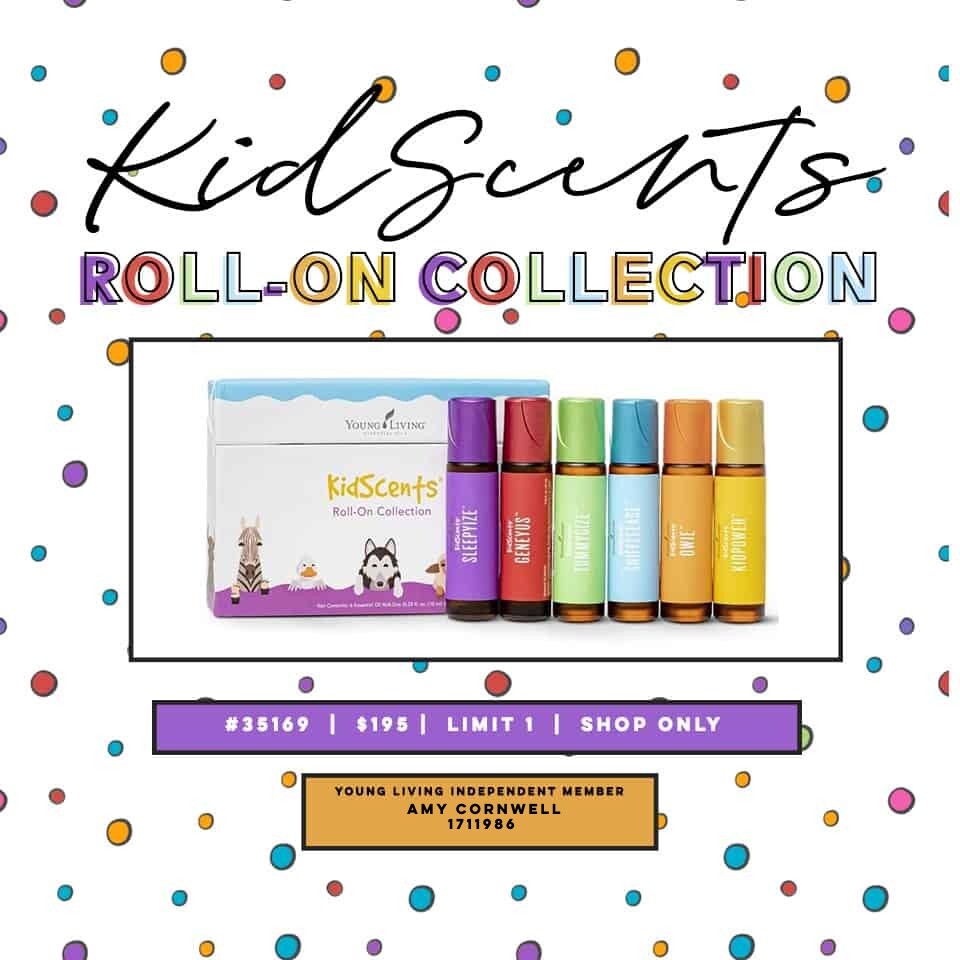 Oh, happy day! Wednesdays have become a favorite time around here because that's when Young Living pushes items back in stock and releases new items as well. Today was a GREAT release. If you don't have kids...don't think you can't use these items as well. I have used nearly all of the KidScents oils on myself because they're just so easy to grab and apply. Now they're even easier because they're in a convenient roller bottle and perfect for keeping in your bag or by your kids bed. Plus they just released the newest Kids Blend: Kid Power. I can't wait to smell this one!
All six of the kids blends are now in a convenient 10ml roller and arrives in an adorable box with a magnet close top/lid. These 6 roller bottles are diluted and perfect for easy application on spines, feet, wrists, shoulders and tummies! The Kidscents roll-ons are only available via this collection. Purchasing this collection will also earn you the 190pv promo which is Copaiba in Sept. You will also get a super-cape for your little one, while supplies last. Your child will also get a super cute reversible cape - or keep it for yourself (ha!).
The other Roll-ons in this collection are the 5 current Kidscents blends we have now but in diluted and roller form, for easy application. Comes with Genyus (brain/cognitive), Sniffleease (sniffles), Owie (minor skin irritations), Sleepyize (for sleep) KidPower (emotions & courage), Tummygize (tummy help).
The Kidscents Roll-On Collection Includes:
GENEYUS
Let's call this one focus in a bottle. This oil is a game changer for anyone that has trouble focusing on one task! This is a great one to roller on the back of the neck (brain stem) before school work! Throw a few rolls on a leather bracelet or necklace, apply a bit to wrists when you really need to concentrate.
SNIFFLEEASE
Looove this on little chests and backs! Full of powerful oils like Eucalyptus blue, Palo santo, Lavender, Dorado azul, Ravintsara, Myrtle, Eucalyptus globulus, Marjoram, Pine, Eucalyptus citriodora, Cypress, eucalyptus radiata, Black spruce and Peppermint oils, this is so so needed during the fall and winter to make little lungs happy! Remember how we talk about how much we LOVE those tree oils? YUP. Full of 'em!
TUMMYGIZE
Leave this one out where the kids can grab it whenever they need it. It's so beautiful to teach them to be in tune with their bodies needs! A swipe on the belly will help pretty much any issue feel better! A blend of Spearmint, Peppermint, Tangerine, Fennel, Anise, Ginger, and Cardamom, TummyGize is the perfect relaxing blend for massaging onto little tummies.
SLEEPYIZE
This relaxing bedtime (or anytime!) blend is so beloved for all ages! SleepyIze contains a beautiful combination of Lavender, Geranium, Roman Chamomile, Tangerine, Bergamot, and Sacred Frankincense, as well as sleepytime favorites Valerian and Rue! I cannot tell you how much we adore this blend, rolled on to undersides of their big toes and down the spine. Perfect for nighttime bonding and snuggles, you are going to LOVE it!! (p.s. adults can benefit from this too!)
OWIE
For allllll the boo-boos!!!! Another one to leave out where the kids can easily grab it when needed! It's formulated with Tea Tree, Elemi, and other oils which are gentle and perfect for the skin, so keep this one handy for application whenever your little one needs some extra love and care.
KIDPOWER
All new confidence building blend! I've been told that it smells like Valor and Orange - like a Dreamsicle. I can't wait to get a whif of this oil blend!
Here are the details on this new set - available NOW!
Item #: 35169
Price: $195
PV: 195
Shop only
1 per account