Feb 7, 2017 08:17 AM Central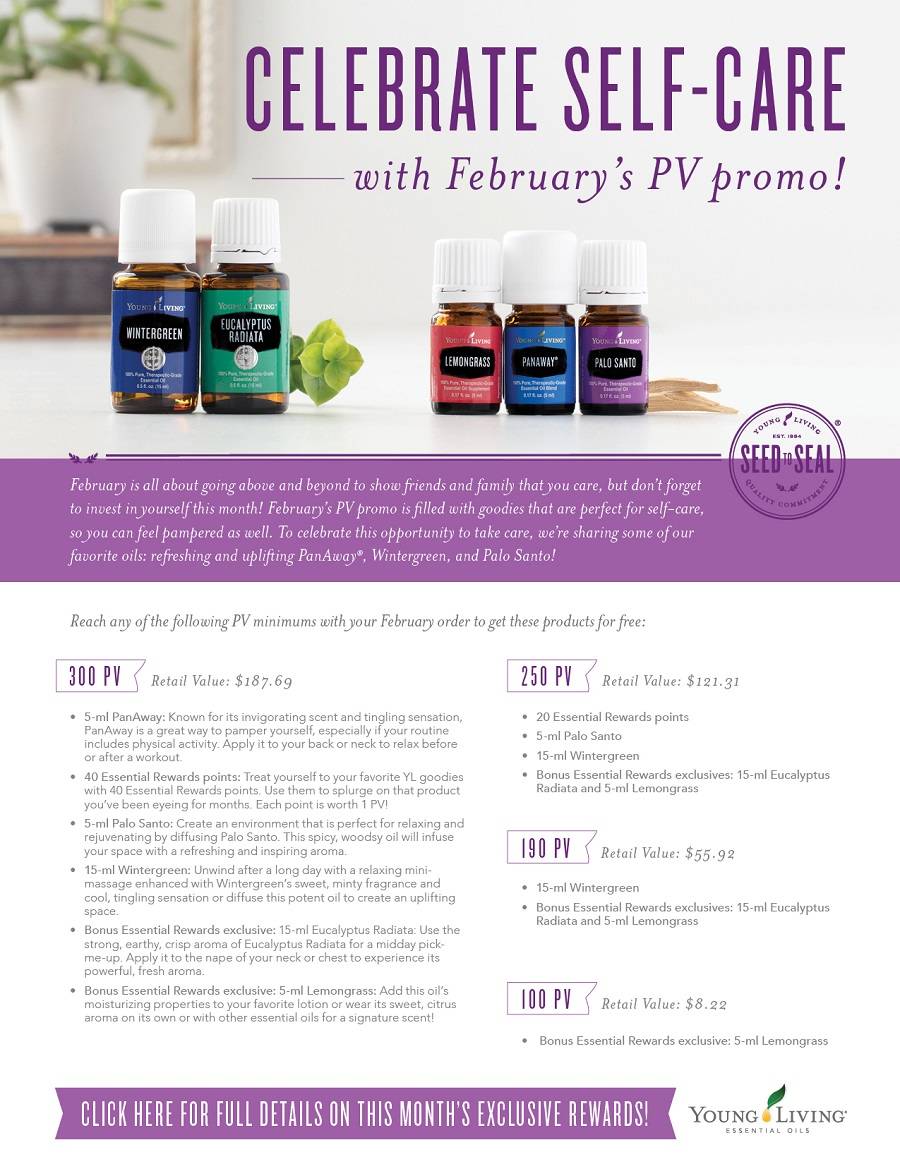 Who doesn't like the opportunity for FREE?
I got my free oils this month! What did you get?
PANAWAY this is great
PALO SANTO has been great during my meditation. It is from the same botanical family as frankincense.
"It was used by the Incas to purify and cleanse the air of negative energies and for good luck." - from Essential Oils Desk Reference Seventh Edition.
WINTERGREEN and LEMONGRASS Help to increase awareness and energy.
LEMONGRASS scent also is not liked by many flying insects.
There are so many great uses for these oils! Just hit PLACE AN ORDER or START HERE to order yours today!
Click here to see details!!!
Feb 7, 2017 08:08 AM Central
WOW! I really needed this! It has officially become a syndrome to chronically put helping others before your own needs to the point of your own health can be in jeopardy. I know that I have been guilty of this. I was a major procrastinator of my own health and happiness. Over the past 2 months, I have been FORCING myself to take time for ME. My anxiety and other issues have been greatly reduced. Connection? I think so!!!
"Put on your rose-colored glasses and embrace your inner romantic with our 28 days of love calendar! Each day you'll find something like a special girls' night out or an indulgent night in with a bathtub and Lavender essential oil—and maybe your favorite magazine. This February, grow closer to the people around you (including yourself!) and show them you care." - Young Livings website.
Click here to print out Young Livings 28 Days of Love calendar!
From www.urbandictionary.com:
"George Bailey Syndrome:
Someone suffering from this perpetually puts the needs of others before their own, leading to life without fulfillment. Named after James Stewart's character in It's a Wonderful Life.
"Will he ever do anything for himself?"
"Unlikely. He suffers from George Bailey syndrome."
#self-care #selflessness #it's a wonderful life #james stewart #life"