May 18, 2020 01:55 PM Central
Dorota Matys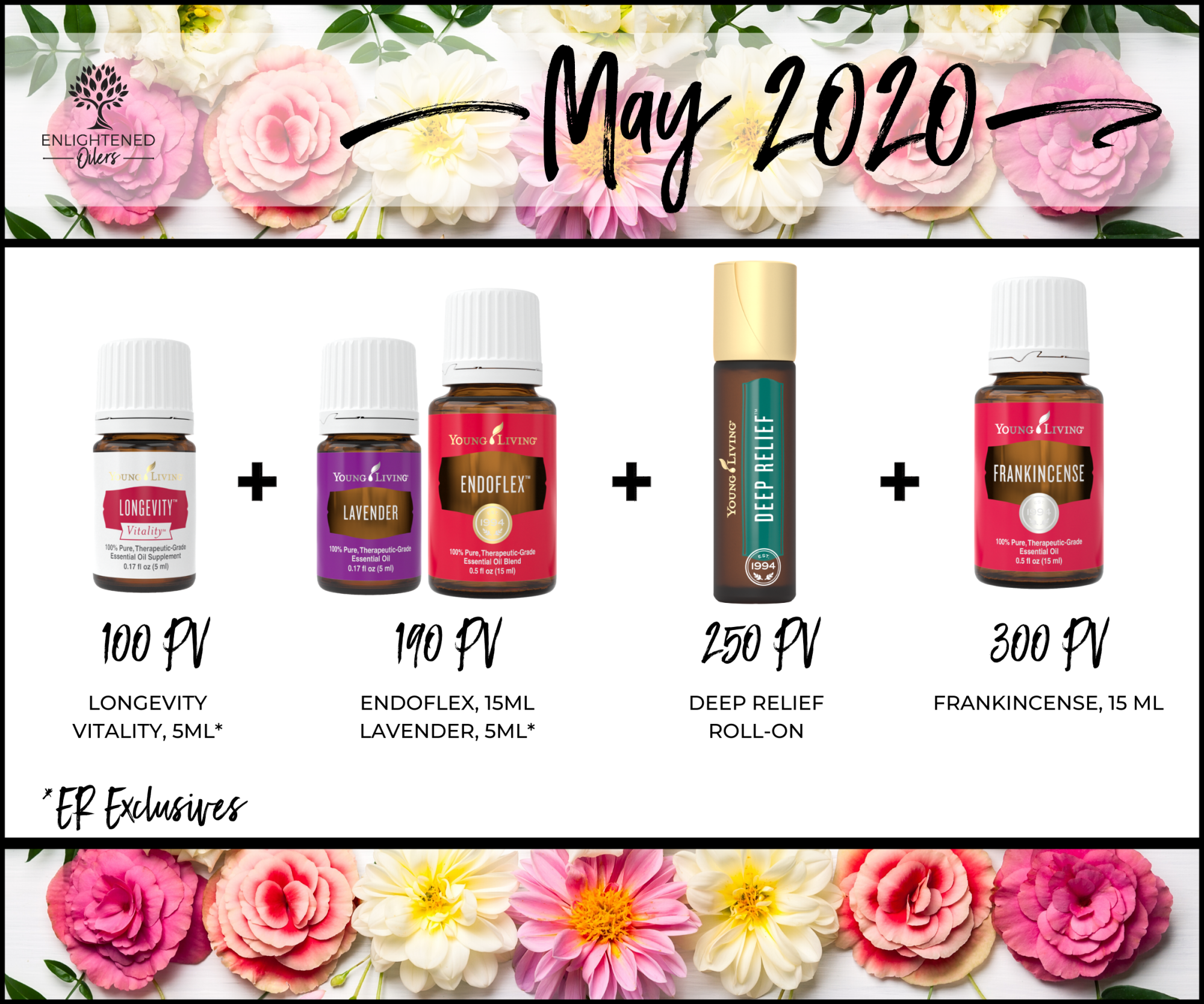 May brought plenty of weather changes and a few generous bonuses for Young Living members.
Here is what they are all about:
Longevity doesn't get the shine I think it deserves. This is a sleeping giant in the world of overall wellness and immune support. Thyme, Orange, Clove, and Frankincense all help with immune support, but you also get benefits for healthy-looking skin, emotional balance and uplifting, and so much more. Just one of those 4 oils taken daily would be a huge help, but all 4 of them together? You're knocking it out of the park. Along with adding a few drops daily to a veggie capsule as part of your health regimen, take a look at a few ways YL suggests using it.
Longevity Vitality tips from YL:
For your wellness. Put your best foot forward and start each day by supporting a healthy immune system.

Drink a big glass of water infused with 1-2 drops of Longevity Vitality.

Power through post-workout. Reach for a healthy lifestyle by adding Longevity Vitality and Pure Protein Complete™ to your favorite shake after your daily sweat session.*
Lavender 5 ml (190 PV Tier ER Exclusive)
It might be easier to find ways that you CAN'T use Lavender. Have you ever counted how many bottles you currently have in your home at the moment? I'm not sure I can count high enough for mine ;) As we all continue to learn and discover new and favorite ways to use Lavender, try some of these tips from Young Living.
Lavender tips from YL:
For your skin. Need post-sun skin-soothing? Desperate to do away with the appearance of blemishes? Eager to age with grace? Use Lavender in your skincare routine, baths, and lotions for these advantages!

Seek silky skin. Incorporate Lavender's ability to moisturize and hydrate skin into your self-care routine by adding a drop or two to lotions, shampoos, and face creams.
EndoFlex 15 ml (190 PV Tier)
Nowadays most people think of the benefits of EndoFlex in terms of EndoFlex Vitality, which helps support overall wellness and the endocrine system. Did you know that the same oil (because Vitality and regular versions are in fact the same oil) also can help promote vitality and balance when diffused or used topically? This blend is ALL about balance, in many different ways.
Try using it a few new ways when you get it this month, including some of these suggestions from Young Living. EndoFlex tips from YL:
For your spirit. Add the Zen inducing, earthy and grounding scent of EndoFlex to your diffuser and practice prayer, meditation, journaling to care for and comfort your soul.
Give gratitude a go. Add a few drops of EndoFlex and a handful of Epsom salt to a steamy foot bath. While kneading your tired toes, send up thoughts of thanks for your body, mind, and soul.
Deep Relief Roll It's interesting being stuck at home. Our brains probably have us convinced we won't be sore or need much for discomfort because we're, well, in our comfortable homes. But the lack of physical activity compared to normal actually can have us feeling quite uncomfortable, especially if we're working from home and not used to the positions we're sitting in, the chairs (or couches) we're using, and all of that. Deep Relief is going to help ease that discomfort until we can get back into our normal routines, and then after that, it will help with the discomfort we feel from those. Check out a couple of ways Young Living has for using Deep Relief right now.
Deep Relief tips from YL:
For your body. At the end of a day spent hunched over a computer, weeding the backyard, or running after toddlers, apply Deep Relief Roll-On to worn-out muscles and joints.
Hustle a little harder. As you push yourself during your workout fighting to do one more rep, go one more lap breathe in the sharp scent of Deep Relief for a rush of motivation.
Frankincense 15ml
This is it. One of the ultimate balancing oils for so many areas in our lives. Physical wellness, emotional support, mental clarity, and focus, spiritual awareness. All. The. Things. And we get a 15 ML BOTTLE! It's not even Christmas and we're getting this gift? Add it to your moisturizer. Put a drop or two in your diffuser blends. Make some custom rollers. Use it. Cherish it. This is amazing. Check out a few ways Young Living suggests using Frankincense.
Frankincense tips from YL:
For your mind. As a no-brainer game-changer, you can inhale the meditative scent of Frankincense during your morning yoga practice or deep think sessions to elevate clarity. Sleep on it. Take care of that big, beautiful brain of yours by finding peace of mind while you sleep. Just add a drop of Frankincense's supportive aroma to your pillow before lights go out.
Enjoy these tips and feel free to contact me with any questions you may have