May 1, 2022 09:30 PM Central
Dorota Matys
MAY
, more than any other month of the year, wants us to feel most alive.
We are already five months into the new year, spring is in full swing, so sit back and take in all the beauty around you! The smell of freshly-cut grass, t

he beautiful blooms all around us,

and my favorite - the sound of kids laughing in the distance. We have so much to be grateful for this season… including our wonderful mothers!
Today I want to bring to your attention one very special essential oil that is being offered to us for the very first time!!! It is called Amoressence, and in my eight years of being with YL, we all can actually get it! I was only once able to enjoy it when a dear friend of mine who attended the YL Beauty School shared it with me, I still have the bottle with a tiny bit of it left inside, and I love smelling it whenever I crave its joyful floral aroma, and whenever I want to be in a more loving mood...trust me your partner will enjoy it too :) !!!
I can't wait to get a few bottles of this precious liquid, and I know you will love it too, with oils like Jasmine, YlangYlang, Ocotea, Vetiver, and Idaho Blue Spruce you'll quickly fall in love too! Be sure to also check out all the other beauty-forward oils that are being offered to us at a substantial discount in celebration of Mother's Day!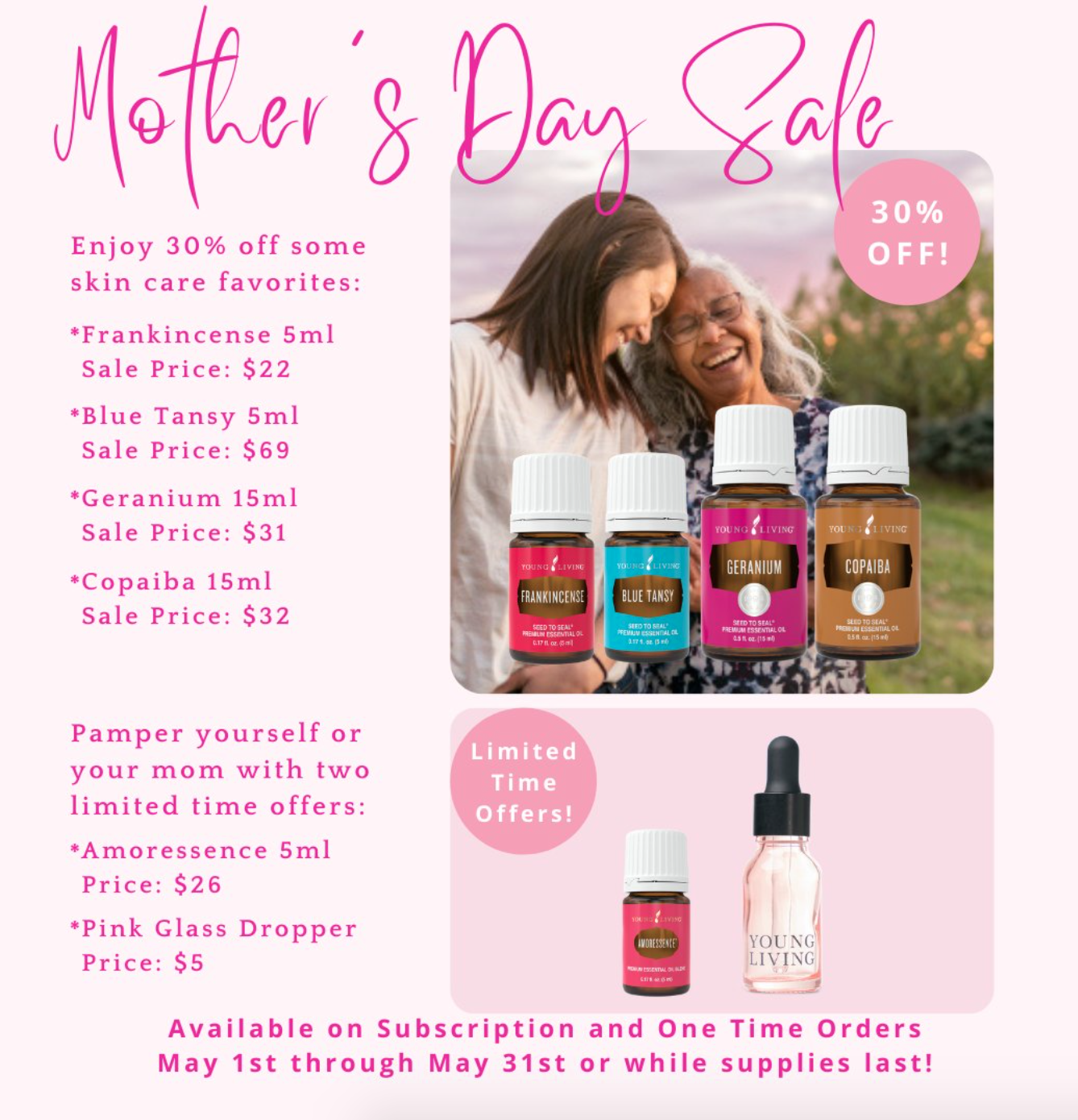 ONTO Monthly Gifts with Purchase
When your order hits one of these PV levels you will receive the corresponding products for FREE! Look at everything you get for free when you hit 300 PV!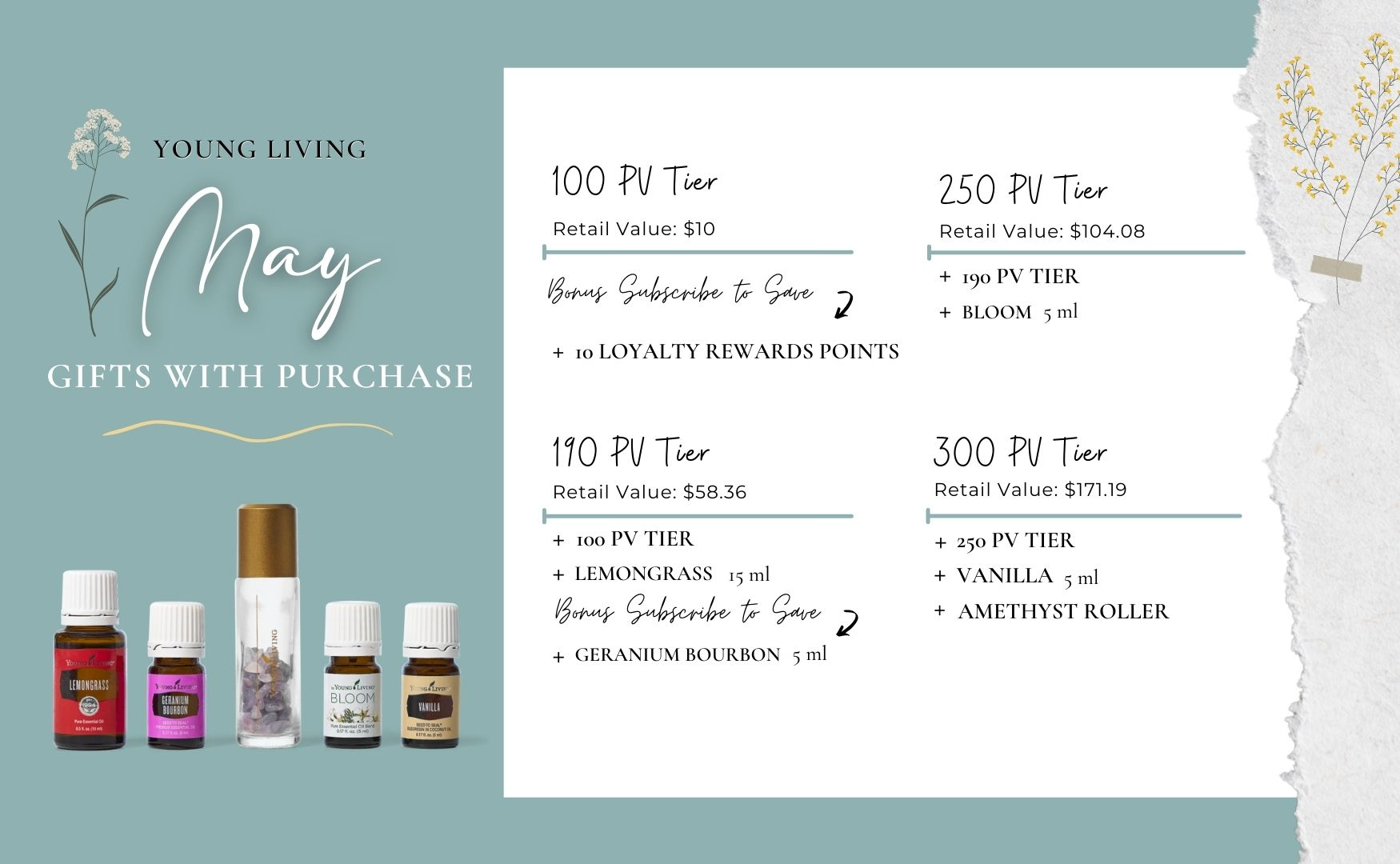 *Receive the Subscription Exclusives when your order is placed through the monthly subscription program, which is the best way to save money and support your health. If you need more details on this, let me know!
RECIPES USING YOUR MONTHLY GIFTS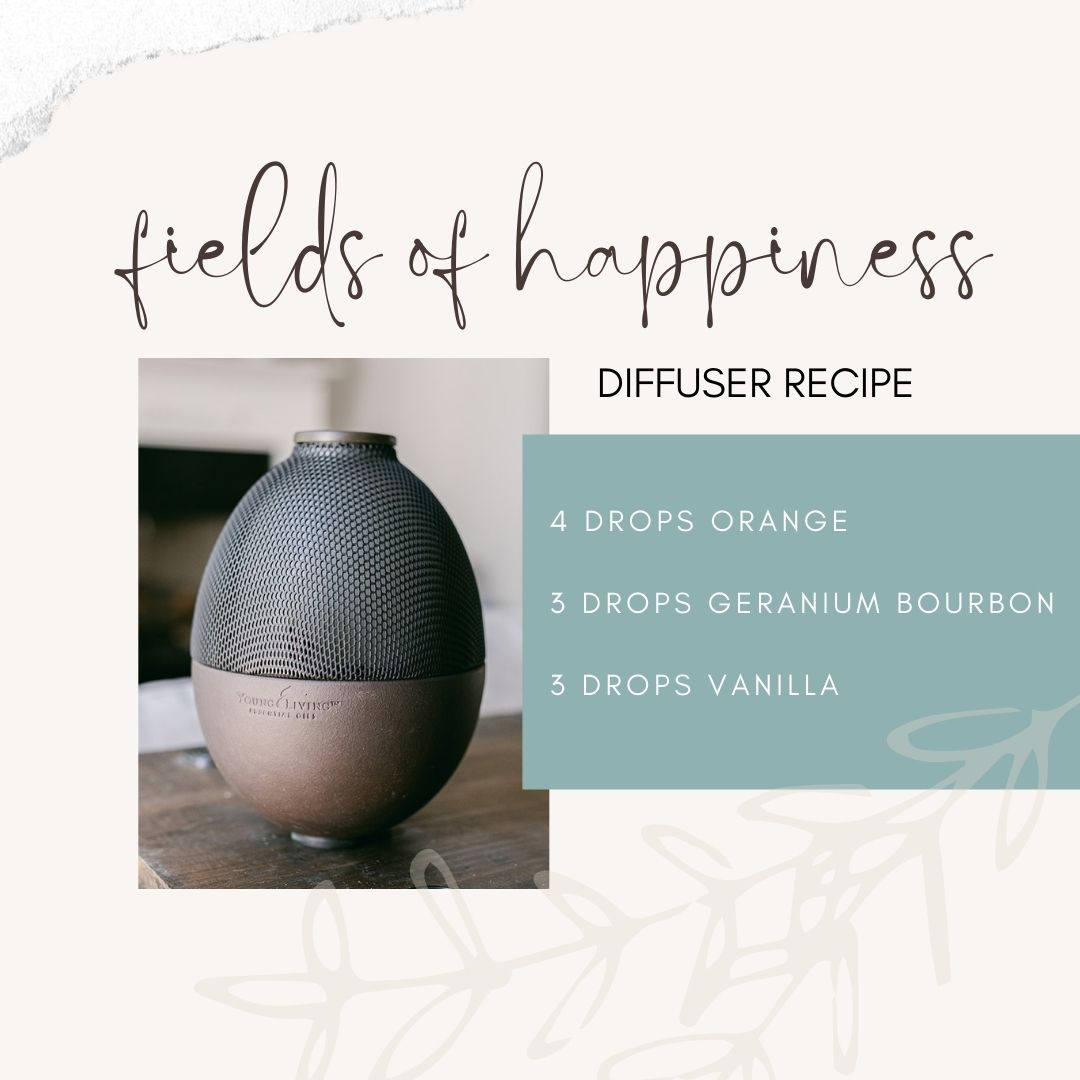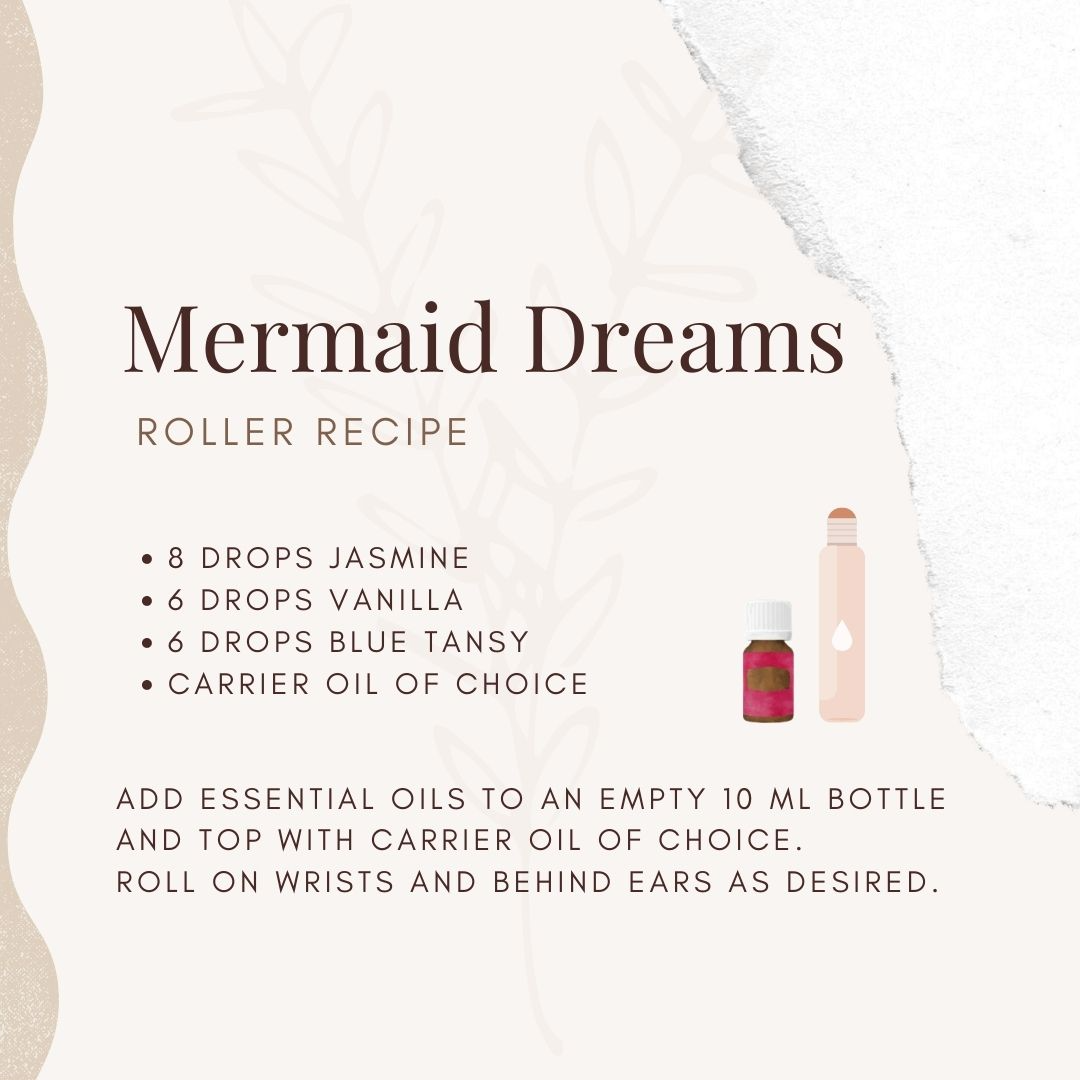 ---
May Wellness Box Ideas
Young Living is more than just essential oils. It's a gateway to a lifestyle filled with wellness, purpose, and abundance. If you haven't ditched the toxins in your home - do it now! Start with one room and tackle one area at a time. Then set up a wellness box to arrive at your doorstep with safe replacements.
Simply log into your account, find the items you want, and click "Add to Subscription." Add at least 50 PV to your subscription box and you'll earn points to spend on future one-time orders! Add at least 100 PV to your subscription box and you'll automatically get a freebie added to your cart!
You can choose to have those items arrive monthly OR stretch them out to every two or three months - up to you. Don't want them in your box anymore? No problem! Just delete them and add in what you DO want. It's simple and completely customizable. Here are some ideas for your May box…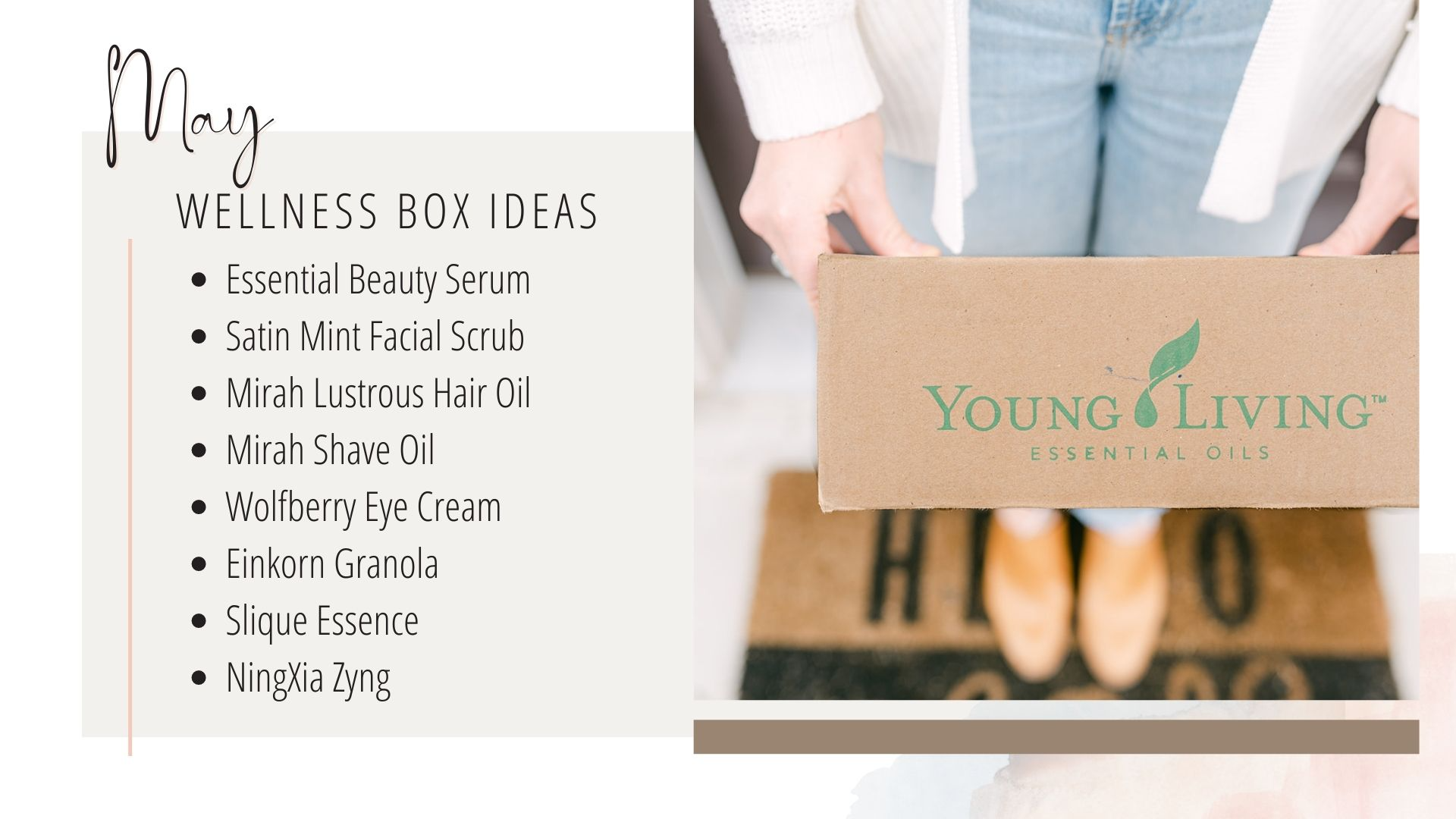 Young Living in the Kitchen
I shared an easy bath salts recipe with you earlier, now try your hand at a homemade ice cream recipe using some of our well-loved Vitality oils!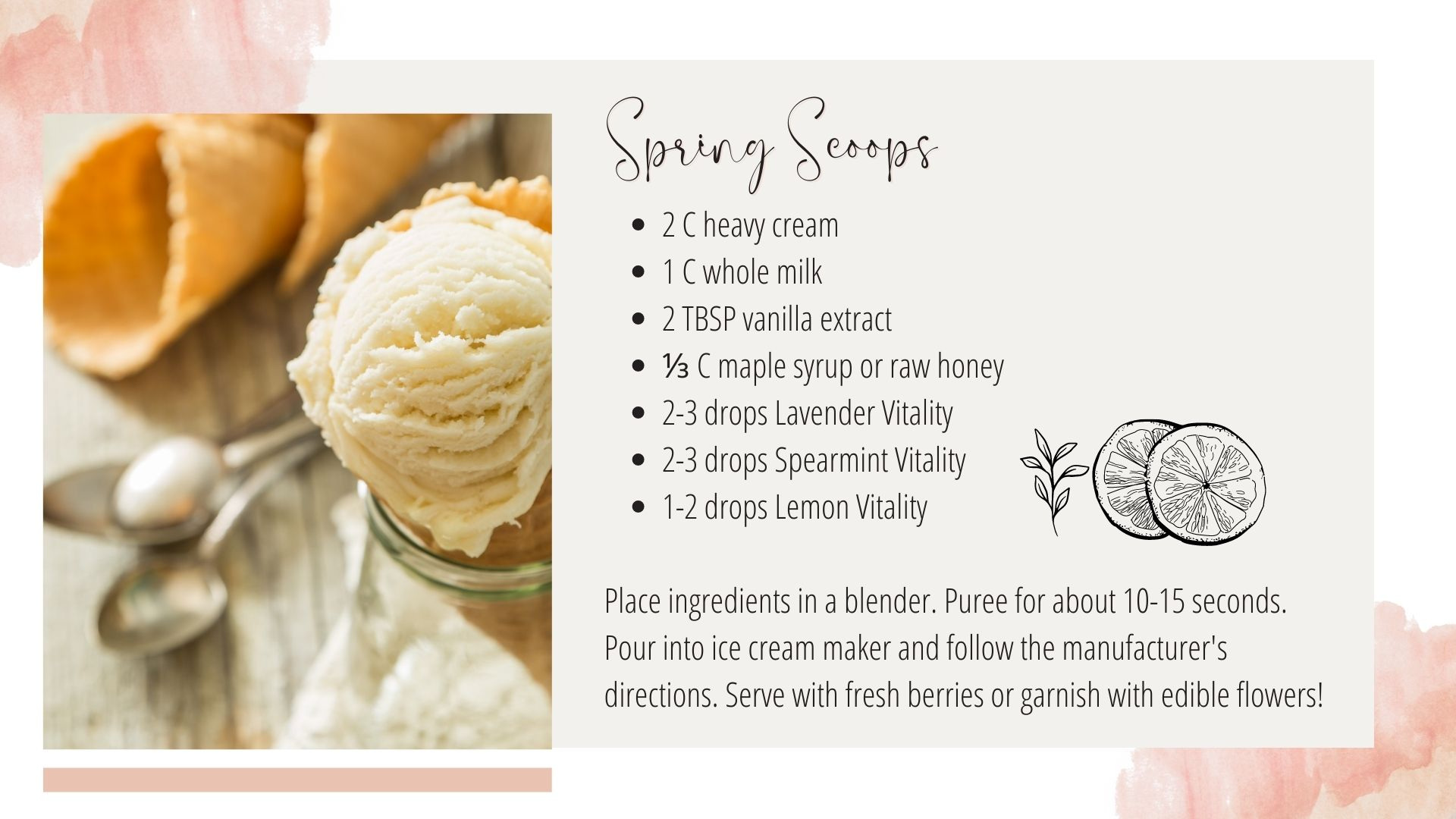 What are these oils good for?
Lavender Vitality:

contains antioxidants and may provide immune support when taken as a dietary supplement. It can also be added to foods and beverages giving a delicate, floral flavor that combines well with citrus and herbs

Spearmint Vitality:

provides digestive and general wellness support, and can be used to add a fresh, minty flavor to soups, sauces, and teas.

Lemon Vitality:

contains antioxidants, provides immune and circulatory support, and can be used to add a fresh flavor to food and beverages.
If you liked this ice cream recipe, be sure to check out a new release coming your way in June - Essential Scoops: An Essential Oil & Ice Cream Party!
Upcoming Events & Classes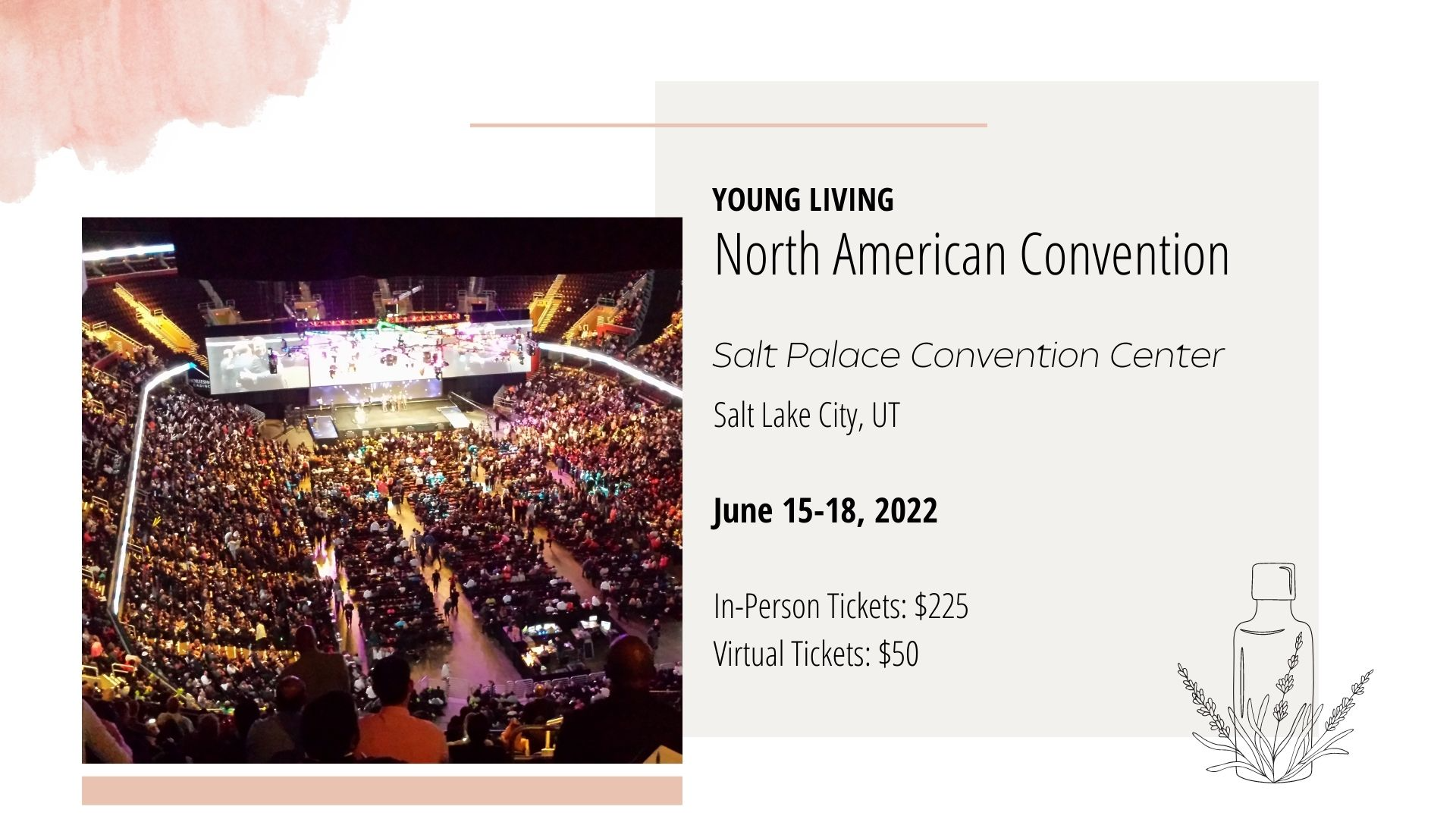 YL convention is back - in-person and virtually! Just like our Asia Pacific, European, and Latin American regions have their own conventions, the annual convention held in Salt Lake City will now be utilized by our North America region to host their own convention - geared to the North American audience.
Registration is open until May 13, 2022, for in-person tickets, or while availability lasts. There is no capacity limit for virtual tickets, and they will remain available through June 10. Join us in Salt Lake City, UT at the Salt Palace Convention Center, or virtually, June 15-18, 2022!
Lastly, I want to tell you how grateful I am for you, and for your support! I trust that you are enjoying Young Living in your life, and I welcome your questions always. I am here to support you on your journey to wellness, so please reach out if you ever need my assistance!
Your Young Living Brand Partner
May 3, 2021 07:28 PM Central
Dorota Matys
2021, abundance, acceptance, essential oils, freebies, goals, gratitude, highest potential, may, valor, yleo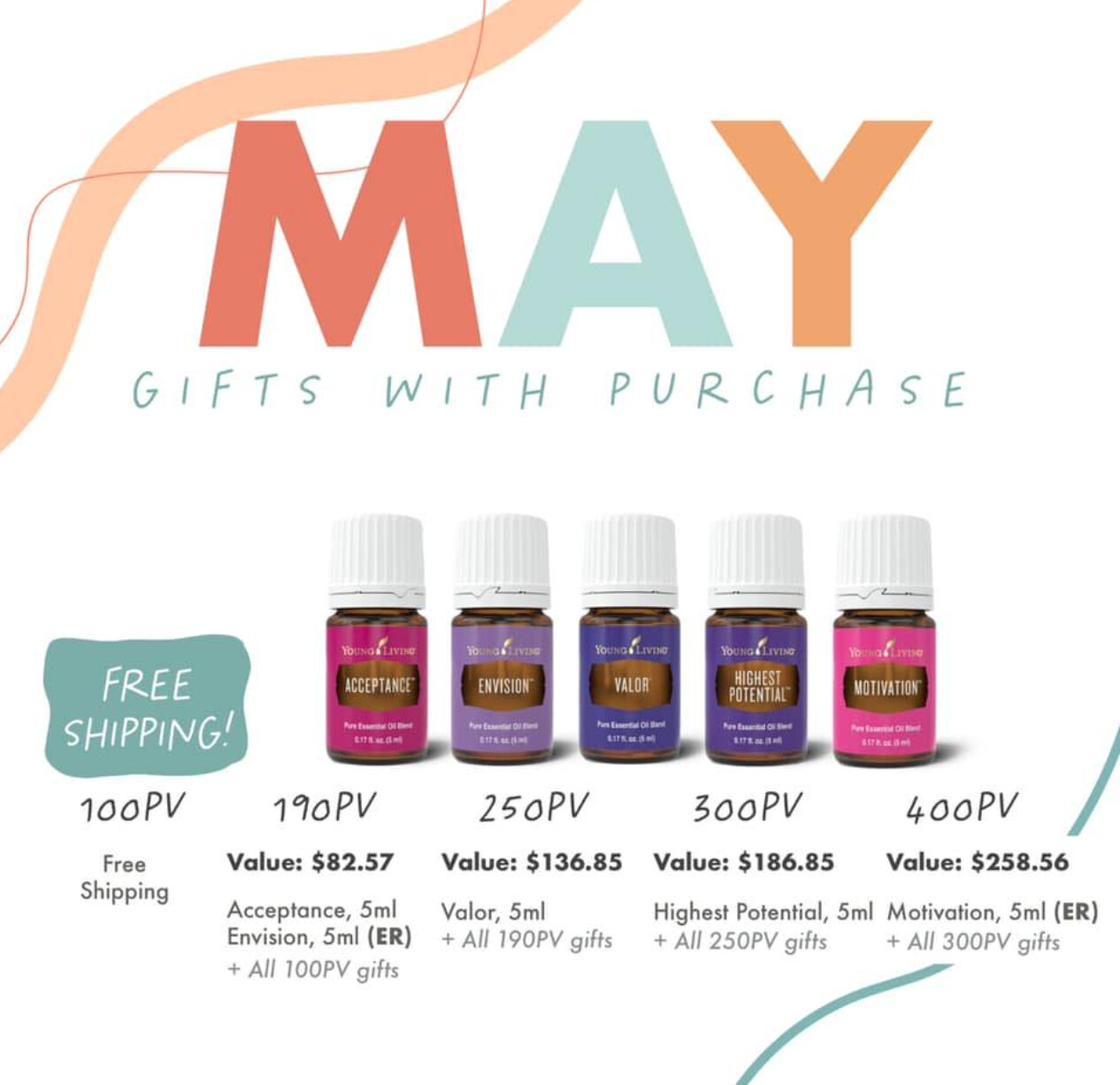 Every month this generous company loads us up with GIFTS (free product) with each purchase for simply being loyal customers. We purchase items we'd be buying anyway - toothpaste, lotion, shampoo, makeup, supplements and cleaning supplies, etc., and we not only get amazing, high-quality products that are safe for our families, but we also get gifts, free shipping, delivery to our doorstep, and product credits galore! I am ALL about boxes filled with safe, effective, and healthy goodies showing up in my mailbox with fun gifts inside!
Enrich your life and go after your goals with us in May!! Diffuse
Envision
as you map out your path to success. Next, add
Valor
to your skincare routine,
Highest Potential
to your Car Vent Diffuser, and
Motivation
to every diffuser at home and work so each part of your day inspires you. Finally, dab
Acceptance
onto the bottom of your feet at night as you move forward to greatness tomorrow. Qualify to claim these oils and we'll ship them for free.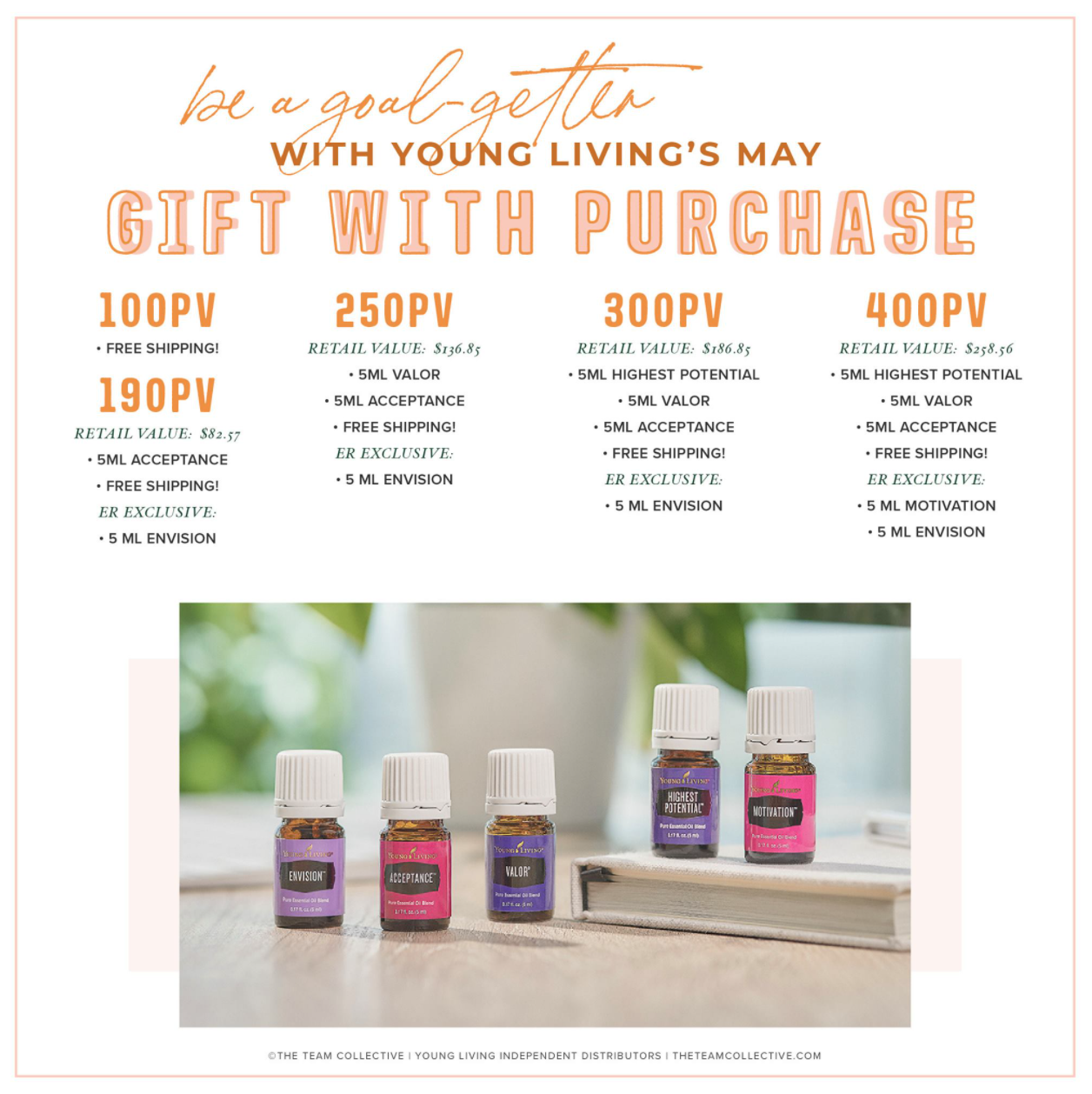 🌼WITH ANY ORDER 100PV+
With any order (Essential Rewards or shop order) of 100PV or more, you will receive a FREE SHIPPING!!! Stock up on your springtime favorites and let Young Living cover the cost of your deliveries!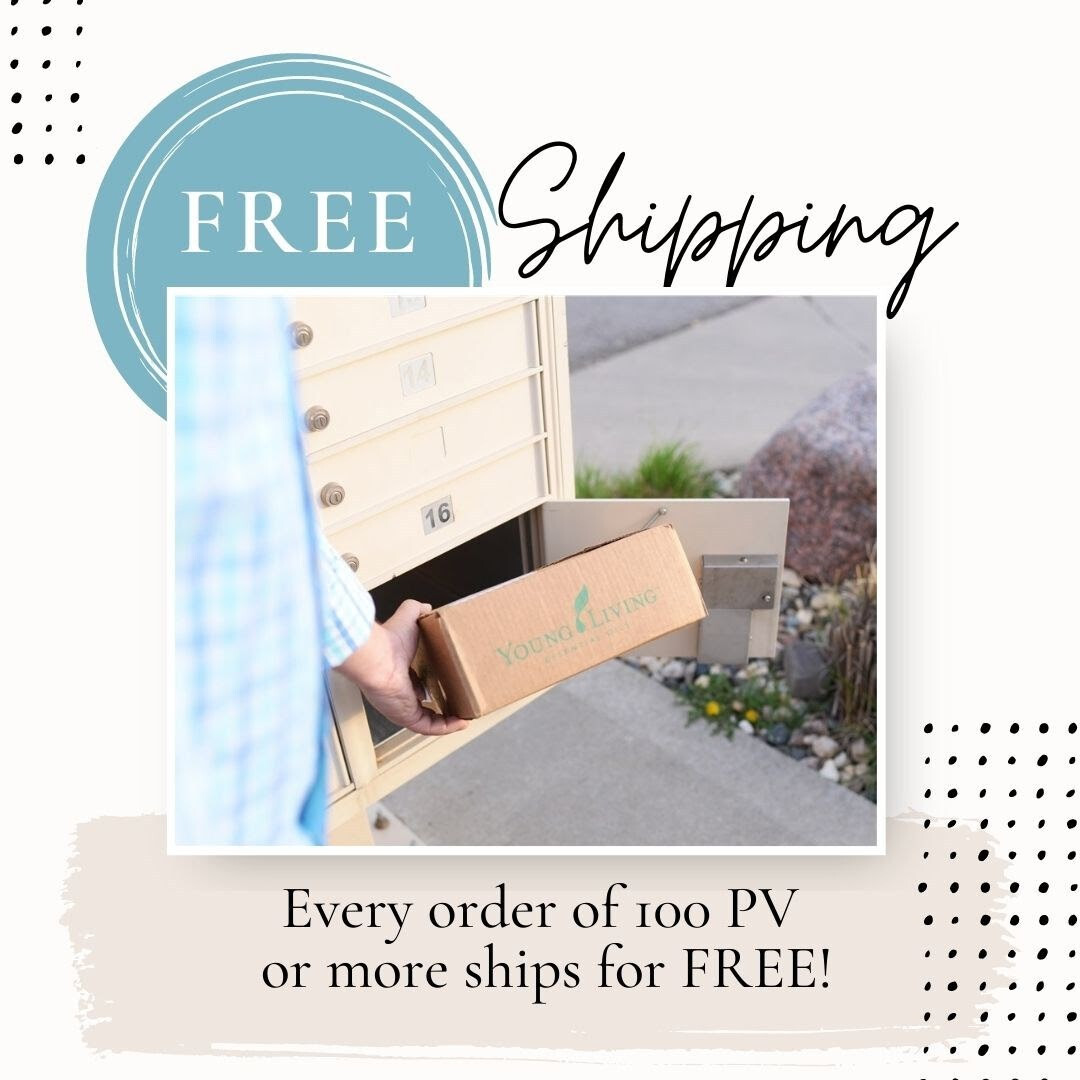 💜Ship, ship, hooray! Reach the 100 PV tier and your order ships for free. Just make sure to choose the free shipping in the drop down menu at checkout!
🌼WITH ANY ORDER OF 190PV+
With any order (ER or one-time shop order) of 190PV or more, you'll receive a free 5mL ACCEPTANCE oil blend and free shipping! If your order is an Essential Rewards order you'll also receive a free 5mL ENVISION!!
Retail value: $82.57
💜Acceptance essential oil blend
-Take the highs with the lows. Add a drop of this blend to a washcloth, place it right outside the stream of water as you shower, and let this inviting aroma inspire feelings of acceptance.
-Work hard, play hard. Work isn't everything. Diffuse the bouquet-like scent of Acceptance, then take a break and rush outside to enjoy the sunlight.
Create a mantra. Apply Acceptance over your heart as you meditate or before a yoga practice.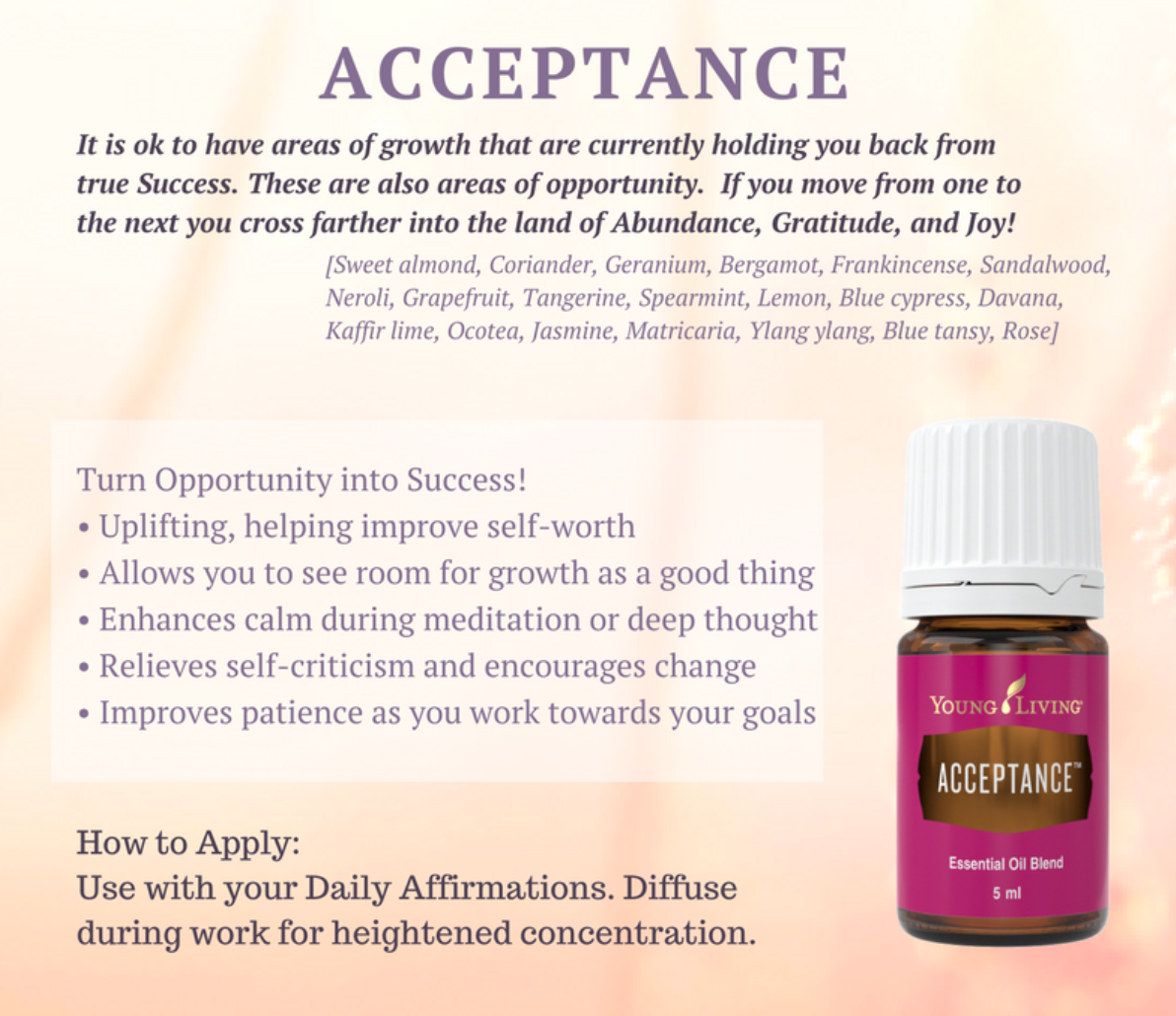 💜Envision essential oil blend
-Make scents of your to-dos. Write out each task required to accomplish your goals. Place a drop of Envision at the top of the page to breathe in every time you review your next steps.
-Dream big. Add Envision to a cotton ball and place it in your car vent so any time you inhale this scent, you'll visualize your dreams coming true.
-Diffuse inspiration. Add Envision, Valor, and Lime to your diffuser while planning, dreaming, and working.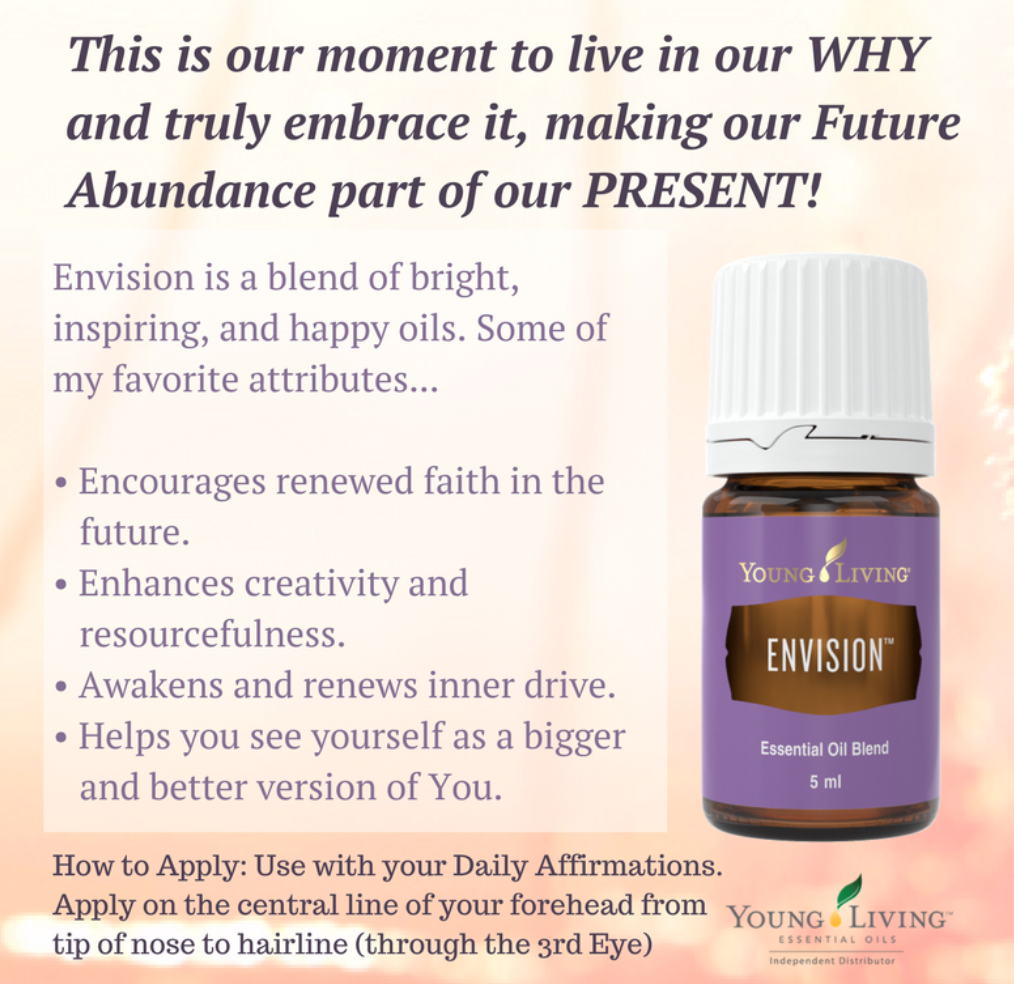 🌼WITH ANY ORDER OF 250PV+
With any order of 250PV, you'll receive a free 5mL VALOR oil blend, a 5mL Acceptance blend, and free shipping!! If your order is an Essential Rewards order you'll also receive a free 5mL Envision oil blend!!
Retail value: $136.85
💜Valor essential oil blend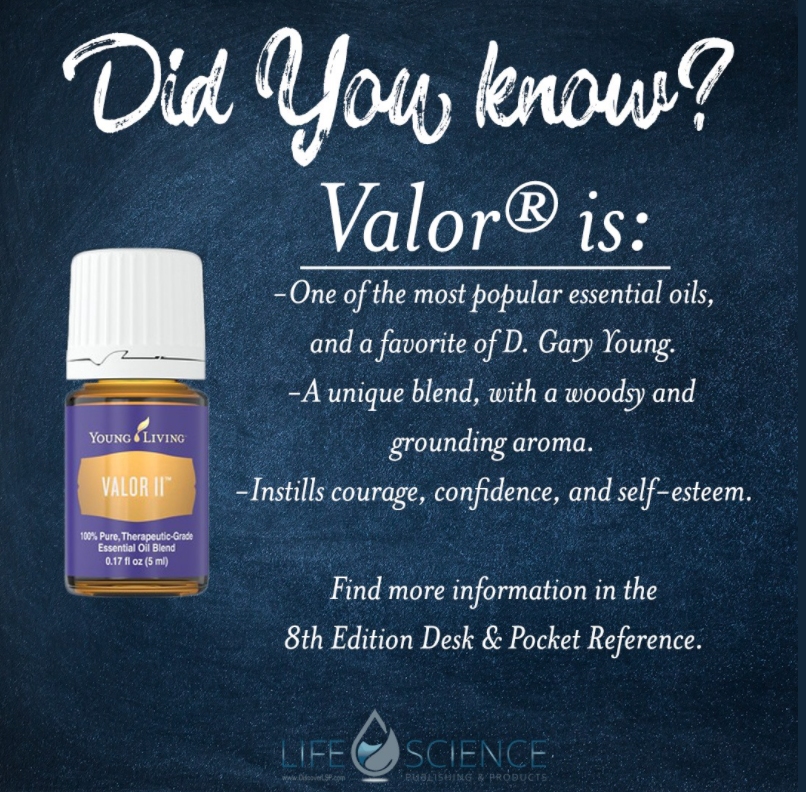 -Put the "you" in unique. As you're crafting your personal brand, wear fresh, woodsy Valor as a personal cologne or perfume to remind yourself of how capable you are.
Put your best face forward. Add Valor to your skincare routine to harness the benefits of blue tansy and other incredible skin-loving oils!
-Keep up your courage. At the end of a long day of hustling, add Valor to Young Living's Bath and Shower Gel Base as you brainstorm new ideas for tomorrow.
-Relax and renew. Pair Valor with Frankincense and Tangerine for a lovely evening diffuser blend.
🌼WITH ANY ORDER OF 300PV+
With any order of 300PV, you'll receive a free 5mL HIGHEST POTENTIAL oil blend, a 5mL Valor oil blend, a 5mL Acceptance blend, and free shipping!! If your order is an Essential Rewards order you'll also receive a free 5mL Envision oil blend!!
Retail value: $186.85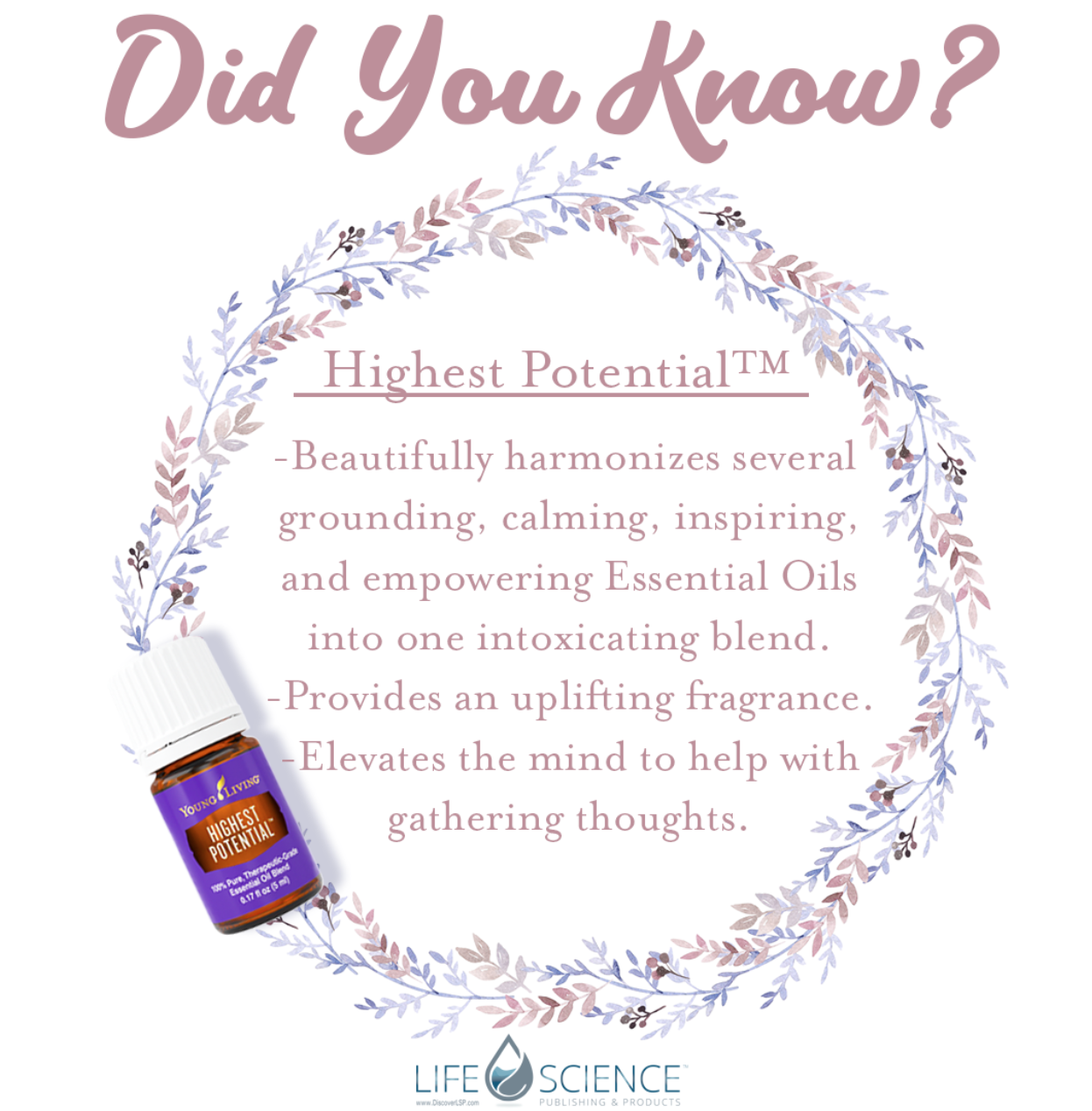 💜Highest Potential essential oil blend
-Soar to new heights. No matter where you dare to dream, take Highest Potential with you. Add an AromaGlide Roller Fitment so you can swipe it on whenever you need inspiration.
-Keep on keepin' on. Infuse your daily body moisturizer with the floral scent of Highest Potential as you continue to reach for the stars.
-Set your intention. Apply a drop of Highest Potential to the crown of your head daily.
🌼WITH ANY ORDER OF 400PV+
With any order of 400PV, you'll receive a free 5mL Highest Potential oil blend, a 5mL Valor oil blend, a 5mL Acceptance blend, and free shipping!! If your order is an Essential Rewards order you'll also receive a free 5mL MOTIVATION oil blend and 5mL Envision oil blend!!
Retail value: $258.56
💜Motivation essential oil blend
-Climb every mountain. Whether your bucket list has metaphorical mountains or real ones, dab a drop of Motivation behind your ears at the start of any endeavor, big or small.
-Take note. Keep track of when you procrastinate—in the afternoon, as the weekend draws near, when you're intimidated by a task—and diffuse this sidekick scent while you cross off your next steps.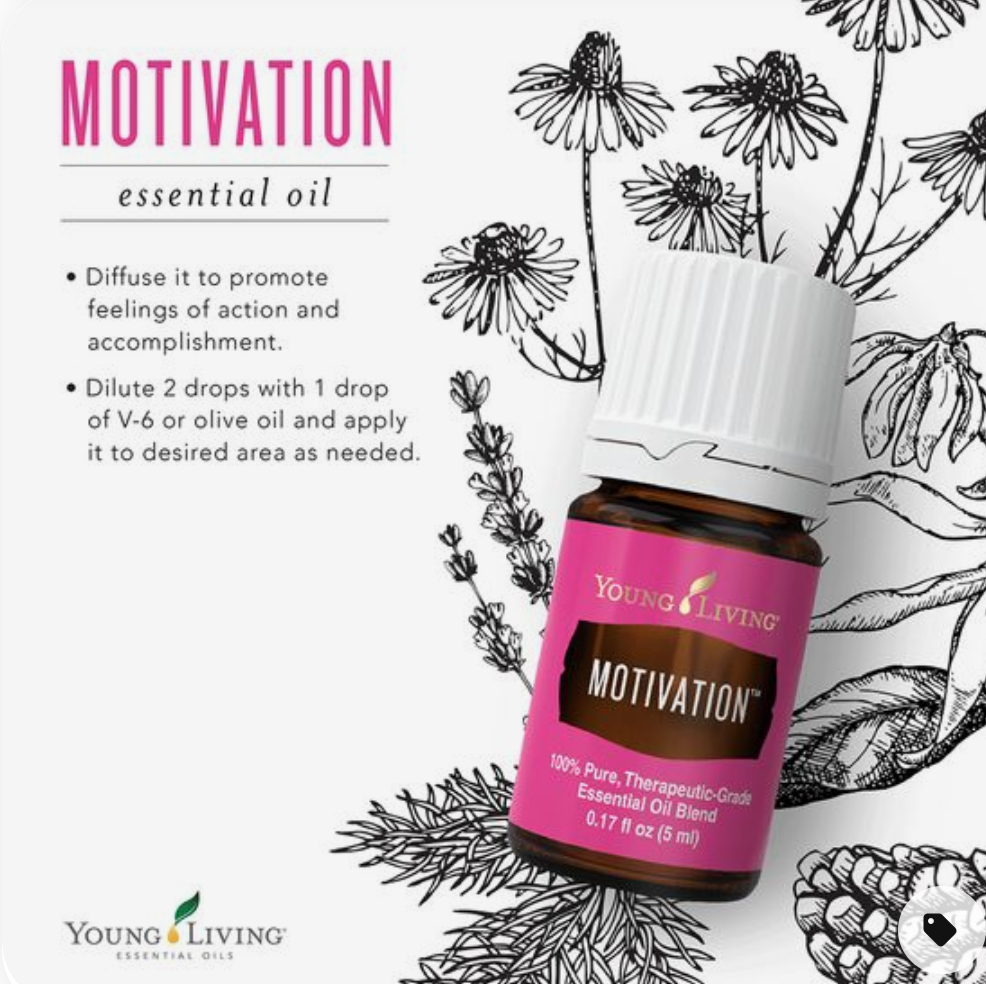 🌺Which gift are you most excited to receive in your wellness box this month?
Xoxo
Young Living Brand Partner.
May 18, 2020 02:22 PM Central
Dorota Matys

Happy May!
I hope this month finds you safe, happy, and well. Life is still a bit strange and out of sorts for us all, but we can still find balance and joy in many ways. We're going to make it through all of this together.
And we've got our oils to help.
Believe it or not, we're halfway through spring. Funny how slow time seems to pass, but so much is still happening all around us. That's part of the reason why balance is such a needed thing in our lives right now. Emotional, spiritual, physical. All of it.
The May PV promos will help bring that balance and provide further support through these trying times. And you know what they say, April showers bring really, really good May promos.
That is how that saying goes, right? Either way, it's true.
And to prove it, here's the full breakdown of the US May promos (which include a 15 ml Frankincense)!
At 100 PV you get:
Longevity Vitality 5ml only on ER- essential Rewards
($20.72 value)
At 190 PV you get:
EndoFlex 15ml &

Bonus ER exclusive: 15ml Lavender & 5ml Longevity Vitality
($73.68 value)
At 250 PV you get:
Deep Relief Roll-On 10 ml, Endoflex 15ml,

Bonus ER exclusive: 15ml Lavender & 5ml Longevity Vitality
($109.86 value)
Att 300 PV you get:
Frankincense 15ml, Deep Relief Roll-On 10 ml, Endoflex 15ml,

Bonus ER exclusive: 15ml Lavender & 5ml Longevity Vitality
($172.69 value)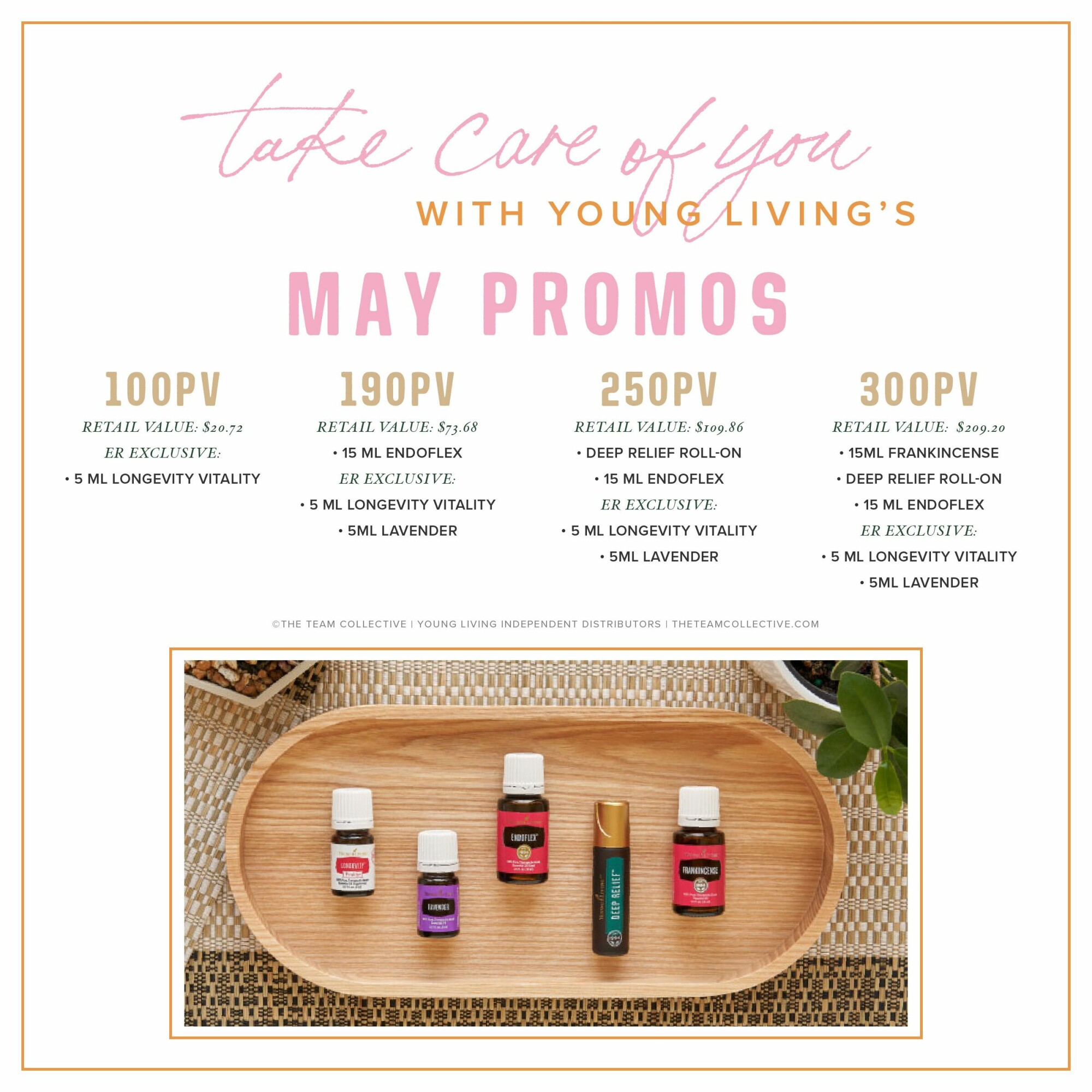 *Remember, in order to get the Essential Rewards Exclusive Longevity Vitality 5 ml and the Essential Rewards Exclusive Lavender 5 ml, you have to be enrolled in Essential Rewards (ER) and have an order that meets the PV requirements for those items. The extra bonus of meeting these PV amounts with your ER order is that you get even more ER points to spend later!
Click HERE to learn more about the bonus oils: Longevity Vitality, Lavender, Longevity, Endoflex, Deep Relief roll-on, and Frankincense.
I am in love with these promos. The timing is perfect. The balance of what we're getting is spot on for what we all need it in our lives right now.

The Spring Launch happened last month and boy did we get some exciting new products!
New steeped teas, two types of Savvy Minerals mascara, and so much more. Let me just list them for you below, because you'll want to run to the "Shop" section of the Virtual Office in the "What's New" section and see which of these are still in stock, cause they are all amazing. Check out what we got!
Luscious Lemon Foaming Hand Soap, it's fabulous!!!

Valor Deodorant, absolute must-have!

Savvy Minerals Lengthening Mascara

Savvy Minerals Volumizing Mascara (because it is time for a couple of new mascaras that do what they're supposed to)

Steeped Vitality Spiced Turmeric Herbal Tea

Steeped Vitality Orange Rosehip Black Tea

Steeped Vitality Vanilla Lemongrass Green Tea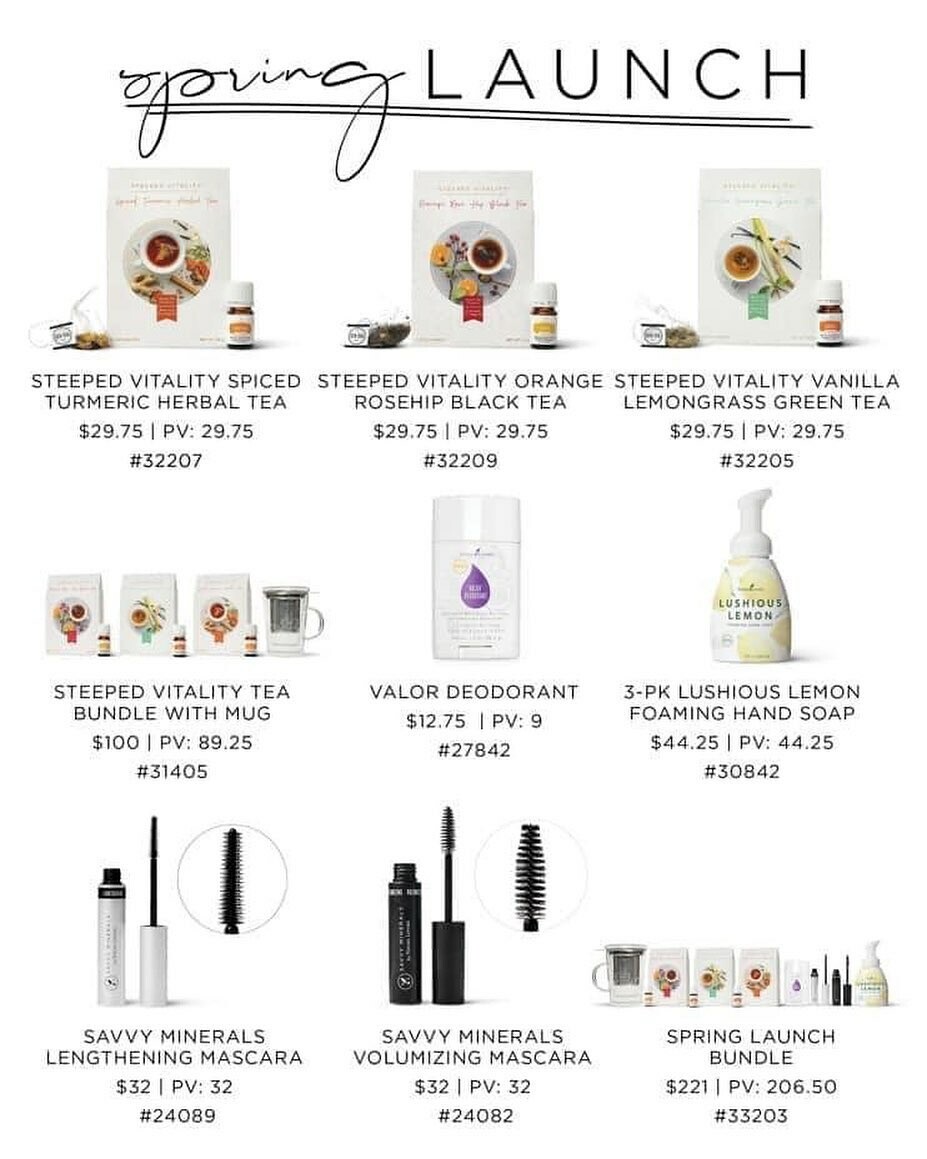 Plus, starting May 1st we're able to add those to our Essential Rewards orders! New products AND great promos? Hard to ask for a better combination.
Here's to hoping that we all have a month filled with joy, balance in all areas of life, and that we all stay safe and well. As always, if you have any questions or need help with anything, please let me know.
Yours Truly,
Dorota Matys