Nov 1, 2022 01:13 PM Central
Dorota Matys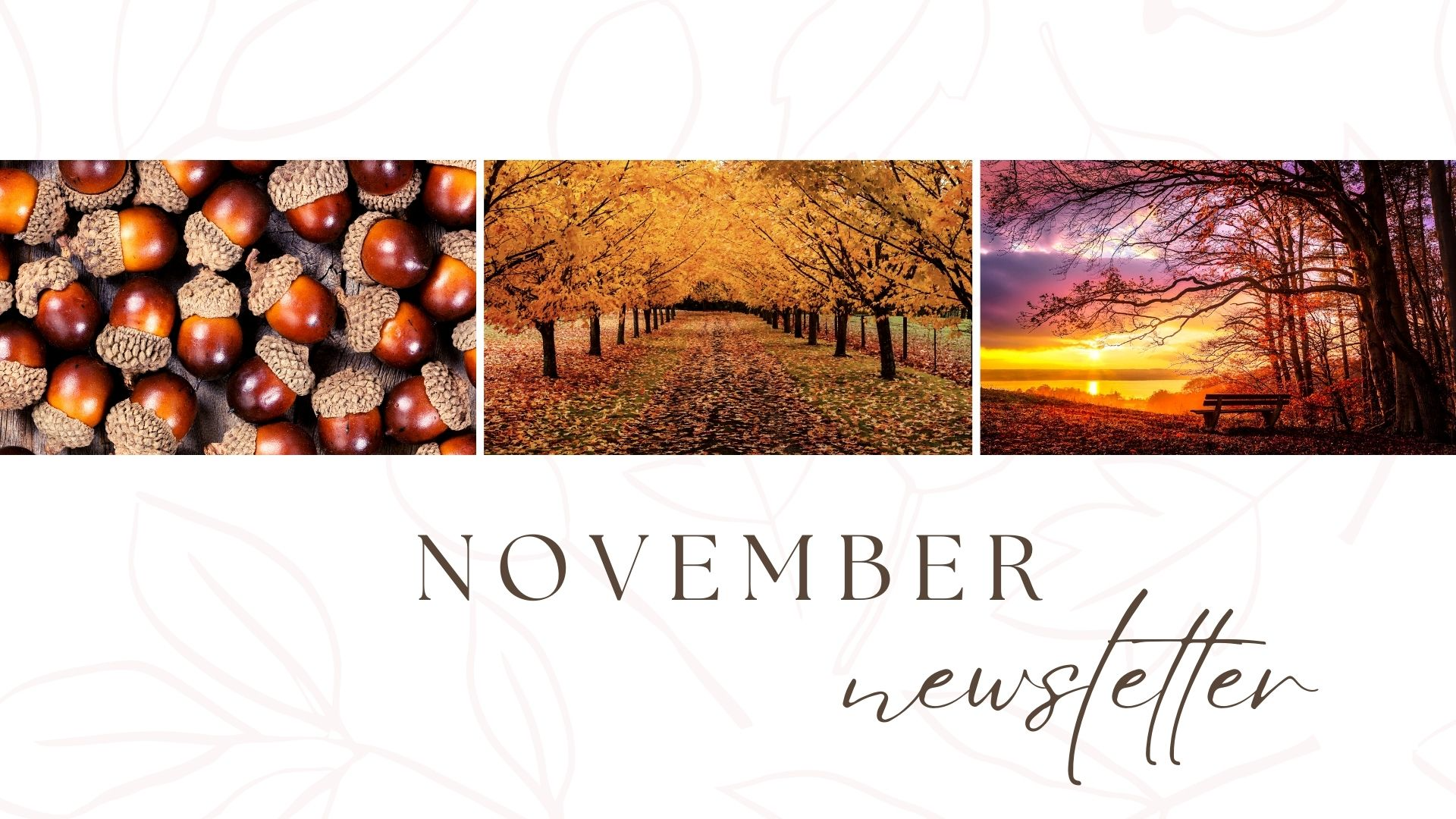 Hello, November!
As we enter a new month, let's remember all that we are grateful for… homes, families, jobs, food, clothes, and our beautiful oils! There is so much to be thankful for. I trust you will want to spread that positive outlook by sharing the oily love with this fun DIY recipe. It makes the perfect gift - for a friend, a coworker, a neighbor, or even yourself!
Try it and let me know what you think…
Star or flag this message so you can refer back to it all month long!
Monthly YL Gifts with Purchase + Recipes

November Wellness Box Ideas

Young Living in the Kitchen

Product Spotlight

Important Announcements

Upcoming Events
Monthly Gifts with Purchase
When your order hits one of these PV levels you will receive the corresponding products for FREE! Look at everything you get for free when you hit 400 PV! Hello Frankincense!!!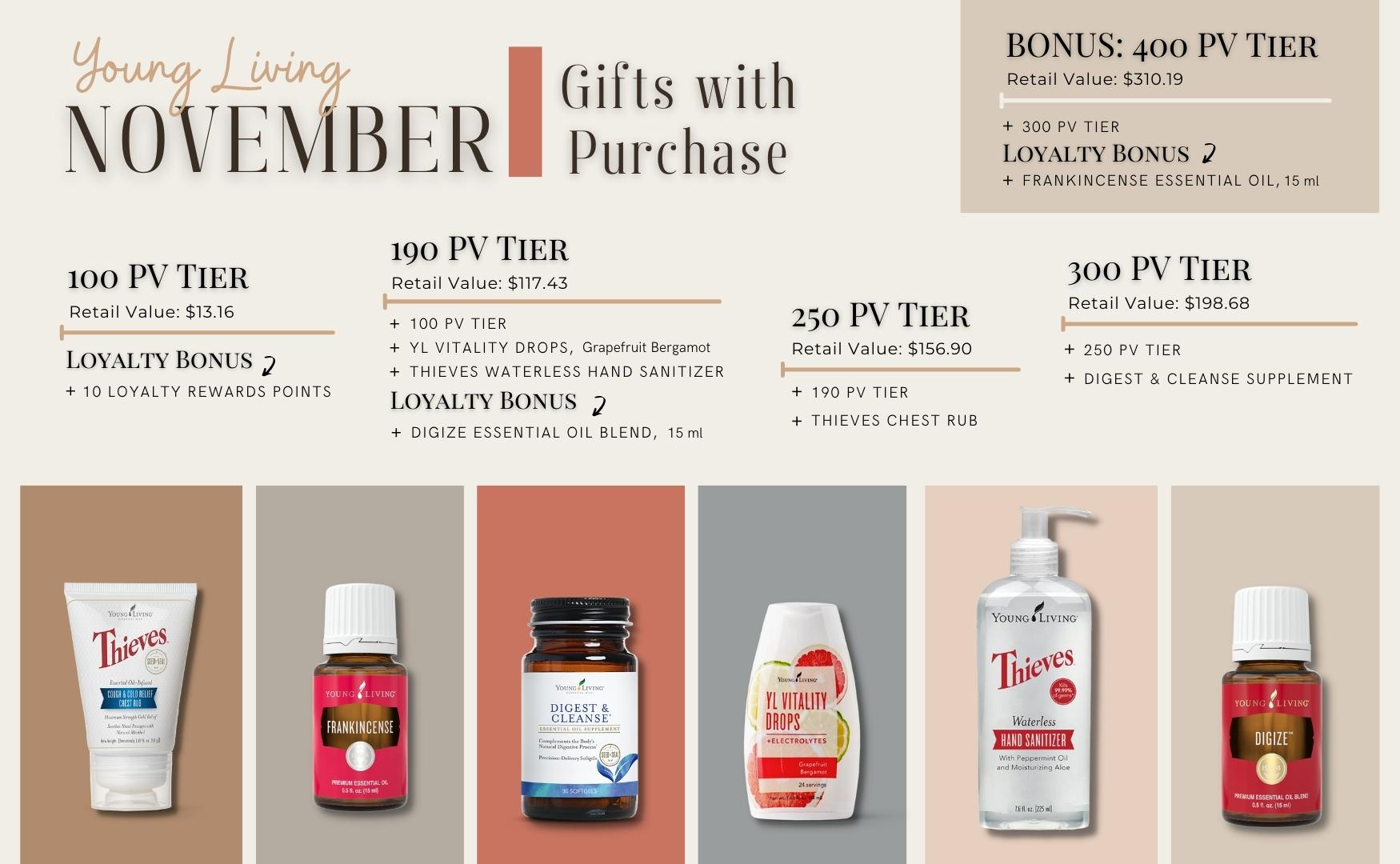 *Receive Loyalty Bonuses when your order is placed through the monthly loyalty program, which is the best way to save money and support your health. If you need more details on this, let me know!
Recipes Using Your Monthly Gifts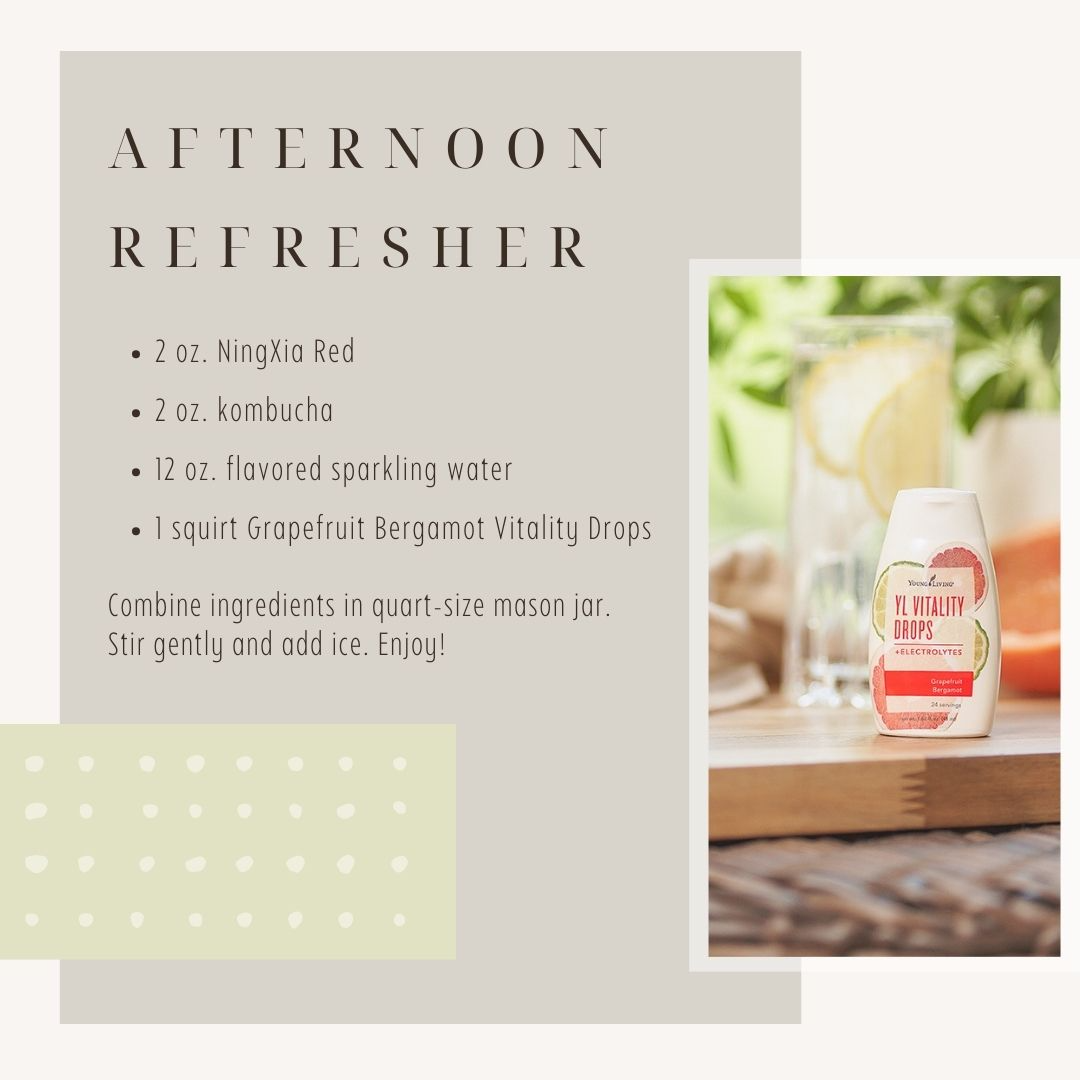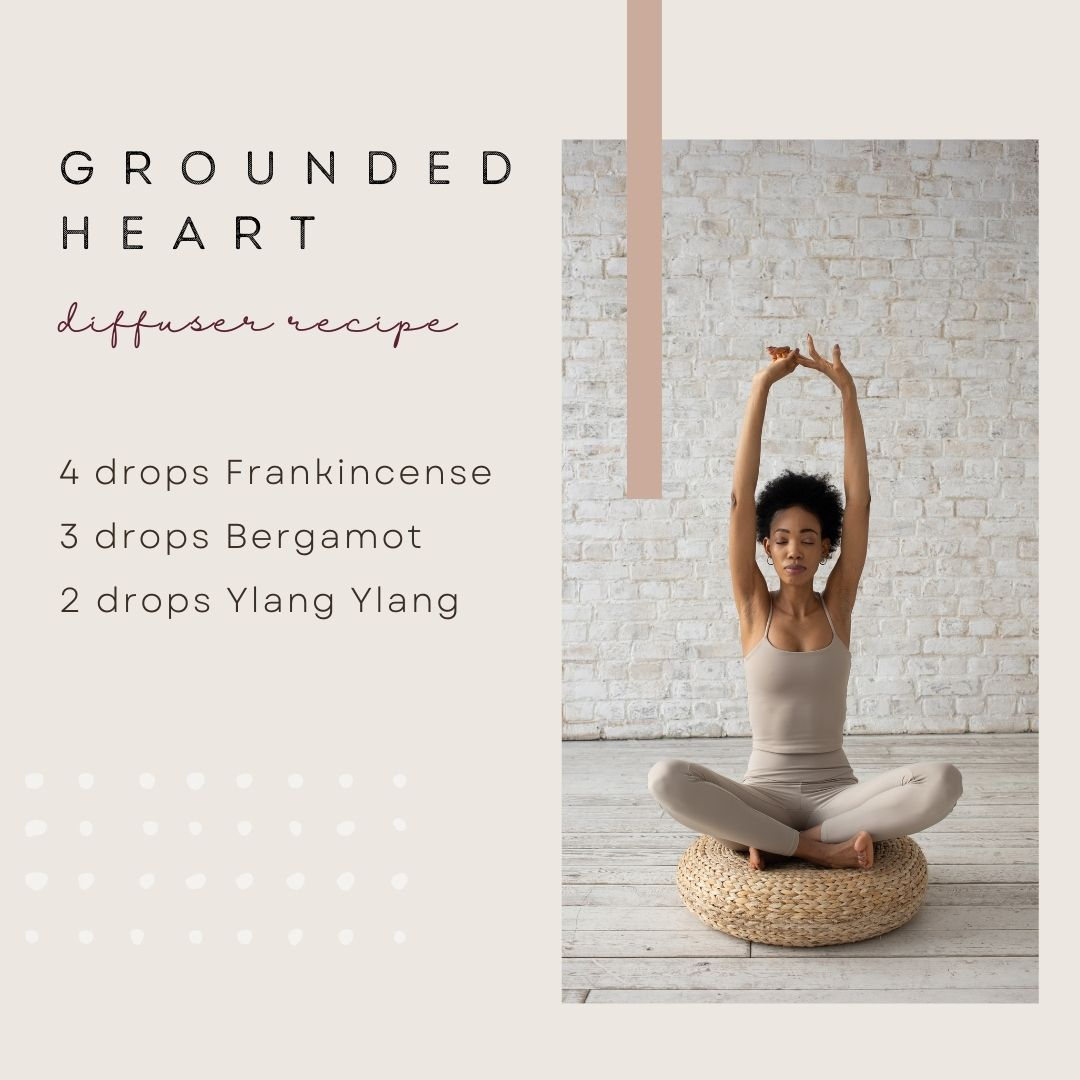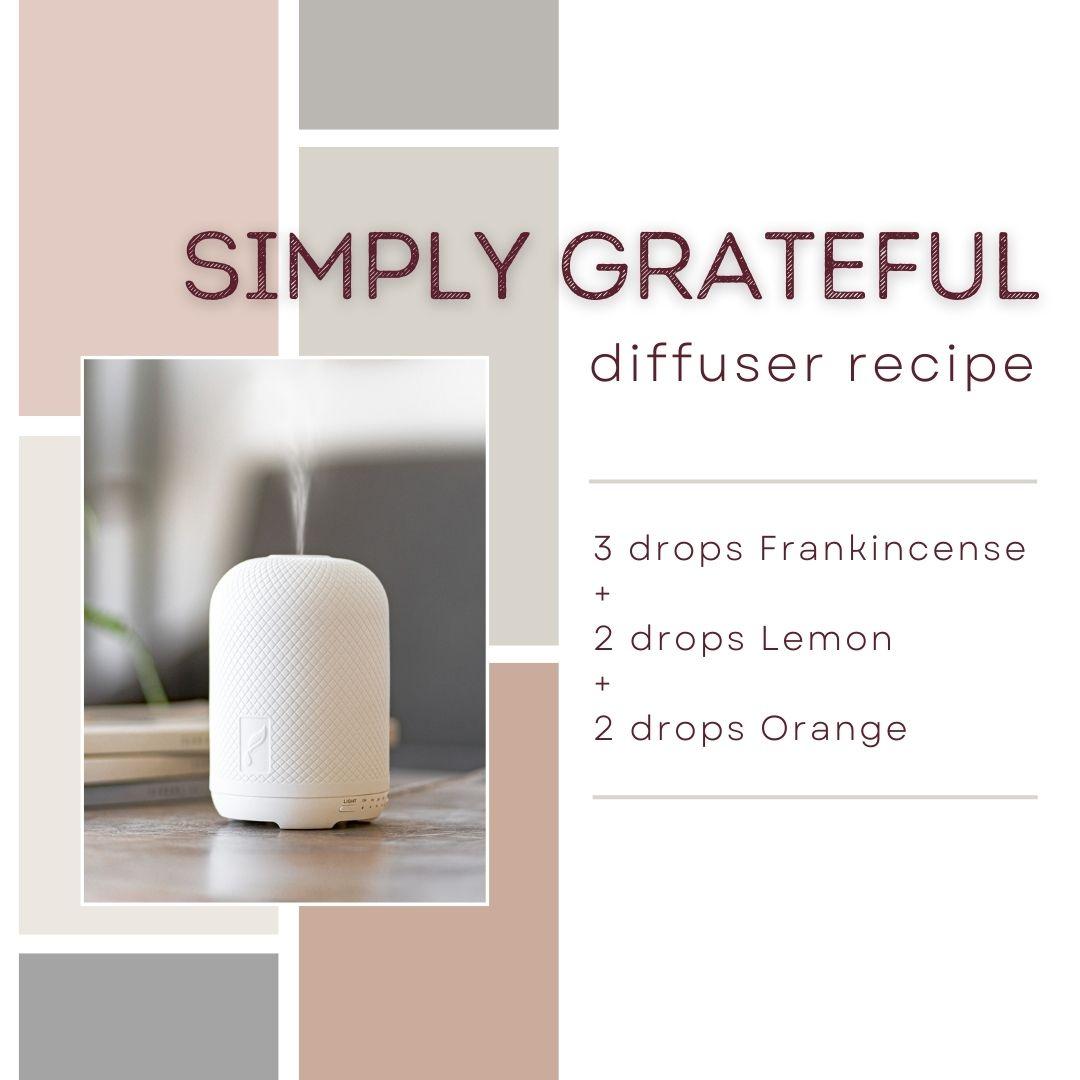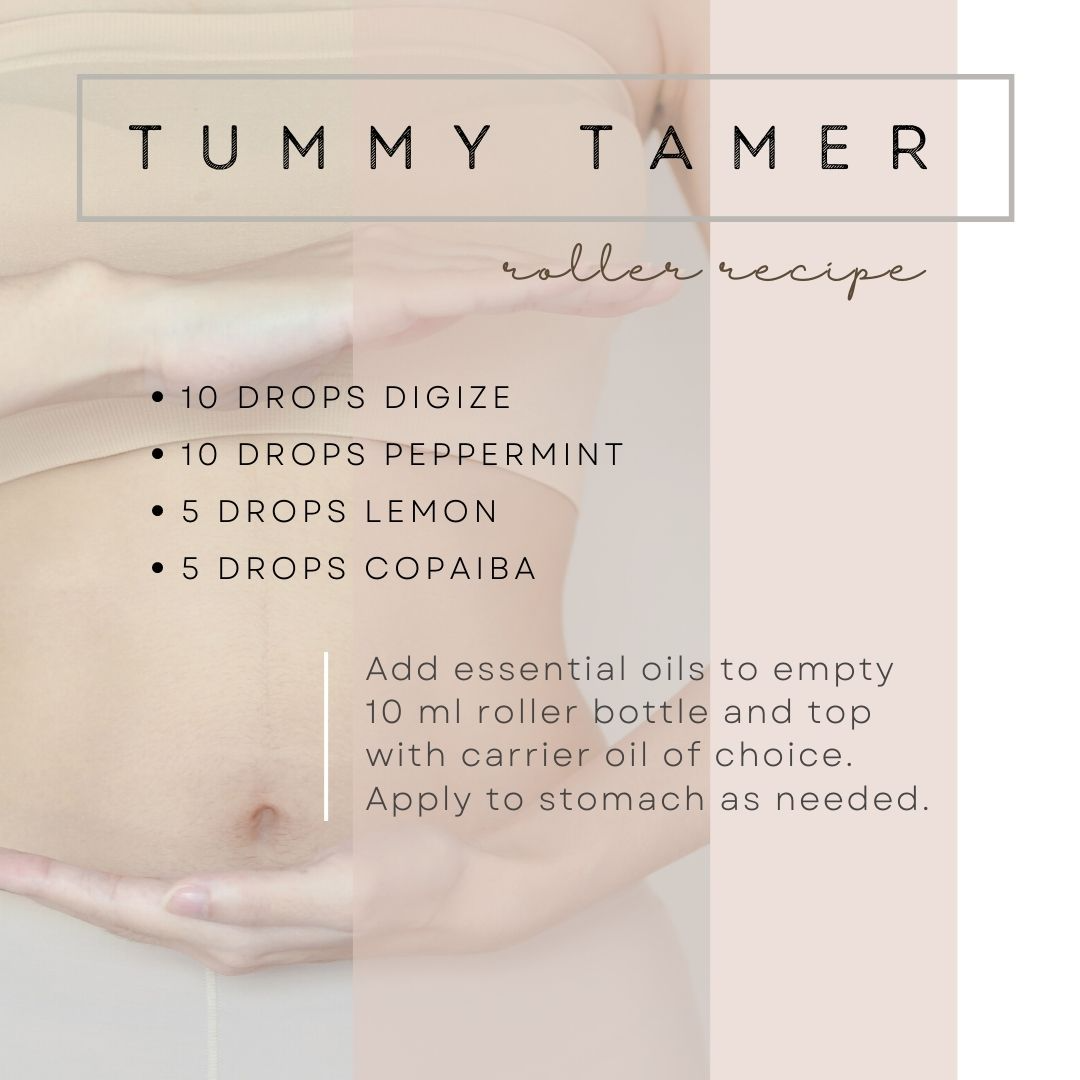 November Wellness Box Ideas
As we wrap up the fall season and enter winter, do yourself a favor and have your favorite oils and YL products on hand. Stay on top of your "wellness game!" Make sure to log in and set up your monthly wellness box to reflect the month ahead.
Find the items you want, and click "Add to Loyalty Order." Add at least 50 PV to your box and you'll earn points to spend on future one-time orders! Add at least 100 PV to your box and you'll automatically get a freebie added to your cart!
You can then hop on and pick new items for the next month and save items for later. It's simple and completely customizable. Here are some ideas for your November box…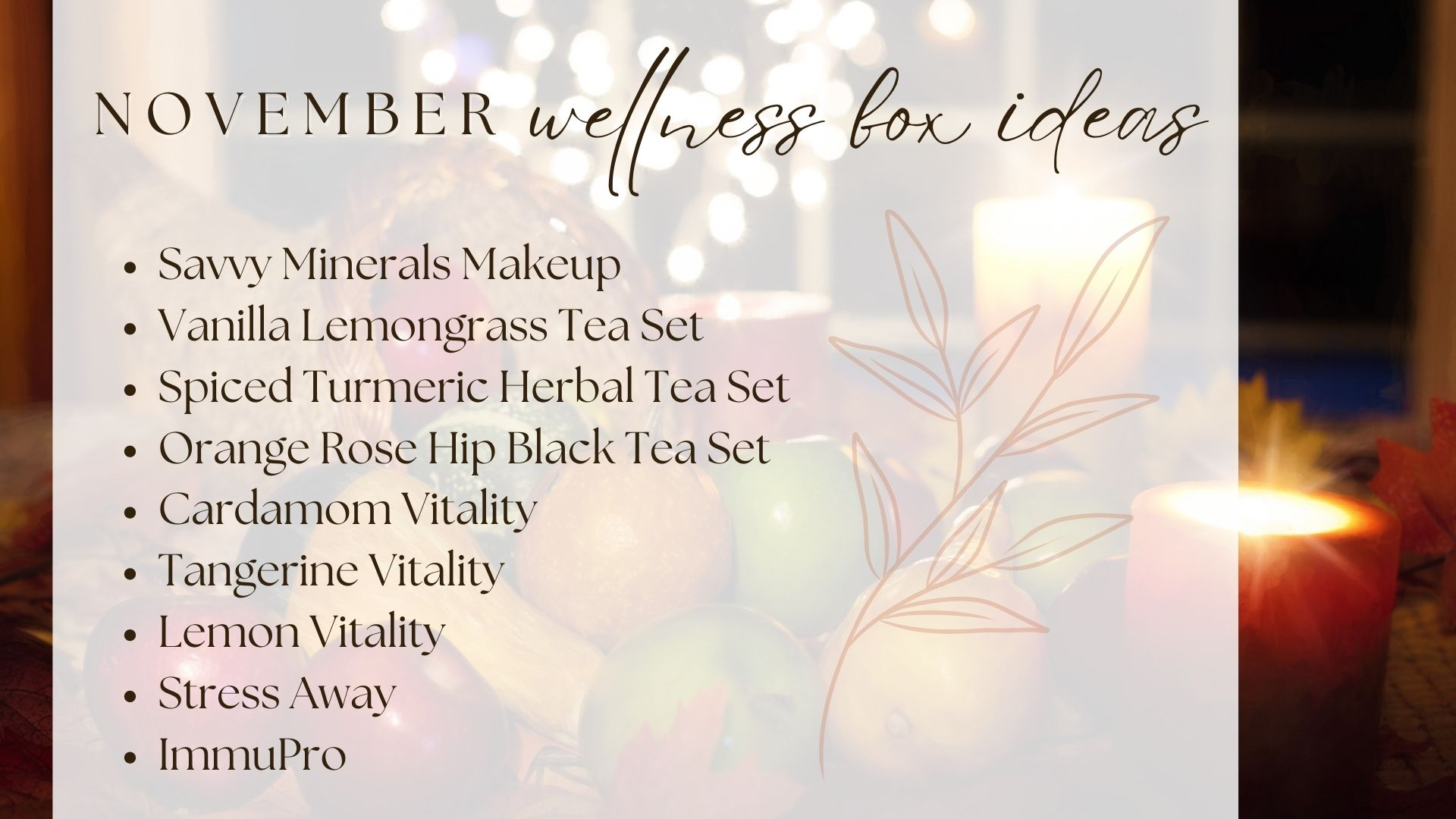 Young Living in the Kitchen
You are going to love this month's recipe! It's so easy to whip up for a cozy Friday night or a family gathering. You can even keep it warm in a crockpot so you can enjoy it as the day goes on. It includes several of Young Living's Vitality oils that invoke feelings of comfort and warmth! Check it out…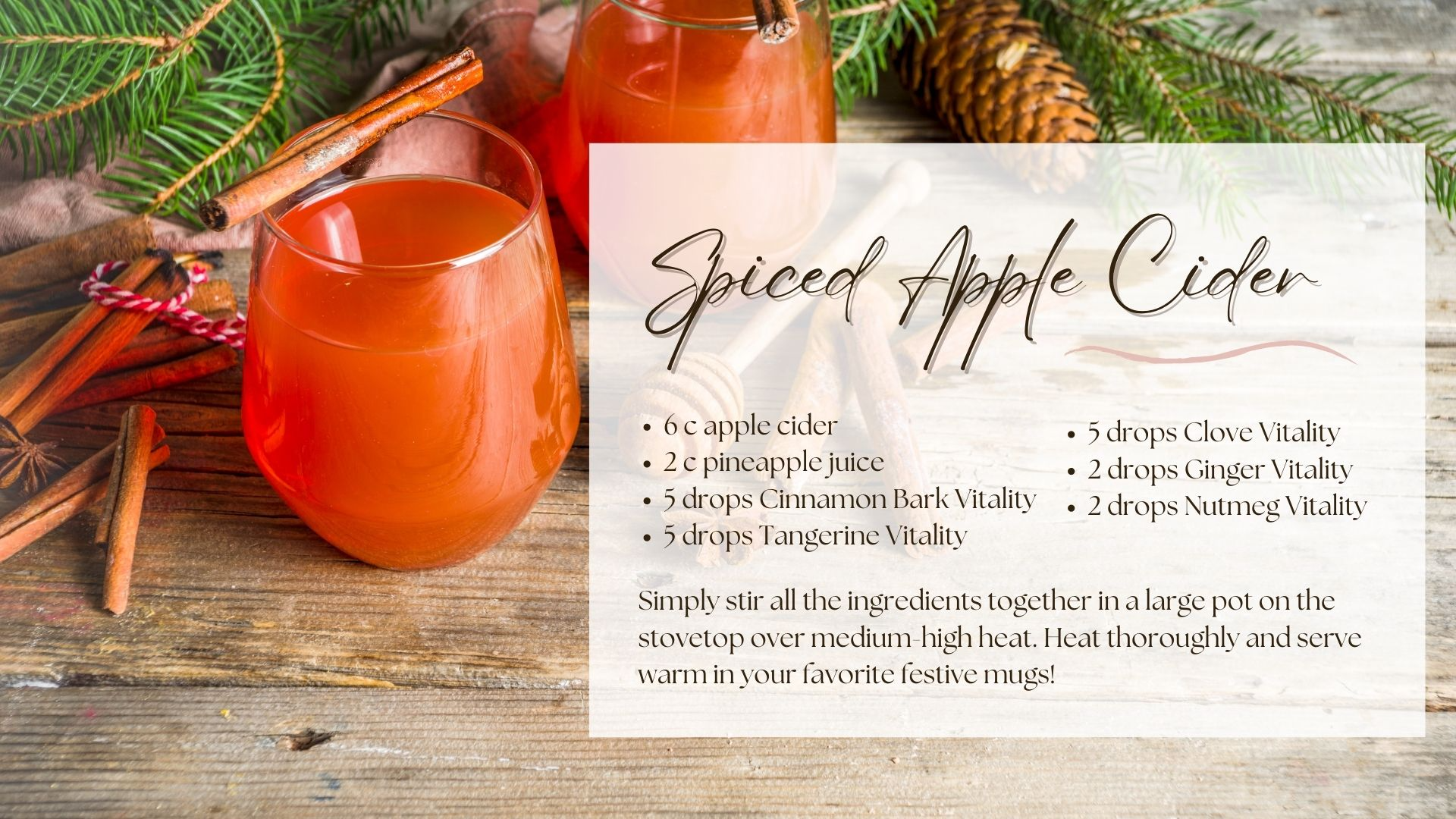 FUN FACTS
Cinnamon Bark Vitality:

contains antioxidants and may provide immune and general wellness support

Tangerine Vitality:

contains antioxidants and may provide digestive, lymphatic, and immune support

Clove Vitality:

contains antioxidants and provides support for general wellness and the immune system

Ginger Vitality

:

may support a healthy digestive system

Nutmeg Vitality:

contains antioxidants; may support cognitive function and the immune system
Product Spotlight
This month's product spotlight is a true powerhouse essential oil blend, perfect for the fall and winter months when breathing deeply is crucial. R.C. is a powerful combination of Cypress, Spruce, and three types of Eucalyptus oils (E. citriodora, E. globulus, and E. radiata). The initials stand for respiratory care, as this oil may provide a refreshing breathing experience. Yes, please!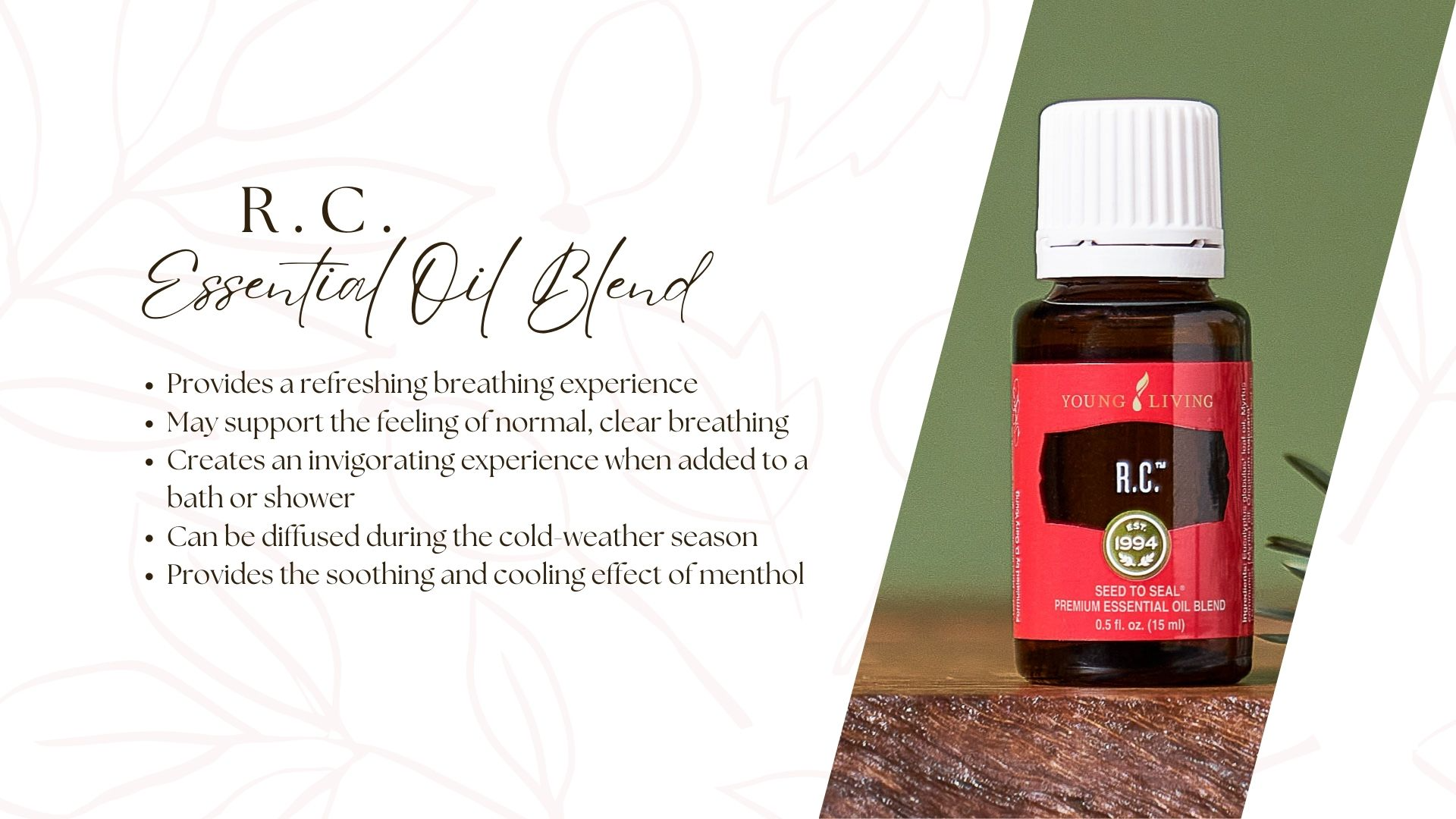 SUGGESTED USES
Add 1–3 drops to V-6 Vegetable Oil Complex and rub it on your chest and the back of your neck before an early morning workout to promote the sensation of deeper breathing.

Diffuse 8–20 drops to experience the relaxing aroma in any stuffy environment.

Use R.C. with V-6 for a foot or back massage after your gym routine, outdoor adventure, or yoga practice to enjoy a refreshing scent.

Brighten your outlook during early morning errands by applying R.C. to your chest and wrists.

Apply R.C. topically with V-6 to your chest in the evenings for a refreshing breathing experience.
Important Announcements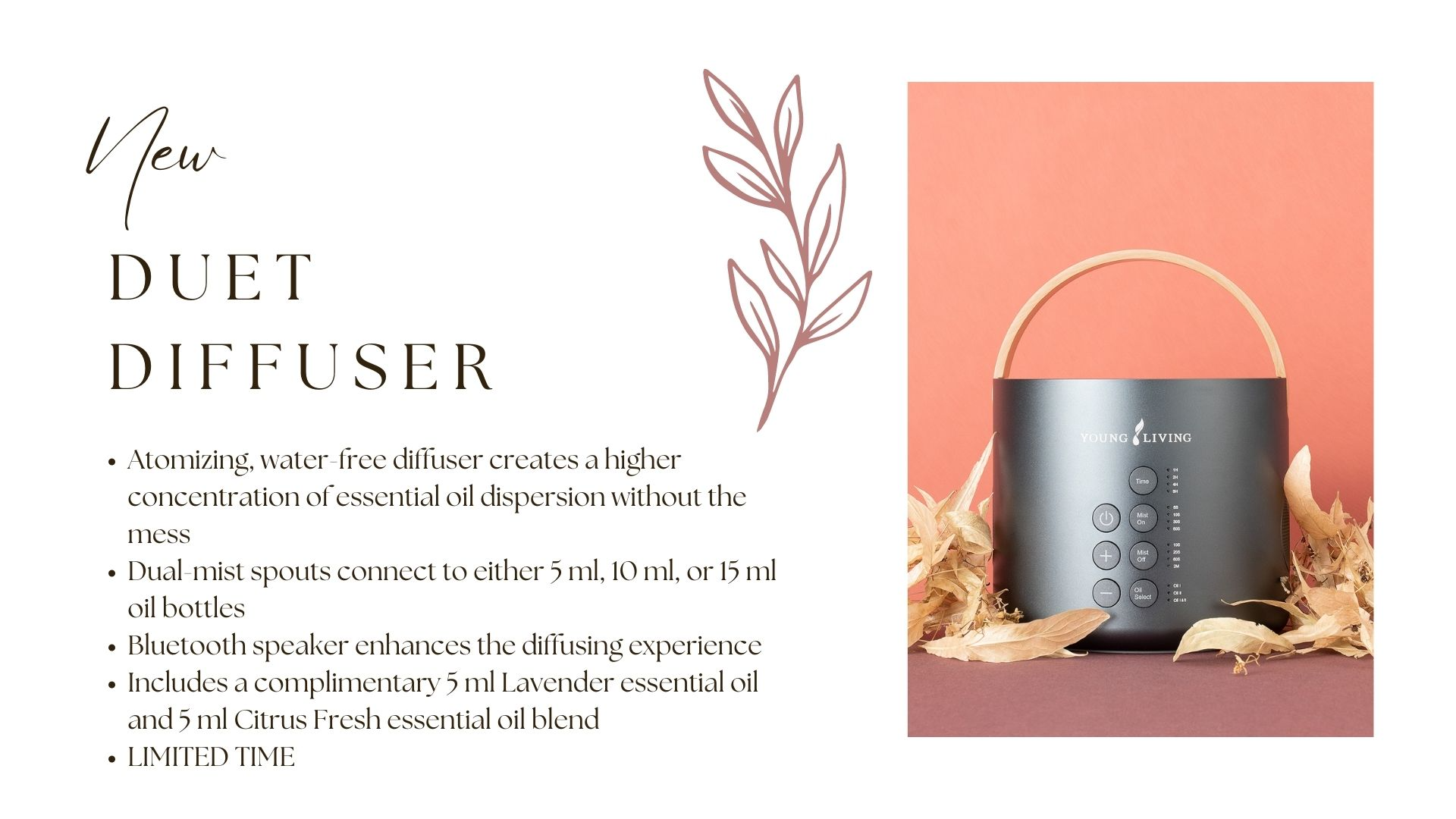 There's a NEW limited-time diffuser in the house! The Duet Diffuser features intermittent run time settings, an automatic shutoff feature, and a Bluetooth speaker. And it's water free! You diffuse straight from the bottles.
The Duet Diffuser allows you to diffuse two different essential oils at once, blending them in the air and creating a subtle, nuanced pairing of essential oil scents that a single-pump diffuser can't create. How awesome is that?!
It also comes with a free 5 ml bottle of Lavender and a free 5 ml bottle of Citrus Fresh. Get yours before it's gone!
Upcoming Events & Classes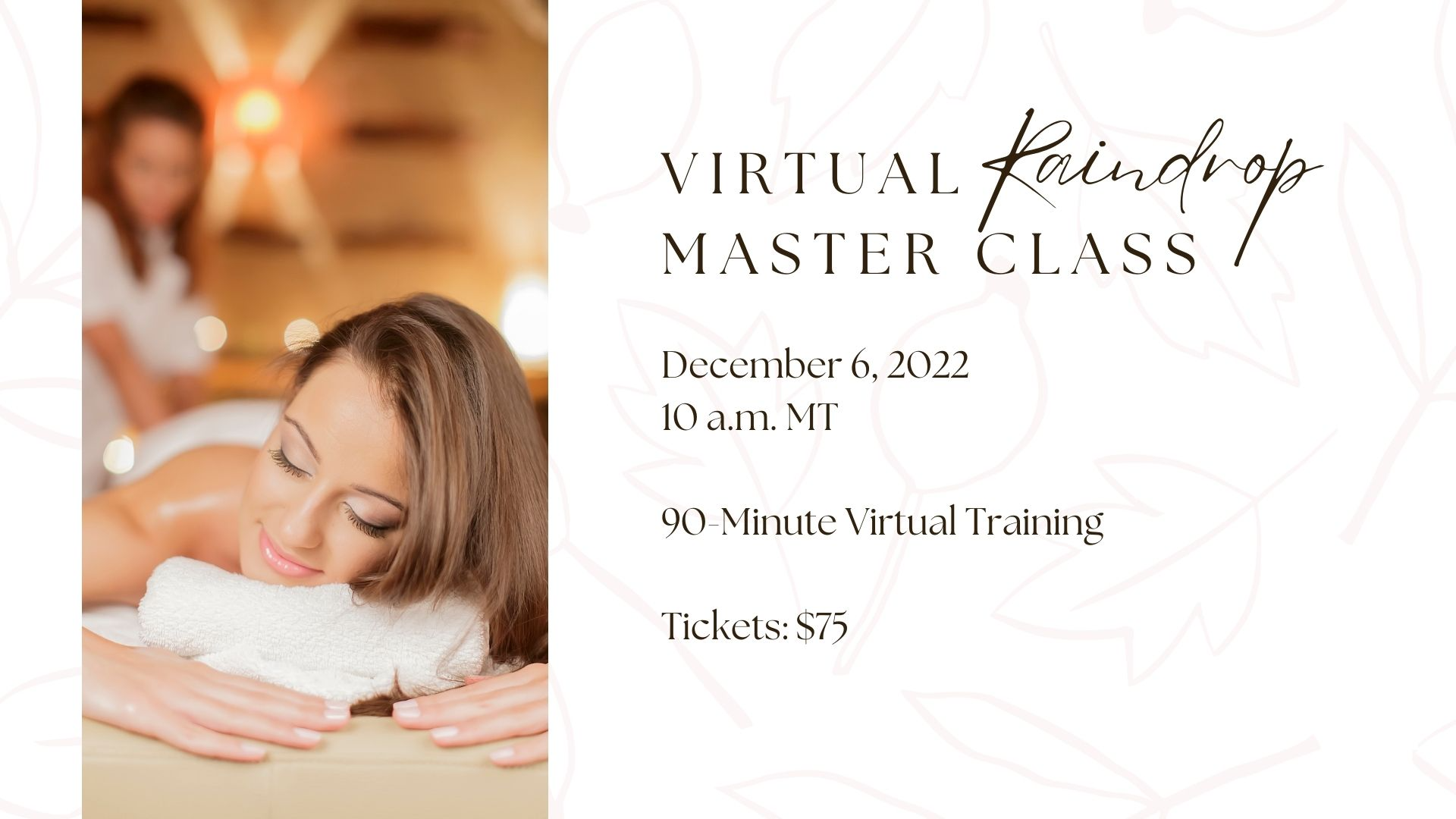 Discover the power of the Raindrop Technique bodywork in a virtual master class on Tuesday, December 6, from 10–11:30 a.m., MT. Tickets are only $75 and include an in-depth introduction to the Raindrop Technique bodywork, a registration kit with Young Living products and swag, and access to the training for up to four weeks. Registration is open to all ranks and guests, but space is limited to the first 300 attendees, so reserve your spot soon! Go here to register:
https://web.cvent.com/event/b248d0dc-19de-4793-b995-00a7b4c8a14f/summary
Please reach out if you need any further suggestions or ideas.
Thank You for being a part of our Oily
Xoxo
Your Young Living Brand Partner
Before I jump into all the exciting Black Friday Special News I want you to know how thankful I am for YOU! Thank you for being with me on this journey of wellness, growth, education, and sharing. I don't take it for granted and wanted to let you know just how much I appreciate your support! I wish you and your family the happiest of Thanksgivings and pray that this year's celebration is very special for you!

This news I am about to share Is HUGE!!!

Black Friday Young Living Edition is here once again to blow us away, and let me tell you, YL did NOT hold back. We truly are getting spoiled with these deals.
Check this out:
30% off 30 essential oil favorites (like

Evergreen Essence!!!

, Thieves, Vanilla, Relieve It, Purification, Valor, Stress Away, and more - oh yeah, did I mention there are some exclusive 15-ml sizes for some of these?!)

20% off select Roll-Ons, Personal Care, and Supplements

25% off select CBD (yes, it includes some of the 1000mg)

Up to 25% off on select Kits, Bundles, and Collections (plus, there's a BRAND new collection)

Buy One Get One (BOGO) on select Shampoos & Conditioners - buy the shampoo, get the conditioner free! NOTE: THESE ARE THE OLD FORMULAS!


These go LIVE TODAY at 8 am MT on Monday, November 22nd. So you can get all these goodies in your cart and on the way to you! This is the perfect way to wrap up all your holiday shopping and stock up on your favorites or discover some new ones!

A few keys to shopping the Black Friday deals:
1. NO LIMITS. There are no limits on any of these items. Get them while you can!
2. Available for NFR. Each country is different in their NFR ordering for regulatory and legal purposes, however, each market will have access to shop these products during the promotions.
3. Shop Only*
*There are three exceptions to this:
New members making their first order will be able to add Black Friday deals to a Subscription order or a Shop order.

Any customer who has **never been on Subscription before** will be able to add Black Friday deals to a Subscription order or a Shop order.

Anyone reactivating their account will be able to add Black Friday deals to a Subscription order or a Shop order.
NOW IT'S TIME, CHECK THESE OUT!! Here are all the Black Friday deals, which you'll find on the website today, November 22nd, at 8 AM (MT) in the "Black Friday" section under Shop.

Here is the list with updated prices you can refer to: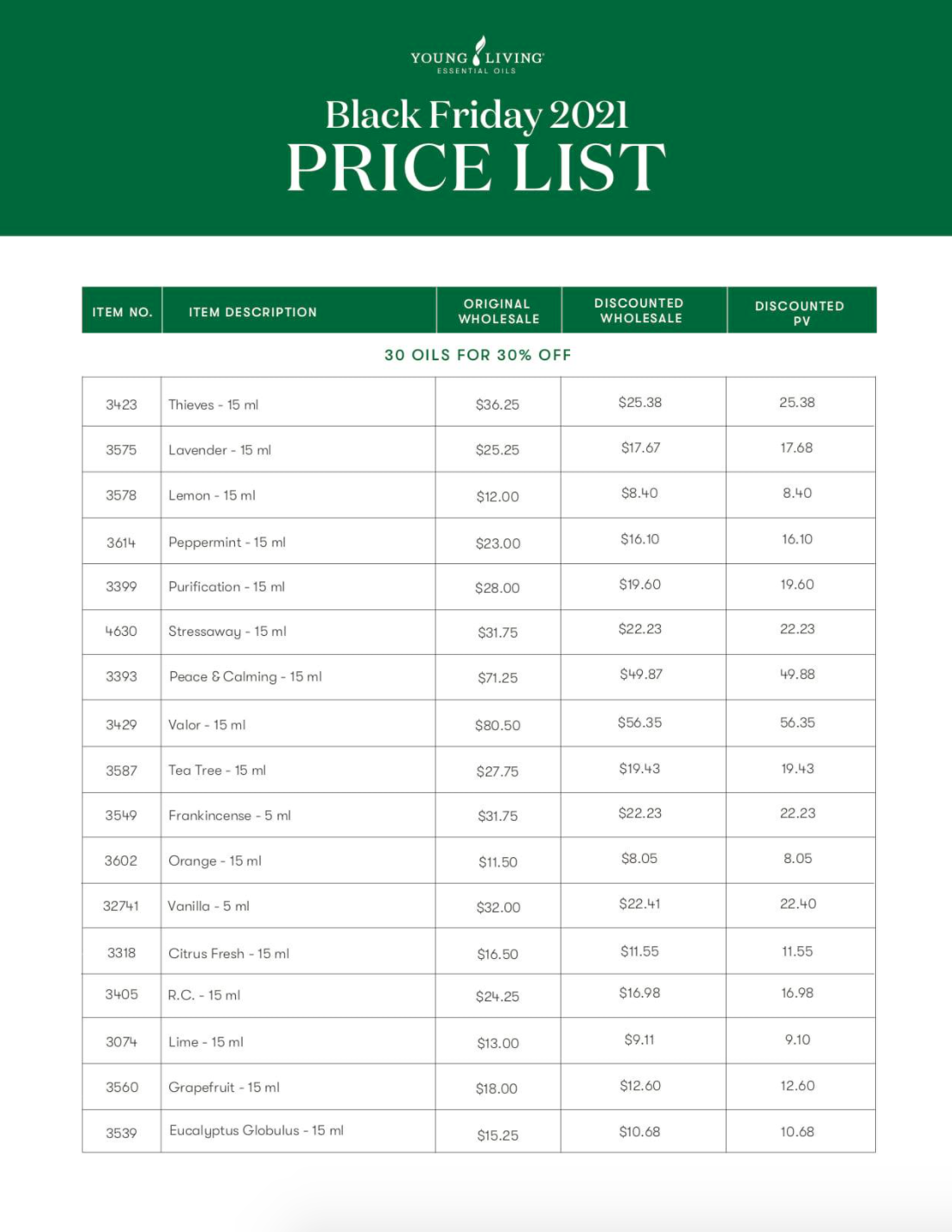 ....and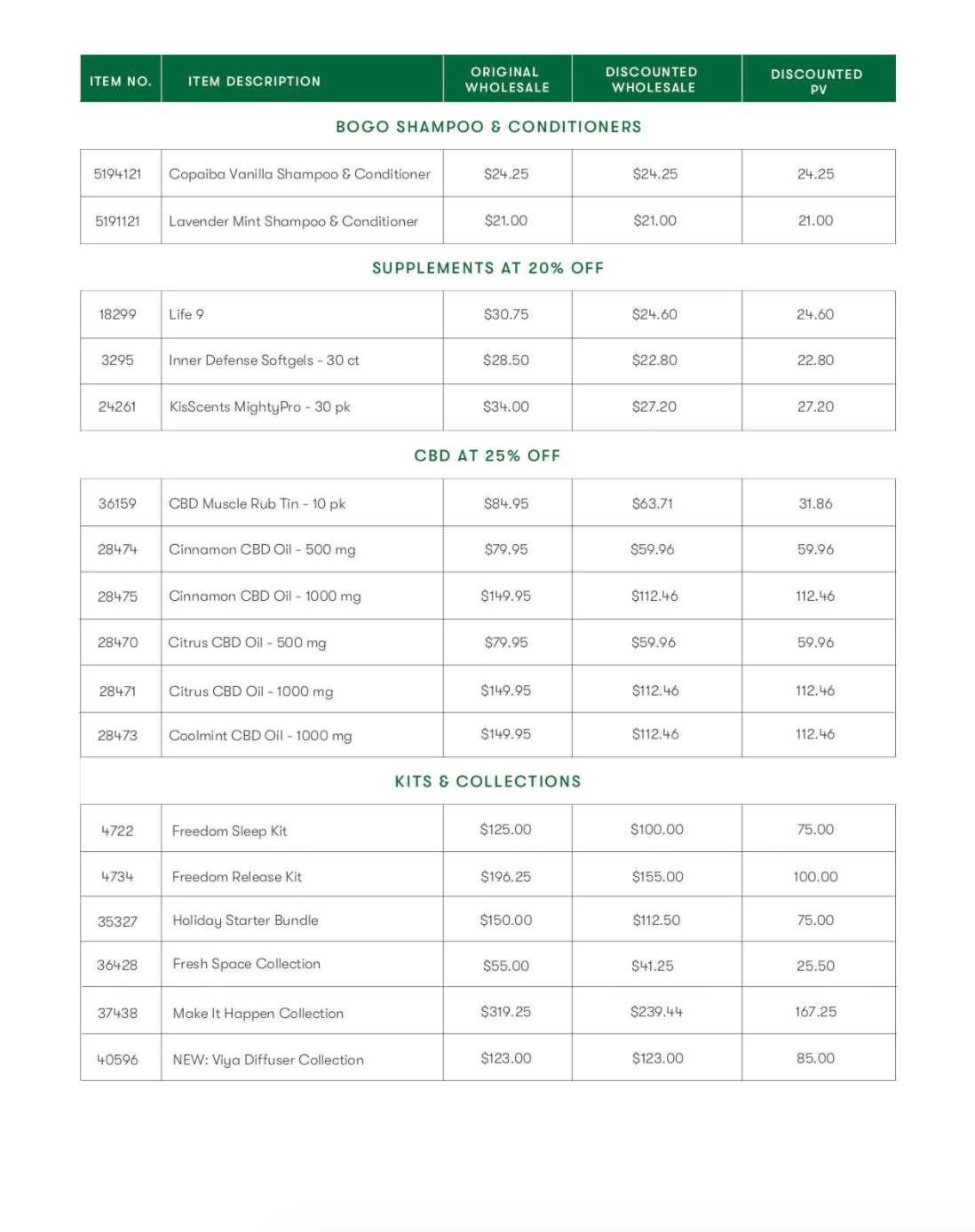 ...and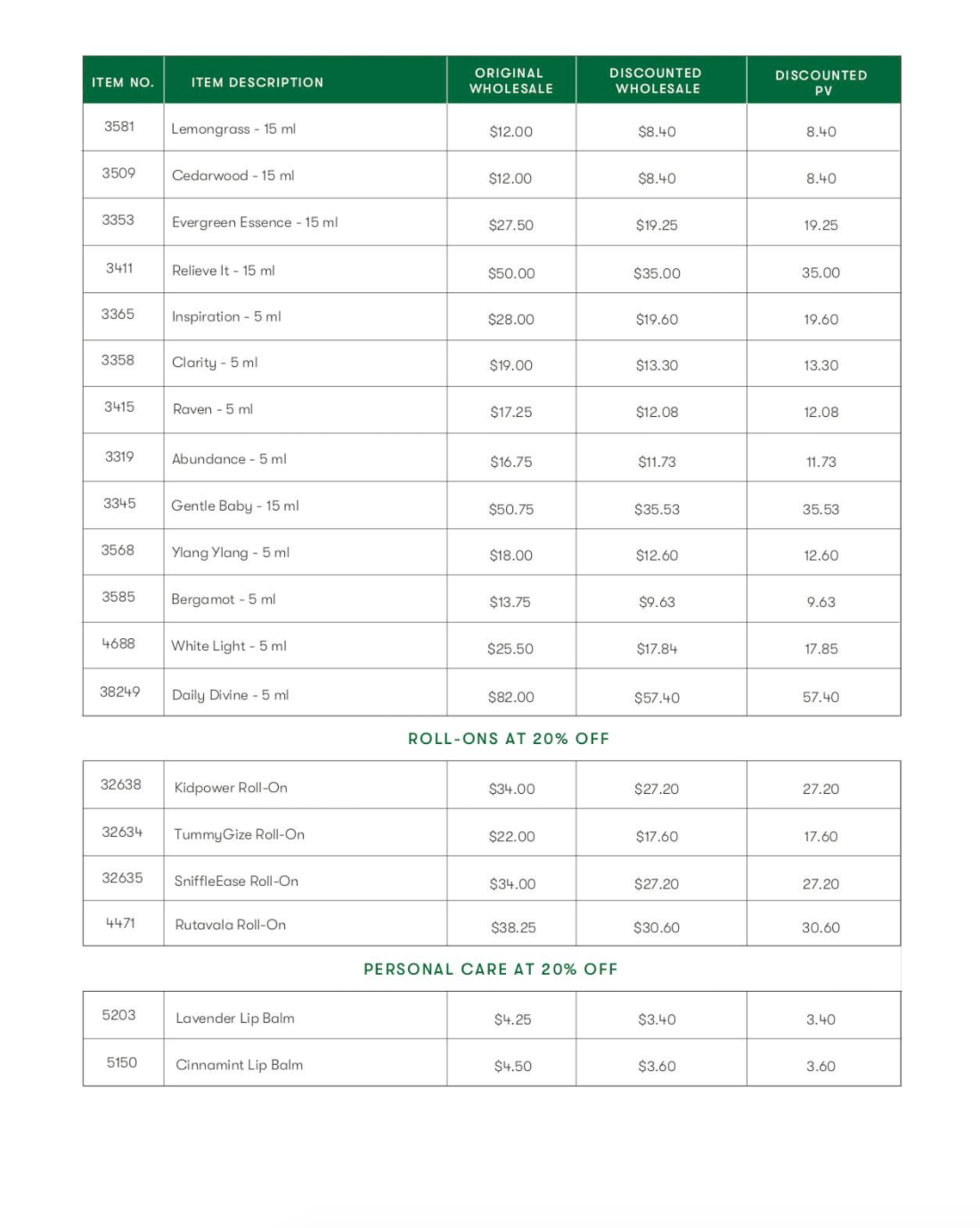 What am I am most excited about!
Evergreen Essence is the #1 on my list
, its fresh, uplifting aroma that makes your home smell like the evergreen forest or Christmas is absolutely amazing, and I can't wait to diffuse it in my home!


Evergreen Essence 15-ml

Item #: 3353
Original Wholesale: $27.50
Discounted Wholesale: $19.25
PV: 19.25


Relieve It 15-ml

Item #: 3411
Original Wholesale: $50.00
Discounted Wholesale: $35.00
PV: 35.00


Gentle Baby 15-ml

Item #: 3345
Original Wholesale: $50.75
Discounted Wholesale: $35.53
PV: 35.53

5-ML

Frankincense 5-ml

Item #: 3549
Original Wholesale: $31.75
Discounted Wholesale: $22.23
PV: 22.23

If you are renewing your account please check to make sure I am still your Enroller and my number 1504829 is showing! Please reach out if you need any help or further explanation.

Okay, your turn to share. What are you going to get? Which of these items are on your wish list and going into your cart right away?! Let me know and HAPPY SHOPPING!!
Nov 1, 2020 03:06 PM Central
Dorota Matys
Hello Friends!

I must start this November Newsletter 🧡 by telling you how grateful and thankful I am for each of you. You hold a special place in my heart

🧡
Thank you for being in my life and supporting my dreams and my journey.

I hope you all enjoyed your extra hour of sleep after yesterday's activities. It is now time to move into the season of planning your holiday decorations. Go for it my friends, and deck all the halls. Your house, your rules 👍
Tumultuous is just one of the many words that can accurately describe 2020. For everyone. It's been a wild ride and the holidays are about to add to the intensity because everything will be different this season. But take a deep breath, add some Peace & Calming in the diffuser (free this month see deets below), and no matter what your holiday season is going to look like, you'll benefit from a few soothing moments of calm and peace!
The Young Living promos this month give us a unique opportunity to get some fantastic oils, and there's also a custom ornament, which will give back to women in need with every purchase!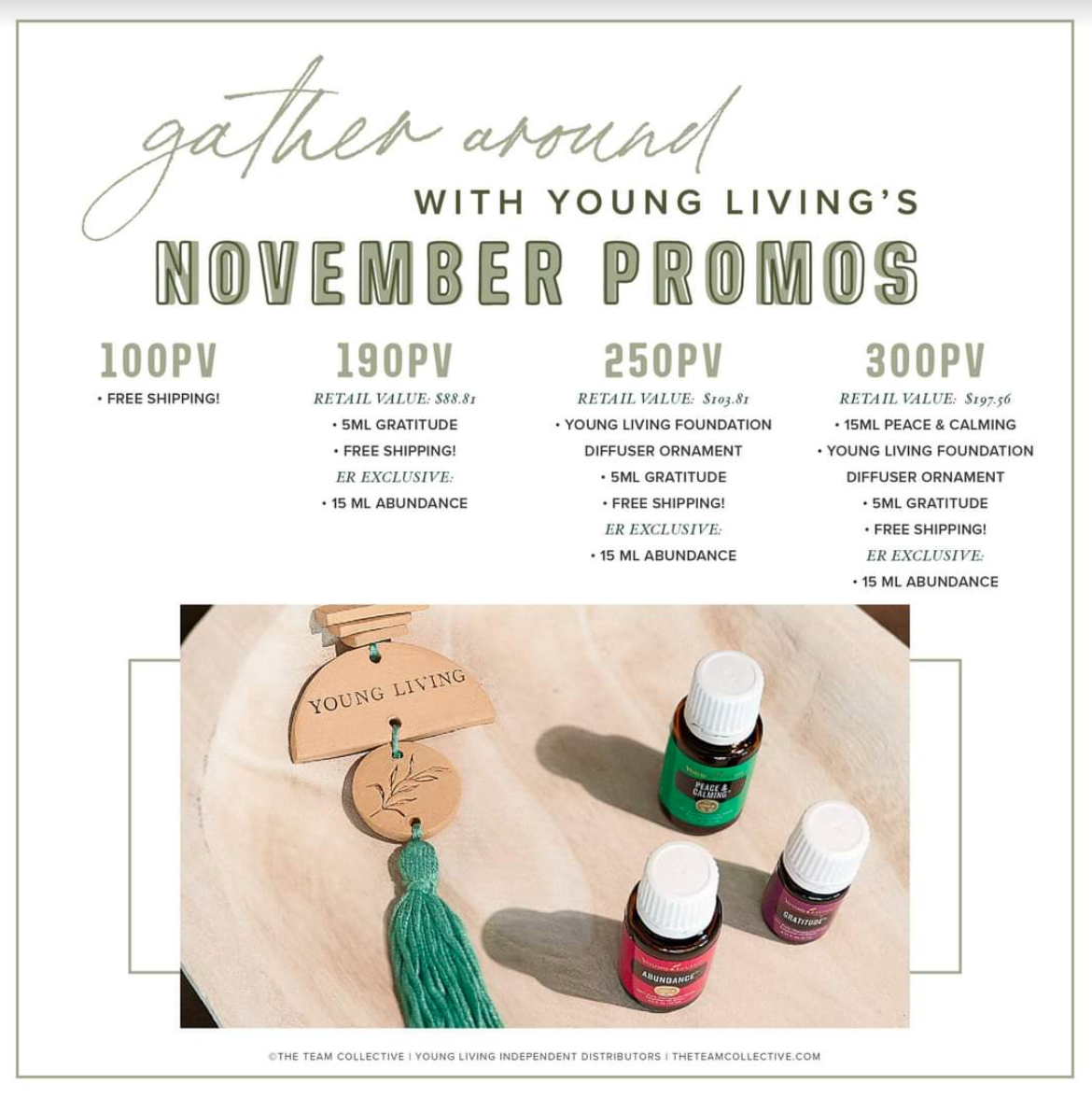 Here is the full breakdown of the US November promos:



100 PV



Free Shipping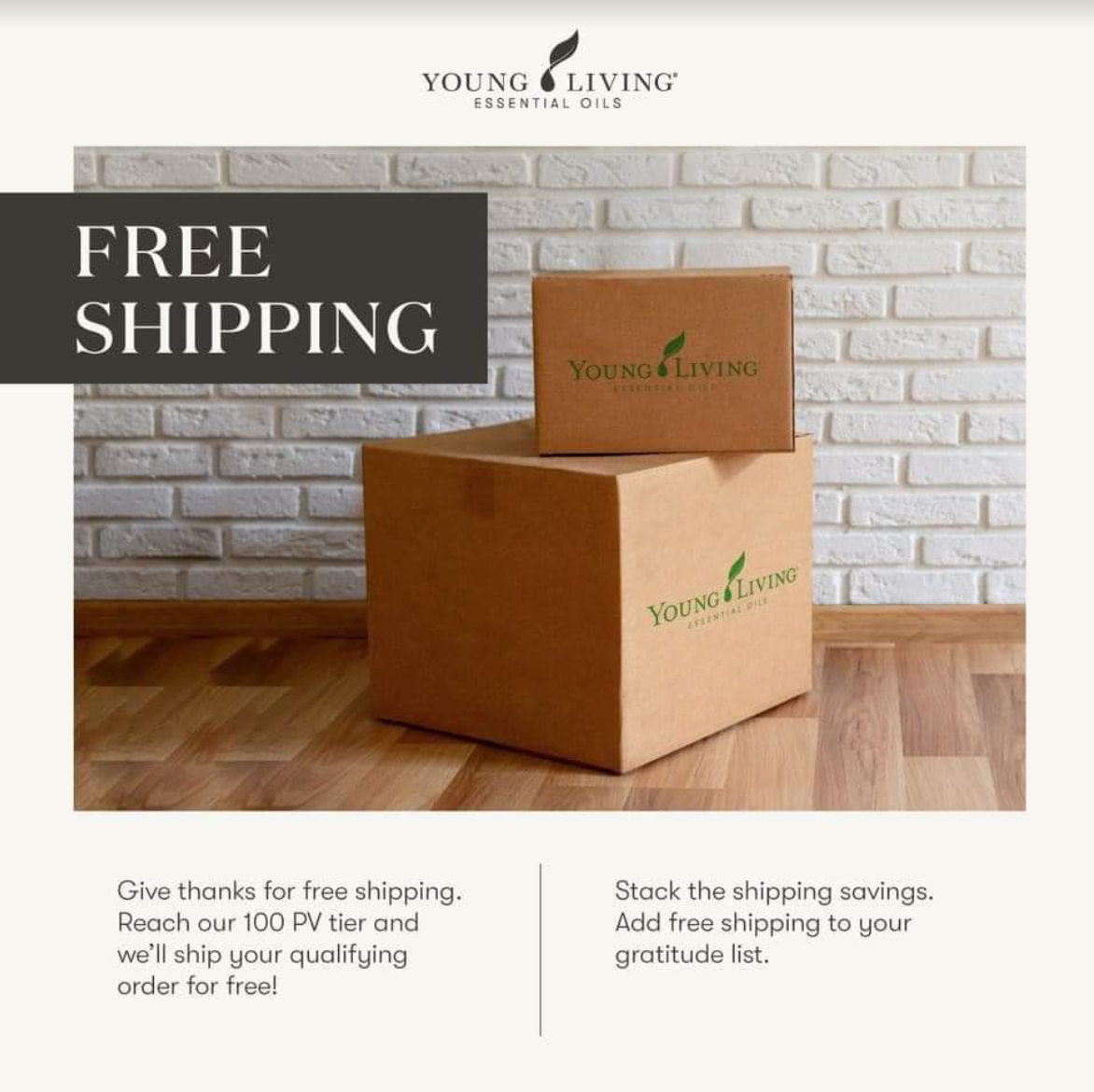 190 PV



Gratitude 5-ml

Abundance 15-ml*

Free Shipping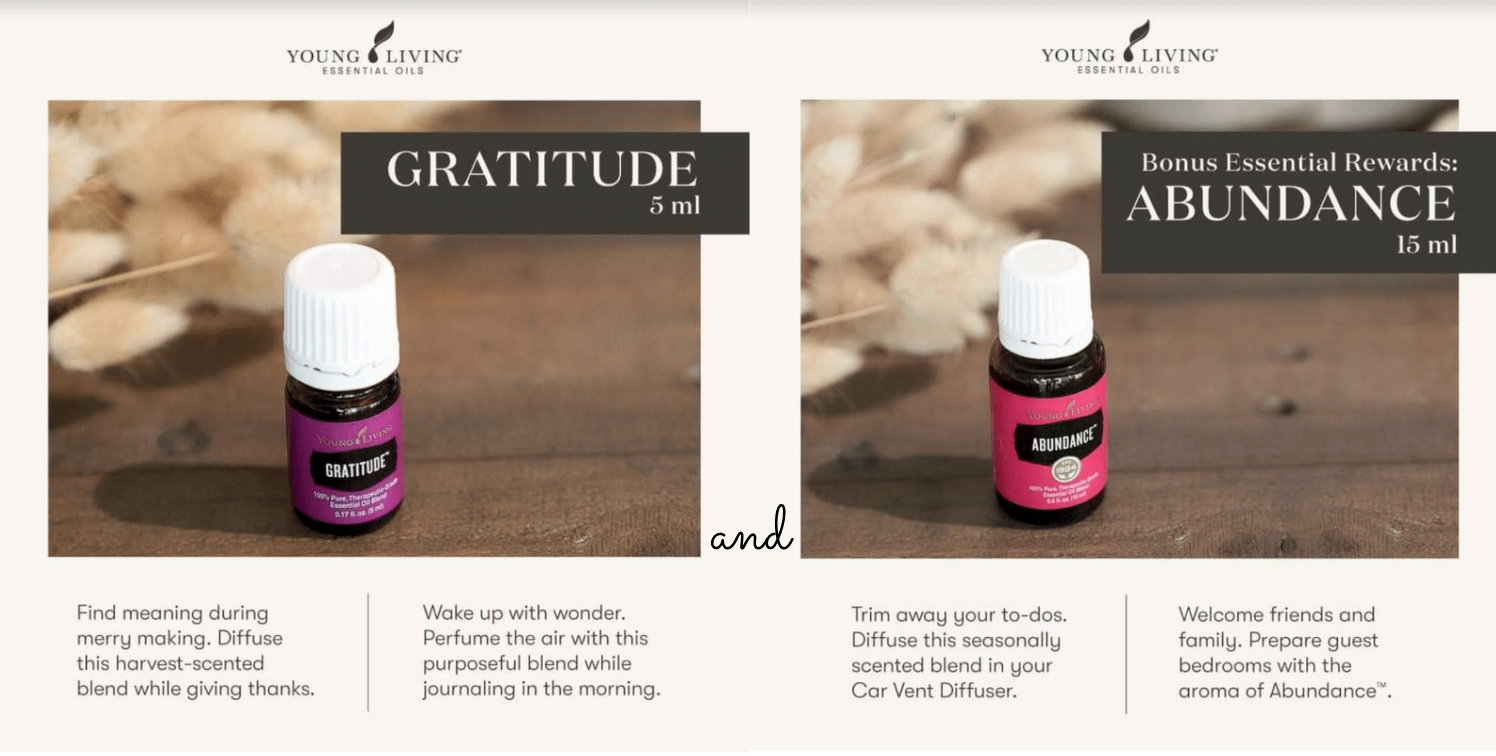 250 PV

YL Foundation Diffuser Ornament

Gratitude 5-ml

Abundance 15-ml*

Free Shipping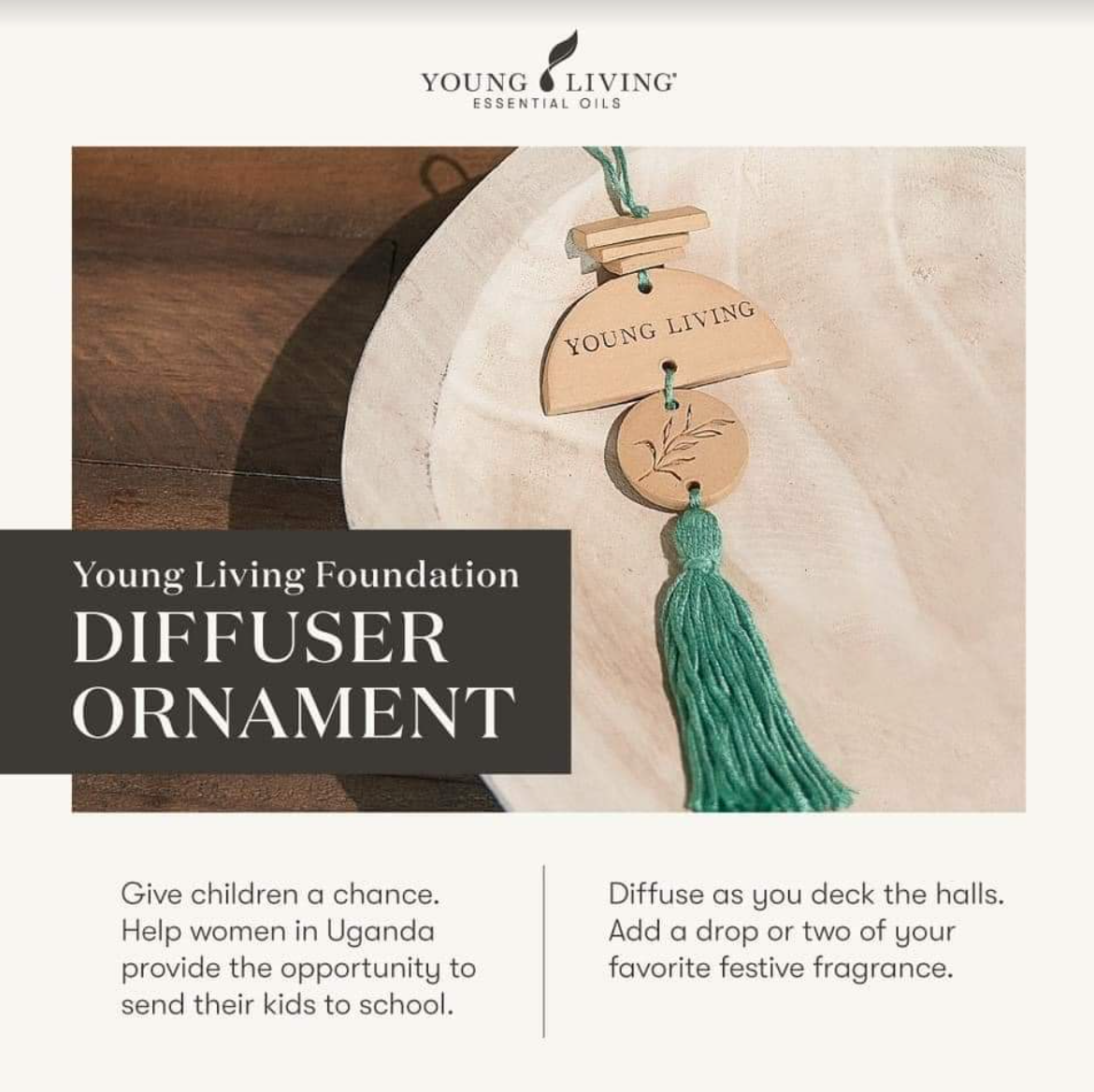 300 PV



Peace & Calming 15-ml

YL Foundation Diffuser Ornament

Gratitude 5-ml

Abundance 15-ml*

Free Shipping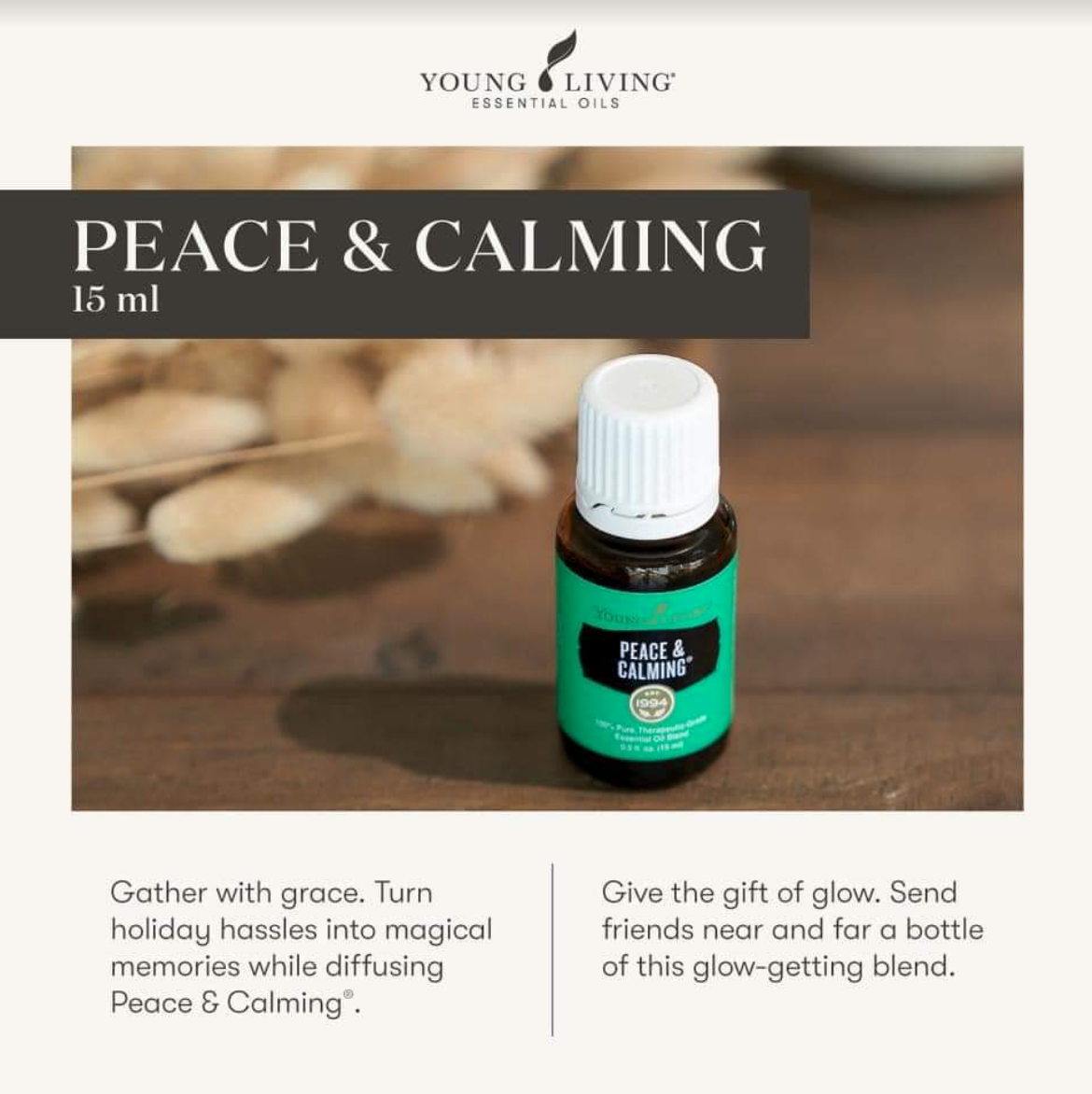 *Remember, in order to get the Essential Rewards Exclusive Abundance 15-ml, you have to be enrolled in Essential Rewards (ER) and have an order that meets the PV requirements for that item.

**The extra bonus of meeting all these PV amounts with your ER order is that you get even more ER points to spend later!

***Gratitude essential oil blend is considered a "dangerous good" and Shipping restrictions apply.


Do you see what I see? A 15-ml Peace & Calming in the promos? Yeah, let's start there!



Peace & Calming 15-ml (300 PV tier)



#ProTip: add another citrus oil for a brighter, fresher scent. No matter what, you'll be thankful for this 15-ml (yes, the BIG one) in the promos this month is a sure mood brightener!

Gather with grace. Turn holiday hassles into magical memories while diffusing the light and bright aroma of Peace & Calming until the end of the year.

YL Foundation Diffuser Ornament (250 PV tier)

I LOVE that this year's diffuser ornament is wooden! Easier to use - just add a few drops of your favorite oil to the surface! The ornament is durable and beautiful and it supports an amazing cause.

Check out what Young Living has to say about it:

"When you qualify for the 250 PV tier, you'll receive a handcrafted Young Living Foundation ornament, stenciled with a beautiful botanical and handmade by women in Uganda who are working to overcome economic hardships and provide a better life for their children. For these ornaments, a total of 208,400 fair pay hours were provided for 752 female artisans. This will directly benefit the 3,008 of the artisans' children and family members they care for! Your purchase is supporting these women in putting food on the table and keeping their children safe and in school."

Check out this link for more information on the artisans who made these: https://younglivingfoundation.org/.../impacting-hundreds...

*The Young Living Foundation Diffuser Ornament is available only while supplies last. If the ornament goes out of stock, we will reward 15 ER points instead.



Gratitude 5-ml (190 PV tier)



This is the season of gratitude and thankfulness. So adding this oil to this month's promos makes a lot of sense. It is uplifting and grounding. Using this blend helps us focus and see the things in life that we should be thankful for while also inspiring you to share our gratitude with others. When you need to rebalance and refocus during this season, grab this blend, apply on your wrist and neck, and inhale it deeply.

Abundance 15-ml (Bonus Essential Rewards 190 PV tier)

Bountiful is a word that comes to mind during the holidays. Whether it's the meals or the warm feelings of being with friends and family, there is an abundance of goodness everywhere you look. Abundance essential oil blend is welcoming, encouraging, and uplifting. Use it while you prepare your house for the festivities or diffuse it in the car to help you stay positive while checking off items on your holiday to-do list.

P.S. Did I mention this is the BIG 15-ml bottle? Well, it is. That's two 15-ml bottles in November's promos and they're BOTH blends that people absolutely love! That's something to celebrate!

Free Shipping (100 PV tier)

All orders over 100 PV STILL qualify you for free shipping if you want to go that route! Shop or Essential Rewards orders can qualify for this free shipping. Save a little money. Fill your order. Spend the money you save on a little something for yourself😉

Be sure to get all your people excited about these. Spread the news far and wide. We're going to make this holiday season beautiful no matter what it takes, and these promos can certainly help!

What are you most excited about?! Message me with your comments and I'll enter you into a drawing for a special warm, woodsy, and inviting November blend I've created for the month ahead!

With Gratitude

🧡




Xoxo



Dorota
Your wellness advocate!

Ps:
If you have any questions please do not hesitate to reach out!
follow instructions on ordering or reach out to me and I'll gladly guide you.