Before I jump into all the exciting Black Friday Special News I want you to know how thankful I am for YOU! Thank you for being with me on this journey of wellness, growth, education, and sharing. I don't take it for granted and wanted to let you know just how much I appreciate your support! I wish you and your family the happiest of Thanksgivings and pray that this year's celebration is very special for you!

This news I am about to share Is HUGE!!!

Black Friday Young Living Edition is here once again to blow us away, and let me tell you, YL did NOT hold back. We truly are getting spoiled with these deals.
Check this out:
30% off 30 essential oil favorites (like

Evergreen Essence!!!

, Thieves, Vanilla, Relieve It, Purification, Valor, Stress Away, and more - oh yeah, did I mention there are some exclusive 15-ml sizes for some of these?!)

20% off select Roll-Ons, Personal Care, and Supplements

25% off select CBD (yes, it includes some of the 1000mg)

Up to 25% off on select Kits, Bundles, and Collections (plus, there's a BRAND new collection)

Buy One Get One (BOGO) on select Shampoos & Conditioners - buy the shampoo, get the conditioner free! NOTE: THESE ARE THE OLD FORMULAS!


These go LIVE TODAY at 8 am MT on Monday, November 22nd. So you can get all these goodies in your cart and on the way to you! This is the perfect way to wrap up all your holiday shopping and stock up on your favorites or discover some new ones!

A few keys to shopping the Black Friday deals:
1. NO LIMITS. There are no limits on any of these items. Get them while you can!
2. Available for NFR. Each country is different in their NFR ordering for regulatory and legal purposes, however, each market will have access to shop these products during the promotions.
3. Shop Only*
*There are three exceptions to this:
New members making their first order will be able to add Black Friday deals to a Subscription order or a Shop order.

Any customer who has **never been on Subscription before** will be able to add Black Friday deals to a Subscription order or a Shop order.

Anyone reactivating their account will be able to add Black Friday deals to a Subscription order or a Shop order.
NOW IT'S TIME, CHECK THESE OUT!! Here are all the Black Friday deals, which you'll find on the website today, November 22nd, at 8 AM (MT) in the "Black Friday" section under Shop.

Here is the list with updated prices you can refer to: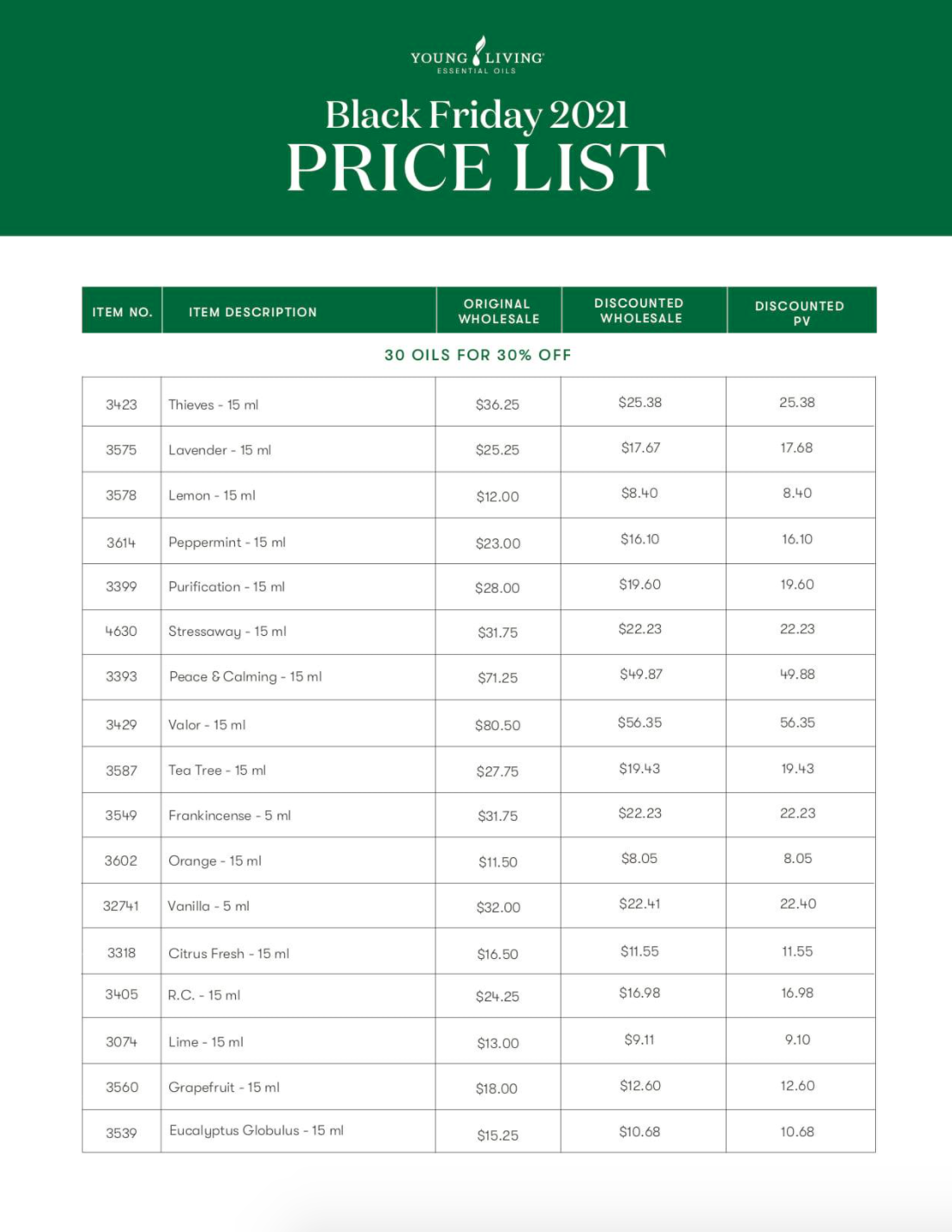 ....and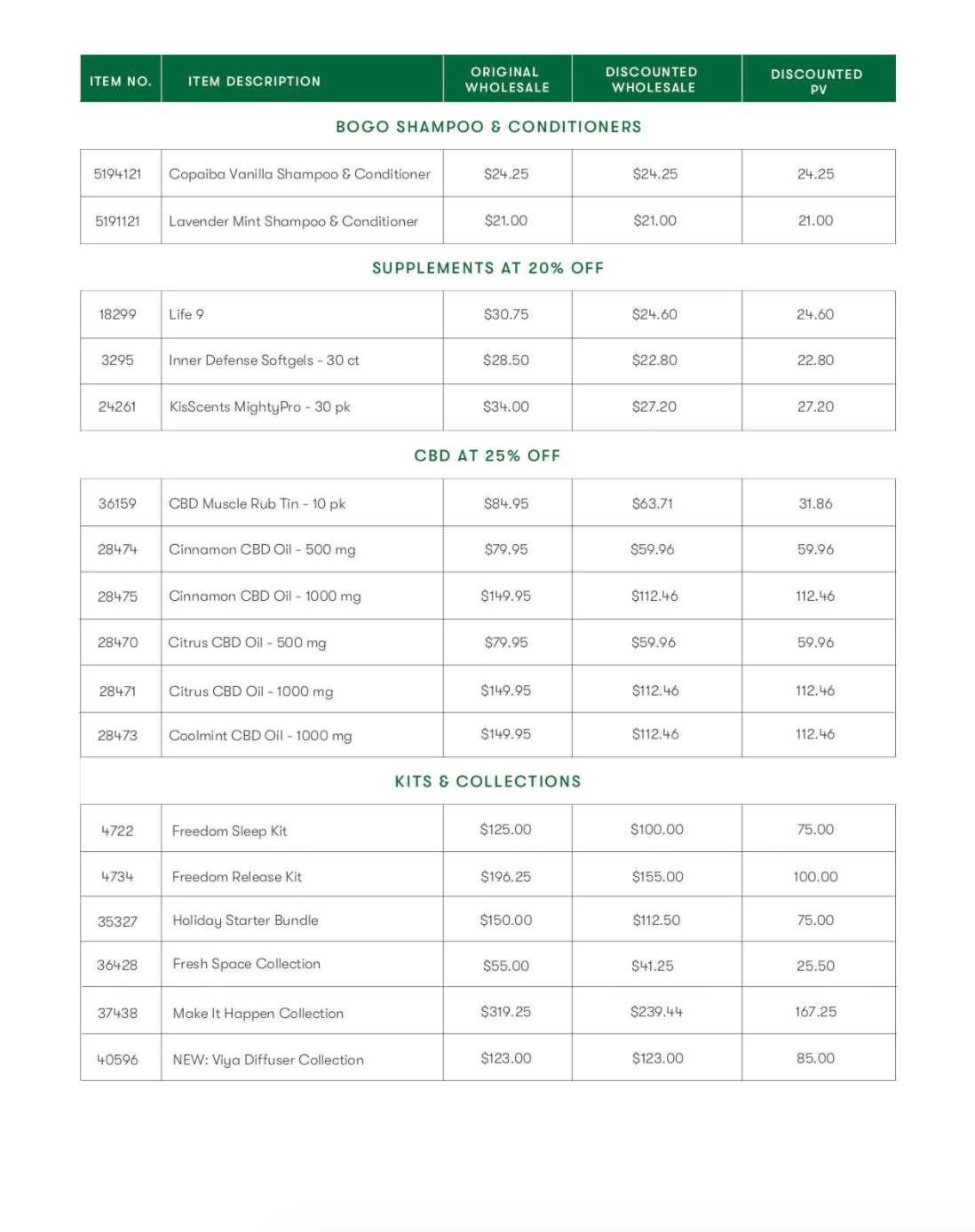 ...and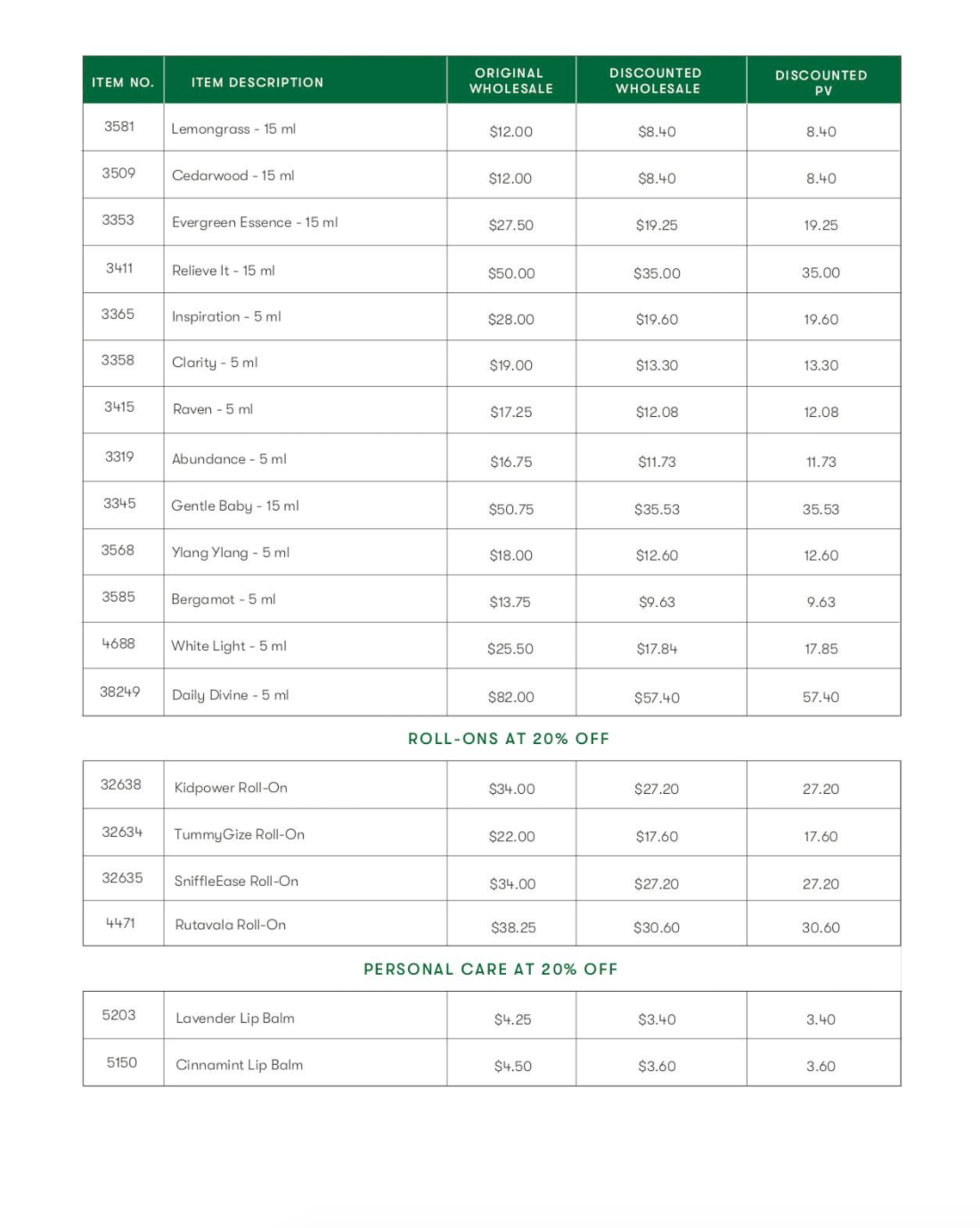 What am I am most excited about!
Evergreen Essence is the #1 on my list
, its fresh, uplifting aroma that makes your home smell like the evergreen forest or Christmas is absolutely amazing, and I can't wait to diffuse it in my home!


Evergreen Essence 15-ml

Item #: 3353
Original Wholesale: $27.50
Discounted Wholesale: $19.25
PV: 19.25


Relieve It 15-ml

Item #: 3411
Original Wholesale: $50.00
Discounted Wholesale: $35.00
PV: 35.00


Gentle Baby 15-ml

Item #: 3345
Original Wholesale: $50.75
Discounted Wholesale: $35.53
PV: 35.53

5-ML

Frankincense 5-ml

Item #: 3549
Original Wholesale: $31.75
Discounted Wholesale: $22.23
PV: 22.23

If you are renewing your account please check to make sure I am still your Enroller and my number 1504829 is showing! Please reach out if you need any help or further explanation.

Okay, your turn to share. What are you going to get? Which of these items are on your wish list and going into your cart right away?! Let me know and HAPPY SHOPPING!!