May 18, 2020 02:22 PM Central
Dorota Matys

Happy May!
I hope this month finds you safe, happy, and well. Life is still a bit strange and out of sorts for us all, but we can still find balance and joy in many ways. We're going to make it through all of this together.
And we've got our oils to help.
Believe it or not, we're halfway through spring. Funny how slow time seems to pass, but so much is still happening all around us. That's part of the reason why balance is such a needed thing in our lives right now. Emotional, spiritual, physical. All of it.
The May PV promos will help bring that balance and provide further support through these trying times. And you know what they say, April showers bring really, really good May promos.
That is how that saying goes, right? Either way, it's true.
And to prove it, here's the full breakdown of the US May promos (which include a 15 ml Frankincense)!
At 100 PV you get:
Longevity Vitality 5ml only on ER- essential Rewards
($20.72 value)
At 190 PV you get:
EndoFlex 15ml &

Bonus ER exclusive: 15ml Lavender & 5ml Longevity Vitality
($73.68 value)
At 250 PV you get:
Deep Relief Roll-On 10 ml, Endoflex 15ml,

Bonus ER exclusive: 15ml Lavender & 5ml Longevity Vitality
($109.86 value)
Att 300 PV you get:
Frankincense 15ml, Deep Relief Roll-On 10 ml, Endoflex 15ml,

Bonus ER exclusive: 15ml Lavender & 5ml Longevity Vitality
($172.69 value)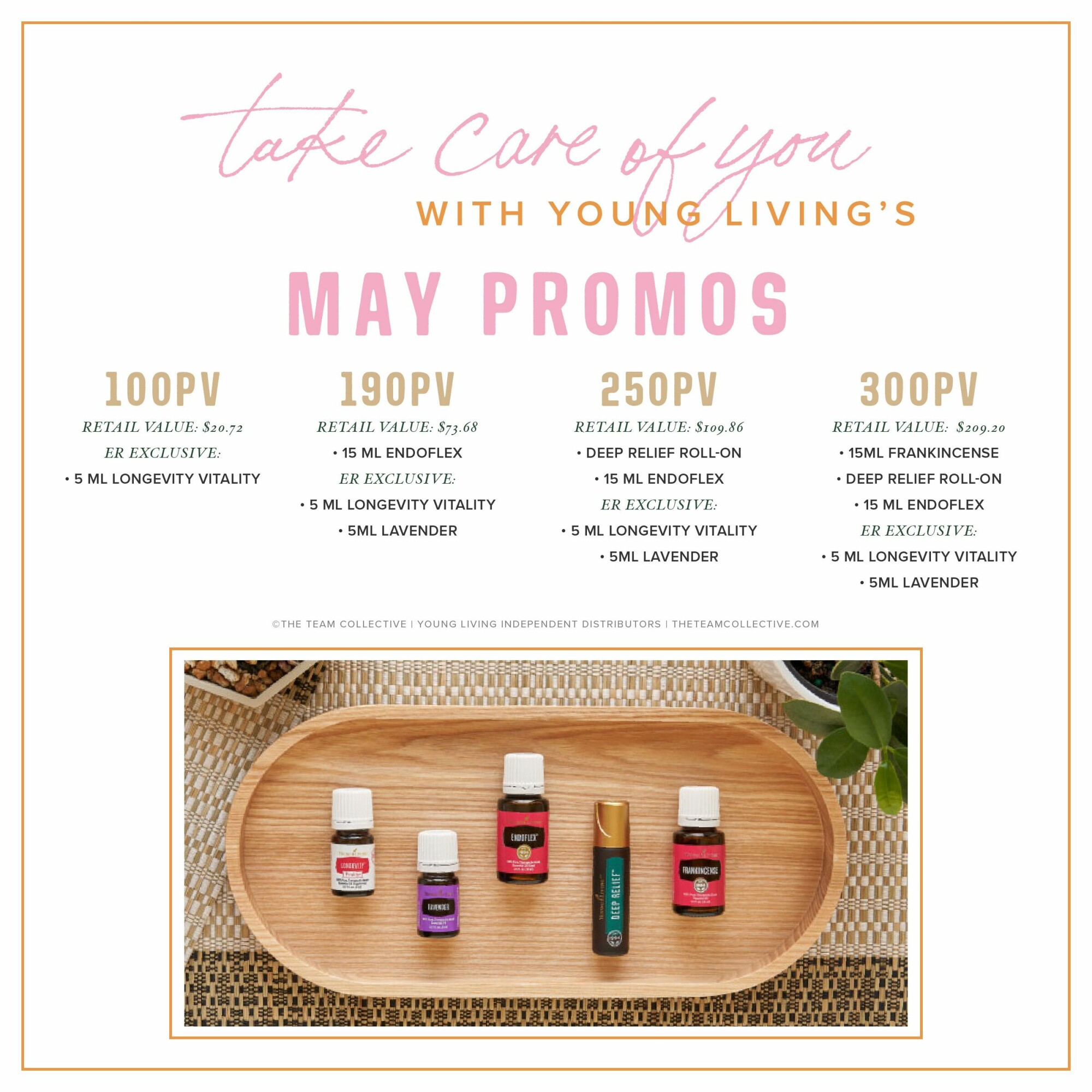 *Remember, in order to get the Essential Rewards Exclusive Longevity Vitality 5 ml and the Essential Rewards Exclusive Lavender 5 ml, you have to be enrolled in Essential Rewards (ER) and have an order that meets the PV requirements for those items. The extra bonus of meeting these PV amounts with your ER order is that you get even more ER points to spend later!
Click HERE to learn more about the bonus oils: Longevity Vitality, Lavender, Longevity, Endoflex, Deep Relief roll-on, and Frankincense.
I am in love with these promos. The timing is perfect. The balance of what we're getting is spot on for what we all need it in our lives right now.

The Spring Launch happened last month and boy did we get some exciting new products!
New steeped teas, two types of Savvy Minerals mascara, and so much more. Let me just list them for you below, because you'll want to run to the "Shop" section of the Virtual Office in the "What's New" section and see which of these are still in stock, cause they are all amazing. Check out what we got!
Luscious Lemon Foaming Hand Soap, it's fabulous!!!

Valor Deodorant, absolute must-have!

Savvy Minerals Lengthening Mascara

Savvy Minerals Volumizing Mascara (because it is time for a couple of new mascaras that do what they're supposed to)

Steeped Vitality Spiced Turmeric Herbal Tea

Steeped Vitality Orange Rosehip Black Tea

Steeped Vitality Vanilla Lemongrass Green Tea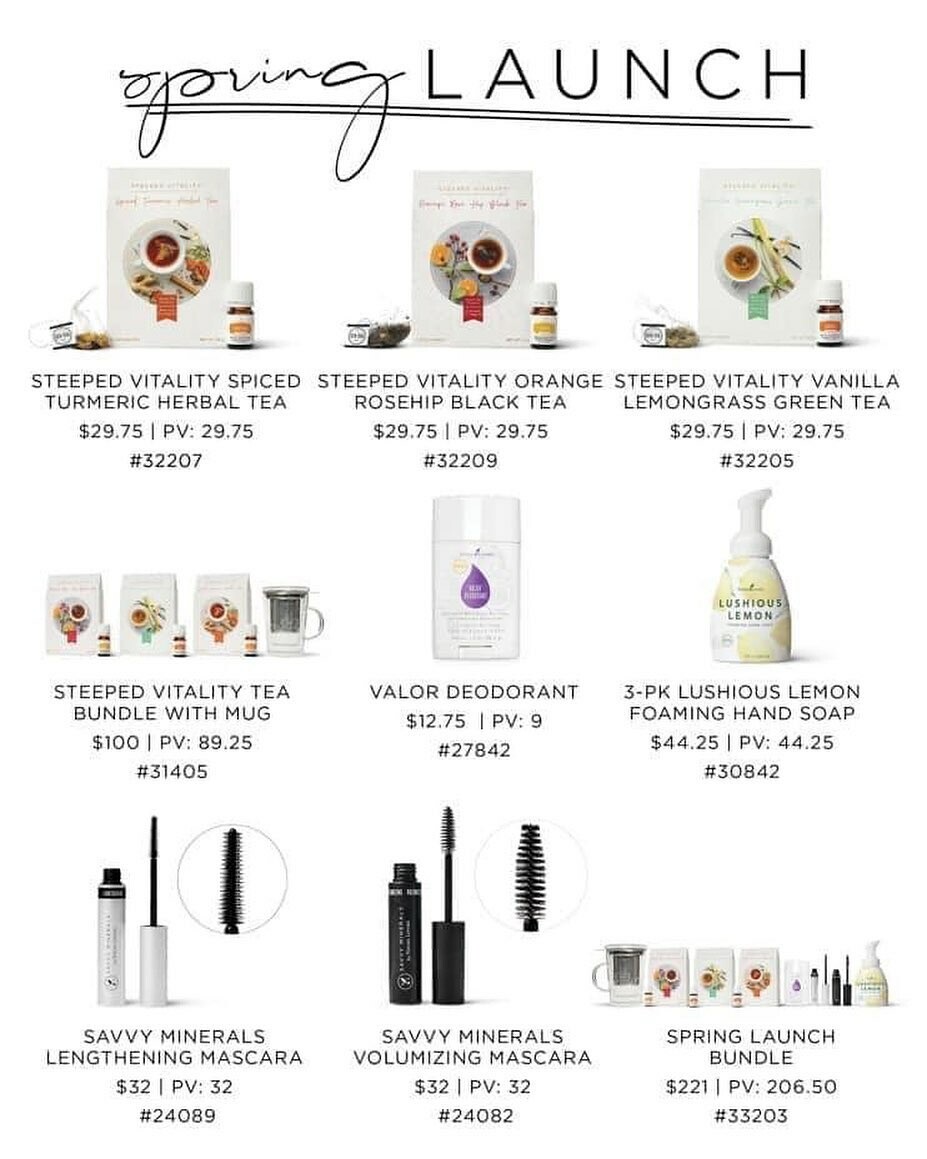 Plus, starting May 1st we're able to add those to our Essential Rewards orders! New products AND great promos? Hard to ask for a better combination.
Here's to hoping that we all have a month filled with joy, balance in all areas of life, and that we all stay safe and well. As always, if you have any questions or need help with anything, please let me know.
Yours Truly,
Dorota Matys