Aug 20, 2018 12:32 PM Central
If you believe that wellness in every area of our life can be accomplished through healthy lifestyle habits that include taking good care of our gut health and choosing the products we use on ourselves and to clean our home wisely, consider joining our Joy-Givers Team.
—> Look through this website (Tip: click on"Learn") and see what products Young Living offers us and see if they resonate with you. Look at the ingredients in many that you would use daily - it's important that you are 100% sure you would use these products on a daily basis. You will first see some featured wellness supplements, but if you keep scrolling down you will find the new products Young Living offers, as well as the Product Guide link so you can learn about more of them.
—> Learn on this website also about the company itself and their Seed to Seal Promise (Tip: Click on "Learn" and then on "Why Us"). Do you think it's a company you could trust to provide products that are always of high quality for your family?
—> Young Living knows we need money for everything we desire in this world, not just monthly bills, but also things like yearly family vacations and perhaps higher education opportunities for yourself or your kids, so click on the "OPPORTUNITY " button on this website and learn what they offer all of us if we share about this company with others (in any way you prefer).
If you decide you want to join us
, click on "Learn", then "Starter Kits" to easily sign up online with one of their Premium Starter Kits, the best value for your money. You could also reach out to me or the person who shared this post with you if you have any questions (or to get their Sponsor ID, if someone else on our team shared this post with you)
Aug 18, 2018 12:46 PM Central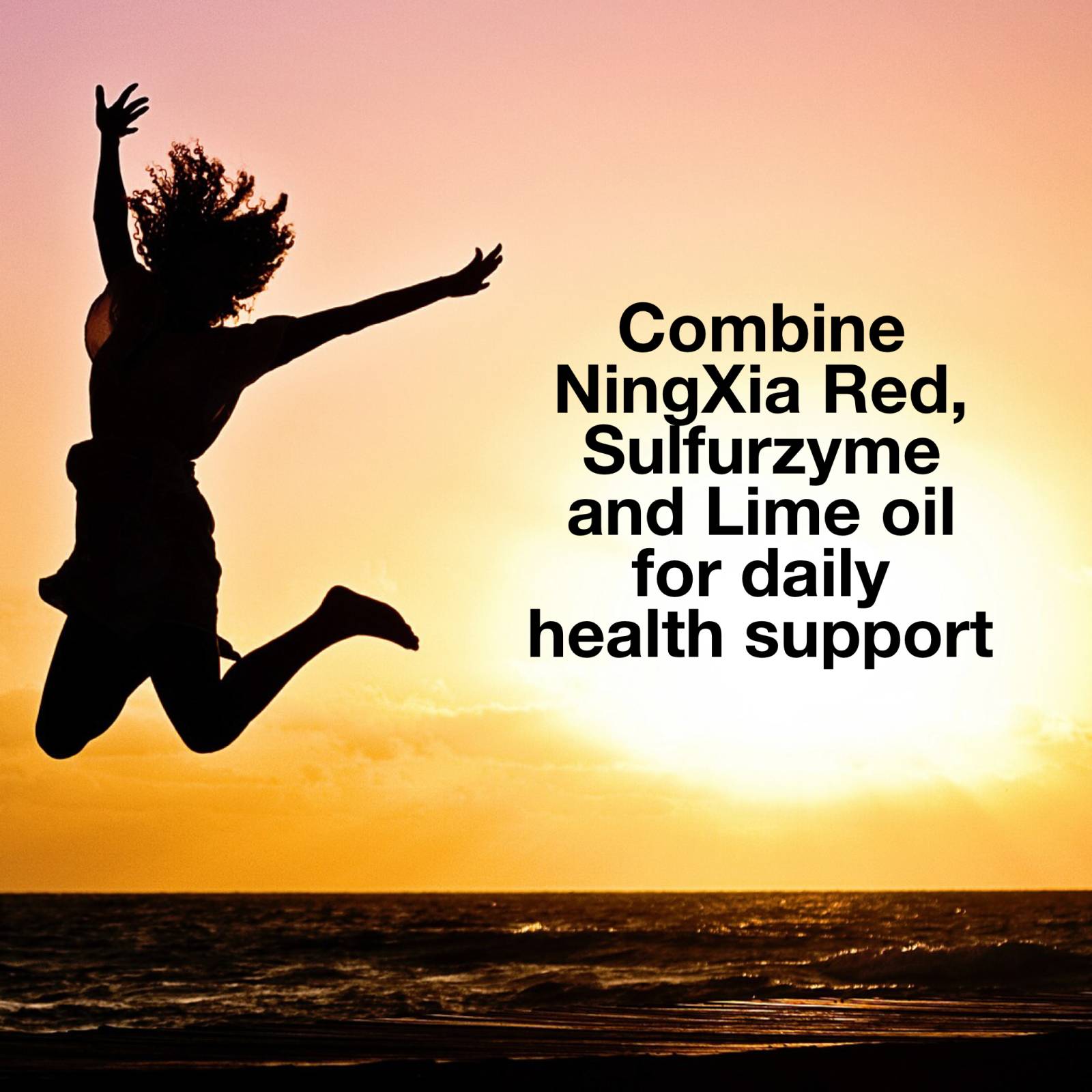 Fueling up properly when we first wake up in the morning is important so that we can be ENERGETIC throughout the day
. This drink will help you accomplish this. Ready to put down the coffee mug or Monster and drink this instead?
Challenge yourself to do this (when you first get up in the morning) for 21 days and record how you feel.
In an empty NingXia Red container, combine 2 oz NingXia Red, 1/2 tsp Sulfurzyme or the contents of 2 capsules of it, and 3-4 drops of Lime essential oil (Vitality). Fill the rest of the bottle with filtered water. Shake and pour yourself a glassful. Chill the rest. Don't eat or drink anything else until the whole bottle is gone though! 😉
**Are you going to do an intense EXERCISE ROUTINE that morning? Add a tube of NingXia Nitro for an extra energy boost.
—> Don't have an empty NingXia Red bottle yet? Use a large reusable glass water bottle instead; one that holds 32 oz of liquid.
Jul 10, 2018 02:45 PM Central
If you are wanting to make it a habit to use Young Living's brand of products to enhance your healthy lifestyle, I highly recommend signing up with their (optional) Essential Rewards Program. Regardless of whether or not you're "building a business" with Young Living, wanting to make an extra $100 or $200 a month, or just want to enjoy a healthier lifestyle by using their products consistently, the Essential Rewards is a marvelous program to be on! You see, by purchasing their brand of products on a monthly basis - products we use every single day in our homes - they will give us back 10 to 25% in points which we can then redeem for free products!
Here is how it works. In the first 3 months they give us back 10% of the PV (product value) in points we can save up and redeem for others things we want (like shampoo, conditioner, deodorant, toothpaste, makeup, baby products, a supplement, an oil etc). Starting in the 4th month of being committed to this program, we get double that! They reward us with 20% back in points. For example, if in the first 3 months we spend 50 PV, we will be given back 5 points. By the end of 3 months, we will have saved up to $15 worth of eligible products (most in their catalog are, by the way). When we reach our 4th month that same PV translates into $10 back! So 3 months later we have $30 plus the $15, so $45 to redeem for free products.
And that's not all!
If we commit to just start swapping out things from our home and decide to purchase $100 a months in Young Living products - actually 100 PV (PV stands for "product value" since we have an international market and so each product has a certain value) - we will get $10 back the first 3 months and $20 back starting at the 4th month, PLUS each of those months we will receive a
FREE 5 ml BOTTLE OF ESSENTIAL OIL
. If we absolutely fall in love with their products and want to keep using their supplements (like their amazing NingXia Red), and we spend 190 PV worth of products, we get even more free products.
What we get varies from month to month, so watch for the "month's freebies
" at 190 PV, 250 PV, and 300 PV levels. Gosh!
It totally simplifies our life to switch to their brand
because they have sooooo many lifestyle products that we use every day from hair care products and facial care ones, all the way to housecleaning ones. They even have a baby line and a makeup line now!
Once you experience their products and really realize that ALL their products have great ingredients in them, ones that are actually ENHANCING your brain health, emotional health, and physical health, I can almost guarantee that you won't want to read another label at your local store again
. All I can say is that
it certainly has

simplified my life

to switch over to their brand of products
and that is why I absolutely love sharing about this company and about their Essential Rewards.
So…. back to the Essential Rewards Program….
If you stay committed for two consecutive years you start receiving

25% back

!
How cool is that? Then your points start adding up real fast and you can get so many FREE products that you are going to be totally amazed. Gosh,
just last year I got $950 worth of products for free
, and I am very grateful for that. All I did was purchase supplements and essential oils that we need at home to help us stay fit and healthy throughout the year, and I was able to get a bunch of personal use and cleaning products for free. It just can't get any better than that, you guys, and that is why I will continue to share about this program relentlessly. It's the best rewards program in the world, in my opinion.
Experience it for yourself by signing up for this program this month, if you have not already.