Nov 15, 2018 09:03 PM Central
1. Exercise 30 minutes a day. Make sure the program you choose is challenging for YOU.
2. Get 7-8 hours of sleep EVERY night. Our body needs to fully rest and recover so we can function properly.
3. Drink plenty of water every day. Divide your weight in half and drink that amount in oz (e.g a 200 lb person would drink 100 oz)
4. Take a day of rest every single week; do what will help you recover in body, mind, and soul. For me that day is Sunday.
5. Choose to INTENTIONALLY let go of negativity and adopt an attitude of gratitude.
6. Learn to not allow emotions to take control of you in any situation.
7. Just breathe. There's going to be a lot of chaotic moments, but just let go and breathe deep. Say the serenity prayer.
8. Fill your body with nutrients through the foods and beverages you consume and the supplements you take. Speaking of supplements, make sure you are taking these basic three every day: a wholefood multinutrient (like Young Living's Master Formula, for example), a powerful probiotic, and an excellent omega-3. Make sure the supplements come from a reputable company and that your body can fully absorb them.
9. Make sure the products you use on yourself are completely non-toxic, t.i non-harmful to your body or brain, and that that they also enhance your well-being. The brand I choose to use is Young Living. It simplifies my life to order my products from them every month and have them delivered to my home.
10. Make sure the products with which you clean your home and your clothes, and those that you choose to use to make the air you breathe smell good, are completely toxin-free. You don't want anything in your home that could harm you, your babies, or your pets.
Follow these healthy habits consistently and encourage others to do the same. In this way, we can all live healthy energetic lives, regardless of our age.
Aug 20, 2018 12:32 PM Central
If you believe that wellness in every area of our life can be accomplished through healthy lifestyle habits that include taking good care of our gut health and choosing the products we use on ourselves and to clean our home wisely, consider joining our Joy-Givers Team.
—> Look through this website (Tip: click on"Learn") and see what products Young Living offers us and see if they resonate with you. Look at the ingredients in many that you would use daily - it's important that you are 100% sure you would use these products on a daily basis. You will first see some featured wellness supplements, but if you keep scrolling down you will find the new products Young Living offers, as well as the Product Guide link so you can learn about more of them.
—> Learn on this website also about the company itself and their Seed to Seal Promise (Tip: Click on "Learn" and then on "Why Us"). Do you think it's a company you could trust to provide products that are always of high quality for your family?
—> Young Living knows we need money for everything we desire in this world, not just monthly bills, but also things like yearly family vacations and perhaps higher education opportunities for yourself or your kids, so click on the "OPPORTUNITY " button on this website and learn what they offer all of us if we share about this company with others (in any way you prefer).
If you decide you want to join us
, click on "Learn", then "Starter Kits" to easily sign up online with one of their Premium Starter Kits, the best value for your money. You could also reach out to me or the person who shared this post with you if you have any questions (or to get their Sponsor ID, if someone else on our team shared this post with you)
Aug 18, 2018 12:46 PM Central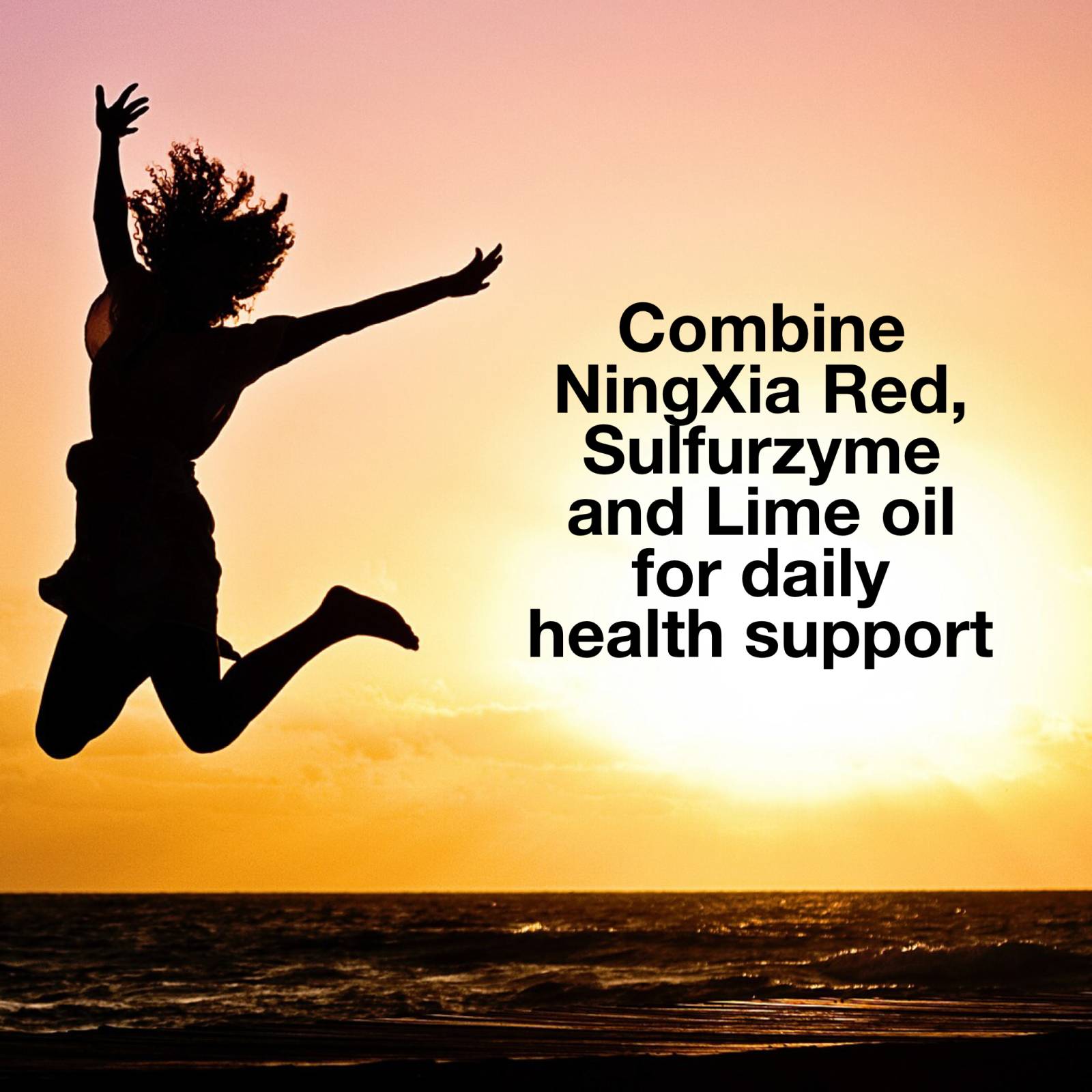 Fueling up properly when we first wake up in the morning is important so that we can be ENERGETIC throughout the day
. This drink will help you accomplish this. Ready to put down the coffee mug or Monster and drink this instead?
Challenge yourself to do this (when you first get up in the morning) for 21 days and record how you feel.
In an empty NingXia Red container, combine 2 oz NingXia Red, 1/2 tsp Sulfurzyme or the contents of 2 capsules of it, and 3-4 drops of Lime essential oil (Vitality). Fill the rest of the bottle with filtered water. Shake and pour yourself a glassful. Chill the rest. Don't eat or drink anything else until the whole bottle is gone though! 😉
**Are you going to do an intense EXERCISE ROUTINE that morning? Add a tube of NingXia Nitro for an extra energy boost.
—> Don't have an empty NingXia Red bottle yet? Use a large reusable glass water bottle instead; one that holds 32 oz of liquid.