12/07/2017 07:57 PM Central
CHRISTMAS TREE ORNAMENT BUNDLE!!
---------
Are you ready to participate in the season of giving and classic Christmas traditions at the same time?
Tomorrow; we are launching a limited-time (one week only or while supplies last) Christmas Tree Ornament Bundle that includes an oil-diffusing glass orb tree ornament, along with 5-ml bottles of Pine and Christmas Spirit essential oils.
Additionally, the D. Gary Young, Young Living Foundation will receive 50 cents from each bundle ordered, which will aid them in fighting malaria and providing homes and education around the world. Did you know that you can also ROUND UP your YL order in the checkout area of your Virtual Office? All proceeds go directly towards the YL Foundation to help make a change around the world!

Give it as a gift or order one for the family and enjoy this beautiful holiday season with the sweet smells of Christmas!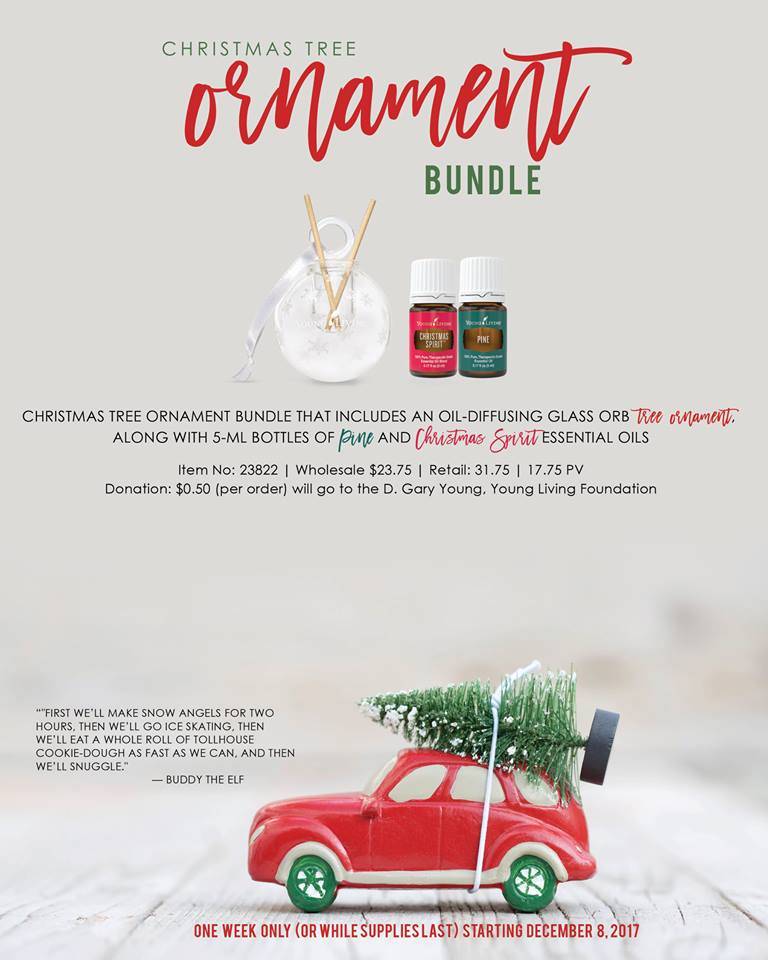 Available: Friday, Dec. 8 2017 at 10 A.M., M.S.T.
Item No: 23822
Wholesale $23.75
Retail: 31.75
17.75 PV

Donation: $0.50 (per order) will go to the D. Gary Young, Young Living Foundation
US & NFR Only
Open to ER and QO orders
No limits!
Oils Included:
Pine: This oil may help dilate and open the respiratory system, particularly the bronchial tract. It may also help with colds, coughs, cuts, cystitis, fatigue, flu, gout, lice, nervous exhaustion, UTI's. Pine oil may also help increase blood pressure and stimulate the adrenal glands and the respiratory system. Great for any first aid kit!
Christmas Spirit: Contain Orange - may help with gloomy thoughts and depression giving you a more positive outlook
cinnamon Bark - May have a stimulatating and toning effect on the whole body. Brings about the feeling of joy! Spruce- grounds the body, creating the balance and opening necessary to receive and to give. It is warming, healing and uplifting!
Available for ONE WEEK ONLY or until supplies last....and again NO LIMITS!!
Happy Holidays !
Robin
12/01/2017 09:07 AM Central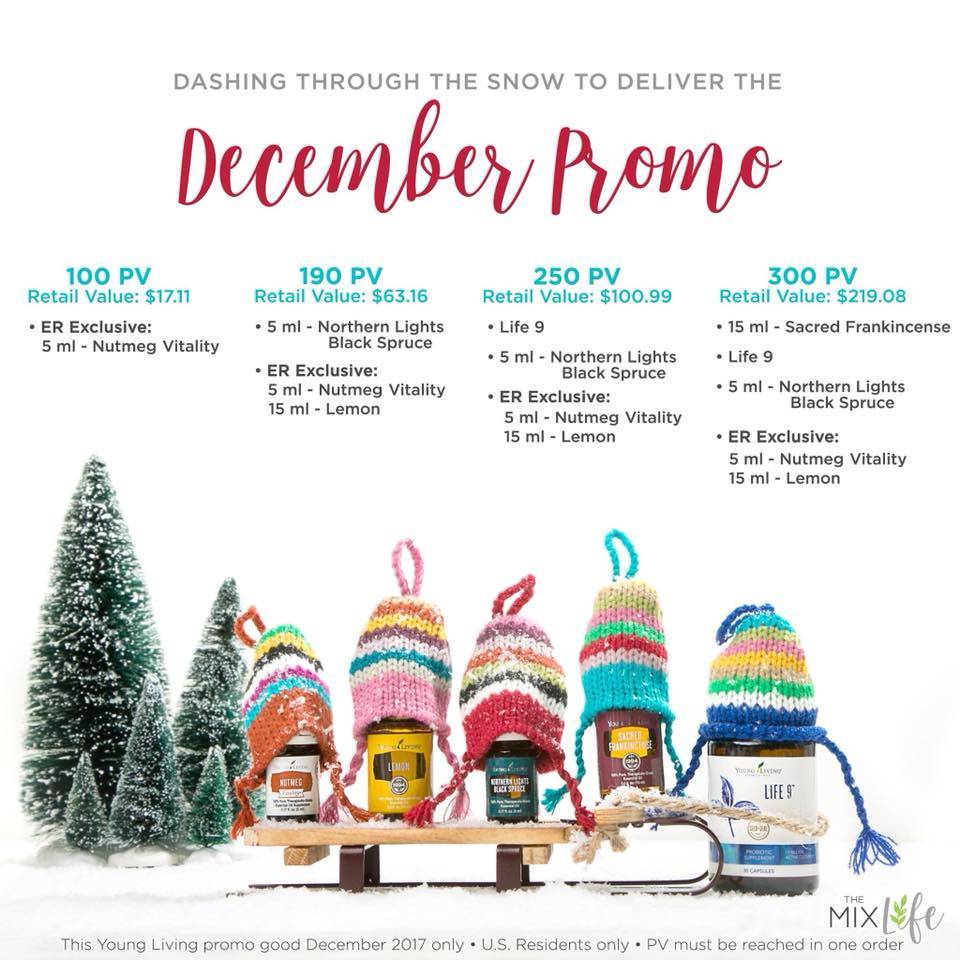 Young Living is at it again you Guys.
Before your eyes roll back in your head, Essential Rewards is a great way to get Freebies and $$ put back into your account so you can get more oils. There is no catch, you can cancel anytime and it pays for itself for sure with great product give-aways and gifts from Young Living. You don't have to break your bank account to participate and many of you are already spending at least 50PV per month. Now is a great time to take advantage of the goodies you could be getting FREE.
These December Promos are OFF the HOOK. YL is always so giving and knows exactly what we need to have a physically and emotionally healthy month! Want to learn more about how great these oils are for you?? READ on!!
📚
🍂Nutmeg Vitality 5 ml: Adrenal Support Powerhouse! Around the holidays our adrenals can get taxed with later evenings and added stress; place a drop under your tongue or swap a drop in the inside of your cheek and thank me later. This will give you some added energy for the day too. Also supports the production of melatonin - the hormone of SLEEP!! Good sleep = a supported immune system!!
🌲Northern Lights Black Spruce 5 ml: Did you know the ENTIRE tree is in this bottle- from needle to root?! And the oil in this bottle comes from trees that sit under the magical Northern Lights at our farm in Fort Nelson. Traditionally, Black Spruce trees have been believed to possess the frequency of prosperity! (Yes, please! I will take a gallon.) This oil is a big emotional oil - used to release emotional blocks and brings feelings of balance and grounding. This oil has the capacity to make you feel grounded and elevated at the same time. It's aroma is perfect for the season, add some drops to your diffuser ornament from last month or to your diffuser and enjoy the gorgeous wintery aroma.
🍋 Lemon 15 ml: Energy boost wanted? Diffuse lemon! It'll kick ya into gear and make you smile. Emotionally helps open you & increase focus. It's high in d-limonene (go Google what that does) so it's the perfect immune system support for the season! (It does come in a vitality label for that system support.) A drop in honey or warm tea does wonders for the throat & chest this time of year! Need to get things clean? Lemon oil will take any sharpie/marker stain right out! We love to diffuse this first thing in the morning because it just gets us up and active and going - all citrus oils are mood supporters - so start your day out right with some Lemon oil.
🚽 Life 9: Oh I am so excited about this supplement for FREE! This high potency probiotic supports the digesting system. Did you know your bowels are the command center of the immune system? (Yes I just said bowels.)
😂
👊 And for the bowels to function like a PRO, probiotics are needed for every intestinal function. YEP! So we gotta support that gut health! Added sugar and stress from the holidays and just the daily grind of life, and well, let's be honest, not everyone makes the best meal choices 100% of the time, can lead to an unhappy gut. Life 9 contains 9 active strains of GOOD bacteria in a delayed-release capsule with 17 billion active cultures. I love to take this supplement at night when my gut and body does its repairing while I sleep. Easy to use for kids by opening the capsule up and adding to yogurt or applesauce!
👑 Sacred Frankincense 15ml: HOLLA!!! People, if you thought last month was amazing with free Frankincense, this month just got EVEN better because when you go Sacred Frank, you never go back. Sacred Frank is regarded as one of the rarest and most sought-after aromatics in existence.
😍
Friends, Young Living's Sacred Frank is the first Omani Frankincense to be available to those outside of the Saudi royals and the privileged Oman.
😱
😱 So why is this oil so sought after? Well, it is amazing for the skin, it is calming, and wonderful for sleep. It is relaxing and meditative. It promotes higher states of spiritual awareness and higher levels of consciousness. And maybe check out some resources like PubMed's website and do a little research to learn a bit more about why this oil is literally "Sacred." --- CELLULAR HEALTH, friends! The mack daddy of cell health.
Now, we get that the holidays are coming up soon and that money isn't growing from trees, so how on Earth do you get to the 300 PV level to get all of the freebies ?
👩‍🏫
First, you buy your usual order adding in household items like Thieves Laundry Detergent, Dish Soap, Foaming Hand Soap and Hand Purifier (cuz you want to stay healthy this winter, right?). Add in supplements, skin care, shampoo/conditioner, toothpaste, etc so it adds up to 300 PV on Essential Rewards/ER and you just saved yourself a trip to the store, searching for a parking space, fighting the holiday crowds and waiting in long lines. AND you'll earn between 30-75 PV to use as store credit because you placed that order on ER.
🙌 OR simply ask your friends, family, neighbors, co-workers, etc if they'd like a bottle of Thieves essential oil to help them stay healthy this winter. 10 bottles of Thieves oil is 33.75 PV x 10, which mean YOU don't have to buy a thing and YOU get to keep all of the freebies!
We suggest that you set your ER order early this month to ensure you get your order with your freebies by mid-month. That'll also leave you some time to ask around to get those 10 bottles of Thieves at all of those holiday get-togethers before the month ends!
If you made it to the end of this and are TOTALLY confused about ER, email me and I can help you out.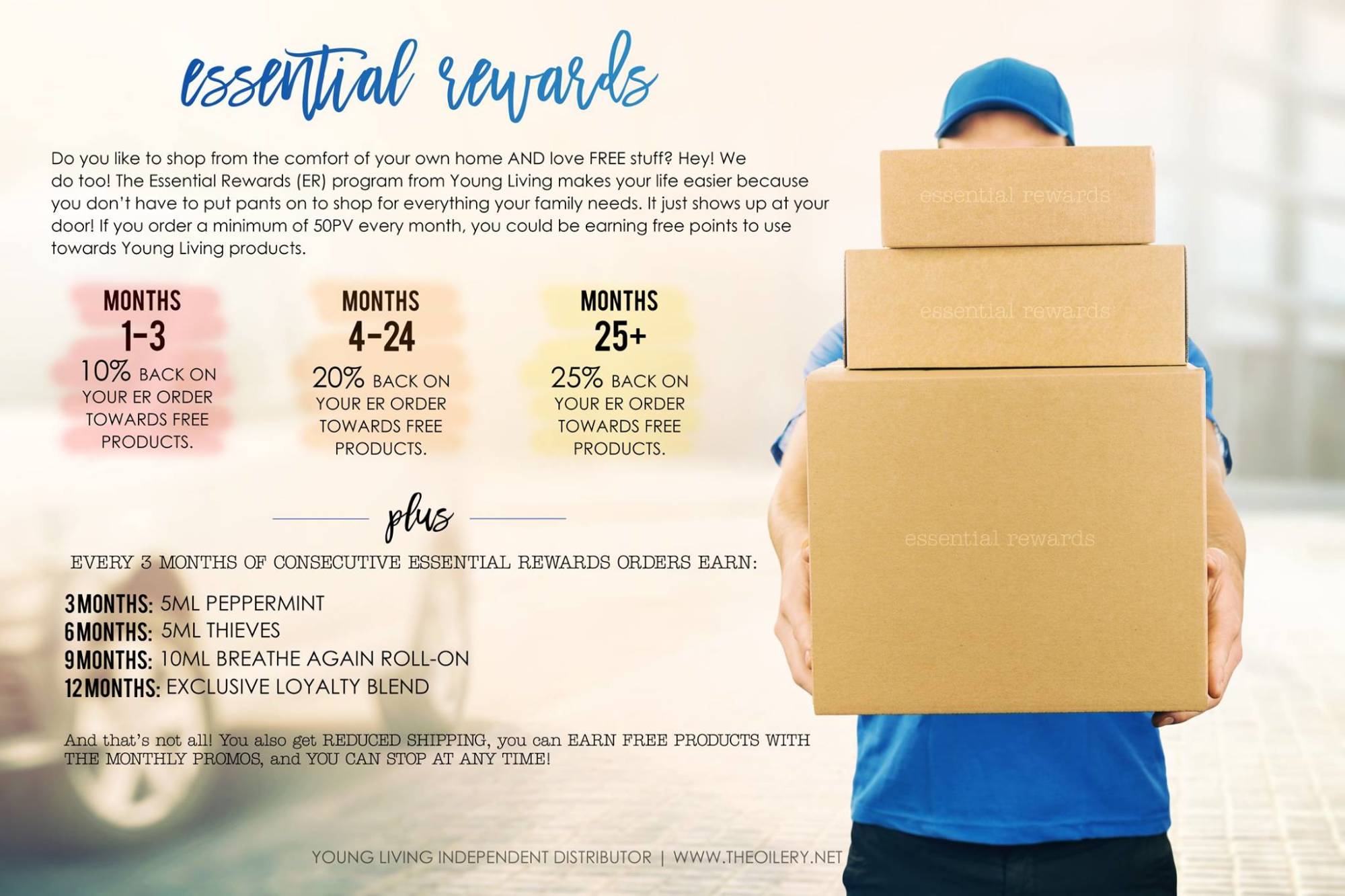 Happy Holidays!!
Robin