Feb 2, 2018 10:39 PM Central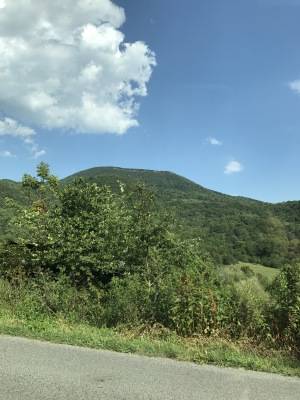 Part of the Triple Crown
Tinker Cliffs is the third leg in the Triple Crown of great views/hikes in this part of Virginia, along with McAfee Knob and Dragons Tooth. I have hiked McAfee Knob too many times to count and Dragon's Tooth only once.. for now! I hiked Tinker Cliffs for the first time this past Sunday. In short, the hike was tougher than I expected but the view made up for all the sweat!
Tinker Cliffs is about 7.7 miles of trail round trip which takes about 3.5 hours at a steady pace. You'll experience a 1,945 ft elevation gain. Most of the trail cuts through land owned by the Roanoke Cement Company but they graciously allow hikers to use it!
The parking lot is on Route 779 (Catawba Rd). It begins with the Andy Layne Trail, which is what you'll see the parking lot labeled as.
Side story: I used the maps app on my phone which led me to Catawba Rd on the Daleville side of town. This is actually on the opposite side town from me as I was coming from Salem! The parking area is about midway on Catawba Rd from Route 311(which is what I typically use to get to the area) and Roanoke Blvd in Daleville. So what should have taken me 30 minutes took me an hour. I traveled to where the map took me, but there was no parking lot or trail to be seen. I was losing cell service so attempting to find a new route was nearly impossible and the struggle was getting real ;) It was already a late start to hike the trail for my liking at around 130 and I was not having any part of this delay and not being able to find this trail. So I kept driving down Catawba Rd, while having no idea what I was looking for or where I was heading. All I knew was that the map took me to the middle of no where with an abandoned white shack and a farm! I traveled further and further down the road while losing my mind.. I ain't playin! Eventually, I found the parking lot to my left, which I passed and had to turn around and come back to! It was now after 2PM and I was such a mess. I apparently had other things going on and this just piled on to make my day worse. BUT, I made it and began to hike! Sooooo, don't always listen to the map and really research the trail before going!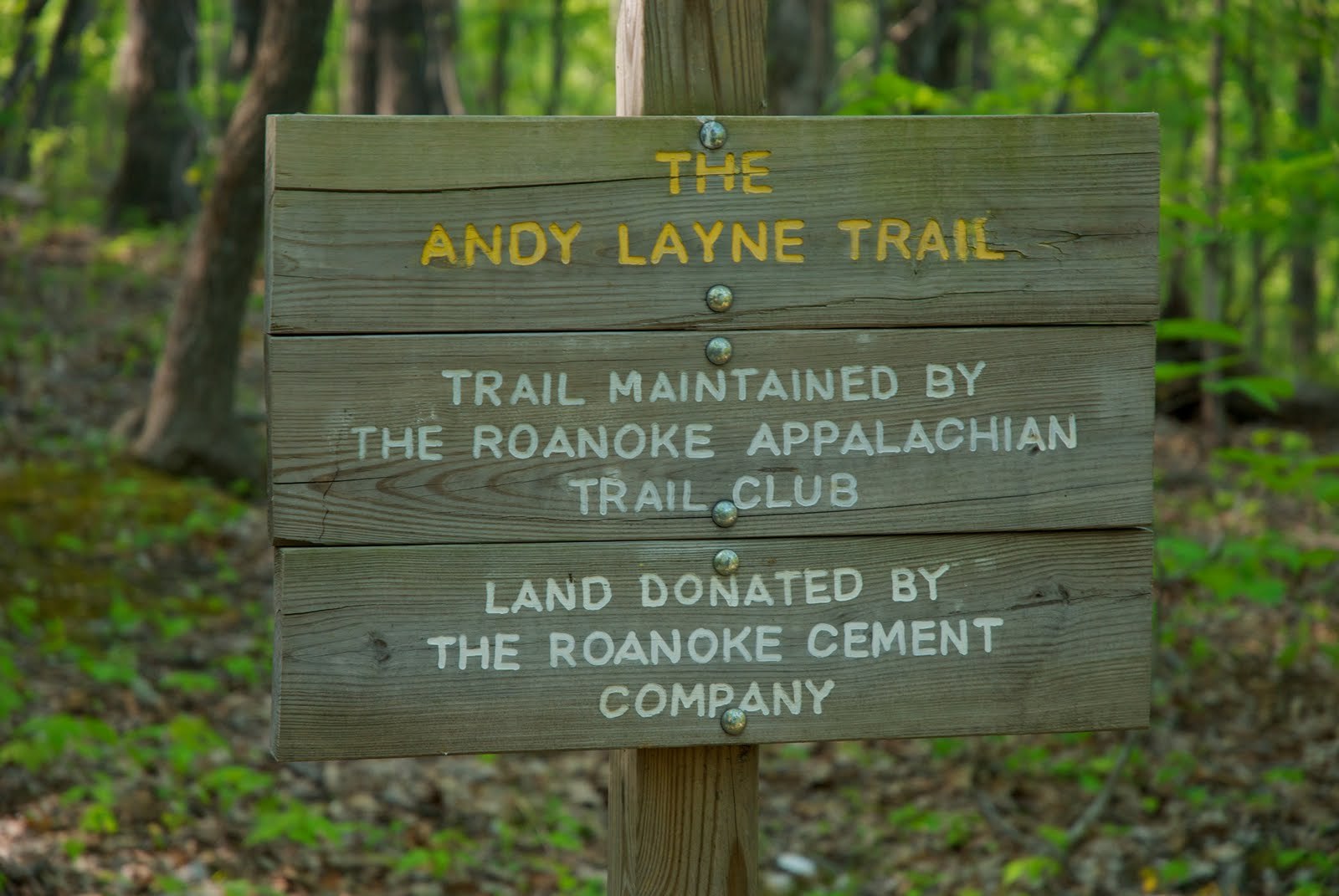 When I go hiking, I of course do it for the scenery but I also do it for the cardio and leg workout. It's probably best that I do these trails alone all the time because I'm sure no one else would enjoy going as fast as I do! The trail begins with a short trek through a wooded area and then opens into a field in the most beautiful way: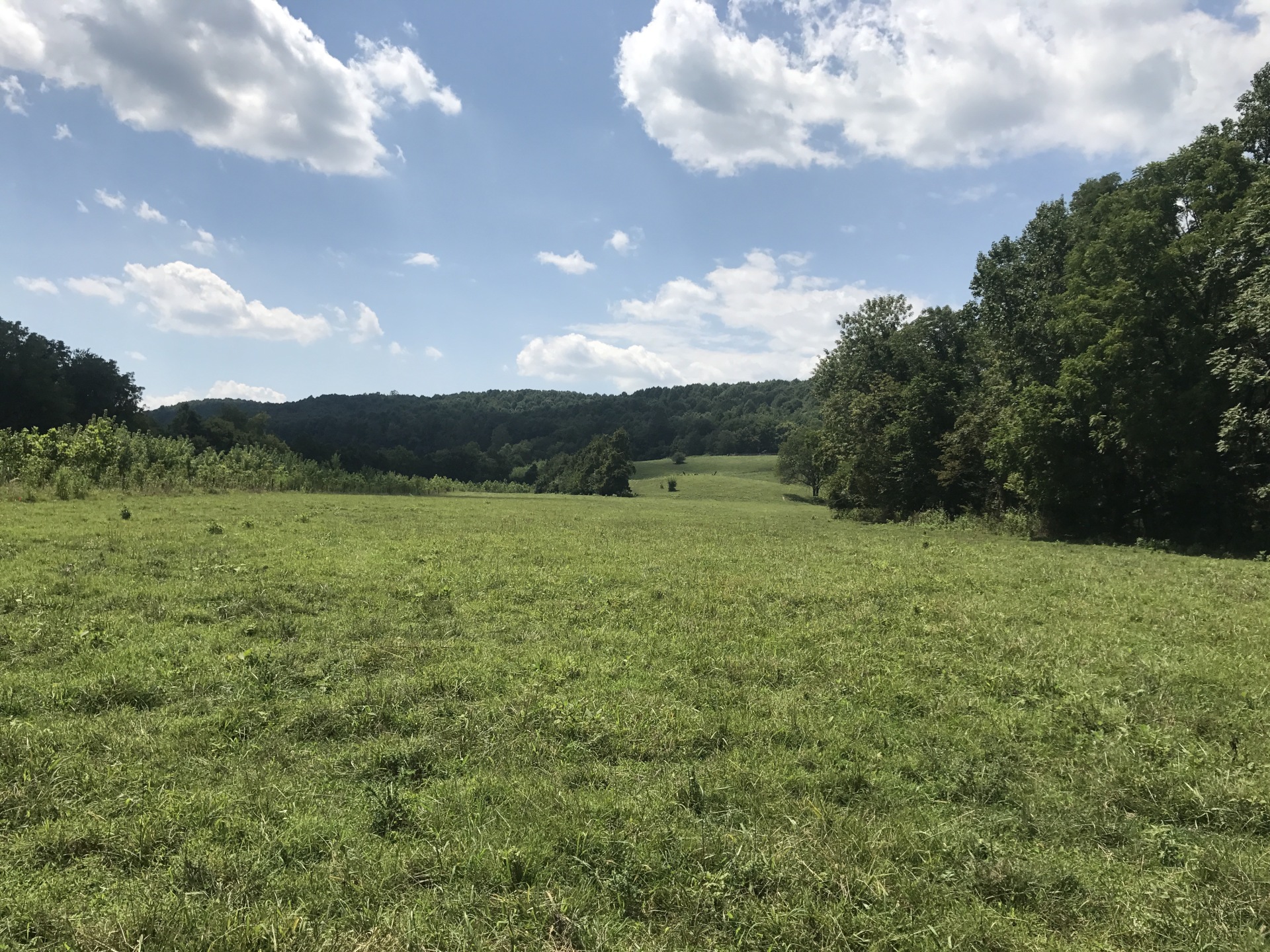 The trail did seem to have some animal poo through this short area, so I assume at times, there are probably horses or cows that travel the area. There are fences in the area to keep hikers on track, because remember, the trail is on borrowed land! You'll then come to a small gate and be careful!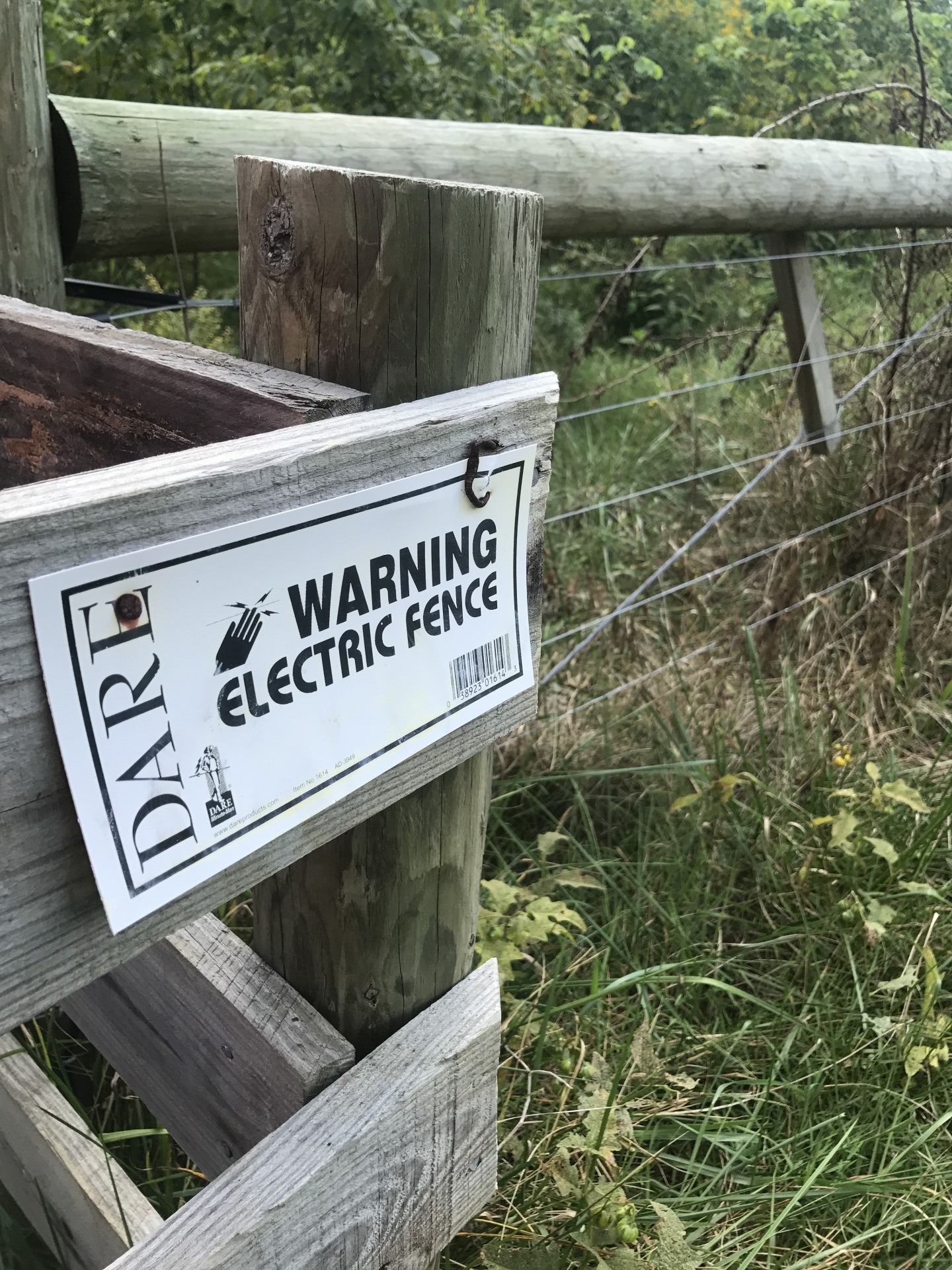 The area in which you'll pass is all wood but just inches away is this sign!
The trail then seems to last forever and you'll work up a good sweat, but just keep going because it is worth every drop of it! The trail goes through the woods, of course! You'll come across ALOT of steps in one portion that seems to run right at the top of a ridge line. You'll go through a portion called Scorched Earth Gap, which I'm sure has some interesting story! The trail does not have many switchbacks which means it can get steep in some spots, making the trail harder than McAfee Knob in my book! The day I went the weather was absolutely beyond beautiful and there was hardly anyone on the trail, McAfee Knob has some amazing views, but is a very popular trail. There is also no camping on the trail until you reach the meeting point with the Appalachian trail due to it being on private land.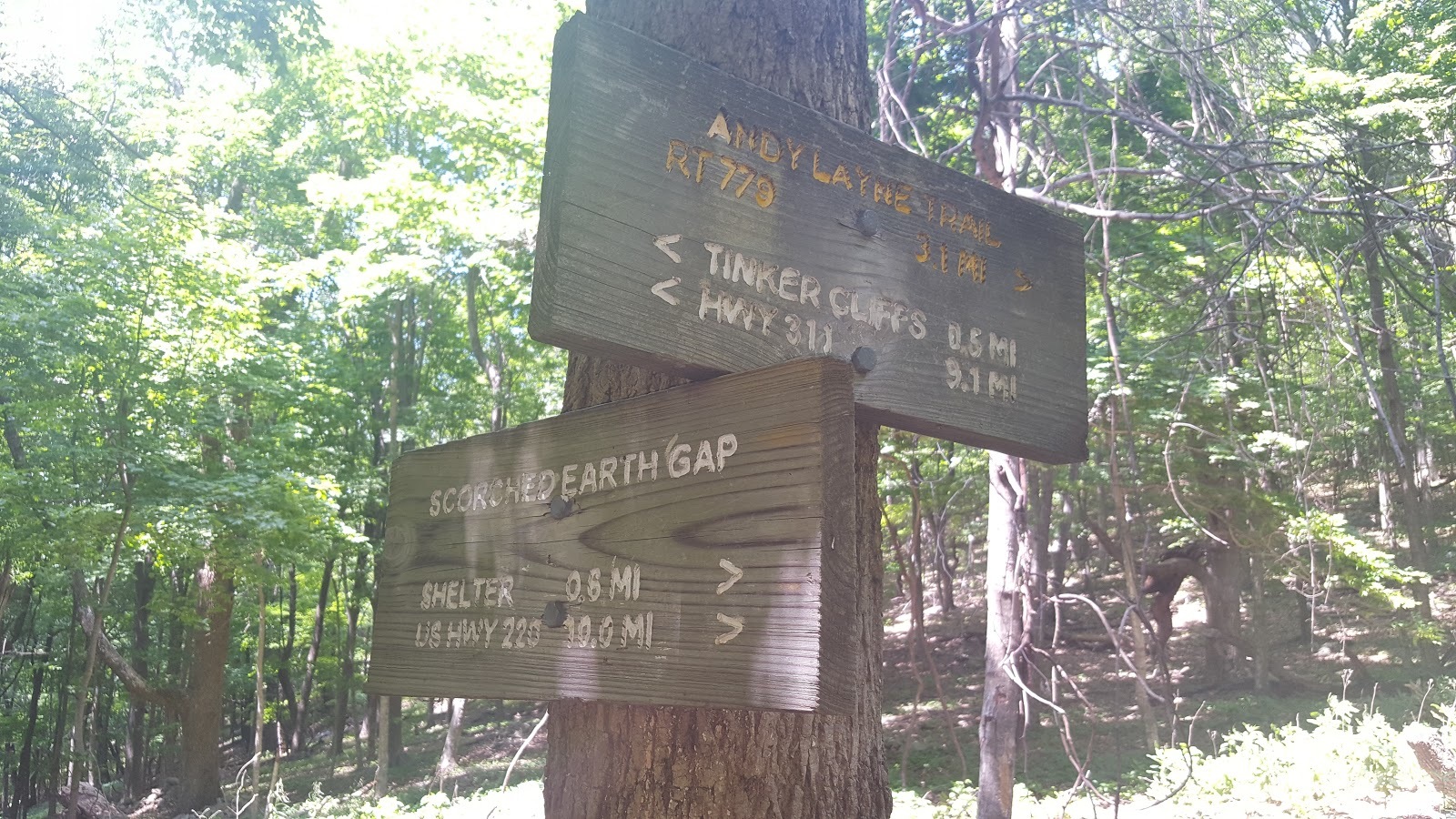 The trail did have some narrow parts to the path but is maintained enough for easy walking. There are not many signs on the trail from the very beginning until you get to this one:
You'll then see that the Cliffs are only .5 miles away... which I swear to you that it seems much longer. At this point, you enter a flattened area followed by a steep hill and then you'll trek around some giant boulders as you begin to approach the top! It is at this time, you'll begin to see the view you've work so hard for!
I somehow was lucky enough to have the entire area to myself to experience the view. When I finally found the best rock to sit on, the view was incredible. The sky was sunny and weather was perfect. As I looked out over the Catawba Valley, everything appeared to stand still and it is the most peaceful feeling I have ever had. I just thought to myself, "This is home." No I cannot actually live way up on the cliffs, but the feeling I get is like, "This is where I belong." I feel so at peace at the top just listening to the silence. I guess that is why I love hiking these spots so much, not only are they in my backyard, but I feel so undisturbed and untroubled as I sit at the top. I forget anything that is bothering me and just take in the amazing area that I have the pleasure to live in!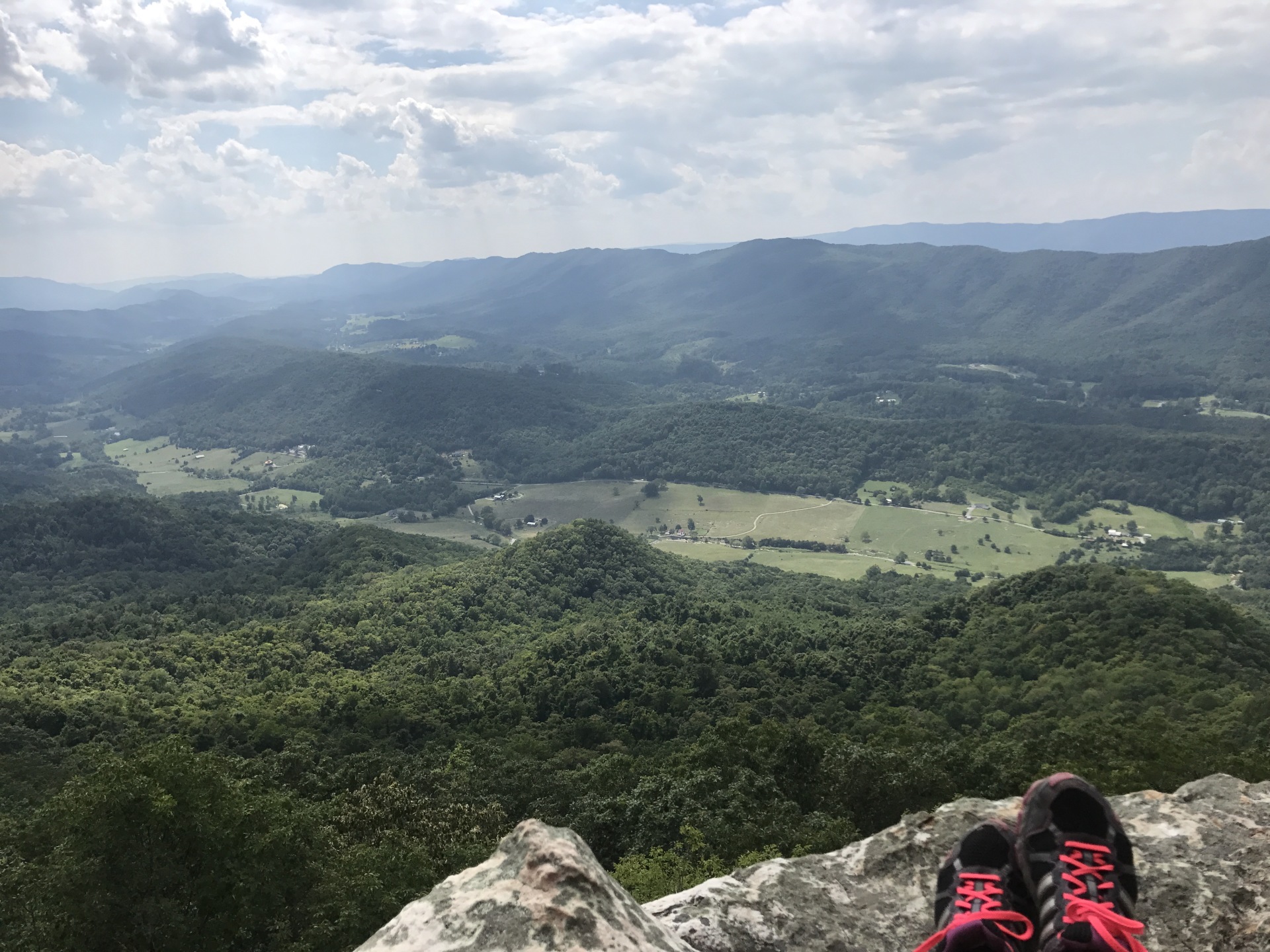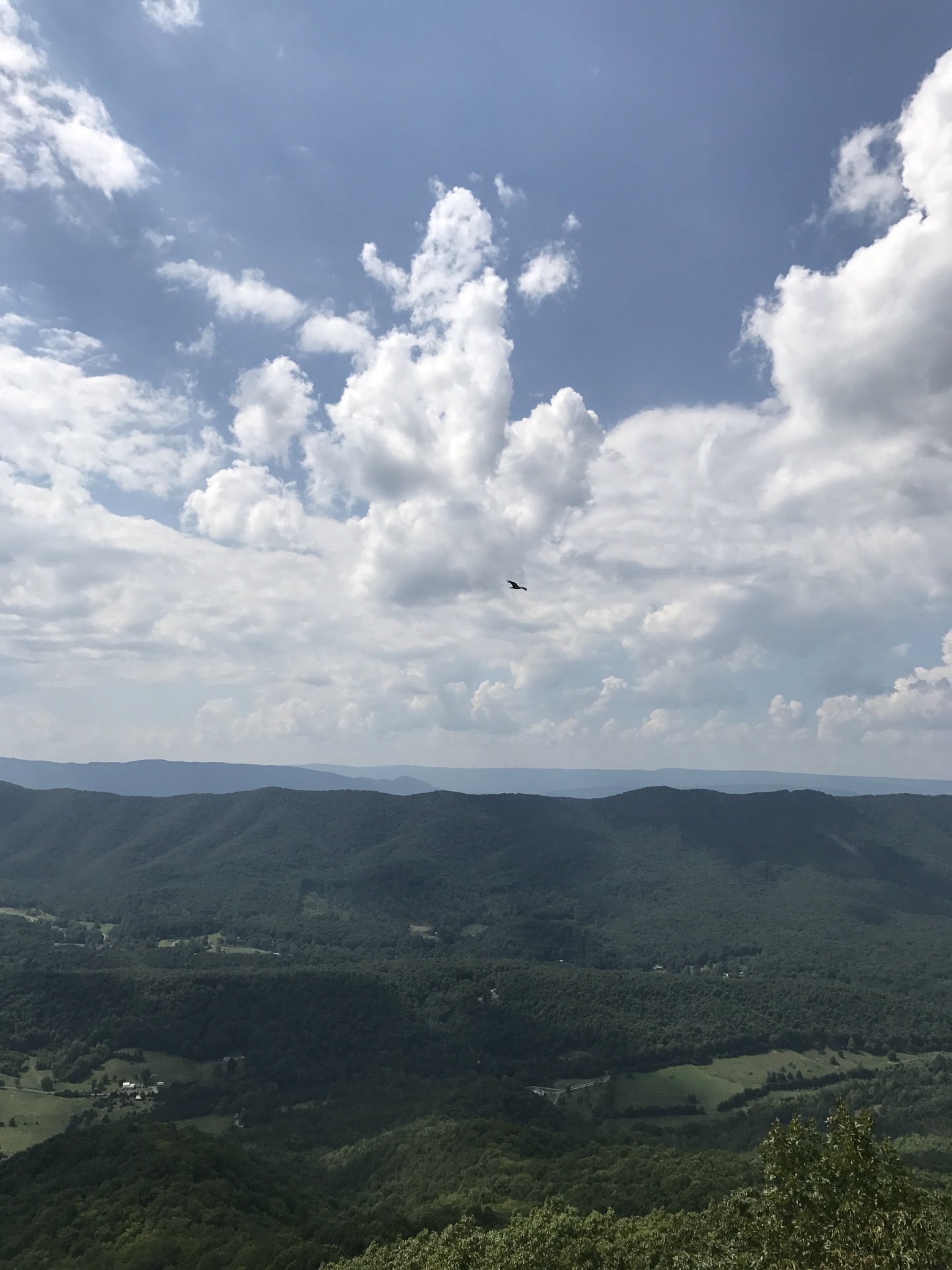 And as tranquil as that sounds.... I had to cut my break short. As I sat there in my bright salmon.. yes salmon... tank top, not 1 or 2 or 3, BUT 4 hawks started to circle me. As I now sit at eye level with where they are flying, they began to fly within 100 ft of me, I was pretty sure I was about to get dive bombed, and then probably fall off the cliff in effort of batting them away. I'm pretty sure I saw one wink at me, he was so close... I could count his feathers! He had 23 feathers on his right wing! I was just sitting there trying to enjoy my Carrot Cake Cliff bar, which is the bomb diggity, when I finally became way to uncomfortable and had to back off the edge and retreat to the forest!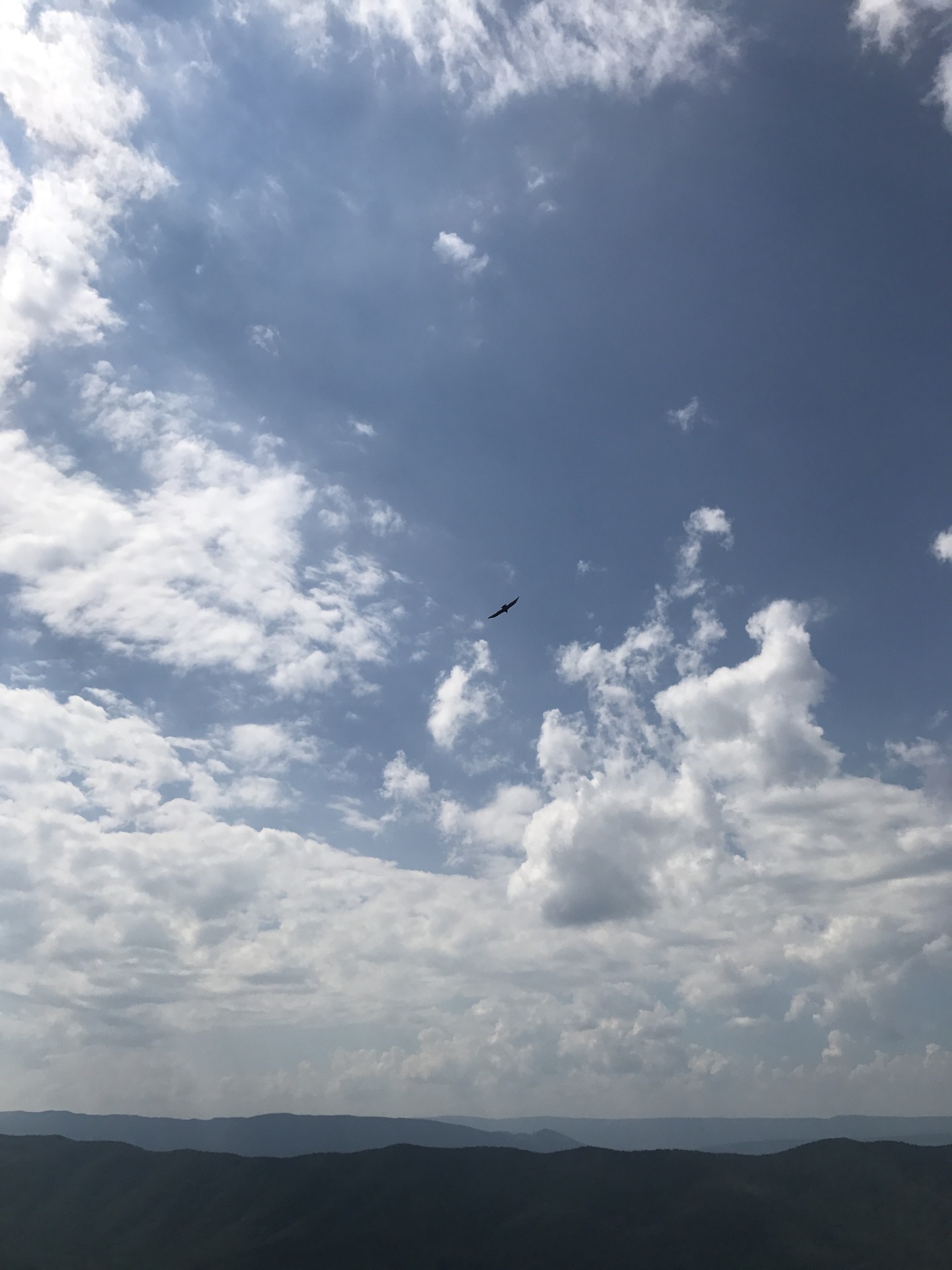 See... SUPER close!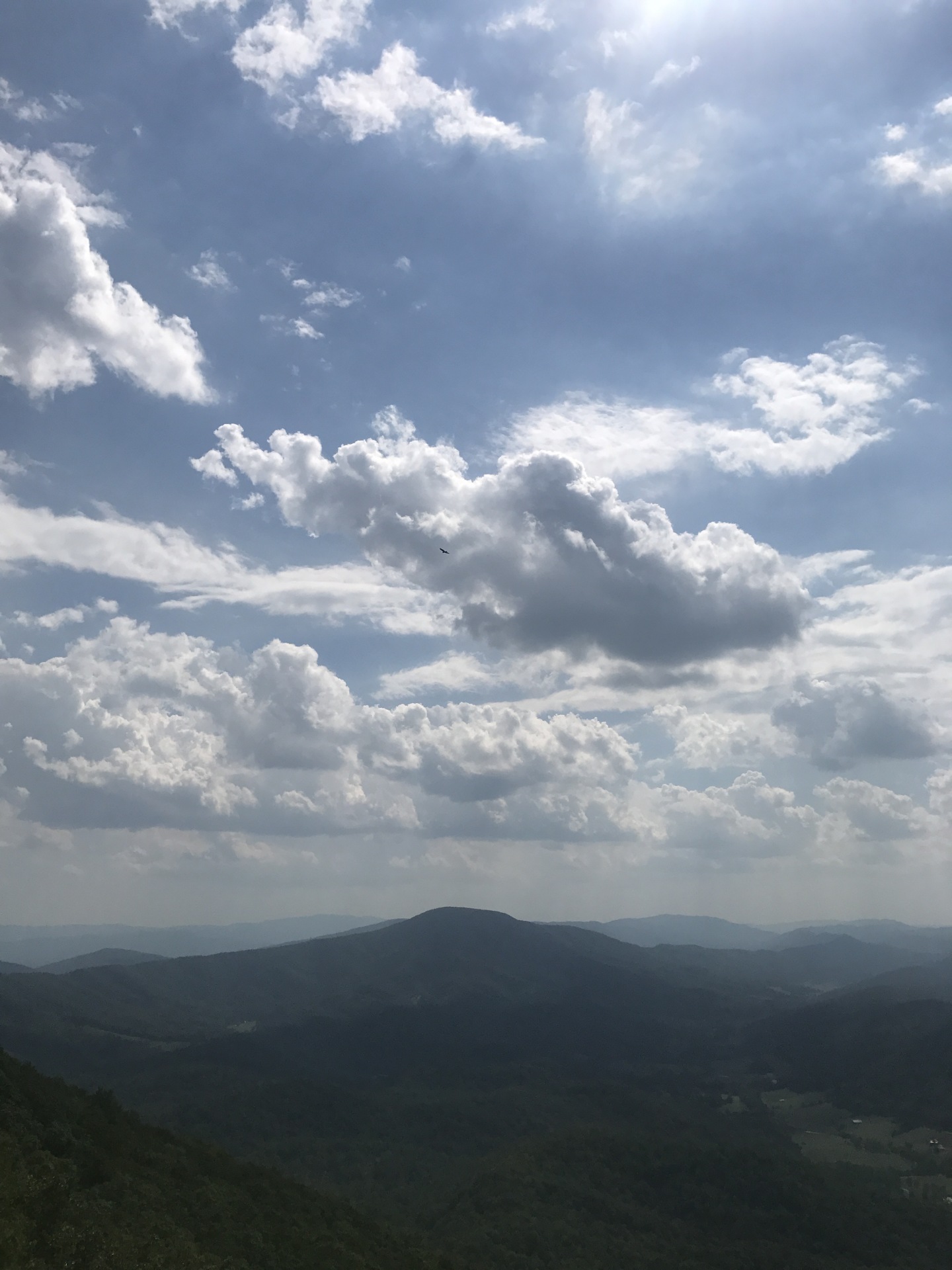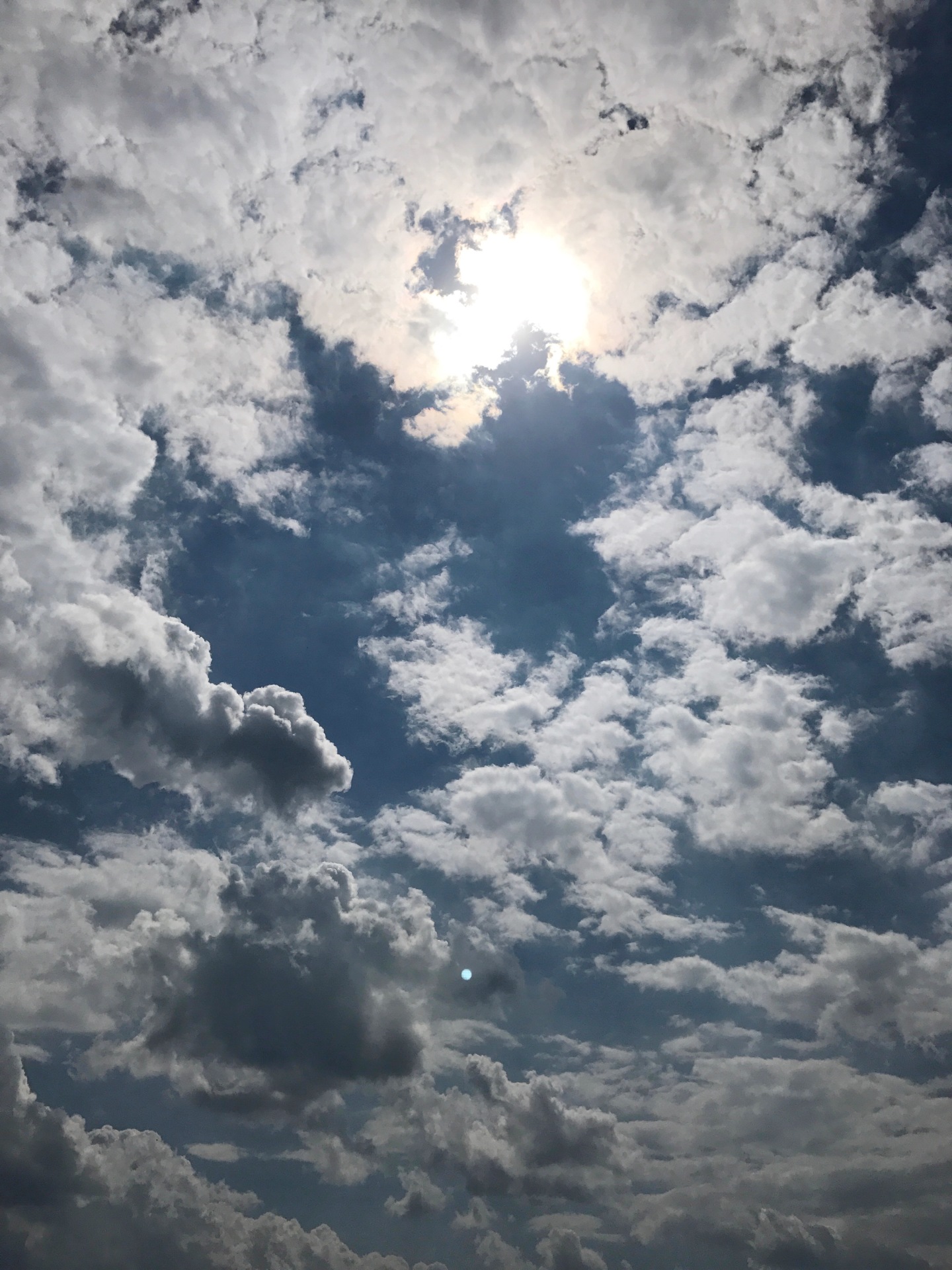 So now that I am safely back into the forest and feeling quite sad I could not fully enjoy my view, I started my descent. Of course it always feels much faster going back thanks to 99% being downhill. I love to do some trail running on the way down when I can. There is something so exhilarating about running through the wood (in a non serial killer movie type of way). Sometimes I'm not even sure how my feet are moving so fast, but they are and I just go with it! Except when I don't.... like I trip over a root that was blocked by a rock and then I stumble and slam my left foot to the ground, hyperextending my tendons and then causing some pain!!! I figured if I stopped, the pain would set in and it would swell and with 3 miles left..OH NO.. .So I walked it out a little and then jogged on it some more. Of course I couldn't run like the wind and had to be careful about placement, but I knew I couldn't stop!
So as I began the final stretch back to the parking lot, I began to have this really weird feeling. I began to question if I had locked my car or if it had been stolen. I hadn't thought of this the whole time I was hiking up or at the top, just in the last 200 feet. I got to the portion of the trail where I could see the parking lot and I began looking for my car.... I didn't see it. I began to freak out. Had I really just wondered about my car randomly and it was in fact stolen???? I rushed the final 20 feet to the parking lot and my heart was racing, not from running but because I was now in total freak out mode... I didn't see my car.... THEN I finally looked to the left and there it was. I had completely forgotten that I parked to the left side of the trail, which would have been the right side going in. When I got to my car though, it was indeed unlocked. Thankfully, no one had taken anything! I guess I was in such a rush and my brain was mush after trying to find the place, that I just ran off to the trail.... I don't recommend that!
So although I had a few issues on this trail from the hawks, to my ankle, to my NOT stolen car, it was the best hike yet. I did not like the trail as much as I enjoyed the others, but the view was better for me. Maybe it was that I was alone and could enjoy the experience more, I don't really know, but I do know I will be doing it again very soon! I want to hike them all during the fall months, which is also my absolute favorite time of the year!
Hope you enjoy this hike as much as I did! Be sure to really take in the drive on Catawba Rd as well. The drive from the trail toward Route 311 is breath taking!
Feb 2, 2018 10:36 PM Central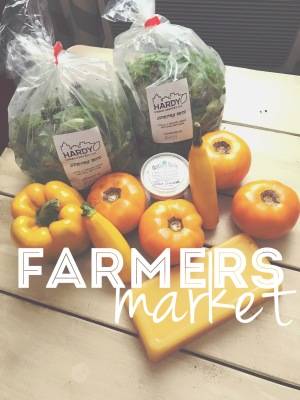 And Why I'm Obsessed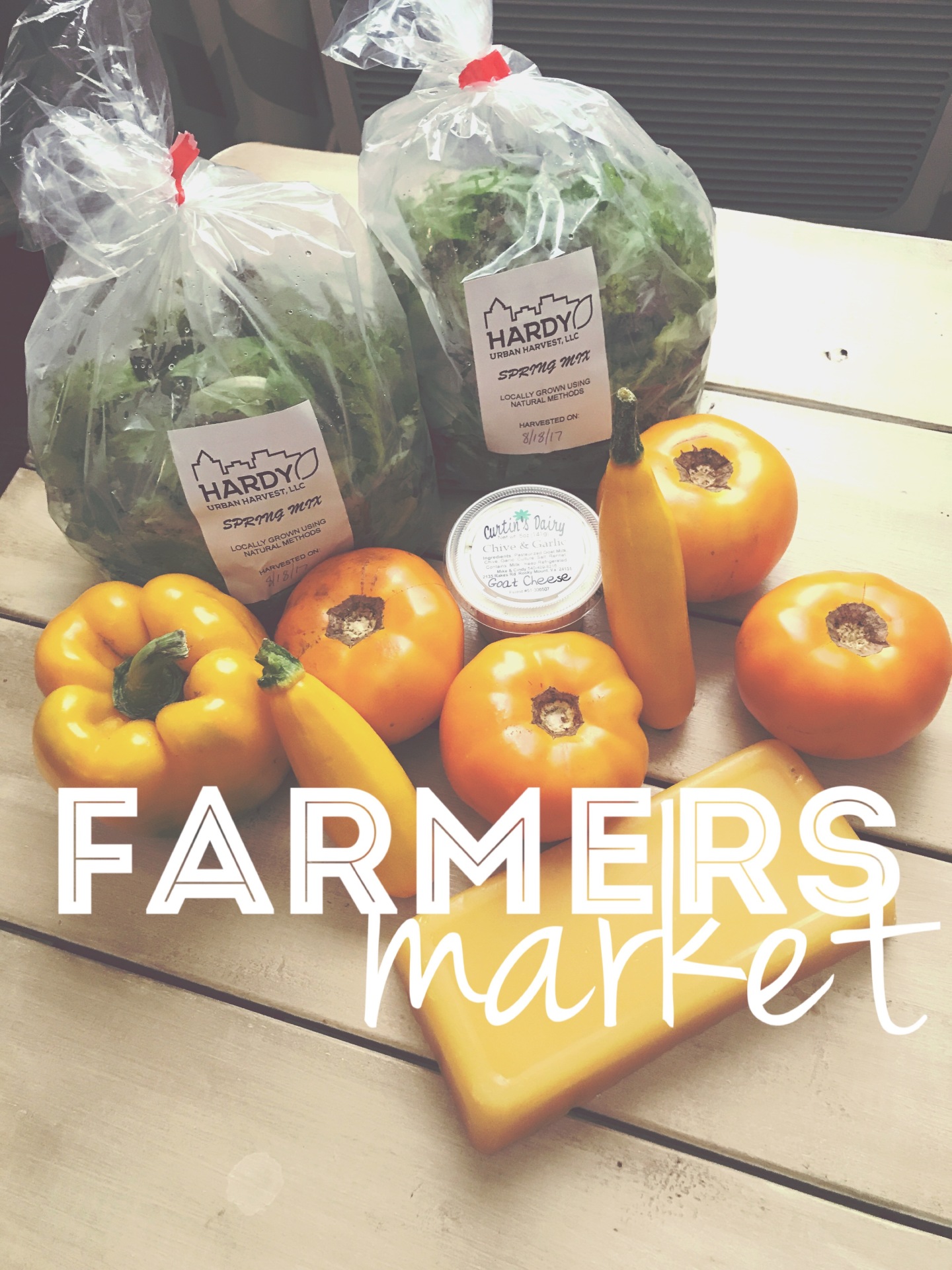 I absolutely love farmers markets and during the warmer months, they are everywhere and packed with so many great options! I have a few favorites around the area that I visit regularly, which I will list at the end! I think it is so AWESOME to get out there and support the community. I live in an area that is not far from many farms, so why go to the grocery store when I have the option available to go to the farmers market and grab it? The food is fresher and typically grown by organic standards (without the label). Plus I get to walk away with the amazing feeling of knowing I'm supporting a local family! Don't get me wrong, I absolutely love the food I am getting, but the feeling of keeping it in the community is quite amazing. I love grabbing the freshest fruits and vegetables from around the area and learning about the people selling them.
If you've never been to a farmers market, YOU NEED TO GO ASAP! There are so many vendors with a variety of produce to offer. I never knew there were SO many different types of tomatoes! :) I also now eat yellow squash because a vendor talked me into in last week! Who knew right.. 27 years and now I eat a lot of foods I never had, all thanks to going to farmers markets!
If you really want to watch what your eating, there are vendors there with fresh, grass fed meats as well! Again, why go buy this type of meat from the grocery store when I can support a local farm and be able to speak with the person who owns it! The same person that is growing and picking the fruits and vegetables, is the person I am handing my money to! You can't beat the prices either!
I tried goats milk cheese for the first time ever last week at a farmers market, now I love it! I learned that it is easier on the digestive system then cows milk cheese, which is fantastic for people with dairy issues... like myself! I would have never tried goats milk anything from the grocery store, I'd have just kept walking right on by. Now I know!
At the Salem Market, there is a vendor with all sorts of honey and maple syrup. They also sell bee's wax for homemade lotions and chapsticks and bee's pollen if you like to add that to your food. The price for the bee's wax is MUCH cheaper than you'll find online or at a natural foods store. (You can see the big block in the photo above)
Hardy Urban Harvest also supplies some YUMMY fresh greens. In the photo you'll see I purchased the spring mix, 2 bags for $5. The mix was picked the day prior to the market, you can't get any fresher than that unless you grow it in your own back yard! I can tell you, a week later, the mix was still VERY fresh in my refrigerator.
Moral of the story: if you care about the food your placing into your body and want to support your community.... shop at farmers markets! You can also find local vendors for items that aren't food. I've seen a vendor selling natural Alpaca dryer balls and other items. I've also seen homemade pottery and other crafts.
Below is a photo of the view from the Catawaba Valley Farmers Market. How could you not LOVE getting your food from a place like this?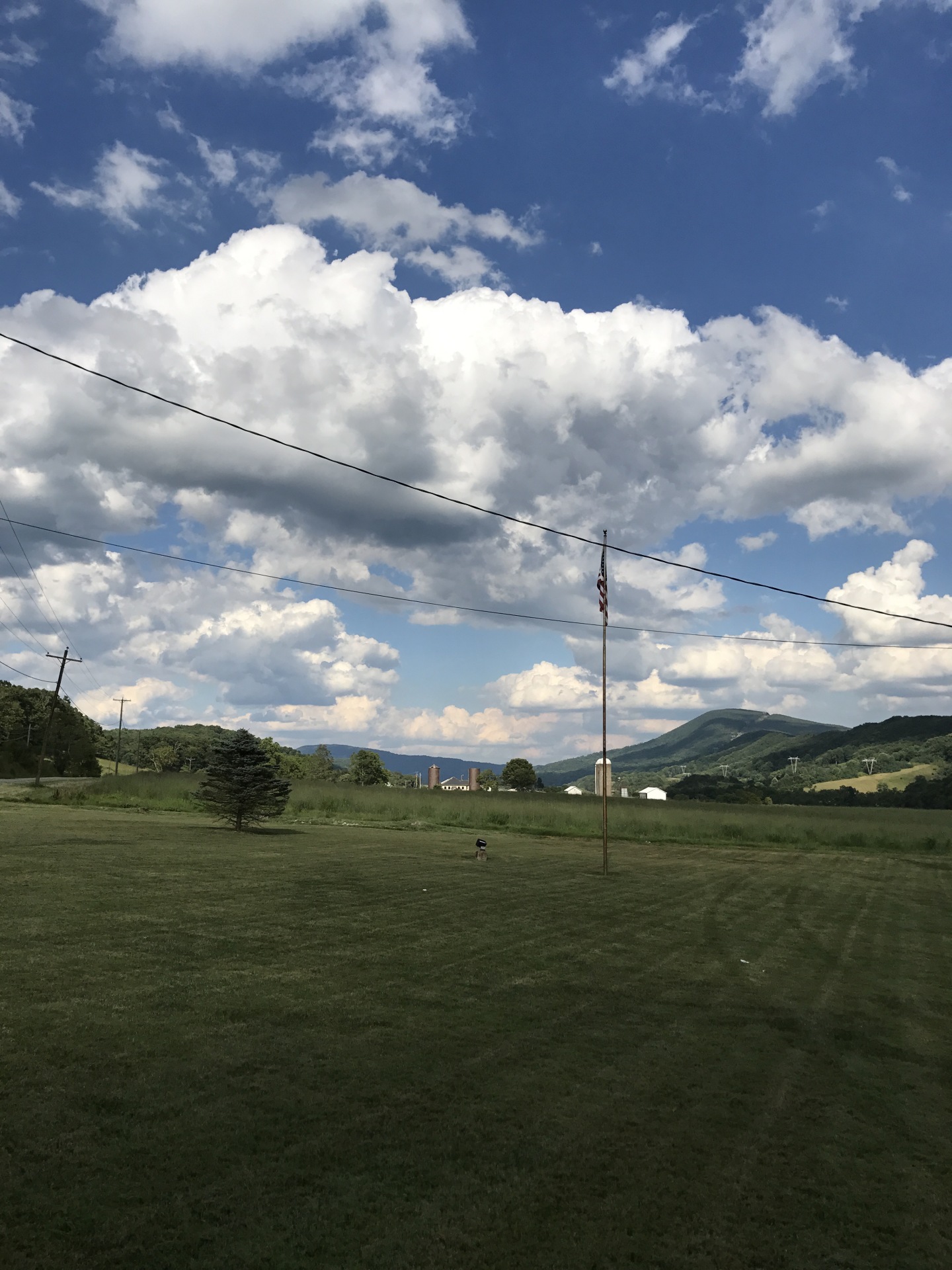 So where are some of my favorite markets around the Roanoke/Salem Virginia area?
Each offers different vendors that regularly sell at a particular market. They also offer different hours and operate at different times of the year, some go all year with various types of products being sold while others only last for the warmer months.