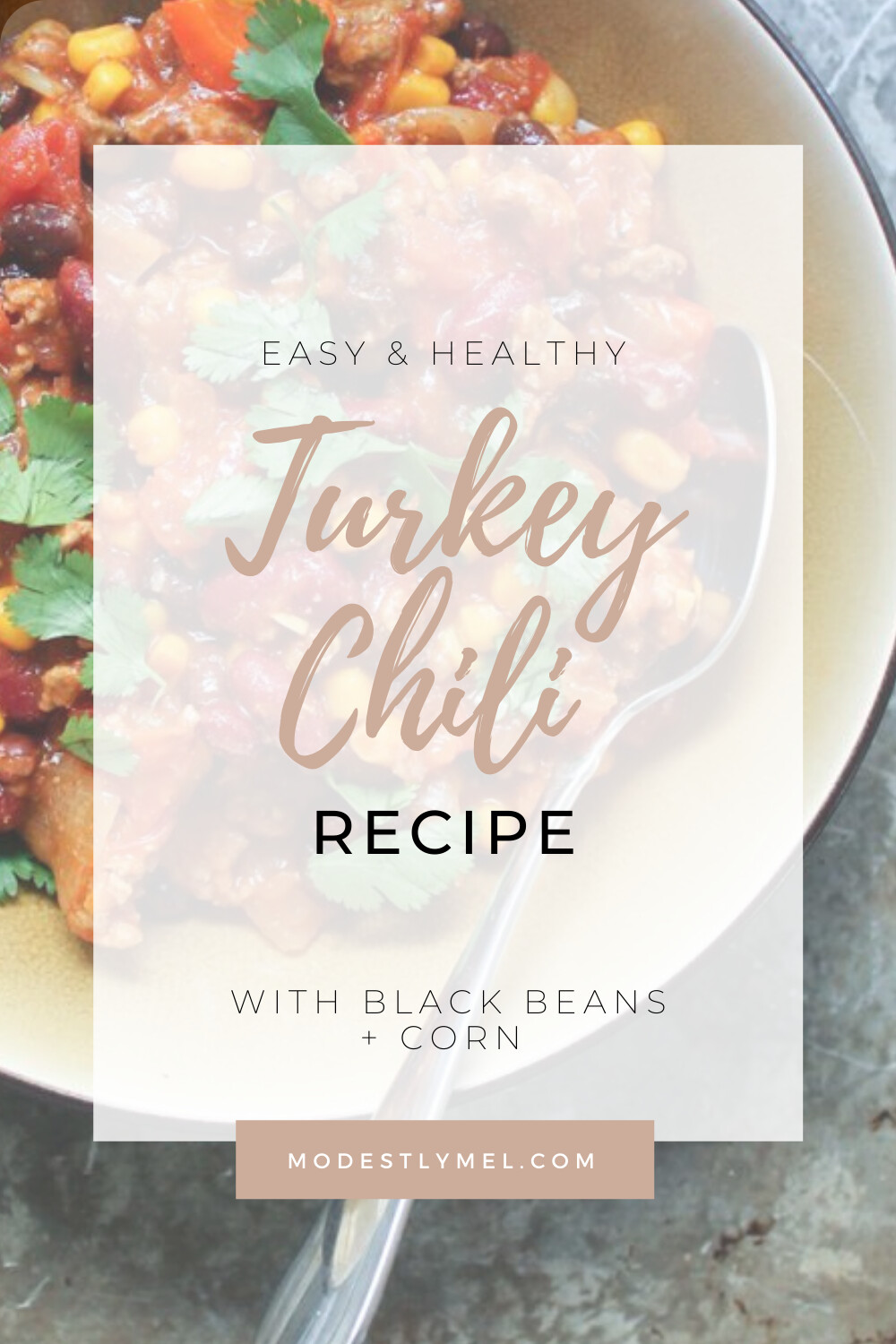 Who doesn't love a nice bowl of chili on a cold day? But did you know it can be easier than ever to make a healthy chili option? Because lets be honest, we all have better things to do then cut up a ton of items for chili.
So today I am sharing with you my Easy & Healthy Turkey Black Bean Chili Recipe. It literally takes 5 minutes to prep it, set it, and forget it!
I like to cook mine in the Instant Pot since it is Stainless Steel (
can find the one I use on sale here
) as the ceramic coating on some Crock Pot/Slow Cookers can leach toxins into your food. But if that's all you've got, go for it now and just consider your options for the future!
Here's what you need:
1 lb Ground Turkey (I use the 99% Lean, but you can use what you like.)
2 15 oz cans of Organic Black Beans (drained &

rinsed

)
2 15 oz cans of Organic Tomato Sauce
1 can Petite Diced Tomatoes (add with liquid)
1 can Organic Corn (drained)
2 Cloves Garlic (minced)
1 Tablespoon Chili Powder
1 Tablespoon Cumin
1/2 Tablespoon Cayenne Pepper (If you don't like spicy, you can use Paprika)
1 1/2 tsp Pink Himalayan Salt (at least!)
1 tsp Black Pepper
Pinch of Cinnamon
Pinch of Cacao Powder
(You can always add fresh chopped onion, peppers, whatever you want, but ya girl is lazy so I don't)
Add all the ingredients to your Instant Pot or Crock Pot, stir it all up and Slow Cook it until it's ready!
2-3 Hours on High or 5-6 Hours on Low. Just make sure the meat is thoroughly cooked through.
Salt & Pepper to taste. And then...
I personally don't add anything on top, but you could top it with cheese, avocado, cilantro, tortilla strips, sour cream, whatever tickles your fancy!
And enjoy!
So hopefully that provides you a super easy, super healthy option for those "chili" days!
Tell me how you like it below!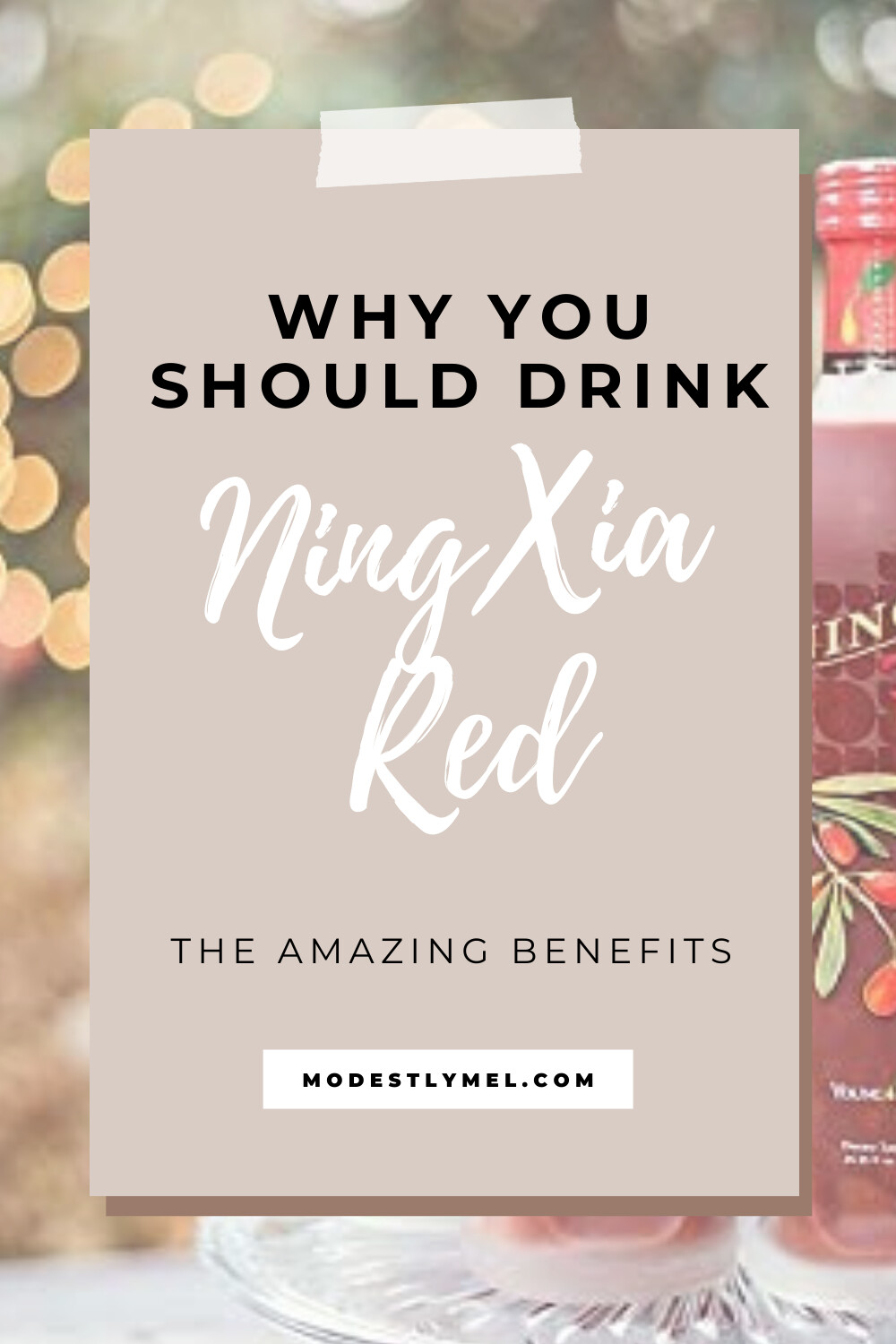 The new year is right around the corner so queue the resolutions! Whether its weight loss, health, productivity, we all try and make goals at the beginning of the year because its as if we get a new, fresh start.
But how many of us make these giant goals and give up a few weeks later? But what if we just made a small decision each day that would get us closer to our desired outcomes? That is why NingXia Red is such an "easy button" for so many of those health goals.
So what is NingXia Red?
NingXia Red is a nutrient-packed beverage packed with powerful antioxidants and superfoods. It features wolfberry (also known as the Goji Berry), plum, aronia, cherry, blueberry, and pomegranate juices and extracts to start your day off right. It also contains a blend of premium essential oils, including Orange, Yuzu, Lemon, and Tangerine.
A single shot of Ningxia Red is equivalent to
8 oranges
4 pounds of carrots
18 Amino Acids
21 trace minerals
2 pounds beets
6 essential fatty acids
3 cups of raspberries
2 cups blueberries
And is known to contain high levels of
Amino acids
Protein
Trace minerals
Essential fatty acids
Beta carotene
Vitamins B1, B6, and B2 (riboflavin)
Vitamin C
Vitamin E
Calcium
Potassium
Iron
Selenium
Zinc
That is some HIGH LEVEL nutrition for you and I don't go a day without it!
What are the benefits of NingXia Red?
And with all that amazing nutrient goodness, Ningxia Red can:
Helps prevent oxidative stress*
Provides a nutritive infusion for whole-body support*
Provides energy support without caffeine*
Supports whole-body health and wellness*
Contains powerful ingredients that are involved in many antioxidant processes*
Supports normal eye health*
Supports healthy digestion*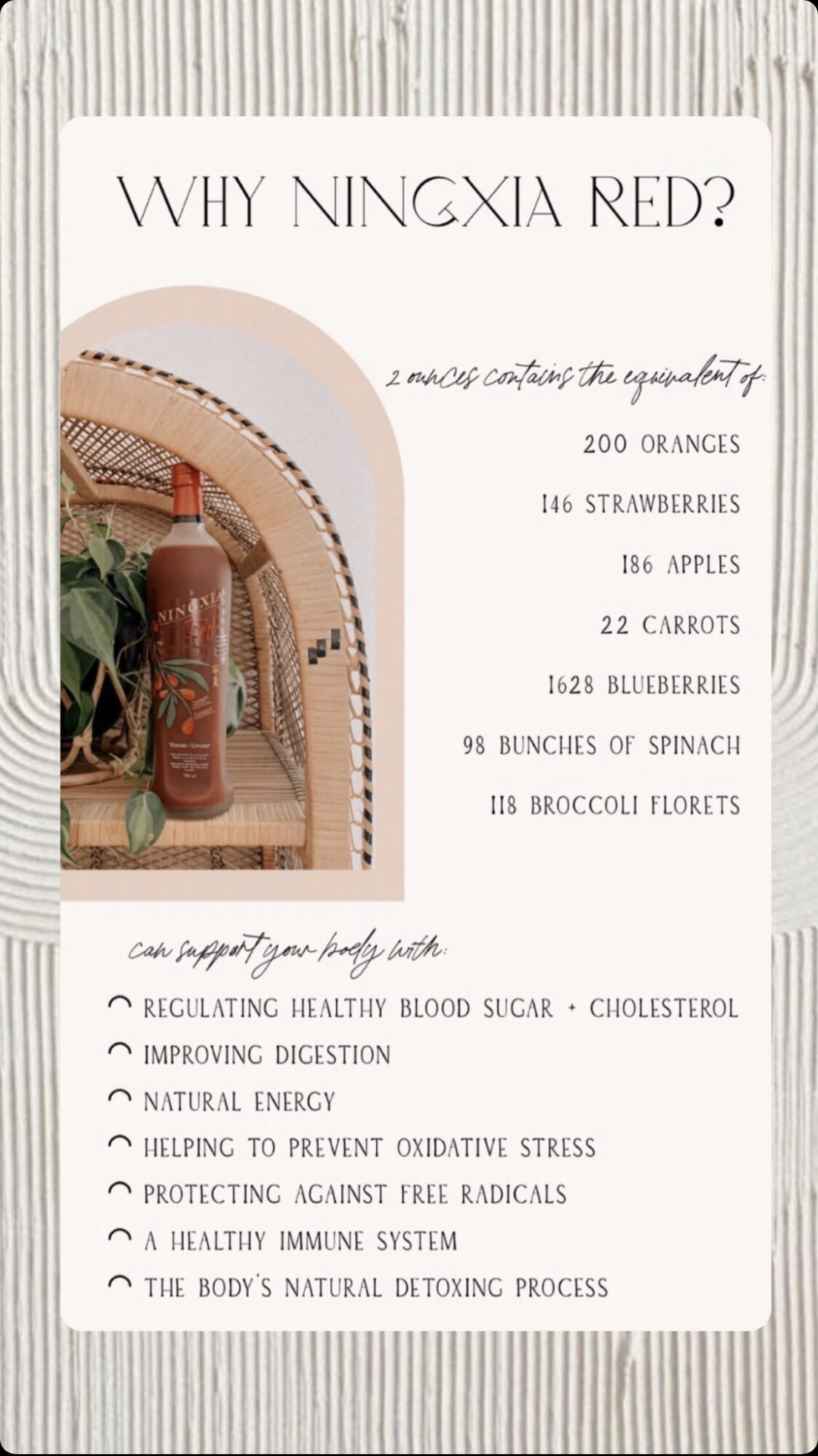 But how much does it cost?
There are two ways to consume Ningxia Red, from Young Living's big glass bottles or in the little to-go packets. Both come out to about the same price!
If you were to consume a 1.5 ounce shot of Ningxia Red per day (which would equal 2 glass bottles per month), it would come out to less than a Starbucks coffee!
And if you decide to buy it every single month through Subscriptions, you get 10-25% back in Loyalty Rewards which makes it even cheaper!!
So, what would you rather have? A Starbucks coffee that does nothing beneficial to your body, or get the amazing benefits of NingXia Red? I'm going with the latter!
HOW DO YOU DRINK NINGXIA RED?
There are many ways to drink NingXia Red, but whatever way you drink it, I always recommend drinking it chilled!
You can drink it straight by itself. You can mix it in juice, Kombucha, or Sparkling Water. Or my personal favorite, I drink a shot of it in water mixed with Young Living's Sulferzyme (for detox support and Hair, skin, & nails) and some of the Grapefruit Bergamot Vitality Drops.
So how do I get some NingXia Red for myself?
All you have to do is click below and it will take you directly to it!
You can purchase the packets, the bottles, or my personal favorite, the Combo Pack which gives you the best deal! Just select whatever you'd prefer.
And if you want to start getting 10% back immediately, make sure to also add it to subscriptions so you can get it every month with money back!
If you are from outside the US or have any questions on what would be best for you, please hit CONTACT below so I can help you get started!
*These statements have not been evaluated by the Food and Drug Administration. Young Living products are not intended to diagnose, treat, cure, or prevent any disease.