12/04/2016 01:43 AM Central
I know that buying a gift for a friend or loved one can be pretty hard especially if you have a beer budget but champaign taste.
I get it...and I really want to help you find that special gift that shows you care and makes your loved ones feel special.
Well how do you do that for under $30 bucks? Well you have found the right gal, here are 9 suggestions:
Well think about your friends lives, their kids. Do they suffer from dry skin? Are they new mothers or have children who have skin concerns? Young living Oils are safe and so effective.
1.
Gentle Baby Blend -$26.75
Incredible Blend for all skin concerns. Add to coconut oil and slather everywhere. Moms and kids both will love it.
2.
Satin Face Scrub -$20.25
Great for all skin types, contains no chemicals and feels like you hit the spa with polished gleaming skin.
3.
Melrose Blend -$24.75
I can't live without this blend. Its the best for lady concerns, itchy skin and all breakouts.
Maybe your friend is the hostess with the mostess...does she have everything and you have no idea what to get her?
4.
Christmas Spirit Essential Oil - $13.00
Smells like winter, pine cones and cinnamon! Sheer heaven in a bottle, try adding a few drops to heat registers.
5.
Pine Essential Oil -$18.75

Adds the smell of wood burning without the fireplace. I love adding this to hot water on the stove to add humidity.
6.
Citrus Fresh Essential Oil Blend -$19
For the health conscious ladies like moi. I am crazy about this blend in my water bottle, supports detoxification of the lymphatics and is even great for cellulite (yep) add to coconut oil and apply on location. You will be a superstar, just sayin!
Perhaps they have suffered from a persistent cough or cold or battle with a lower immune system.
7.
Eucalyptus Globulous -$18.00
it is so soothing added with coconut oil and applied on chest with a heating pad.
8.
RC Blend -$13.00-
Serious bang for your buck. Keep in our car and apply under your nose or a piece of cloth on the defrost mode. Change your whole attitude seriously.
What if they have poor digestion or even bad breath and you can't tell them as it would hurt their feelings? It happened to me...
9.
Peppermint Essential Oil -$27
One drop is equal to 28 tea bags of tea. It works so fast, add a drop to your water bottle. Not only helps with breath but aids in healthy digestion...why not help them at the source?!?
So these are just a few of my picks that are budget friendly, absolutely champaign taste and truly show that you care!
*All Prices Listed above are wholesale ( 24% off). Become a wholesale member today with no obligation to buy, sell or carry inventory.
Love ya!
Erin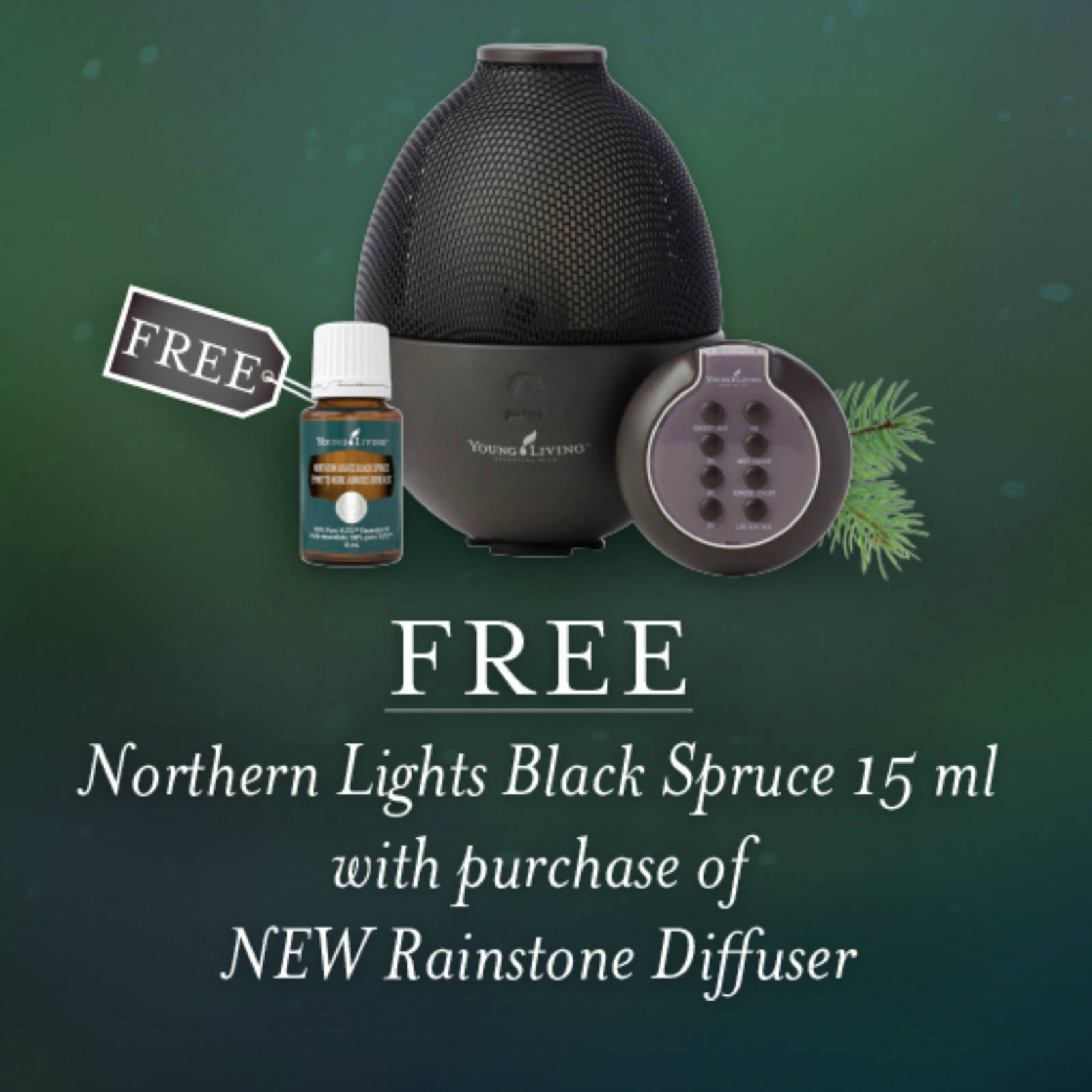 11/25/2016 04:25 PM Central
BLACK FRID-EH!

Picture yourself walking in a forest with the smell of spruce trees and fresh air. Birds singing and the crunching sound of freshly fallen snow. Now bring that into the indoors all with a push of a button and you have the Rain-Stone Diffuser. You will be snoozing in no time flat its that relaxing.

Great gift for those who are "inside people," live in the city or if you simply love the outdoors and hate to come in kinda people.
Its a great way to smell the great Canadian Northern Boreal Forest all within the comforts of your home. No freezing fingers or toes required.
While quantities last...sale ends Nov 28th.