Jul 23, 2018 04:49 PM Central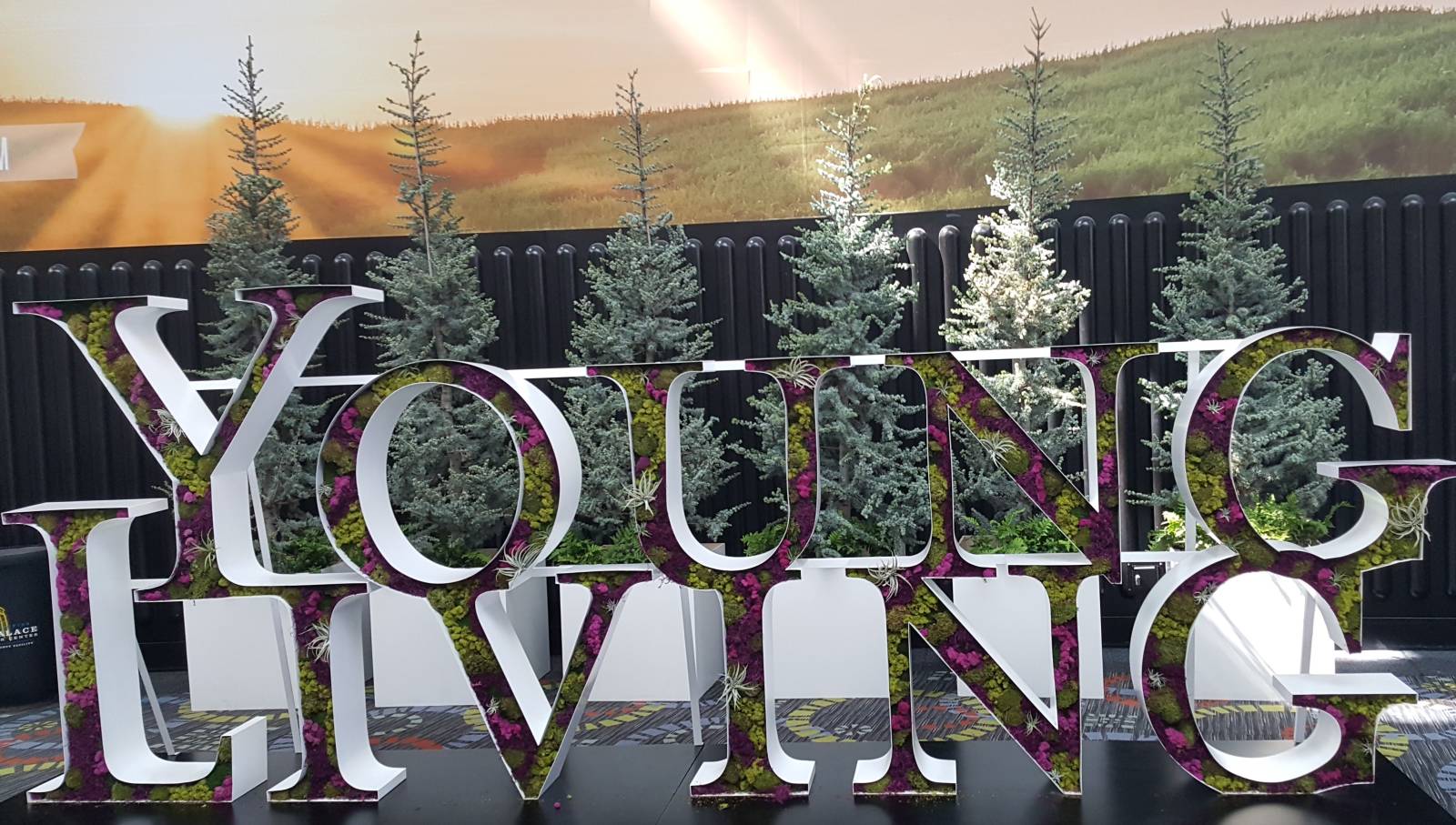 Have I ever explained how to get the most from your Young Living membership? There's a HUGE benefit they offer us called Essential Rewards. Every single one of us love doing business with businesses that PAY us for being loyal.

We all make sure our credit cards offer rewards for using them, right?
Unfortunately, they take so long to accumulate enough to "buy" stuff!
Sam's and Costco charge you a
yearly
"Membership" fee, but the only "benefit" you get is saving a little bit of money for buying in huge quantities. (how many jars of peanut butter or boxes of cereal do I really need???)
Young Living is more realistic than that. They WANT you to enjoy and try more products, and at a deeply discounted price! Most importantly, they urge you to get the toxic and harmful products away from your body and out of your home.
Essential Rewards is a monthly auto ship program that actually pays you back. (free money? Oh heck yeah baby....I'm IN!)
Now hold on....don't tune out like I did when I first heard "auto ship", lol. You will get a reminder from Young Living a few days ahead of your shipping date so you can change your order each month and it's very easy to do.
Here's how it works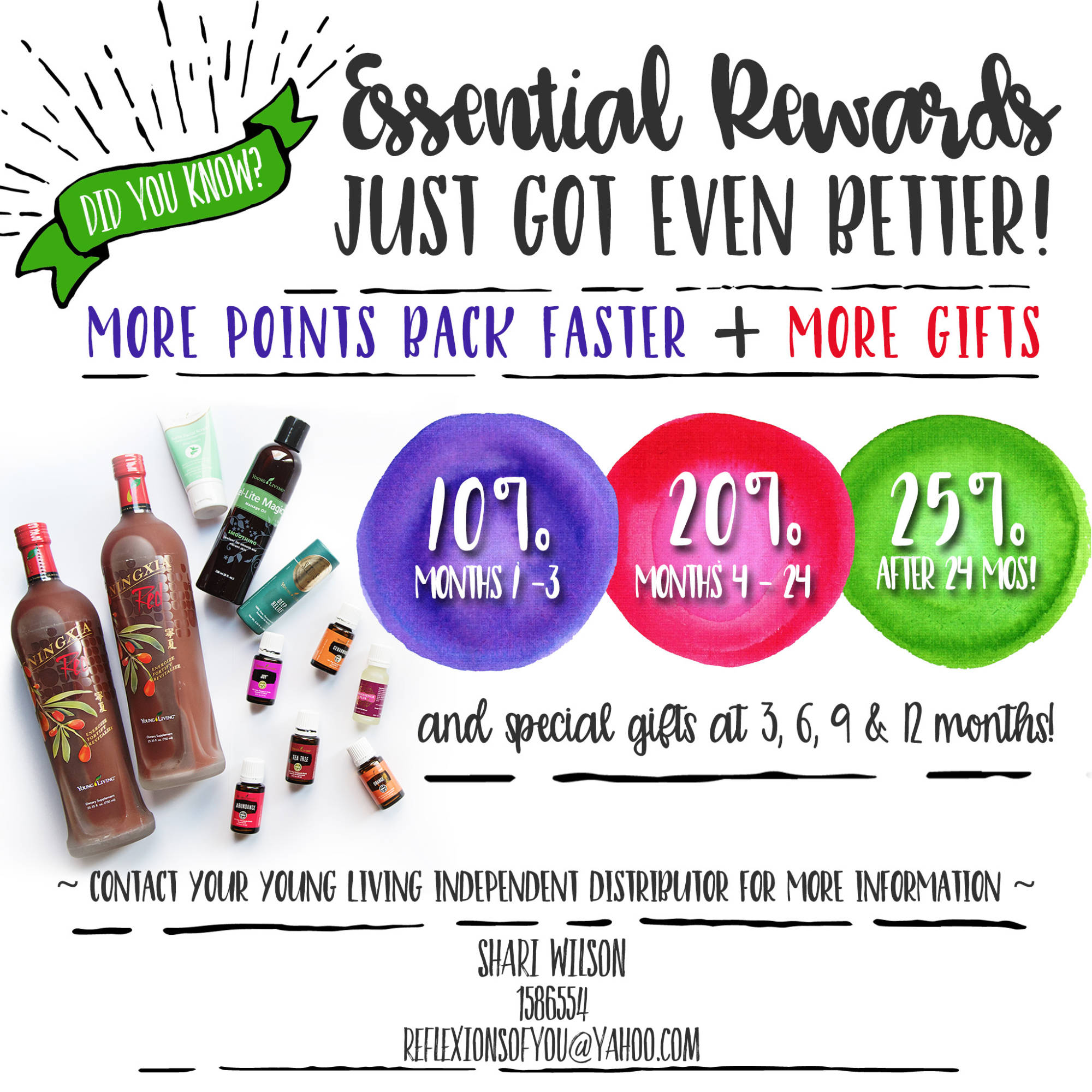 F
or the first 3 months, you will earn back 10% on top of the 24% member discount. Your extra savings accumulate in points that will go into your "bank" in the website.
34% savings? Yes please!

For months 4-24 you will earn back 20%. That's a total savings of
44% off full retail prices!

After 24 consecutive months of being an Essential Reward member, you will earn back 25%. T
hat's a 49% savings!
Sam's Club doesn't give me that kind of deal, nor do I get that kind of love from my American Express!

On top of the savings, Young Living gifts you further with a FREE oil at months 3, 6, 9, and 12.Our 12th month oil is a special blend from Gary Young to show his appreciation for us. Loyalty is a beautiful blend only available to those who have fulfilled 12 months on the Essential Rewards program.


How I Make My ER Program Work For Me

The way that I personally work my ER program is to simply replace what I normally use (as it runs out) with Young Living .
So, when I run out of my mineral powder makeup foundation, I'll switch it over to the Savvy Minerals makeup powder. Eventually, my entire makeup line with be with Young Living and I'll be getting it at 49% off or for FREE by cashing in my points.
Same with my skin care products, sunscreen, insect repellent, cough drops, etc.
This is what is known as Transfer Buying.

The only things I didn't wait until I finished was all of my cleaning products. The reason I didn't wait was there were SO many supplies under my cabinets and I looked up the ingredients listed. I started having menopausal symptoms early in my life (in my 40's !) and many of the ingredients listed had negative effects on the endocrine system, (hormones). It's scary what's in there and amazing what a little research will teach. Seriously, I urge you to do the same.

I ordered the Thieves Essential Rewards package and threw out all the crap I had accumulated to keep my home "clean".
Hey, we don't know what we don't know!
Not only did it replace ALL of my cleaning supplies, but also some personal hygiene products as well. Let me state that my teeth and gums are very happy!

So, where do you go to jump on this happy, money saving train? You'll just log onto the website (www.youngliving.org) and put in your log in credentials. If you don't remember or can't find your member number, let me know and I'll send it to you! Then, click on Essential Rewards on the left side and it'll walk you through the signing up process. At that point, you can just add to your shopping cart.
Here's a graphic for you. (I don't know about you but I'm a visual learner)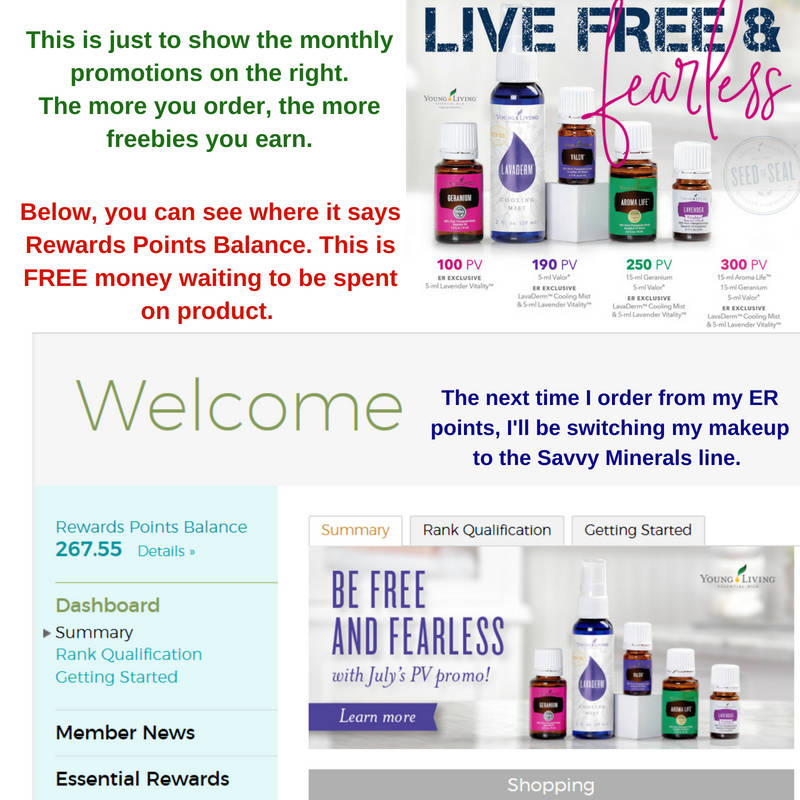 Do you see all that money sitting in my Rewards Points Balance bank? That's all for FREE product when I order.

The only requirement of being an Essential Rewards loyalty member is that you must order $50 PV per month to qualify. Most items have equal PV value per dollar spent. Diffusers do not.

I truly hope this explains the benefits of the loyalty program to you and you see why I'm so excited about it !
As always, if you have any questions or need help putting an order together, please feel free to reach out to me.

Jul 11, 2018 07:29 AM Central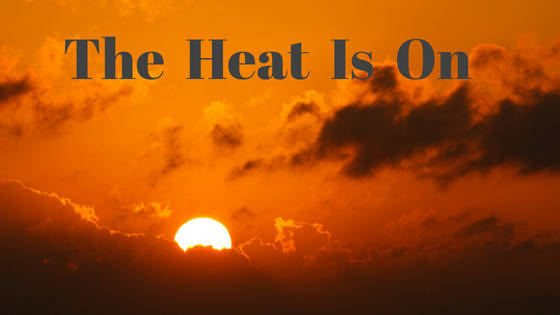 Here it is, mid July, and it's a scorcher outside.
August sits back; waiting and mocking me. We're not friends by any stretch of the word.
Therefore, my choices for the remainder of Summer are:
1) Hibernating in the air conditioning.
2) Not going to flea markets, no dining outdoors, and no beach.
3) Shopping the Buy 1 Get 1 on ice cream to keep cool, lol. (Ok, so that's an excuse!)
As you can see, there aren't many choices, LOL.
Let me tell you a little story about Summer in Central Florida;
It's HOT. End of story.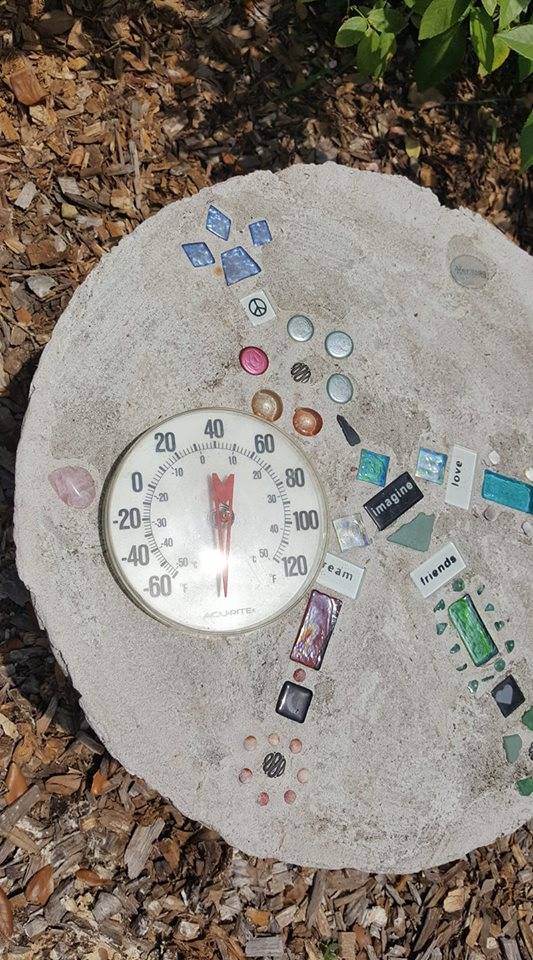 No, the thermometer didn't break. It surpassed the 120 degree mark and took less than 5 minutes to get there!
On top of the temperature, the humidity is so high that you're practically drenched 5 minutes after going out.
If I hibernated inside, my gardens would be overtaken by weeds, which seem to take over the area in the blink of an eye. As it is, they jump up faster than my dog when she hears the treat bag open!
Come August I won't care. The weeds can have it.
It was time to get serious about keeping my cool while out and about.
I know that peppermint oil is wonderful when I get those personal power surges. You ladies know what I'm talking about! And for those of you who don't yet.....your time will come.
Knowing how refreshing this amazing mint feels on the back of my neck, I decided to try something new at home.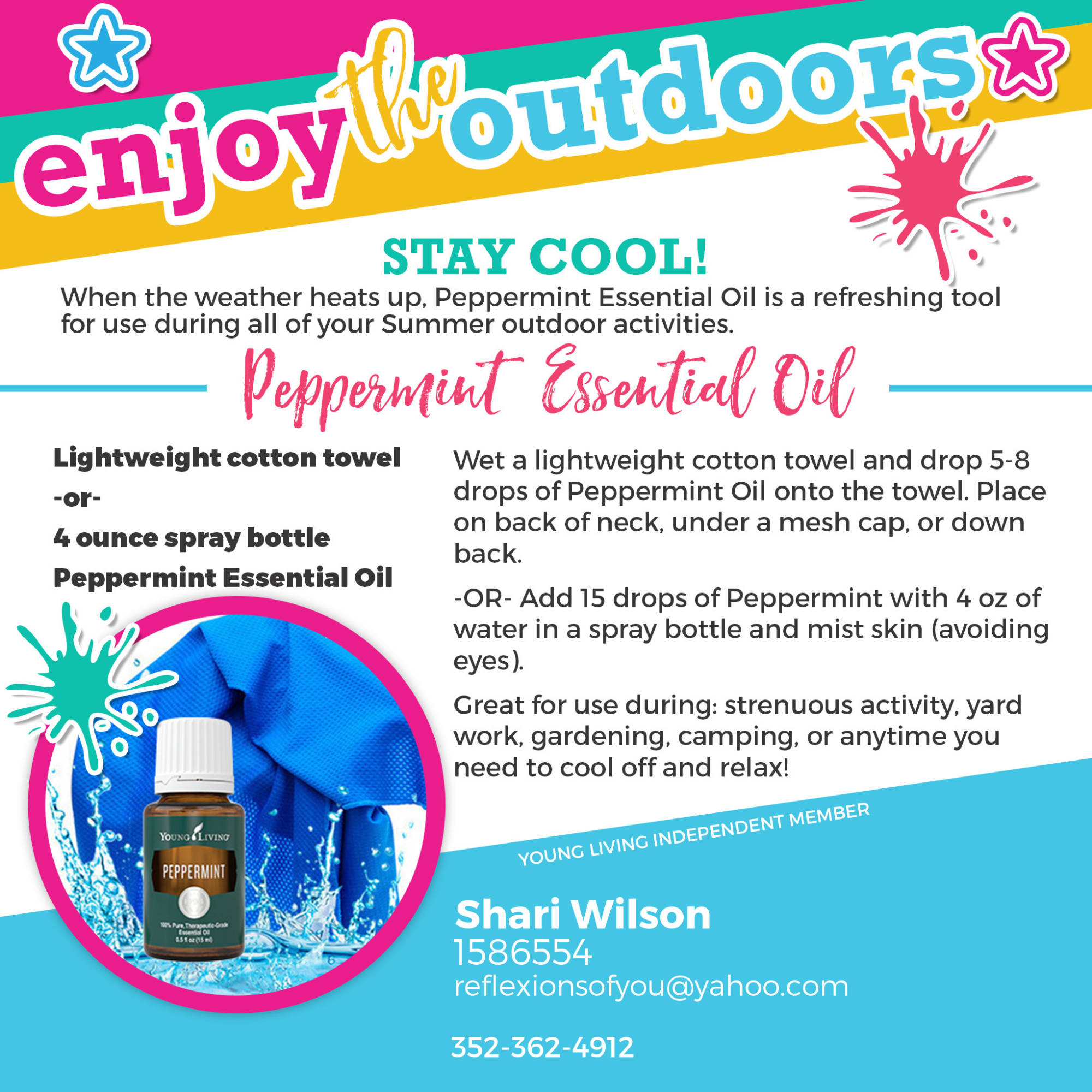 I took a bowl of cool water and added about 5 drops of Young Living Peppermint Oil to it. I dropped a hand towel in, stirred it around and lightly wrung it out.
It went on the back of my neck when I worked outside and......Aaaaahhhhhh….. relief!
Of course I'm drinking lots and lots of water too, and sometimes add a drop of Peppermint Vitality which just tastes good.
If I had my way, I'd get a kiddie pool to fill and just dump an entire bottle of peppermint in there, hahaha. Sorry, I'm getting a little carried away here.
So, how else do I use my peppermint?
*When making Christmas cookies or candy, Peppermint Vitality is great in the cookie batter or in the chocolate that I dip my creations in. One or two drops to a batch of brownies is good too.
* I love to diffuse peppermint in my office area when I need some energy. It pairs wonderfully with the Thieves essential oil too! You get the crisp scent of peppermint (I only add one drop) with the spicy Thieves (I add about 3 drops) and it'll not only clean the air, but also awaken your senses. (when I use these two together in the more open area of my home I use 1 drop peppermint and 6 drops Thieves)
* I have mixed it with water and sprayed around my windows and other places where creepy crawlies like to hide. (A side benefit is that it scents my house too!)
* I keep a small 2 ounce misting bottle in my purse with 4-6 drops of peppermint and topped off with water. It does a world of good when out at a flea market or the beach. You would be surprised at the comments I hear (all good ones!) and how grateful people are when I share. I've been tempted several times to just go spray road crews and builders, but I think a random girl running up to a random man and spraying them with peppermint water would be a little too overboard.
Anyhow.....don't take MY word for it!
Try it and let me know how it works for you.