Oct 5, 2020 01:36 PM Central
Sarah Claburn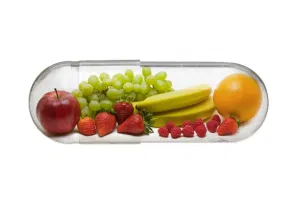 You do the best you can to stay healthy. It is known that there are 13 essential vitamins that our bodies need, and since you know that you don't get all of the nutrients from your food, you also buy supplements - vitamins, minerals and enzymes - to make up the difference.
How do you know if you're spending your money wisely?
I encourage you to do your own digging around. But here are some tips from my research that I want to share. Because some supplements are pure junk and are a waste of money and we all want to get what we are paying for, right?
Vitamins are food
According to The New Orthomolecular Nutrition, vitamins are foods, not drugs, and we need to treat them as such. The book goes on to say that the stated minimal daily requirement (MDR) is silly. The MDR ignores the fact that people are dissimilar in every way, and that each body has a different requirement for nutrition. So that means that you need to be your own advocate and "scientist" and see how you feel at different dosages. Be aware that if a vitamin is water-soluable, your body will take what it needs and the rest will simply pass through the body. You need to make sure you are taking these on a regular basis. If it is a fat-soluable vitamin, your body will store what it doesn't use in the liver and fat tissues. You need smaller amounts of these, but be aware that your personal nutritional needs may exceed the MDR.
Another problem with vitamin supplementation (according to Naturopathy for the 21st Century) is that vitamins and minerals, in foods, are intended to work together for maximum effect. That means the use of synthetic isolates does not provide the optimal environment for absorption. From here it gets a lot more complicated when you look at the crystalline structure of synthetic vitamins vs. the natural food-sourced vitamins, and it becomes clear that bioavailability matters.
Which leads me to my first point:
Do your best to take natural food-sourced vitamins and avoid the synthetic USP vitamins. B-Vitamins and Vitamin C are also usually synthetically produced. Here's a chart of some of the most common synthetic names to look for:
Vitamin A: Palmitate or Acetate
Vitamin B1: Thiamine Mononitrate, Thiamine Hydrochloride
Vitamin B5: Pantothenic acid
Vitamin B6: Pyridoxine Hydrochloride
Vitamin B9: Folic Acid

Vitamin B12: Cyanocobalamin
PABA: Aminobenzoic Acid
Choline: Choline Chloride, Choline Bitartrate
Vitamin C (Ascorbic Acid): Ascorbic Acid
Vitamin D: Irradiated Ergosteral, Calciferol
Vitamin E: dl-alpha tocopherol, dl-alpha tocopherol acetate or succinate
Vitamin K: K3 or menadione
If vitamins are from food, the label will almost always state that. But here are some common food-sources to look for:
Vitamin B5: Pantothenate
Vitamin B9: Folate

Vitamin B12: Cobalamin
Vitamin D: look for forms with numbers
Vitamin K: K1 or phylloquinone
Fillers and other harmful ingredients
Second - watch for dangerous and unnecessary fillers and ingredients. Some of the most common are:
Artificial colors - research Feingold Diet for more on these

Talc or Magnesium Silicate
Magnesium stearate (or stearic acid)
Monosodium Glutamate (MSG) disguised as "natural flavors"
Carnauba wax - used in car wax and shoe polish
Titanium dioxide - is a carcinogen
If it says "natural", it's good - isn't it?
Thirdly - don't be fooled by the label "natural" on a supplement, or processed food, or essential oils. Vitamins can be labeled as natural if they contain as little as 10% of the natural form of the vitamin. This means that your "natural" vitamin could contain 90% of synthetically produced chemicals! The new supplement labeling law makes it more difficult to tell if a vitamin is natural or synthetic. If the label says USP grade, then it is synthetic. Labels that state the vitamins are in a "food-base" are almost always synthetic. Synthetic vitamins mixed with food are still synthetic and are not the same as vitamins complexed in food. Use the above charts to be able to identify food-sourced vitamins.Cost and standardization were the primary reasons that USP vitamins were created - not for optimal health.
Ok, so that's all for now. Go - research and be your own scientist. Find better health, but don't stress over it. Stress makes you sick! Follow the 80/20 rule which says to do better 80% of the time and let go of the other 20%.
Health and blessings to you!!